A moist and delicious Orange Marmalade Cake scented with rosemary and anise seeds. This easy to make cake is topped with sliced roasted almonds and garnished with candied orange peel.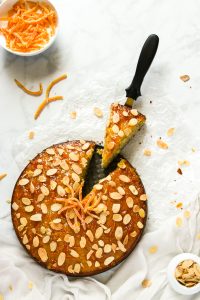 I have fond memories of growing up with simple desserts such as this marmalade treat.
Back then there were no fancy frills adorning Mamma's cakes, nor were any piping skills needed to decorate any of her sweet treats for that matter.
Mamma would carefully cut the cake in half and generously brush the cut sides with a sweet liquor. The two halves were then sandwiched together with a velvety jam or home made pastry cream. And that was it!
Simple. Rustic. And delicious.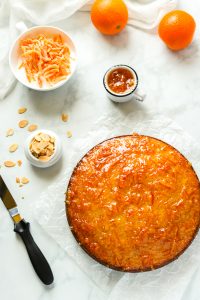 I've made a slightly different version by slathering the top of the warm cake with pure orange marmalade jam that has extra chunks of orange.
The warm cake slowly soaks up the sweet jam rendering it ever so yummy with a slightly sticky top.
Sprinkles of roasted slivered almonds adorns this jam topped delight and compliments the finely ground almonds I used in the bather.
Then all that's needed as a finishing touch are some candied orange rinds to use as a garnish. But this is totally optional!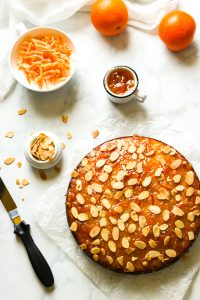 What is candied orange peel?
Candied orange peels are so incredibly easy to make and you're literally giving your fruit a second life. There is absolutely no waste here.
They are basically orange rinds that are boiled in a simple sugar syrup and then coated in granulated sugar for preservation.
All you need are citrus peels, sugar and water.
As this was my first time making candied orange rinds and I wanted a true and tried recipe so I scoured the web and fell on Christina's Cucina, candied citrus recipe.
Christina's recipe uses two oranges and she has some wonderful step by step instructions so head on over there if you want to make a batch.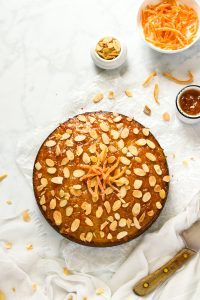 Citrus rinds for orange marmalade cake
I followed Christina's method using one orange because I only wanted enough rinds to use as a garnish.
But I probably should have used the two oranges because they were devoured like there was no tomorrow!
You can enjoy them as a snack or use to compliment your citrus treats!
However, you can just as easily use the store bought variety for garnishing this cake or sprigs of fresh rosemary would also be lovely here.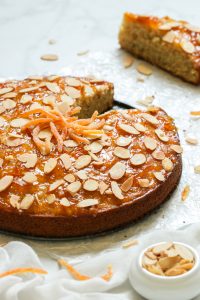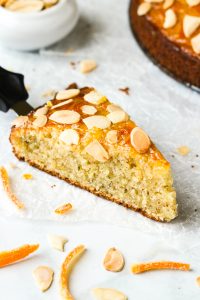 This cake is a true delight and not complicated to put together. It's moist, crumbly and so delicious!
A sheer joy to serve in the presence of family or friends gathered around the table enjoying one another's company.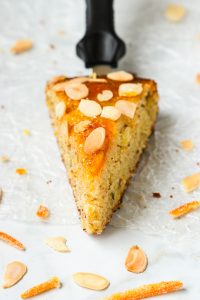 For more delicious treats follow me on Facebook – Pinterest – Instagram – Twitter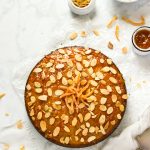 Print Recipe
Orange Marmalade Cake
A moist and delicious Orange Marmalade Cake scented with rosemary and anise seeds. This easy to make cake is topped with sliced roasted almonds.
Ingredients
1

cup

almonds

finely ground with 1 teaspoon of sugar

1

cup

all purpose flour

1

teaspoon

baking powder

3

large

eggs

room temperature

1

cup

granulated sugar

3/4

cup

olive oil

1/2

cup

almond milk

or regular milk

2

tablespoons

orange juice

freshly squeezed

lemon zest

from 1 lemon

1

teaspoon

fresh rosemary

finely chopped

1/2

teaspoon

anise seeds

1/2

cup

orange marmalade

use a good quality

1/2

cup

slivered almonds

toasted

candied orange peel for garnish

optional
Instructions
Grease a 9 inch springform pan and set aside.

Preheat the oven to 350 degrees F.

Add the almonds with 1 teaspoon of granulated sugar in a food processor and pulse till very finely ground.

In a medium size bowl whisk together the finely ground almonds, all purpose flour, baking powder and set aside.

In a separate large bowl, beat the eggs together with an electric mixer for about 1 minute.

Add in the sugar, olive oil, milk, orange juice, lemon zest, chopped rosemary and anise seeds and mix well for about another minute.

Add the flour mixture to the egg mixture and mix until well combined.

Pour the cake batter into the prepared pan.

Bake the cake for 35 to 40 minutes or until a toothpick inserted in the middle comes up clean.

The cake will be medium brown in colour when done and the top will spring back to the touch.

When ready remove from the oven and place the cake (while still in pan) onto a wire rack.

While still warm, spread the orange marmalade over the top of the cake with the back of a spoon.

Top with the toasted slivered almonds and allow the cake to cool.

When ready to serve simply release the cake from the springform pan, slice and serve

Garnish the slices with candied orange peel if desired or with sprigs of rosemary. Totally optional.
Notes
I strongly recommend a good quality orange jam for topping this cake, as these have a perfect balance between sweet and sour. The cheaper variety are simply too bitter and leave a sour taste. Simply my opinion!