Kale and Walnut Pesto with Spaghetti is a healthy, nutrient packed pasta dish. It's easy and quick to put together which makes it simply perfect for any day of the week.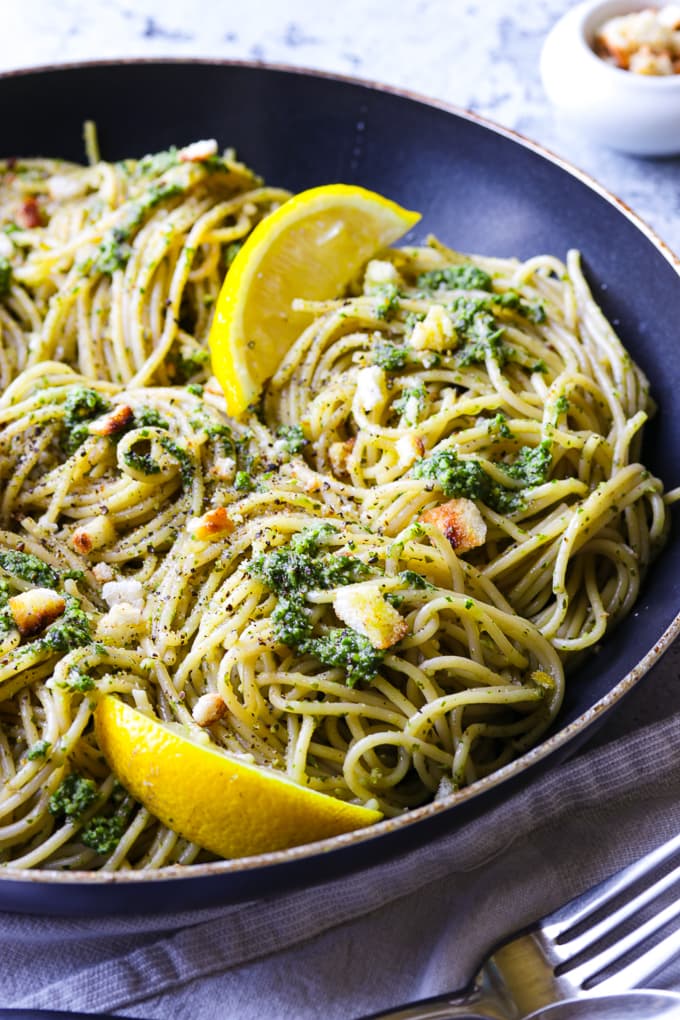 What do you make when a copious amount of homegrown kale lands on your kitchen counter?
My daughter and son-in-law organically grow their own kale and say that it literally grows like weed in their garden. There is just so much of it! And seeing that they were on their way down south for a week, I was the happy recipient of these nutrient dense greens.
Normally I would simply rub the washed and dried leaves with olive oil and toss in my salads. Or add handfuls of the chopped green leaves to most soup bases.
But then I thought it would be a wonderful opportunity to preserve this summer's bounty by making some home made pesto!
Pesto is a wonderful way of preserving leafy greens and can be used or added to various recipes.
It's also convenient to have on hand at a moment's notice as this quick sauce is so versatile.
Prepping Kale
The kale you see here is more of a flat leaf variety with purplish veins and large overgrown leaves.
But really you can use any type of kale that you may find. Prepping will be the same!
You'll need to rinse and pat the leaves down dry.
With a knife carve out the fibrous and thick part of the vein and stem. But don't discard the stems, you can freeze and use the stems in soups.
Coarsely chop the leaves before adding to the food processor as this makes it easier to pack in and pulse.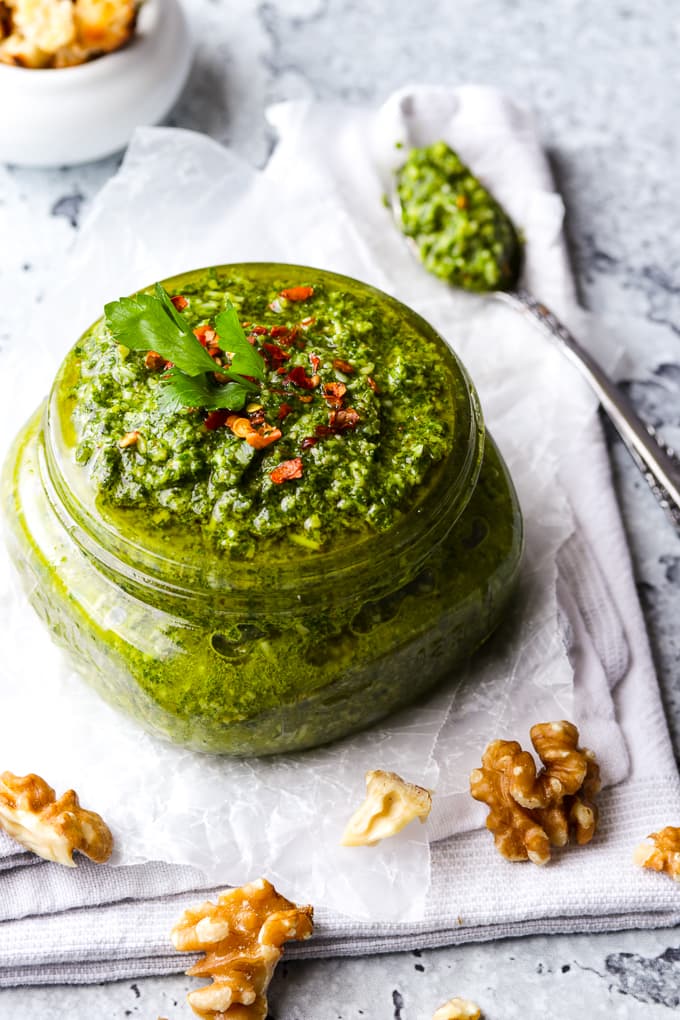 Not everyone enjoys the slight bitterness of raw kale. But you can deflect some of that bitterness by combining the kale leaves with other leafy greens or herbs.
Some that work quite well are:
Arugula
Baby Spinach
Basil
Mint
Parsley
And if you want a Vegan Kale Walnut Pesto simply omit the Parmigiano-Reggiano cheese altogether.
You can also substitute walnuts with:
Pinenuts
Almonds
Pecans
Cashews
Do you have a nut allergy in the family? You can omit the nuts for a nut free alternative!

How To Use Kale Walnut Pesto
Aside from using kale walnut pesto with spaghetti, or another pasta of your choice, you can also use it for:
Slathering on sandwich bread such as these Pan Grilled Chicken Panini.
Spread it on flatbread or pizza dough then top with your favourite toppings.
Use it as a dip and serve with crudités, sliced veggies.
Dress up a platter of fresh mozzarella with sliced tomatoes topped with dollops of kale and walnut pesto.

My favourite way of serving this pesto is in tossing it with spaghetti which you can have on the dinner table in less than 30 minutes.
And, if you want to add an extra layer of flavour and texture then top your pasta with some homemade toasted bread crumbs.
It takes this dish to over the top gorgeous and delicious!
All you'll need are some chopped crustless pieces of bread, pan toasted with a little olive oil and you'll have some crunchy goodness to top your pasta with!

Although I've made a few batches, I still have quite a bit of kale leaves chilling in my fridge.
If you have any recommendations, leave me a comment below! I'd love to hear your thoughts!
Buon Appetito!

Print Recipe
Kale Walnut Pesto with Spaghetti
Kale and Walnut Pesto with Spaghetti is a healthy and flavourful pasta dish. It's quick and easy to put together and simply perfect for any day of the week.
Ingredients
2

cups

kale (roughly chopped)

rinsed, dried and firmly packed

1

cup

Italian parsley (roughly chopped)

Rinsed, dried and firmly packed

1

garlic clove

1/3

cup

walnuts

lightly toasted

lemon zest

from one medium sized lemon

lemon juice

from one medium sized lemon

1/2

cup

extra virgin olive oil

1/4

cup

Parmigiano Reggiano cheese

freshly grated

red chili pepper flakes

2 generous pinches

salt and pepper

to your taste

450

grams

spaghetti

1

cup

freshly toasted bread crumbs

optional (see notes below)
Instructions
Kale Walnut Pesto
Fill a large sauce pot with water and bring to a boil.

Meanwhile, start making the kale pesto.

Place the kale, parsley, garlic, walnuts, both the zest and juice of a lemon and the olive oil in a large food processor.

Transfer the pesto to a small bowl and stir in the cheese, chili flakes and salt & pepper to your taste.

Set the pesto aside while you cook the pasta.
Pasta
Bring a large pot of water to boil.

Once the water boils, salt the water and cook the spaghetti according to package instructions.

When the pasta is cooked, reserve 1/2 cup of the pasta water then drain the spaghetti.

Return the pasta to the sauce pot and toss with approximately 1/2 cup of pesto and the reserved pasta water.

Taste the pasta and add additional pesto if needed or simply to your liking.

Plate and serve with a dab of pesto, some extra cheese, a sprinkle of chilli pepper and toasted breadcrumbs if using.

You can store any remaining pesto for up to a week in the fridge.
Notes
Toasted Breadcrumbs:
Use your favourite bread, crust removed and chopped into small pieces (approximately 1 cup).
Heat a skillet with 1 tablespoon of olive oil and add the breadcrumbs.
Toast the crumbs while tossing frequently for about 5 minutes or until the crumbs turn golden brown.
Nutrition
Calories:
699
kcal
|
Carbohydrates:
87
g
|
Protein:
19
g
|
Fat:
31
g
|
Saturated Fat:
5
g
|
Cholesterol:
3
mg
|
Sodium:
261
mg
|
Potassium:
476
mg
|
Fiber:
5
g
|
Sugar:
4
g
|
Vitamin A:
3727
IU
|
Vitamin C:
48
mg
|
Calcium:
182
mg
|
Iron:
4
mg