Baked Chocolate Zucchini Doughnuts with finely chopped walnuts, topped with a chocolate glaze and some pretty sprinkles.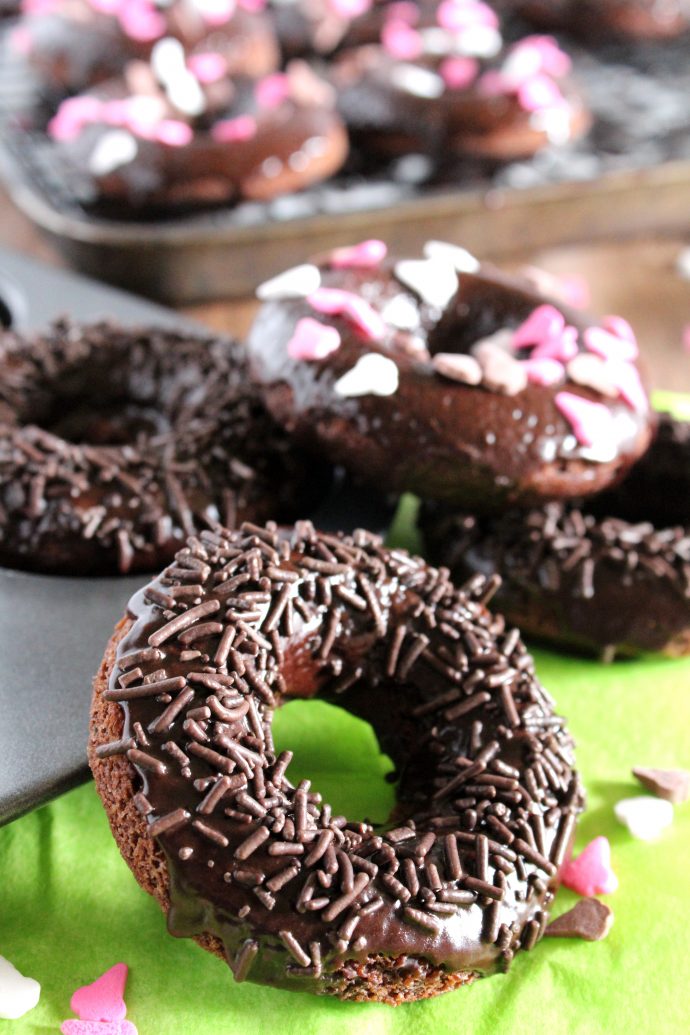 I have shared a couple of doughnut recipes here on the blog before and both of the deep fried variety. Such as these Zeppole, Ricotta Doughnuts and more recently my Castagnole Fritte.
However, my chocolate zucchini doughnuts featured today are of a completely different variety. They're baked not fried and with the addition of grated zucchini and finely chopped walnuts.
These chocolate zucchini doughnuts have a soft cake like texture. They're super moist and made more so after being dunked in a decadent chocolate glaze.
This is a simple snacking cake recipe given to me by a friend. I've tweaked the recipe and converted it into doughnuts. I think it's a fun way of giving an old recipe new life.
If you love easy to make desserts and have an extra zucchini hanging out in your fridge then these doughnuts are for you.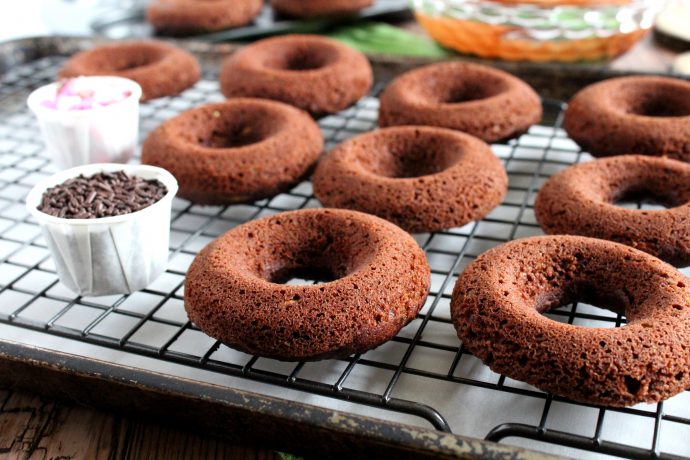 One will barely notice the zucchini in the doughnut because it just melts into the batter as it bakes. This is a great thing if there are finicky eaters in your family.
It's a thoroughly wonderful way to sneak in some veggies in baked goods.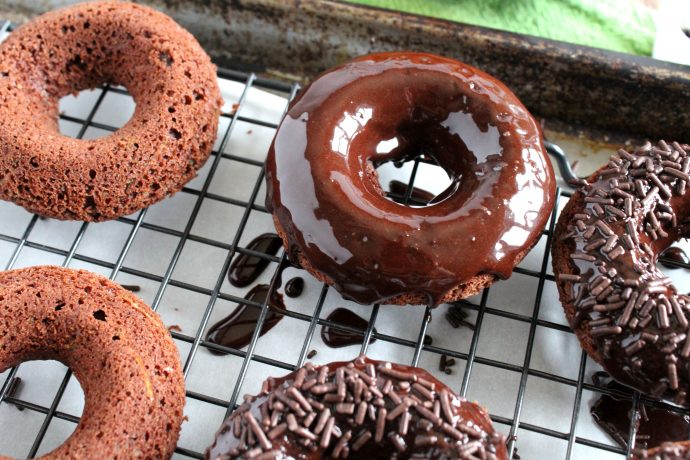 I used 2 (3 inch round doughnut hole pans) for this recipe which yields 24 doughnuts. Each pan has 6 doughnut ring shapes which I let cool and resprayed with non-stick baking spray between batches.
Alternately, you may use a 9 inch square baking pan and bake the cake in a preheated oven at 350 degrees F and bake for about 40 minutes. Or until a wooden skewer inserted in the middle comes out clean.
You will only need half the quantity of chocolate glaze if opting to bake it in a cake form.

Helpful Tips for Making Baked Doughnuts
Use the 6 to 8 minutes bake time as a general guideline and always check to see if they are done at the minimum amount of time as not all ovens are the same. Mine is a gas oven and my baked goods are usually ready at the minimum amount of time requested in most recipes.
Do use a piping bag or resealable plastic bag, snipped at one end, to fill the doughnut pans for perfectly round shaped doughnuts.
Fill only half way through (the doughnut rings) as the batter doubles in size once baked.
Let the doughnuts cool in the pan for a few minutes before loosening them around the edges and inverting them onto a cooling rack.
Last but not least top the doughnuts with lots and lots of sprinkles 🙂
Happy Baking!
Chocolate Zucchini Doughnuts
These chocolate zucchini doughnuts with walnuts, have a cake like texture. They are baked, dunked in a decadent chocolate glaze and topped with sprinkles.
Ingredients
DOUGHNUTS

1 1/2

cups

flour

1/3

cup

cocoa powder

1 1/2

teaspoon

baking powder

1/2

teaspoon

baking soda

1/2

teaspoon

salt

1/3

cup

softened butter

1

cup

sugar

2

large eggs lightly beaten

1

teaspoon

vanilla

1/3

whole cup milk

1

cup

grated zucchini

from 1 small zucchini

1/2

cup

finely chopped walnuts

Chocolate Glaze

2

cups

icing sugar

4

tablespoons

cocoa powder

1

tablespoon

light corn syrup

4

tablespoons

whole milk

chocolate sprinkles

or any other of your choice
Instructions
Preheat oven to 375 degrees F. Grease a 2 inch doughnut pan with a nonstick cooking spray and set aside.

In a large size bowl, sift together the flour, cocoa, baking powder, baking soda and salt.

In a separate bowl, beat together the butter and sugar until creamy.

Add in the eggs, vanilla and beat until well combined.

Stir in the flour mixture alternately with the milk. Stating and ending with the flour mixture.

Add in the zucchini and the nuts. Stir till combined.

Spoon the doughnut batter into a large resealable plastic bag. Snip off one corner of the bag and pipe the batter into the prepared pans, filling the doughnut rings only half way through.

Bake 6 to 8 minutes or until the tops spring back when lightly touched.

When ready, let the doughnuts rest in the pan for a few minutes then gently loosen around the edges and carefully invert onto a cooling rack.

Cool and spray the doughnut pans with nonstick spray between batches.

CHOCOLATE GLAZE

In a large bowl, whisk together the icing sugar, cocoa powder, corn syrup and whole milk.

To coat the doughnuts with the chocolate glaze you can either dunk them in the glaze, letting any excess drip off or simply spoon the chocolate glaze over the doughnuts.

Place the doughnuts on a wire rack with a cookie sheet underneath to catch any drippings.

Top with the sprinkles of your choice.
Nutrition
Calories:
154
kcal
|
Carbohydrates:
27
g
|
Protein:
2
g
|
Fat:
5
g
|
Saturated Fat:
1
g
|
Cholesterol:
14
mg
|
Sodium:
109
mg
|
Potassium:
97
mg
|
Fiber:
1
g
|
Sugar:
19
g
|
Vitamin A:
147
IU
|
Vitamin C:
1
mg
|
Calcium:
24
mg
|
Iron:
1
mg