Castagnole Fritte, Italian Carnival Fritters are sweet, deep fried dough balls. These Italian-style fritters are lemon scented and rolled in granulated sugar while still warm for an extra sweet bite!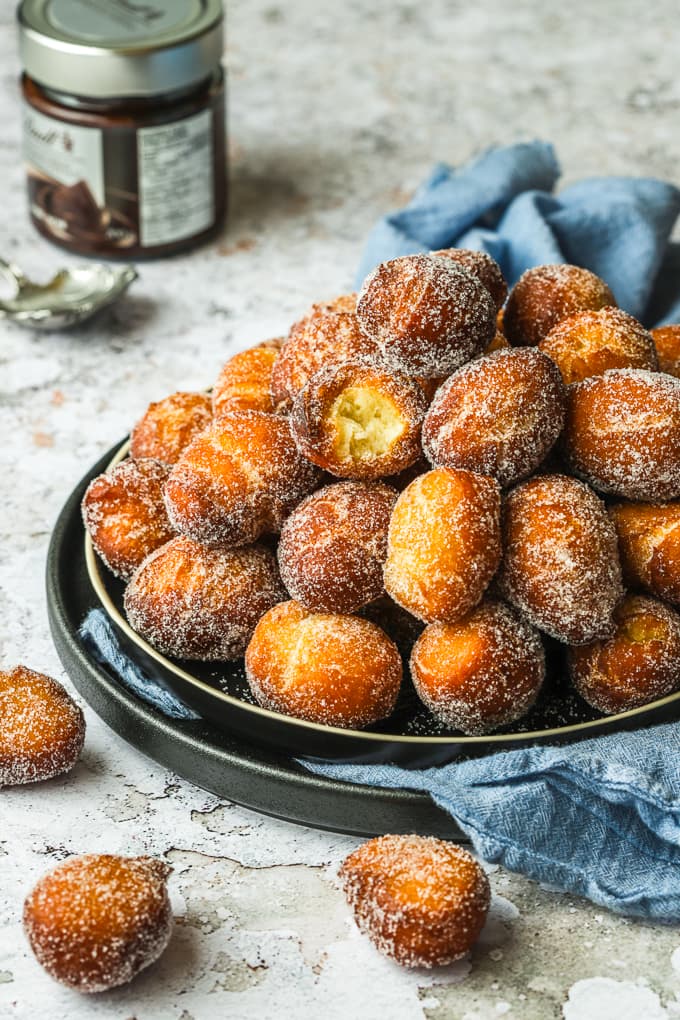 Although immensely popular during Carnival season in Italy, these Italian fritters always made an appearance up until our Easter holiday.
Lemon was the choice of flavour for both my parents and the only way dad would eat them. Simply because, they evoked memories of his own mamma whipping up batches of these castagnole with their very familiar lemon scent.
They were typically served on a large platter, piled high, and these sweet carnival fritters would disappear in a flash.
Italian Carnival Fritters
In Italy, there's no shortage of deep fried treats during Carnival season! They're the quintessential party snack during these festivities!
You'll find many variations of fluffy, deep fried dough balls. Both sweet and savoury fritters. Their names will also vary depending on which part of Italy one hails from.
Unlike the popular Zeppole doughnuts with ricotta, these castagnole fritte are leavened with yeast.
They require a teeny bit more work and of course there's also the rising time to factor in, but they are so worth it in my opinion.
However, if a yeasted dough is not your thing then consider trying some Italian Orange Frittelle: Fried Dough Balls. There's not much hands on time to these sweet fritters. They are orange scented and partially made with finely ground almonds.
All are soft on the inside! Slightly crunchy on the outside! And totally irresistible!
How To Make Italian Castagnole Fritte
Step One: Place a half cup if warm water in a large bowl. Sprinkle in the yeast and let this stand until the yeast turns frothy, for about 10 minutes. Then stir to dissolve.
Step Two: Add in 1 cup of flour, a pinch of salt and stir the mixture until you have a soft batter.
Step 3: Cover the bowl with cling wrap and set aside, for 30 minutes, in a draft free area of your kitchen.
You'll notice that the dough will expand after the first initial 30 minutes of rising time.
Step 4: Add the remaining flour, sugar, beaten eggs, zest, butter and vanilla extract to your bowl with the proofed dough. Mix with a wooden spoon till well incorporated. Then transfer the dough to a work surface and knead by hand for about 6 minutes.
You can also knead the dough directly in the bowl of a stand mixer with the hook attachment for about 3 minutes.
When ready it will pull away from the sides of the bowl and will be soft, smooth and slightly tacky.
Step 5: Transfer the dough to a lightly greased bowl and cover with cling wrap. Let the dough rise in a warm draft free area for about 1 and a half to 2 hours. Or until doubled in size.
Step 6: Once Doubled in size, transfer the dough onto a work surface, lightly press it down with your hands and knead the dough for about 1 minute.
Step 7: Divide the dough into 4 equal pieces. Roll each piece of dough out into an 18 inch long rope. Then slice each long rope into 1 inch pieces and transfer the cut pieces onto a lightly floured baking sheet.
You can leave the pieces as is or, to make rounder dough balls, gently roll each piece of dough between the palms of your hands.
Deep Frying Italian Sweet Dough Balls
Pour 2 inches of vegetable or canola oil in a stock pot.
Heat to 375 degrees F.
Deep fry the fritters till golden on all sides.
Remove with a slotted spoon and transfer the fried dough balls to a cookie sheet lined with paper towels to drain off any excess oil.
All that's left to do before enjoying these sweet carnival fritters is to roll them in granulated sugar while still warm.

How Long Do Castagnole Fritte Stay Fresh
Like any deep fried doughnut, they're at their best eaten the same day while still warm and soft because they get slightly drier after a day or two.
However, 10 seconds in the microwave will quickly soften them up again.

How to Serve Castagnole Fritte
Although wonderful all on their own while rolled in some granulated sugar, you can also fill them with your favourite jams. Nutella or other chocolate spreads would also be a delicious choice.
To fill these sweet fritters start by poking a hole in the doughnut.
Place the jam in a piping bag that is fitted with a round tip. Pipe in up to 1 teaspoon of filling into each doughnut.
Alternately, you can also fill the doughnuts with custard or even some lemon curd.
Or opt out of the filling and top them with a drizzle of some good quality chocolate spread and don't forget the Carnival sprinkles!
And one can never go wrong with a luscious drizzle of honey over these sweet dough balls.
Whichever way you serve them, they're sure to disappear in a flash!

And if you love doughnuts as much as I do and have some canned pumpkin lying around, you may want to try these easy to make Pumpkin Ricotta Zeppole (Italian Doughnuts)
Happy Baking!
If you make this recipe remember to tag @marisasitaliankitchen on Instagram so I can see your creation!
This post was originally published March 23, 2016 and republished February 17, 2021 with updated photos and content.