Ciambella Italian Lemon Sponge Cake is a traditional Italian ring shaped cake. It's so incredibly light with an airy fluffy crumb and infused with both the juice and zest of lemons. It makes for one very simple yet elegant dessert recipe.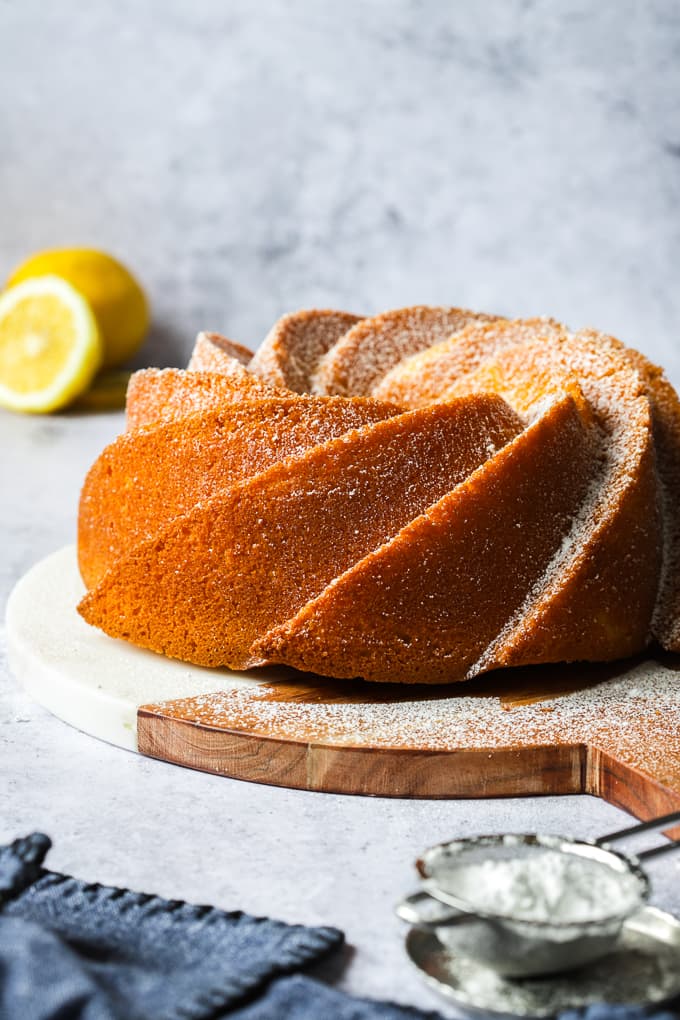 Italians are notoriously known for their dolci, or rather sweet treats. Especially those yummy morsels that we leisurely love to dip in a steaming cup of coffee, tea or even milk.
It's customary for us to break our morning fast with a biscotto, cornetto (little horn) which is not unlike a French croissant or even a brioche.
After all, aren't mornings made for this?.
And, have I mentioned how much we love our sweets?
What is a Ciambella?
Ciambella is essentially referred to any round ring shaped cake, doughnut or even tiny ring cookies such as these lemon glazed Ciambelle Cookies. And also these rope shaped Ciambelline al Vino Italian Wine Cookies.
But some would also call this type of Italian cake, a Ciambellone which references its larger shape.
In terms of simplicity, it probably doesn't get much easier than this to make.
It's all with ingredients you most likely already have on hand and you can whip up at a moments notice.
Shall we get started!
How To Make A Traditional Italian Lemon Cake
Step One: In a small bowl, sift together the flour and baking powder and then set this aside.
Step Two: In a separate large bowl or the bowl of a stand mixer, beat together the eggs and sugar on medium high speed for about 2 minutes. The egg and sugar mixture should be pale yellow in colour.
Step Three: Mix in the oil, water, vanilla, lemon zest and juice to the egg mixture.
Step Four: Mix in the flour mixture to the egg mixture and beat till smooth. Make sure to stop and scrape down the bowl if using a stand mixer.
Step Five: Pour the cake batter into a greased bundt pan.
Step Six: Bake the Italian lemon cake in a preheated oven at 350 degrees F., for about 45 minutes.
When ready the top of the cake will have a golden brown colour and will feel firm to the touch.
You can also check for doneness by inserting a wooden skewer on top of the ciambella cake. If it comes out dry then the cake is ready!

Allow the cake to cool in the bundt pan for about 10 minutes. Take a butter knife or offset spatula and run it around the inside edges of the pan to loosen the cake.
Do take care not to scratch the non stick finish of your bundt pan. You don't want to ruin a beautiful decorative bundt pan!

When you're ready to serve this simple lemon cake, all it needs is a dusting of powdered or confectioner's sugar.
You can enjoy this Italian breakfast cake accompanied with your morning cup of coffee or tea. Or simply a cold glass of milk if you so wish!
This Italian cake would also be great as an anytime dessert when you're craving an easy to make lemon sponge cake.

How to prepare a bundt pan for a Ciambella Italian Lemon Sponge Cake
Decorative cake pans can elevate a simple sponge cake to one of pretty elegance that would grace any table quite beautifully.
However, with all their intricate patterns and nooks and crevices, it can be quite a chore to release the cake with its pretty shape all intact.
I love, love decorative Bundt pans but although they have a non stick finish I always grease them.
One product I always use is Cake Release from Wilton. This is not a sponsored post and I'm not compensated in any way.
It has the consistency of softened butter and a little goes a long way.
I use a pastry brush so that all the sides and crevices are properly coated. You'll want to brush the centre cone as well.
Hold up the pan near a light source just to make sure you don't miss a spot. Trust me, I've learned this the hard way.
With the Cake Release product I don't need to flour my pan.
If your choice of coating is melted butter, then consider using a pastry brush just the same for even distribution and then lightly dust with flour.
Make sure to tap any excess flour out over your kitchen sink. You don't want any sticky flour residue over your cake.
Having said that, if you have another foolproof method that works for you, then use that and maybe share it in the comments below.
I'd love to hear from you!
Happy Baking!

Other Italian cake recipes you'll love:
This recipe was originally published Sept. 13 2019 and republished March 27 2021 with new photos and content.
Ciambella, Italian Lemon Sponge Cake
A Ciambella is an Italian cake that is baked in a round cake tin. It's a typical Italian lemon breakfast cake that's light and spongy and so incredibly easy to make.
Ingredients
2 1/2

cups

all purpose flour

1

tablespoon

baking powder

4

large

eggs

1 1/2

cups

granulated sugar

1

cup

vegetable oil

1/2

cup

water

2

teaspoon

vanilla extract

lemon zest

(from 2 lemons)

1/4

cup

lemon juice

(freshly squeezed)

powdered sugar

(for dusting over the cake)
Instructions
Preheat oven to 350 degrees F.

Grease a bundt pan and set aside.

In a small bowl, sift together the flour and baking powder. Set aside.

In a large bowl beat together the eggs with the sugar on medium high for about 2 minutes or until creamy and pale in colour.

Add in the oil, water, vanilla, lemon zest and juice and mix till combined.

Add the flour mixture to the egg mixture and beat until smooth and the batter falls into a ribbon like flow when the beaters are lifted.

Make sure to scrape down the bowl if using a stand mixer.

Pour the batter into the prepared bundt pan.

Bake for about 40 to 45 minutes or until the top is golden brown in colour and firm to the touch.

Alternately, you can insert a toothpick to check for doneness.

If the wooden toothpick inserted inside comes out clean, you'll know the cake is done.

Let the cake cool in the bundt pan for about 10 minutes.

Loosen the edges with an offset spatula or butter knife. Take care not to scratch the non stick finish of your bundt pan.

Gently invert onto a wire rack to release the cake and allow to cool completely.

When ready to serve dust with confectioners sugar, slice and enjoy!
Nutrition
Calories:
376
kcal
|
Carbohydrates:
46
g
|
Protein:
5
g
|
Fat:
20
g
|
Saturated Fat:
15
g
|
Cholesterol:
62
mg
|
Sodium:
26
mg
|
Potassium:
157
mg
|
Fiber:
1
g
|
Sugar:
25
g
|
Vitamin A:
90
IU
|
Vitamin C:
2
mg
|
Calcium:
57
mg
|
Iron:
2
mg