Taralluci al limone are traditional lemon cookies from southern Italy. They're also referred to by other names, such as Italian love knots and were very popular at weddings as they symbolize two people "tying the knot" in holy matrimony.
Today you will find them mostly at holidays and family gatherings. You'll also find other shapes, such as the twist or a single ring form such as the ciambelle cookies.
They were not a typical cookie from my childhood, however most Italian families have a version of these taralluci al limone.
My first encounter with these soft lemon cookies came from a local bakery and I fell in love with them at first bite! I set out to replicate them at home. However, after a few enquiries, I quickly came to realize that there are many ways to make them.
Some use butter or crisco shortening and others a vegetable oil. I opted for the oil version as I didn't have any shortening on hand and I wanted an alternative to butter.
My first try was an epic failure, as I could not get my dough to come together!
Thankfully my perseverance paid off! After the fourth attempt, I got them just right.
They turned out soft, ever so tender and with a sweet lemon kick.
A FEW TIPS ON MAKING TARALLUCI AL LIMONE
You can start forming the knots as soon as your taralluci dough is ready, however if your dough is too soft simply cover it with a plastic wrap and set it aside for 15 minutes.
This will make it easier to roll out and it bears mentioning that the dough is very forgiving. So if you mess up the knots at the beginning, simply re-roll them!
If the dough is still too soft after the resting time, work in a little more flour, just enough to to be able to roll the taralluci.

Place them about 2 inches apart on your cookie sheet to give them room to grow.
They don't spread out too much but puff up rather prettily. When they're ready they'll look pale golden in colour with a slight browning on the outer edges.

Taralluci can also be topped with sprinkles of your choice. I love them just the way they are!!
The dough can also be mixed together entirely by hand and then kneaded til soft and pliable but requires a lot more elbow work.
A stand mixer or hand held mixer works just wonderfully and is faster and easier…a win, win for busy moms!

Whichever way you make them, enjoy these yummy cookies with coffee, tea or even a cold glass of milk!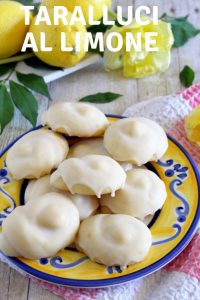 Print Recipe
Taralluci al Limone
A soft and tender Italian cookie, lemon flavored and topped with a lemony glaze.
Ingredients
COOKIE DOUGH

2 1/2

cups

all purpose flour

2

teaspoons

baking powder

generous pinch of salt

3

large eggs

3/4

cups

granulated sugar

2/3

cup

canola oil

vegetable or sunflower oil is also fine

1

teaspoon

pure vanilla extract

2

tablespoons

lemon zest

2

tablespoons

lemon juice

LEMON GLAZE

2 1/2

cups

icing sugar

5

tablespoons

lemon juice
Instructions
Preheat oven to 350 degrees F.

Line 2 baking sheets with parchment paper.

In a medium sized bowl, whisk together the flour, baking powder and salt and set aside.

With a stand mixer or hand held mixer, beat the eggs and sugar together for about 1 minute.

Add the oil, vanilla extract, the lemon zest, lemon juice and mix until combined.

Mix in the flour mixture beating for 1 minute til the dough is thoroughly combined.

The dough should be soft and pliable at this time.

Cover with saran wrap and let the dough rest for 15 minutes. (this will make it easier to roll)

If the dough is still too soft, after the resting time, simply work in a little more flour, just enough to roll the taralluci.

Transfer the dough to a work surface.

Cut off pieces of dough, about the size of a golf ball and roll out into a log about a 1/2 inch wide and 6 inches long.

Twist the dough to form a loop inserting one end through the loop while forming a knot.

Place on prepared cookie sheet;

Repeat with remaining dough, spacing the cookies about 2 inches apart on the cookie sheet.

I was able to fit 12 onto each pan.

Bake in preheated oven for 15 to 18 minutes. When done the cookies should be pale in color with edges slightly brown.

Let cool on wire rack.

LEMON GLAZE

In a medium size bowl, whisk together the icing sugar and lemon juice.

Transfer the lemon glaze to a smaller bowl for easy dipping.

Dip cookies one at at time in lemon glaze, letting excess glaze drip off.

Place cookies on cookie rack till glaze is completely set.
Notes
Keep stored in an airtight container.
Cookies freeze extremely well.