Italian Rainbow Cookies are dense almond scented cake layers with raspberry and apricot jams nestled between the sheets of sponge cakes. This three layer cake is then topped with melted chocolate and a generous sprinkle of festive nonpareils for a truly eye catching and special holiday treat. They're almost too pretty to eat and totally irresistible!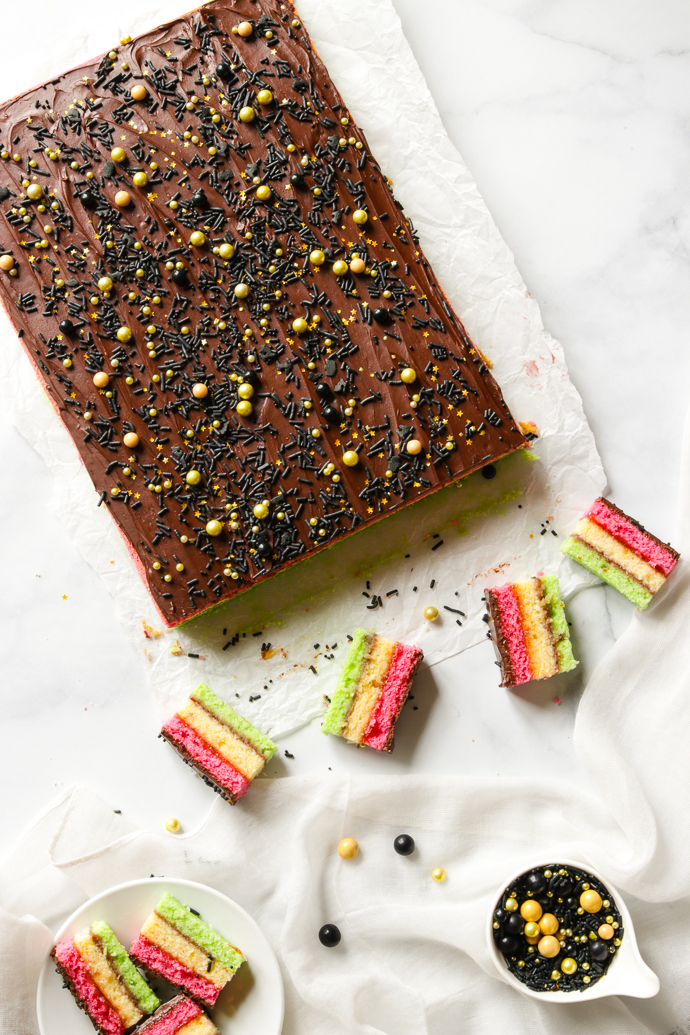 This post was originally published in December of 2015 and republished December 14, 2018 with updated photos and content.
When planning my Christmas baking, these pretty Italian rainbow cookies are one of my very first to make. You can bake them up to two weeks before Christmas as this allows the flavours to mellow. Also, both the raspberry and apricot jams layered between the sponge cakes keeps these rainbow cookies moist and packed full of yummy flavours.
I love them not only for their almond scent but also for their visual appeal. They're bright and cheerful adorned with festive sprinkles and instantly put me in my happy place! They're little morsels of deliciousness on a platter!
They've graced my Christmas cookie tray for many years and have always been one of the first to disappear.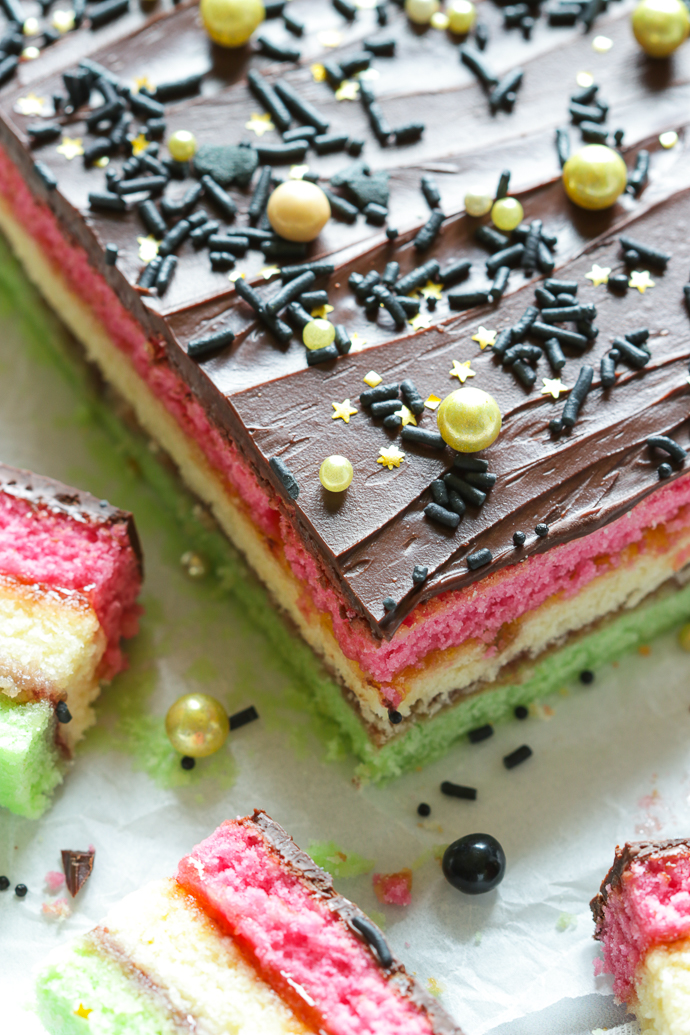 About using homemade almond paste
I had always made these cookies with store bought almond paste before but where I live a good almond paste is always hard to find. Nowadays I much prefer making my very own.
You're going to find it so so easy to make! And, I've simplified it from the original recipe I posted a few years back from Kristina Castella's cookbook titled Crazy About Cookies. I've omitted the simple syrup as this made the paste a little too loose which had some readers skeptical. Although it had worked wonderfully, it yielded more then you would need to make these rainbow cookies. My revised version makes just enough to use in this recipe.
All you need are a few simple ingredients of blanched almonds (see note below for blanching your own). Add some powdered sugar, almond extract, a food processor and your good to go!
However if making your own seems somewhat daunting, by all means go for the store bought variety…whatever works for you is fine.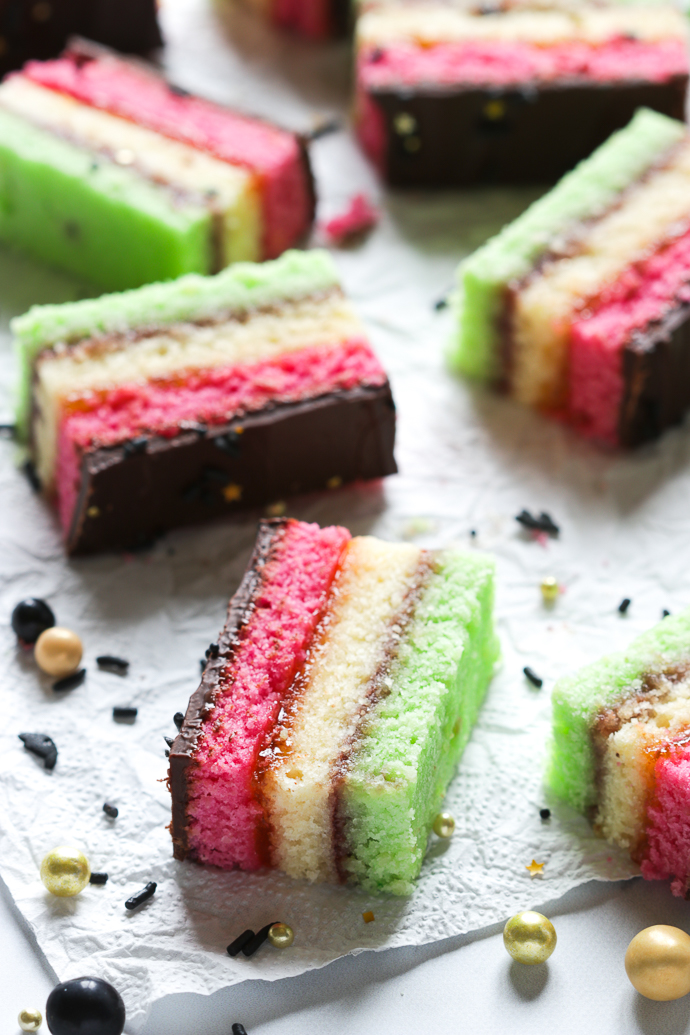 They're absolutely wonderful any time of the year but are extra special for Christmas and will impress your guests!
Simply plate, serve and enjoy with your favourite cup of coffee or tea!

If you make this recipe remember to tag @marisasitaliankitchen on Instagram so I can see your creation!
Italian Rainbow Cookies
A tri-coloured sponge cookie with homemade almond paste, layered with both raspberry and apricot jams and spread with melted chocolate.
Ingredients
ALMOND PASTE
1 1/4

cup

blanched almonds

To blanch your own see note below

1 1/4

cup

icing sugar

1 1/2

teaspoons

almond extract

3

tablespoons

water
CAKE LAYERS
1 1/4

cups

almond paste

1

cup

butter

softened

1

cup

sugar

4

large eggs

separated

2

cups

all-purpose flour

10-12

drops red food colouring

10-12

drops green food colouring

1/2

cup

seedless raspberry jam

1/2

cup

apricot jam

1 1/2

cups

semisweet chocolate chips

chocolate sprinkles

of your choice
Instructions
ALMOND PASTE
Place the almonds and 1/4 cup of the icing sugar in a food processor and pulse until the mixture has the appearance of coarse sand.

Add in the remaining sugar and pulse until the mixture is very fine.

Add the almond extract and water then pulse again until thoroughly combined. Set aside.
CAKE LAYERS
Butter three, 13 inch by 9 inch baking pans. Line the pans with parchment paper and grease the paper.

Preheat oven to 350*F

In a large bowl, cream together the almond paste, butter, sugar and egg yolks until fluffy and smooth.

In a small mixing bowl, beat the egg whites (with clean beaters) until soft peaks form.

Fold the beaten egg whites into the cake batter until it is thoroughly blended.

Divide the cake batter equally among three small bowls.

Colour one portion with the red food colouring and one with the green and leave the third portion uncoloured.

Spread each portion of cake batter into the prepared pans, smoothing the top with an offset spatula.

Bake in preheated oven for about 10-12 minutes, until the edges are a light golden brown.

Transfer the pans on a cooling rack.

Once cooled, invert the green layer onto a cookie sheet and peel off the parchment paper. Spread the raspberry jam evenly all over.

Top with the uncoloured layer and spread evenly with the apricot jam.

Top with the pink layer and cover with saran wrap or cling wrap.

Set a cookie sheet on top to compress the layers together. Refrigerate overnight.

The next day, melt the chocolate in the microwave, in 15 second intervals until melted. Spread the melted chocolate over the pink layer and top with sprinkles of your choice.

Set aside and allow the chocolate to harden.

Once the chocolate is set, trim off the edges with a sharp knife.

When ready to serve, cut 1/2 inch strips across the width and then each strip into 4 pieces. Store in airtight container and keep refrigerated.
Notes
Blanching Almonds
Place the almonds in a pot of boiling water and allow to simmer for about 60 to 70 seconds. The almonds will start to rise and bob on the surface. The skin will have a shriveled up appearance.
Drain the almonds and run under cold water then pat dry with a clean dish towel.
One at a time, gently press on the almond between your thumb and index finger to release the nut from its skin.
Allow the blanched almonds to dry at room temperature, on a clean dish towel, before proceeding with the recipe. This can also be done overnight.
If your pressed for time you can dry the almonds in a low heated oven for 5 minutes or so.