An incredibly easy recipe for Almond Biscotti with Pineapple and Coconut.
These popular twice baked cookies are topped with a drizzle of melted white chocolate and a generous sprinkle of sweetened shredded coconut. Just because we all need a little indulgence once in a while!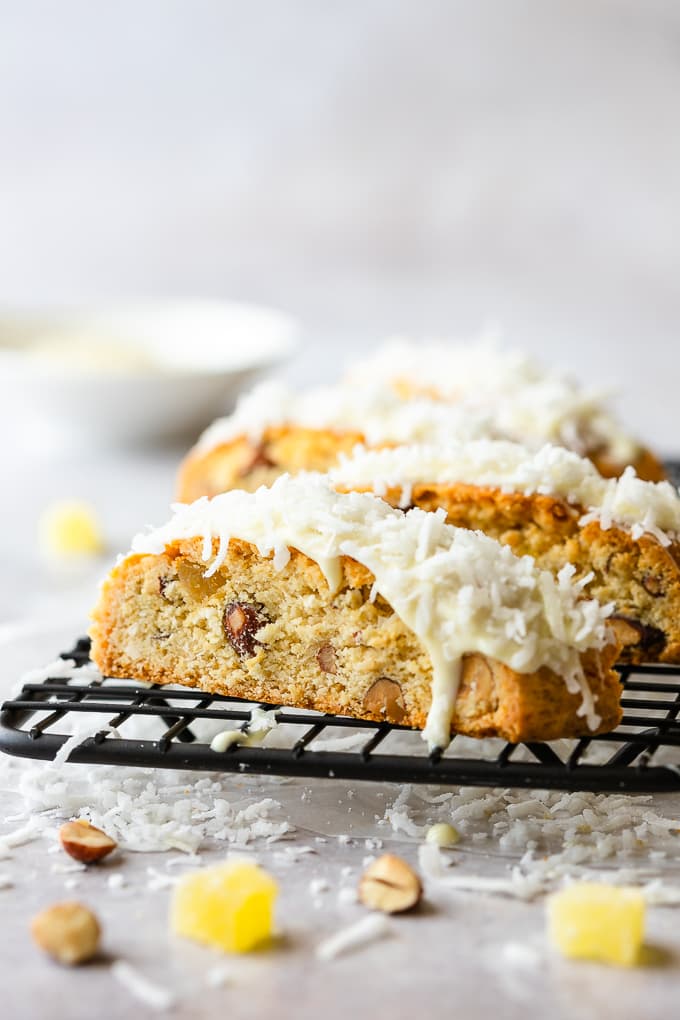 This almond cookie recipe was inspired by a tropical themed party my daughter held years back when celebrating a milestone birthday.
She had opted out of a traditional birthday cake and instead requested mini vanilla cupcakes with a buttercream frosting and chocolate cream cheese cake pops, dipped in yellow candy melts.
I had also made dozens of the these light and crumbly biscotti, studded with sweetened flaked coconut, diced crystallized pineapple and chopped roasted almonds. Truly wonderful flavors of the tropics in every bite!
This recipe was posted way back in January of 2016 and just recently, I decided to refresh and update the photos and add new content.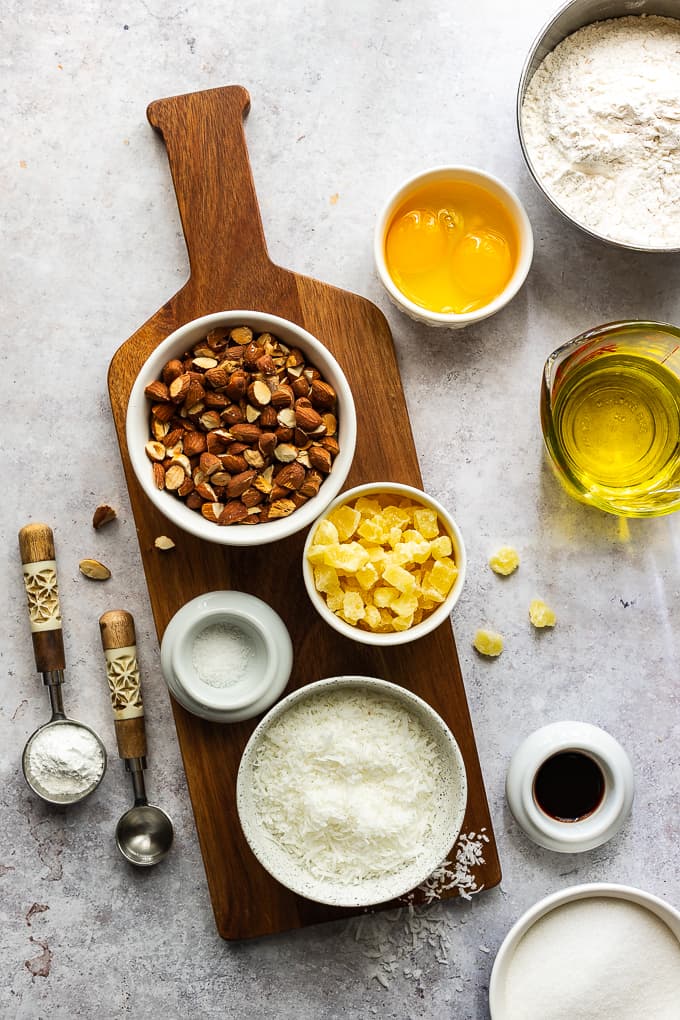 They're wonderfully easy to make and no stand mixer is required.
Just two bowls! One for stirring the dry ingredients and the other for whisking the wet ingredients.
You'll be working with a firm cookie dough but still sticky so do flour your hands and work surface.
Also make sure your cookie sheet is ready and nearby to quickly transfer the rolled logs effortlessly. And don't worry if it's a less then perfect log because it will spread anyhow during the first baking.
Let's get started!
How to Make Almond Biscotti with Pineapple and Coconut
Step 1: Place the flour, baking powder, salt, chopped almonds, shredded coconut and pineapple pieces in a large bowl. Stir to combine.
You can use a very sturdy whisk but a wooden spoon works better.
Step 2: Place the sugar, oil, eggs, vanilla and almond extracts in a separate large bowl. Whisk till combined.
Step 3: Stir the wet ingredients into the flour mixture until thoroughly combined.
Step 4: Transfer the dough onto a work surface and divide the dough into 2 equal portions.
Have ready nearby a parchment lined cookie sheet.
Step 5: Roll and shape the dough into 12 inch logs on a lightly floured work surface. Carefully transfer the logs on the prepared baking sheet.
Step 6: Brush the top and sides of the logs with the beaten egg white and bake in preheated oven for 30 minutes.
When ready, after the first bake, the cookie logs should feel firm to the touch.
Allow the logs to cool for 15 minutes before slicing and baking a second time.

Step 7: Slice the logs into 1/2 inch pieces and return the sliced biscotti to the baking sheet, standing upright for even baking. (Check below on how to slice biscotti)
Return to the oven and bake an additional 15 minutes.

These twice baked cookies are wonderful all on their own. But for a little extra indulgence, I like to drizzle the tops with melted white chocolate and a generous sprinkle of sweetened flaked coconut.
They have all the makings of a delicious and over the top cookie with the flavours of the tropics!

How To Slice Biscotti
I am often asked how to get ends that don't break off while slicing. Here are my tips and tricks!
Allow the cookie logs to cool 15 minutes before slicing. They're much more pliable to a sharp knife while still warm.
Point the tip of the sharp knife down and slice in one fluid motion. This always works best for me. And because these tropical biscotti are not the rock hard variety I don't use a serrated knife.
Also, because the pineapple pieces stick to the knife, I wipe the knife with a damp cloth between each slice. This way you're assured clean and even neat slices.
How Long Do Biscotti Keep?
Although they will keep well in an airtight container for up to two weeks they will disappear oh so quickly!
Happy Baking!