These Italian Bocconotti Cookies are seductive little morsels with their scalloped buttery shells and a lovely fig jam cocooned within.
All that's needed is a light dusting of powdered sugar before serving and then simply relax in your comfy chair with a hot cup of tea while nibbling on these dainty treats.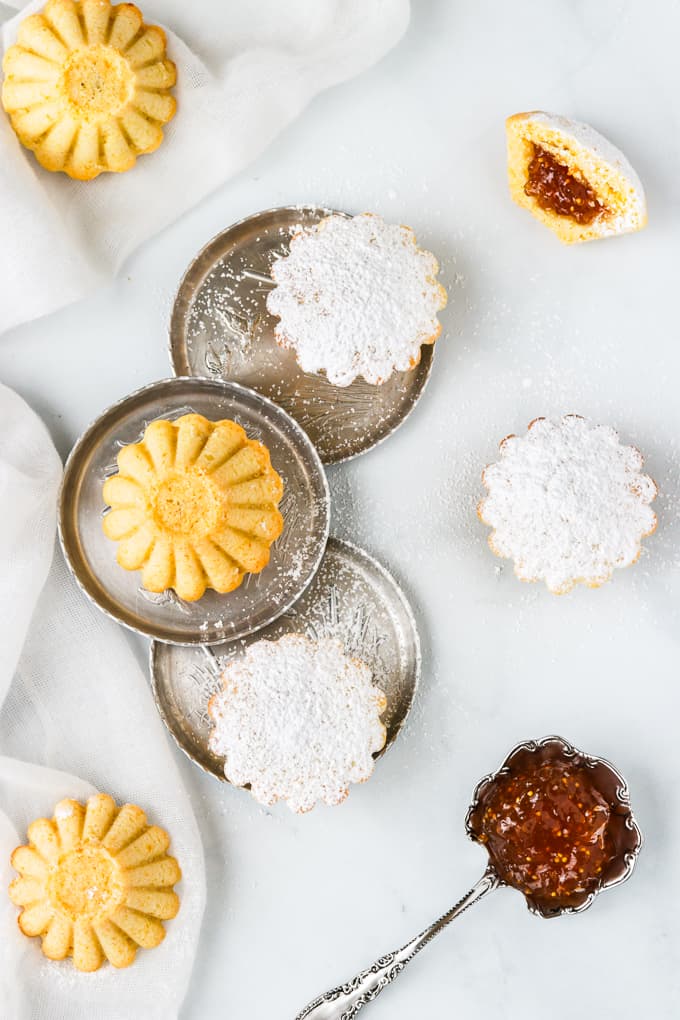 There are so many variations of these cute bocconotti cookies, which easily translates to "small bites." And they're aptly named I might add for these two bite morsels.
They're more commonly served during Christmas with a chocolate and nut filling, much like the bocconotti abruzzesi or even the bocconotti calabresi from southern Italy.
However in my opinion when a cookie is as seductive in appearance and taste as these jam filled pastries, well any day of the year is a good day to bake them!
As I'm sure you'll all agree when you try them out for yourselves!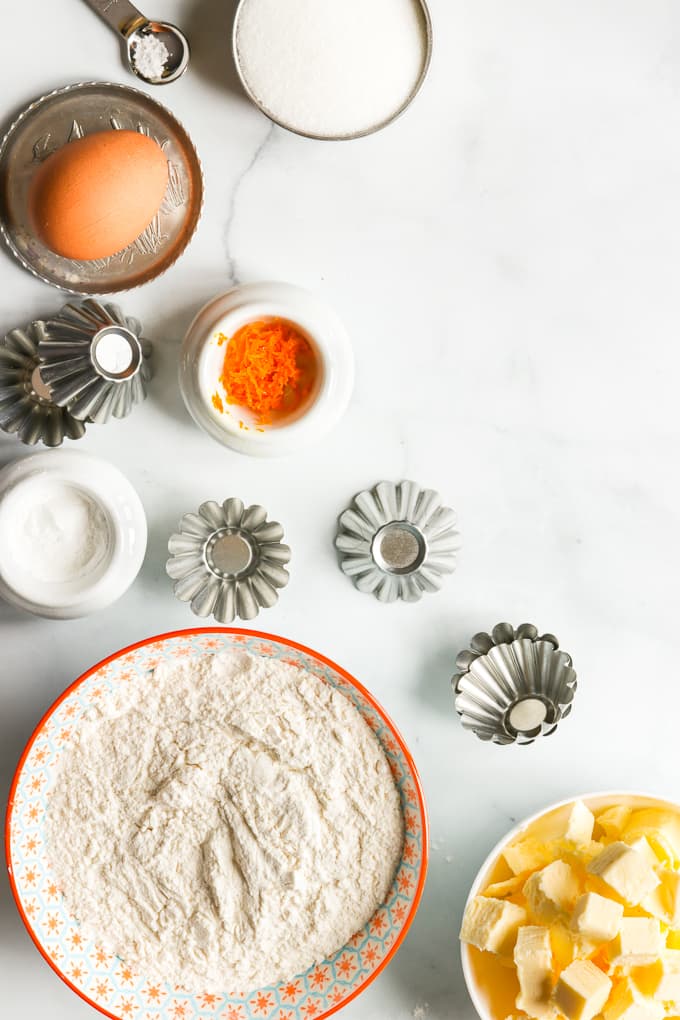 Ingredients for Bocconotti Cookies
All you'll need are a few staple ingredients which I'm sure you already have on hand, such as:
Flour
Sugar
Butter
One egg
Baking powder
Salt (just a pinch)
Your favourite jam
Oh Yes! And one mustn't forget the scalloped baking tins of approximately 2 inches in diameter. However, if you can't find any then simply use 2 inch round mini muffin tins. This would work as well.

If you've never worked with a pastry dough before, you'll be happy to know that your food processor will be doing most of the work here.
Once the ingredients are blended together and has the appearance of very coarse crumbs, you're then ready to transfer the dough onto a work surface.

Then there's a gentle kneading of the dough by hand so that it all comes together in a cohesive ball and this generally takes about 1 minute.
Allow the dough to chill in the fridge for about 1 hour for easy handling and shaping.
Pretty simple, right?

How To Shape Bocconotti Cookies
Once the dough has been chilled and your ready to assemble the cookies…the fun begins!
Set an hour of your time to shape out and assemble the bocconotti.
When your tins are well greased, break off a tablespoon of dough at a time and form into a ball.
Press the shaped dough ball into the mini tart mold and up against the edges.
Any excess can be trimmed using a butter knife.
Fill the tartlets with your jam and then use another piece of dough to shape and form the tops.
Once all assembled and ready for the oven, in they go for about 18 to 20 minutes or until a beautiful golden brown!
You'll have the most enticing aromas wafting thorough your kitchen and beckoning family members in.
Then a simple light…or generous dusting of powdered sugar to finish them off and enjoy!

As you can see the cookies released beautifully from their tins but this time around, I had 2 cookies that were too stubborn to un-mold. In which case you can simply scoop it out with a spoon!
Also, one bocconotti had no top because I was over generous with the cookie dough when topping a few others. But no matter because it was just as yummy!

How to Prep Bocconotti Tins
You'll want to work with well greased tin molds.
I used a Wilton product called "Cake Release" and I squeeze out a small amount in my baking tins.
Then using a pastry brush I coat the bottom and sides of the tin mold.
A pastry brush is indispensable in getting through the crevices of the mold.

Although I used a fig jam you can just as easily replace it with any flavour you prefer. Nutella would also be a wonderful choice here!
Show your family or friends some love this weekend with these easy to make Italian Bocconotti Cookies!
If you make this recipe remember to tag @marisasitaliankitchen on Instagram so I can see your creation!

This recipe was originally published March 2, 2018 and republished March 10, 2020 with updated photos and content.

Print Recipe
Italian Bocconotti Cookies
These Italian Bocconotti Cookies are seductive little morsels with their scalloped buttery shells and a lovely fig jam cocooned within.
Equipment
24 mini tart tins or mini muffin tins of 2 inches in diameter
Ingredients
FOR THE PASTRY

2

cups

all purpose flour

1/2

cup

of granulated sugar

1

teaspoon

baking powder

pinch

of salt

3/4

cup

chilled butter

cubed

1

large egg

1

teaspoon

grated orange zest

Icing sugar

powdered sugar for dusting.

24

mini tart tins or mini muffin tins

2 inches in diameter

FOR THE FILLING

3/4

cup

fig jam

approximately
Instructions
Place the flour, sugar, baking powder and salt together in a food processor and pulse for a few seconds to combine the ingredients.

Add the chilled cubed butter and pulse the mixture together, just until you achieve coarse crumbs.

Whisk together the egg with the grated orange zest in a small bowl and add this egg mixture to the food processor.

Blend in the food processor until half of the dough mixture has come together then transfer to a work surface and keep kneading gently by hand until the dough has formed a ball.

Wrap the pastry dough in cling wrap and chill for 1 hour.

When ready to assemble the pastries, grease well 24 mini tart molds or use mini muffin pans.

Break off a tablespoon of dough and form into a ball then take the ball of dough and press it into the mini tart mold and up against the edges.

Trim off any excess with your fingers or the dull side of a knife. (I find fingers work best)

Repeat with the remaining molds.

Fill each tartlet with about a teaspoon of jam.

Take another tablespoon of dough, form into a ball and with the palm of your hands press it between two sheets of cling wrap.

Place the flattened disks over the jam filled tartlets and press the dough around the edges of the mini molds to seal and then cut off any excess dough.

The excess dough can be reused to form more tops if needed.

Place the mini tartlets on a baking sheet and bake in a preheated oven at 350 degrees F for about 18 to 20 minutes or until a lovely golden brown.

Allow the bocconotti to cool before dusting with icing sugar.

Brew a cup of coffee or tea and enjoy!