These Wild Blueberry Lemon Biscotti get a lovely lemony kick from both the lemon zest and one of Italy's favourite liqueur, Limoncello.
They're studded with dried wild blueberries, almonds and pure white chocolate chips then drizzled with more melted white chocolate for some extra sweetness in every bite.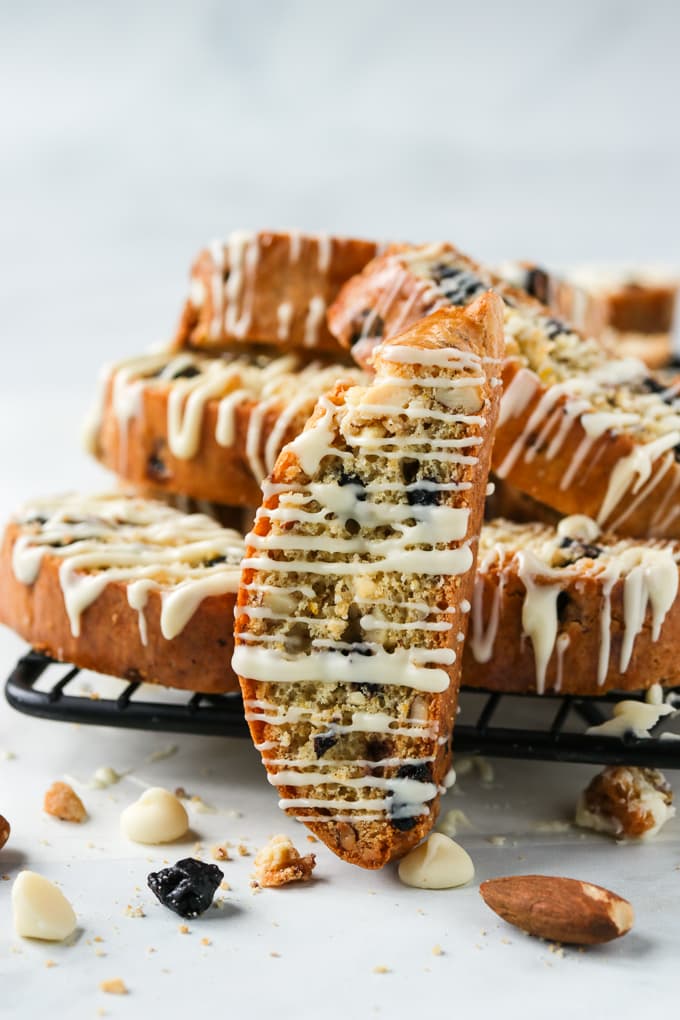 If you've been following my blog for a while then you'll probably know quite well my love affair with biscotti.
Not only are they extremely easy to make and perfect for a novice baker, you can mix and match different flavours and ingredients to suit your tastes.
They are also far lower in fat than other traditional cookies and keep extremely well in an air tight container for a week or so. Although at my house they disappear ever so quickly!
These twice baked biscotti make perfect little dunkers for a morning cup of freshly brewed coffee or a hot cup of tea to while away a lazy afternoon.
They're also equally wonderful served alongside a scoop or two of lemon granita! It makes for one indulgent after dinner dessert.
Similarly to my Chocolate Anise Biscotti, these are light and airy with a tender bite and extremely tooth friendly. Unless you happen to be a certain 11 year old boy entering a tooth transition period.
Désolé Guillaume, j'espère que la fée des dents a fait preuve de grande générosité…sorry Guillaume, I truly hope the tooth fairy was quite generous with you!
How To Make Blueberry Lemon Biscotti with Almonds
First off, you don't need any special equipment. Have ready one large mixing bowl to combine the dry ingredients and a lightly smaller one for the wet ingredients.
Also a wooden spoon, a whisk and a zester.
And of course a baking tray lined with parchment paper.
Now we're ready to start this easy biscotti recipe.
In a large bowl, stir together the flour, ground almonds, baking powder, salt, dried blueberries and chocolate chips.
In a separate smaller bowl, whisk together the vanilla sugar, melted butter, eggs, lemon zest, vanilla extract and the limoncello.
Add the wet ingredients to the flour mixture.
Stir with a wooden spoon until the biscotti dough is thoroughly combined. Or until there are no white flour specks visible.
Transfer the biscotti dough to a floured work surface.
Divide into 2 equal portions.
Working with dusted hands and work surface, roll one portion at a time into a 12 inch log.
Transfer the logs to your prepared baking sheet.
Brush each log with beaten egg white.
Bake in a preheated oven for 25 minutes.
Let the biscotti logs cool for about 10 to 15 minutes for easy slicing.
Transfer one log at a time on a cutting board and with a sharp knife, slice into 3/4 inch slices.
Return the sliced biscotti onto the baking sheet and bake for an additional 15 minutes.
Transfer the cookies onto a wire rack to cool completely before drizzling with the melted chocolate.

How to Melt Chocolate in the Microwave
When ready, melt the chocolate in a microwave safe bowl at 15 second intervals while taking care it doesn't burn.
Stir in between intervals.
For easy drizzling, thin out the chocolate by stirring in about a 1/2 teaspoon of vegetable oil. Or just enough till you achieve a drizzling consistency.
Finally, drizzle the biscotti with the melted chocolate and allow the chocolate to set before serving.
Alternately you can use a double burner to melt the chocolate.

The lemon zest coupled with the Limoncello liqueur imparts a lovely infusion of citrus flavor and accentuates the sweetness of the blueberries. However, you can absolutely replace the liqueur with freshly squeezed lemon juice.
Although delicious all on their own, try drizzling some melted white chocolate for some extra love. But really its totally optional!

A note on Vanilla Sugar
My intent was to use regular granulated sugar as I normally do when making biscotti. I then remembered the jar of Homemade Vanilla Sugar way back in my pantry.
As I slowly popped the lid a heady scent of sweet vanilla permeated the air around me and I knew at that moment that I simply had to use it in my Wild Blueberry Lemon Biscotti recipe.
The aroma of homemade vanilla sugar is absolutely heavenly!
And while you can use the store bought variety nothing ever beats homemade in my opinion.

Happy baking dear friends!
This post was originally published August 5, 2017 and republished December 3, 2020 with new content and photos.