Baci di Dama are melt-in-your-mouth Italian hazelnut cookies. This easy to make recipe is an eggless based dough made with finely ground hazelnuts and nestled together with a dollop of dark sinful and silky chocolate.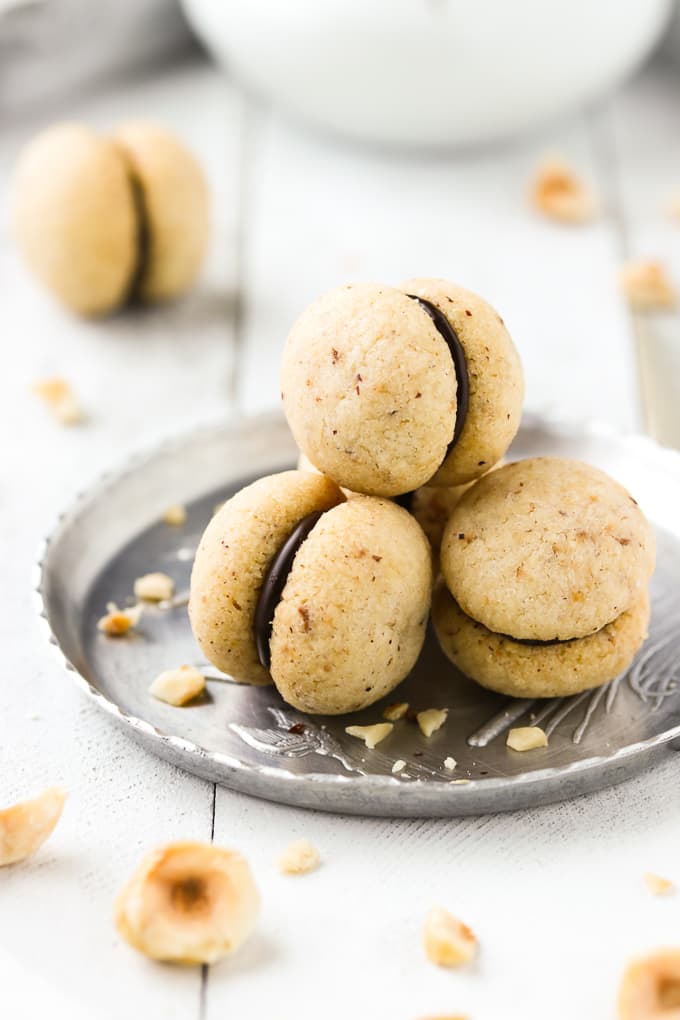 Baci di Dama literally translates to lady's kisses and these light and delicate hazelnut morsels are one of Italy's famous cookies. They were made popular by the pastry shops of Tortona in the province of Alessandria which is in the Piemonte region of Italy.
Small wonder at that as hazelnuts from Piemonte are said to be the very best and also legally protected as "Nocciola Piemonte I.G.P".
Although the history of Baci di Dama is somewhat hazy, what people most agree upon is that they resemble sensual lips pursed together while longingly bestowing a kiss on a loved one. The chocolate being the glue that softly binds a lovers lips together.
Italians are quite the romantic, are they not? Rhetorical question here!
How to make Baci di Dama
This recipe for baci cookies is really easy to make and your food processor will pretty much do all the work for you.
You'll first need to grind your hazelnuts to a very fine texture and doing so with a little bit of sugar will ensure it doesn't turn into a nut butter.
The remaining sugar is combined with the flour, salt and softened butter in a separate bowl and this mixture is worked into coarse crumbs.
This flour and butter mixture is then added into the food processor with the finely ground hazelnuts. You'll then pulse with the food processor till the dough comes together in a dense mass. And now your cookie dough is formed!
Once your dough is ready you'll need to chill it for at least 2 hours. There is no use trying to roll the cookie dough while it's at room temperature. It will not roll into a firm ball!
Before chilling your dough, divide it into 4 equal portions. Wrap each portion individually with cling wrap and refrigerate it for a couple of hours. Or, if planning ahead you can also chill it overnight.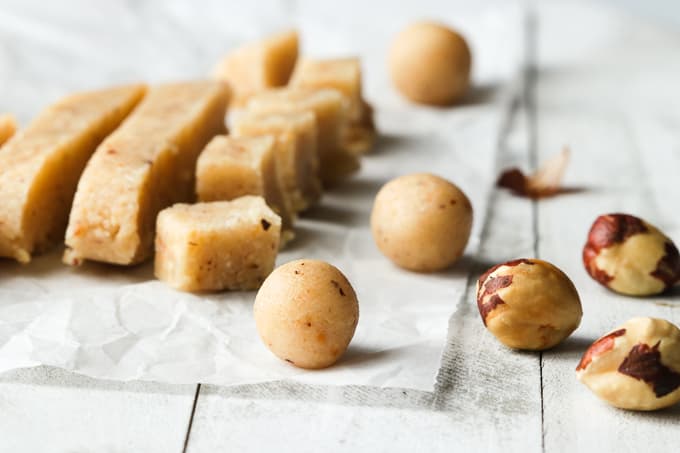 How to Shape Baci Cookies
The colder the dough is, the easier it is to roll.
Work with one portion of the dough at a time while keeping the remaining dough chilled.
Either scoop out small pieces of dough with a teaspoon or slice sections with a pastry cutter and then into small cubes. I find the latter easier to do because it's quite a stiff dough.
Then simply roll the pieces of dough to the size of a hazelnut in its' shell.

Once all the balls of dough are formed, you'll need to chill them once again for at least 2 hours. Or if pressed for time, you can freeze them for 30 minutes.
You can chill or freeze the little dough balls directly on your parchment lined baking tray. This extra chilling time will ensure they don't spread out and flatten.
Once baked they'll have these cute rounded tops with an over all light golden brown colour.

How to Assemble the Baci Cookies
When ready to assemble the cookies, first try to match them in sizes.
I pair them on a cookie sheet while leaving one of the two turned over.
You can either spoon a dollop of melted chocolate on the flat side of the cookie or use a piping bag to do the job much quicker.
Top with a second hazelnut cookie, same in size, and press slightly together to form a sandwich. Then simply allow the chocolate to set before serving.
To speed up hardening of the chocolate, you can chill the assembled cookies for about 20 minutes or so. This ensures the hazelnut sandwich cookies stay intact.

With a lovely crumbly texture these classic Italian cookies are wonderfully fragrant which are largely due to the roasted hazelnuts.
After biting into one of these delicate cookies, I found them to be very reminiscent of the Baci chocolates. Whereas, my hubby insists that they are far more similar in taste to the Ferrero Rocher.
You'll most certainly have to bake them and decide for yourself!

TIPS ON MAKING PERFECT DOMED SHAPED BACI DI DAMA
Make sure to finely grind the hazelnuts with the 2 tablespoons of sugar so that it doesn't turn into a nut butter.
Chill the dough in the coldest part of your fridge at least two hours. Or, plan ahead and chill overnight.
Roll the cookie balls into the size of a hazelnut in its shell then chill for an additional 2 hours. If you're short on time freeze the rolled cookies for 1/2 hour directly on the baking trays.
Bake one cookie sheet at a time at a low temperature of 300 degrees F, while keeping the remaining cookies well chilled.
Do not over bake the cookies as this will change the texture of the cookie. Remember we want them to be melt-in-your-mouth delicious!
The cookies are very fragile once out of the oven so do not touch them. They will break easily and will turn into a crumbled heap if you try to lift them off the cookie tray while still hot.
Allow to cool on the cookie sheet placed over a cooling rack.
Make sure they are completely cooled before filling with the melted chocolate.
Use a piping bag filled with the melted chocolate to fill the sandwich cookies. This works much quicker and less messy as well.
Allow yourself plenty of time and never rush a good thing! They are so worth it!

If you love sandwich cookies as much as I do, you'll also enjoy these Butterball Cookies. They're nut free cookies filled with a seedless raspberry jam and rolled in an aromatic vanilla sugar concoction for a sparkly appeal.
Both the Italian Baci di Dama and Butterball cookies make a lovely addition to any cookie platter!
Happy baking!
This recipe was first published January 30, 2017 and republished June 18, 2020 with updated photos and content.
Baci di Dama, Italian Hazelnut Cookies
Baci di Dama or Lady's kisses are melt-in-your-mouth Italian hazelnut cookies nestled together with a dollop of dark silky chocolate.
Ingredients
1

cup

roasted hazelnuts

1/2

cup

granulated sugar

3/4

cup

all-purpose flour

a pinch of salt

I used fine sea salt

7

tablespoons

unsalted butter

softened

3/4

cup

dark chocolate chips
Instructions
Place the hazelnuts with 2 tablespoons of the granulated sugar in a food processor. Process until the hazelnuts are finely ground. (leave in food processor).

Combine the remaining sugar, flour, a pinch of salt and the softened butter in a medium bowl.

Use your fingers or a pastry cutter to work this mixture just until the butter is evenly distributed and resembles clusters of streusel topping.

Add the flour and butter mixture to the hazelnut mixture in the food processor. Pulse till the dough comes together in a dense mass.

Divide the dough into 4 equal portions.

Wrap the dough in saran wrap and refrigerate for a minimum of 2 hours. (I chilled my dough for 4 hours). The dough should be very cold and firm.

Line 2 cookie sheets with parchment paper.

Unwrap the disk of dough and cut 1/2 inch strips.

Working with one strip at a time, cut the strip into 1/2 inch pieces of dough and roll each piece into smalls balls about the size of a hazelnut in its shell.

Place the balls on the parchment lined cookie sheet while spacing them about 2 inches apart.

Once you have filled one cookie sheet, place it in the fridge and repeat with the remaining cookie balls.

Chill the rolled cookies for about 1 hour or if pressed for time freeze for 1/2 hour.

When ready to bake, preheat the oven to 300 degrees F.

Bake one sheet at a time for about 13 minutes. They should look light golden brown in colour.

Place the cookie sheet onto a cooling rack and let cool completely. Repeat with the second cookie sheet.

Let the baked cookies cool completely before filling with the melted chocolate.

When ready to assemble the cookies place the dark chocolate chips in a microwave safe bowl and melt it on high for about one minute stopping to stir at 30 second intervals.

Use a small spoon or fill a piping container with the melted chocolate and put a dollop of chocolate on the flat side of a cookie.

Top (flat side down) with a second cookie while pressing down slightly to form a sandwich.

Repeat with the remaining cookies.

Store in a cool dry place.
Notes
This recipe for Baci di Dama was adapted from the cookbook, Dolci Italy's Sweets by Francine Segan with a few modifications.
I increased the amount of hazelnuts to a full 1 cup as this gave me an overall drier dough to work with and less flattened cookies as an end result.
I added a pinch of salt to sweeten the flavors. A little goes a long way in doing so!
Also, I baked the cookies at a lower temperature for an overall light golden brown cookie which yielded melt-in-your-mouth cookies.
Nutrition
Serving:
5
g
|
Calories:
49
kcal
|
Carbohydrates:
4
g
|
Protein:
1
g
|
Fat:
3
g
|
Saturated Fat:
2
g
|
Cholesterol:
4
mg
|
Sodium:
3
mg
|
Potassium:
30
mg
|
Fiber:
1
g
|
Sugar:
3
g
|
Vitamin A:
41
IU
|
Vitamin C:
1
mg
|
Calcium:
10
mg
|
Iron:
1
mg