A fun and delicious recipe for Nutella and Hazelnut Rolled Biscotti topped with sugar granules. These orange scented, once baked biscotti are made with pasta frolla, which is basically an Italian sweet pastry dough. It renders these Italian filled cookies ever so tender with a crumbly bite.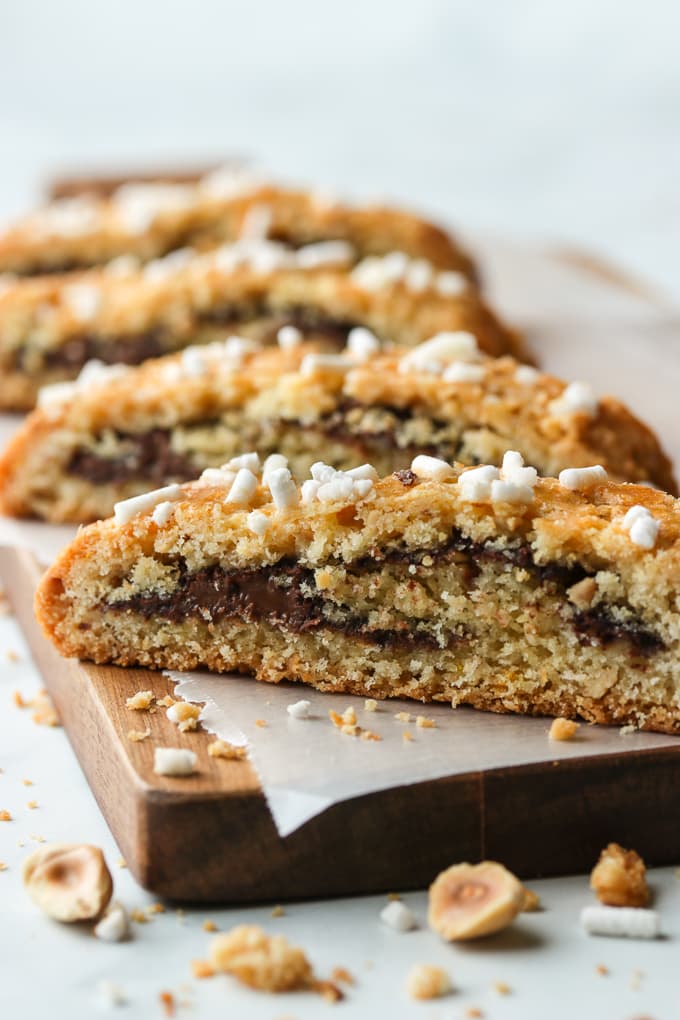 As family and friends know me well…I LOVE to bake cookies. As you can attest to the many cookie recipes on my blog! So it's pretty safe to say that this is my favourite time of the year.
These pre-holiday days are a prelude to all the sweet delectable treats just waiting to happen.
So when recently a colleague of mine asked if I had a Nutella cookie recipe…well I knew it wouldn't be long before one made an appearance here!
These hazelnut biscotti filled with Nutella stand apart from the more traditional twice baked variety.
For one, they're made with an Italian sweet pastry dough. This type of dough is often used in Italian baking to make crostata, tarts and even cookies.
It's quite easy to make and you can use a stand mixer, a food processor or simply your hands.
Also, notably different is that the dough is rolled out flat, spread with Nutella, re-rolled into a log and baked once.
Let me tell you friends…the Nutella filling makes for one heavenly hazelnut biscotti recipe.
You'll find the Nutella's unique creaminess makes it a perfect spreadable concoction over this rolled out biscotti dough.
How to Make Pasta Frolla for Nutella and Hazelnut Rolled Cookies
Place the flour, finely ground hazelnuts, sugar, baking powder, salt and orange zest in the bowl of a stand mixer.
With the paddle attachment stir to combine.
Alternately, you can use a food processor to follow the same directions. Simply pulse to combine.
Add in the cold cubed butter.
With the paddle attachment, mix on medium low speed until you achieve a coarse sandy consistency. If there's a few larger pieces that's ok.
Mix in the slightly beaten eggs along with both the vanilla and amaretto extracts until well combined.
You will have a soft workable dough ready to be divided into two fairly equal portions.
How to Shape Nutella and Hazelnut Rolled Biscotti
To shape and fill these Italian rolled cookies is really quite simple.
You'll need a rolling pin and two sheets of wax or parchment paper to easily shape and roll the stuffed biscotti.
Also have ready a parchment lined cookie sheet standing nearby so you can easily transfer the biscotti logs onto the baking sheet.
Now we're ready to roll these Italian chocolate filled cookies!
Divide the biscotti dough into 2 portions.
Working with one piece of dough at a time, keep the other piece covered with cling wrap so it doesn't dry out.
On a work surface, roll out the piece of dough between two sheets of wax paper to approximately 12 inches long, six inches wide and about 1/4 inch thick.
Remove the top sheet of wax paper while leaving the bottom sheet underneath the rolled dough. (you'll be using it to help roll the biscotti log)
Spread some Nutella over the rolled out dough to about a half inch off the edges.
How to Roll Nutella Biscotti
Start rolling the log from the longest width with the help of the wax paper underneath it by lifting the paper up and easing the dough over the Nutella.
Continue rolling by hanging on to the wax paper as you roll.
Seal the edges by pinching the dough together and tucking them underneath.
With the help of the wax paper, lift and transfer the logs onto the prepared baking sheet, seam side down.
Make sure to leave enough room between the 2 logs because they will spread out somewhat.
Brush the biscotti logs with the beaten egg white. This helps the decorative sugar granules to adhere and gives the Nutella biscotti a lovely sheen.
Alternately, you can substitute the decorative granular sugar with Sanding or Turbinado sugar or not.
Bake in a preheated oven at 350 degrees F for approximately 35 minutes.
The Nutella biscotti will be golden brown in colour when ready and will feel firm to the touch.

This is a delicate dough so you'll need to allow the Nutella cookies sufficient time to cool off before slicing.
I let them cool off by placing the cookie tray directly over a cooling rack for about 20 to 30 minutes.
This way you'll get nice neat cuts when slicing the cookies.
I wouldn't recommend a serrated knife for these rolled cookies because they'll easily break apart.
Do use a sharp sturdy knife with the tip pointed downwards to make swift fluid cuts.
Also, you can slice them at a diagonal or straight up. Diagonally cut biscotti will yield more of an elongated shaped cookie. It's just a matter of preference!

What can I use instead of Nutella
If you're not a fan of Nutella…well we might just have to reconsider our friendship!
But all kidding aside, you can replace the Nutella for any chocolate spread of your choice. And nowadays that's saying a lot as there are so many to choose from.
Peanut butter would also work and is just wonderful in these Chocolate Peanut Butter Biscotti.
Jams also make a perfect substitute and is my choice when baking Italian Bocconotti Cookies which are also made with an Italian pastry dough.
.

How Long Do Biscotti Keep
Because of the higher fat content in these Nutella and Hazelnut Rolled Biscotti they'll have a shorter shelf life then ones made with a little or no fat.
Biscotti with no fat, such as butters or oils, tend to keep for about a month in an airtight container. Whereas ones with little fat content usually keep for about 2 weeks.
These Nutella filled biscotti are at their freshest stored in an airtight container for up to one week for optimal flavour. However, at my house they only last a few days.
They're all perfectly delicious and perfectly dunkable.
Happy Baking!