Soft Blueberry Amaretti Cookies made with blanched almond flour and scented with sweet amaretto liqueur. These cookies are studded with reconstituted dried blueberries and coated in icing sugar.
They make a truly delectable gluten free treat.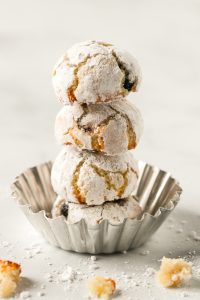 This post was originally published March 30 2017 and republished June 18, 2019 with updated photos and content.
Recently, I was asked if I had a gluten free cookie recipe. Amaretti cookies immediately came to mind.
As I set out coming up with a recipe I knew I wanted to elevate this popular Italian cookie with the addition of dried blueberries.
These dried sweet berries caught my eye every single time I strolled by the candy laden isles of Bulk Barn. After going through quite a bit of almond flour and dried blueberries I finally achieved one I was satisfied with.
What are Amaretti cookies made of?
There are different kinds of Amaretti cookies and mostly consisting of almond flour, sugar, egg whites and almond flavouring or liquor.
Some are made with almond paste or simply ground almonds much like these Chewy Amaretti Cookies.
The cookie dough is formed into little balls and rolled in sugar before baking.
You'll find some are of the crisp and crunchy variety while others are soft and chewy.
They're all undeniably delicious and a true Italian classic.
Much like their French cousin Le Macaron, these Amaretti cookies have a very light crispiness on the outside. Their centres are soft and chewy with a delicate bite that's light as air.
The Legend of the Amaretti cookie
As legend has it these cookies date way back to the renaissance period. At a time when a newly married couple from Saronno Italy presented the bishop with their original family cookies made with crushed apricot kernels, egg whites and sugar. In return the bishop blessed the couple with a long and prosperous happy marriage.
We're not using apricot kernels in this recipe as there is some speculation on how safe their consumption really is. So, there's no need to dash off somewhere in search of them.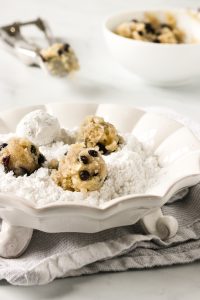 We are however using blanched almond flour which is basically ground almonds without their skins and a much finer flour.
Almond flour is known to add moistness to baked goods and delivers such a sweet taste which is simply perfect when baking up a batch of these soft amaretti cookies.
Although you most certainly can grind up whole blanched almonds to a flour like consistency, this can get a little tricky. You will have to take care that it doesn't turn into a nut butter as its grinding.
Both the almond flour and dried blueberries can be found in the specialty food section of most grocery stores or head on over to Bulk Barn if you should be so lucky as to have one nearby.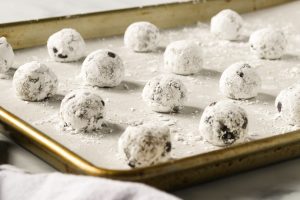 How to make Soft Blueberry Amaretti cookies
Amaretti cookies are not difficult to make and shape out but it does take a little practice to get perfect little domes of goodness.
Use the amount of almond flour as a guideline because this will depend on the quantity of egg whites used. I used egg whites from 3 large sized eggs.
You can use a teaspoon or even better a 1 1/4 inch round ice-cream scoop for even sized cookies.
Scoop the dough onto a plate filled with icing sugar and turn to coat all over. Finally, shape the dough rounds between the palm of your hands into the size of a walnut in its shell.
You'll find the dough soft and pliable to work with and will not spread too much during baking.
If you're dough seems too soft to roll and hold its shape, simply fold in some extra almond flour, about 1 tablespoon at a time.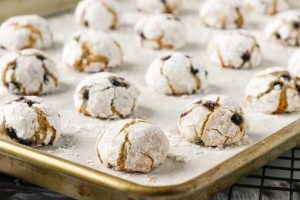 When they're ready the amaretti will have golden brown tinged bottoms and soft centres. Allow to cool on the baking sheet placed over a cooling rack because they are very fragile while still warm.
Due to their softness, you'll want to let them cool sufficiently before lifting them off the baking sheet.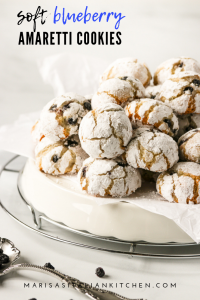 I adore the little burst of sweetness that the blueberry imparts with every single bite and find they elevate these little plump morsels to a truly special treat.
Some will have sweet blueberries peaking through while others…well you'll simply have to bite into one to discover its hidden fruit!
Do try them and enjoy…I know you'll love them!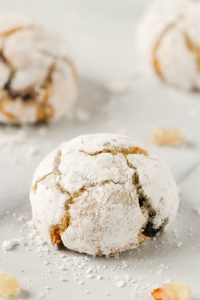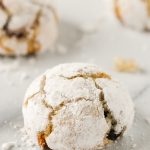 Print Recipe
Soft Blueberry Amaretti Cookies
Gluten free Soft Blueberry Amaretti Cookies scented with amaretto di Saronno liqueur, studded with reconstituted dried blueberries and coated in icing sugar.
Ingredients
3

egg whites

from 3 large eggs

1

cup

plus 2 tablespoons granulated sugar

3

cups

almond flour

I used super fine (updated)

2

teaspoons

honey

1

tablespoon

Amaretto liqueur

or 1 teaspoon almond extract

a pinch of salt

1/2

cup

dried blueberries

reconstituted in hot water and drained

3/4

cup

icing sugar

for rolling
Instructions
Preheat the oven to 325 degrees F.

Line three cookie sheets with parchment paper and set aside.

In a large bowl, using a hand held mixer with the whisk attachment, beat the egg whites until soft peaks form.

Gradually whisk in the sugar just until combined.

Fold in the almond flour then the honey, amaretto and a pinch of salt.

Gently fold in the reconstituted and well drained blueberries.

Use an ice cream scoop about 1 1/4 inch in diameter to scoop out the dough, rolling it generously in the icing sugar.

Roll the cookies between the palm of you hands to shape them roundly about the size of a walnut in its shell and place them on the prepared cookie sheet.

Bake in the preheated oven for about 13 to 15 minutes.

When ready the cookies will have golden brown tinged bottoms and soft centers.

Transfer the cookie sheets to a cooling rack and let them cool completely before lifting them off the pan.

Cookies can be stored in an airtight container with wax paper between the layers.
Notes
Reconstitute dried blueberries by placing them in a small bowl and pour just enough hot water to cover and then let stand for about 15 minutes. Most of all, allow to drain well before proceeding with the recipe.