These Chewy Amaretti Cookies are another wonderful and well known treat to come out of Italy and a true Italian classic. They have a crispy outer edge and an irresistible chewy centre. You'll be hard pressed not to devour the whole plateful in one siting.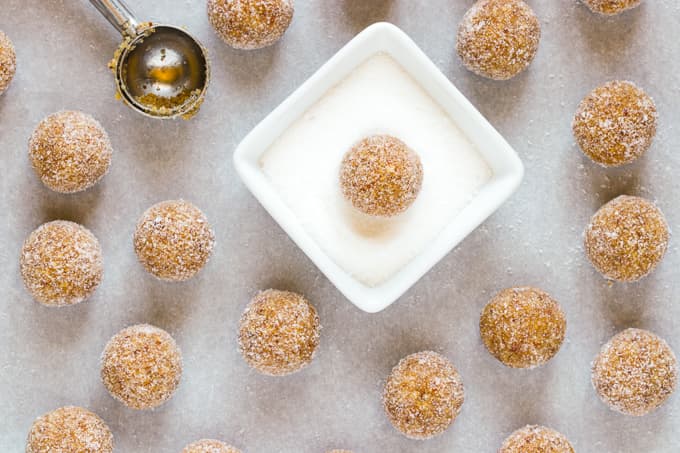 On one of my many frenzied baking moments last Christmas, I baked a batch of Ricciarelli, Italian Almond Cookies. I brought some in to work to share with my colleagues. Once in a while they're my designated and very happy taste testers.
One friend and colleague, Mary, remarked on how much they tasted like her mom's amaretti cookies.
She very graciously offered to share her mom's recipe with me and encouraged me to change the recipe to my liking.
But how does one improve on perfection? They're absolutely amazing, which my family can happily attest! And greedily so as they were gone in mere minutes.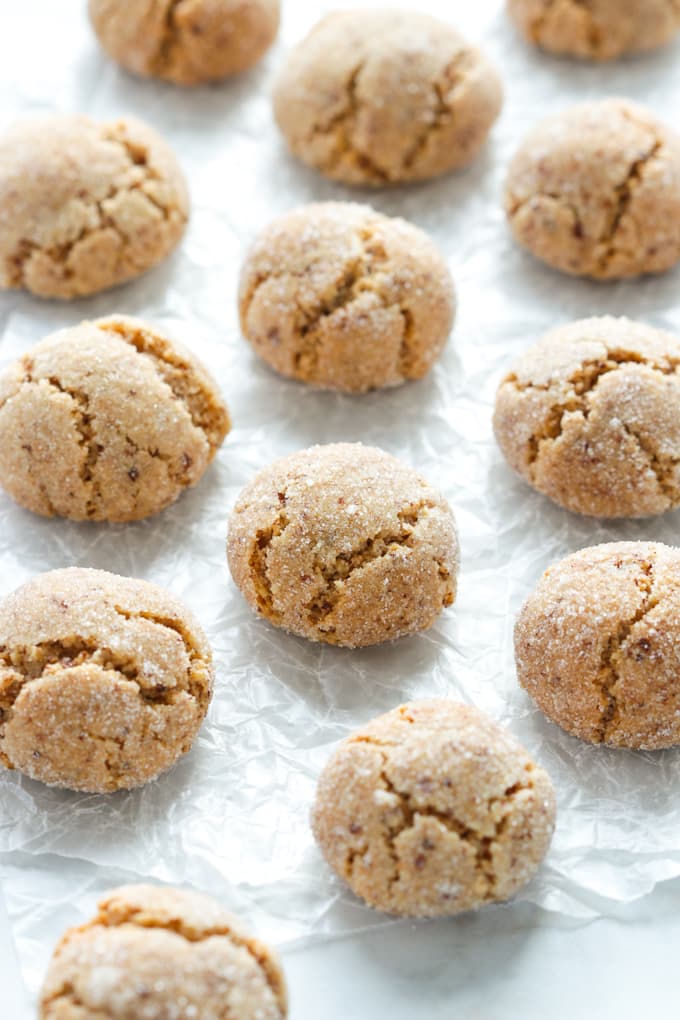 What Are Chewy Amaretti Cookies Made Of
This type of amaretti is simply one of many that can be found in different Italian households.
They mostly consist of one type of almond flour or almond paste with the addition of sugar, egg whites and flavourings.
You can use purchased almond flour or simply grind whole roasted almonds as finely as you can using a food processor.
Whether the almonds are peeled or not really doesn't make any difference in taste. It does however change the over all colour of the cookie. Peeled almonds will yield a paler looking cookie whereas almonds with their skin intact will render a sun kissed golden brown colour.
You'll note that in this recipe, Mary's mom uses one part hazelnuts to three part almonds. I truly love this combo and kept the recipe as is but you can use all almonds instead.

Not only do these cute little morsels have a pretty golden hue, they also smell simply wonderful! And they're gluten free!
Are Amaretti Cookies Easy To Make?
Amaretti cookies are by far one of the easiest cookies to ever make.
They require just a few simple ingredients so do use the freshest almonds possible.
Not those year old almonds stored why back in your pantry. Or that forgotten batch of almonds tucked in the far corner of your freezer from way back when!
And seriously, you don't even need any special equipment! Just two bowls. One for whisking the dry ingredients and one for beating your egg white in. Which you can also beat with a fork…or a whisk. Unless you choose to use your electric mixer.
In which case, I'll leave that part up to you. But just remember not to over beat the egg white. You just want soft peaks!

Tips to making perfect Chewy Amaretti Cookies
An extremely helpful tip that Mary's mom has is a trial bake. She bakes 3 to 4 cookies to see how they turn out.
If the cookies flatten overmuch she'll add a little more finely ground almonds to the mixture. If the dough is too stiff she'll mix in a little more egg white.
I've tested this recipe 3 times and each time they turned out just wonderfully. So delicious!
As a personal preference, I chilled the dough for one hour before shaping and rolling the dough in the sugar. This helped achieve perfectly domed shapes.
A cookie scoop also helps tremendously in making equal sized cookies. I used one of 1 1/4 inch round in size.
Use the 15 minutes of baking time as a guideline. Check them after 12 minutes to make sure they are not over browning as not all ovens are created evenly.
I doubled up on my baking pans because these cookies benefitted from a double insulation. They turned out with an even all round crispiness and chewy centres. Light brown in colour with crisp crackled tops…and so pretty to look at!
If you prefer them even more crispier then simply leave them for another minute or two.

These chewy amaretti cookies are especially wonderful savoured with a sweet wine or equally enjoyable with your favourite cup of tea or coffee!
If you make this recipe remember to tag @marisasitaliankitchen on Instagram so I can see your creation!


Print Recipe
Chewy Amaretti Cookies
A classic Italian Cookie. These Amaretti cookies have crispy outer edges, soft chewy centres and are gluten free.
Servings:
2
dozen, approximately
Ingredients
3/4

cup

roasted almonds

1/4

cup

roasted hazelnuts

1/2

cup

granulated sugar

pinch

of baking powder

1

egg white

from a large egg

1

teaspoon

pure almond extract

1/3

cup

extra granulated sugar

for rolling the cookies into
Instructions
Place both nuts in a food processor and grind to a very fine sandy consistency. Take care not to turn it into a nut butter.

In a medium sized bowl whisk together the ground nuts, granulated sugar and a pinch of baking powder. Set aside.

In a separate small bowl beat the egg white to a soft peak.

Stir the almond extract into the egg white mixture.

With a fork, stir the egg white mixture with the nut mixture until well combined.

Cover with cling wrap and chill in the fridge for 1 hour.

Line a baking sheet with parchment paper and set aside.

Preheat oven to 350 degrees F.

Use a cookie scoop of about 1 1/4 inch round to scoop up pieces of dough and shape them in a circle using your hands. If you don't have a cookie scoop, a well rounded teaspoon will do.

Roll the cookie ball in granulated sugar and place onto the prepared cookie sheet.

Repeat with the remaining cookie dough, spacing the cookies about 2 inches apart.

Bake in the preheated oven for about 12 to 15 minutes.

When ready the cookies will look light brown in colour with crisp crackled tops.

Allow the cookies to cool on the pans placed over a cooling rack.
Notes
The cookie dough shouldn't be too sticky to roll with your hands but if you do encounter some stickiness simply dab your hands with a teeny bit of water and continue rolling and shaping the cookie dough.