An Italian Biscotti Regina Recipe fit for a queen or even a princess. They're an extremely popular Sicilian cookie with a distinctive sesame seed crust. Made with olive oil, perfumed with both orange blossom water and the zest of an orange. These cookies are not overly sweet and truly irresistible.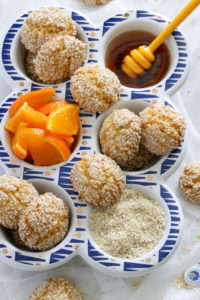 Biscotti Regina easily translates to Queen's cookies and is a classic Sicilian cookie.
There is some speculation that these Biscotti Regina were named after Queen Margherita di Savoia. She was the much beloved queen of Italy and wife to King Umberto I. Another more popular and well known food named after Italy's favorite queen is pizza Margherita favoring the colors of the Italian Flag. Red, white and green representing tomatoes, mozzarella and basil.
Really though, you don't have to be a queen to enjoy these yummy cookies!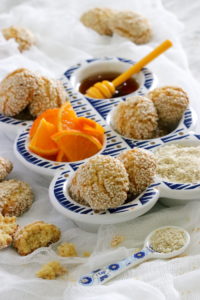 More on these irresistible cookies!
These cookies came about after a dear reader inquired about them.
Although they can be made with butter, shortening or olive oil, I settled on the latter after testing them with butter.
I love the depth of flavor olive oil lends to these cookies and its truly a wonderful alternative to butter.
Also I added orange zest and some orange blossom water for extra flavor but do go easy on blossom water. Otherwise, they will turn out tasting like a floral bouquet!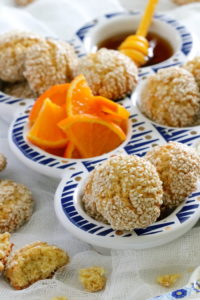 They're simple to make and if you have little ones who love to help in the kitchen then they'll get a kick out of rolling the cookies in the sesame seeds.
There are a couple of ways to shape these cookies. One is to keep them in a log shape after rolling and cutting the pieces. But if like me and you prefer a more oval or rounder shape then simply roll the cut pieces into balls.
Then dip into the beaten egg whites and finally roll in the sesame seeds. Just before they're ready for the oven I press them down a little then I cup the 2 sides together with the palm of my hands. This presses them back up a little while forming an oval shape.
Alternately, you can dip them in milk and then roll in the sesame seeds if you wish. But I find that the sesame seeds adhere better to the egg whites and render crispier outer layers.
It's all a matter of preference I guess!

They bake up into these pretty shapes with a lovely crackle top lending a little peek into its textured outer layers.
They're a crumbly cookie and slightly drier in texture with a tender bite. Perfectly dunkable in a steaming cup of coffee or tea!
These cookies keep extremely well in an airtight container for at least a week if not a bit longer. I wasn't able to test their freshness beyond that because they disappeared quickly at my house.
But you'll be happy to know that they also freeze well too. Perfect for make ahead desserts!

Add some love in your kitchen with these yummy morsels and feel like a queen for the day!
If you make this recipe remember to tag @marisasitaliankitchen on Instagram so I can see your creation!

Print Recipe
Italian Biscotti Regina Recipe
A very popular Sicilian cookie with a distinctive sesame seed crust. Made with olive oil, scented with both orange blossom water and orange zest. These cookies are truly irresistible.
Ingredients
2

cups

all purpose flour

2/3

cup

granulated sugar

1

teaspoon

baking powder

1/4

teaspoon

salt

1/2

cup

olive oil

2

large

eggs

2

teaspoons

vanilla extract

1/2

teaspoon

orange blossom water

1

teaspoon

grated orange zest

1

tablespoon

honey

1 1/2

cups

raw sesame seeds

2

eggwhites

from 2 large eggs
Instructions
In a large mixing bowl stir together the flour, sugar, baking powder and salt.

Add in the olive oil and mix with an electric mixer just until a fine sandy texture is achieved.

Mix in the eggs, vanilla extract, orange blossom water, orange zest and honey until well incorporated.

Preheat the oven to 350 degrees F.

Line two baking sheets with parchment paper.

In a small bowl beat the egg whites with 2 tablespoons of water using a fork and set aside till ready to dip the cookies.

Divide the dough into 8 equal portions and place on a lightly floured work surface.

Working with one portion of dough at a time, on a lightly floured surface, roll into a log of 1 inch wide in diameter and 10 inches long.

Cut the rolled dough into 5 equal pieces and roll each piece into a ball. It will be approximately the size of a walnut in its shell. Set aside and repeat with the remaining logs.

When all your balls are shaped, use a fork to dip one cookie at a time first into the beaten egg white mixture and then roll in the sesame seeds while turning to coat all over.

Transfer each cookie to the prepared sheet pans. Press down slightly on each cookie and the tuck the edges back up using the palm of your hands to form oval shapes.

I was able to fit 20 cookies on each baking pan. They don't spread much but will puff up.

Bake for about 18 to 20 minutes or till golden brown.

Allow to cool on a wire rack and enjoy with a cup of coffee or tea.

These cookies keep extremely well in an air tight container for at least a week. I haven't tested them past that one week because they're simply too yummy to have lasted any longer.