This Italian Mostaccioli Cookie Recipe is sure to bring a nostalgic feel to your family gathering.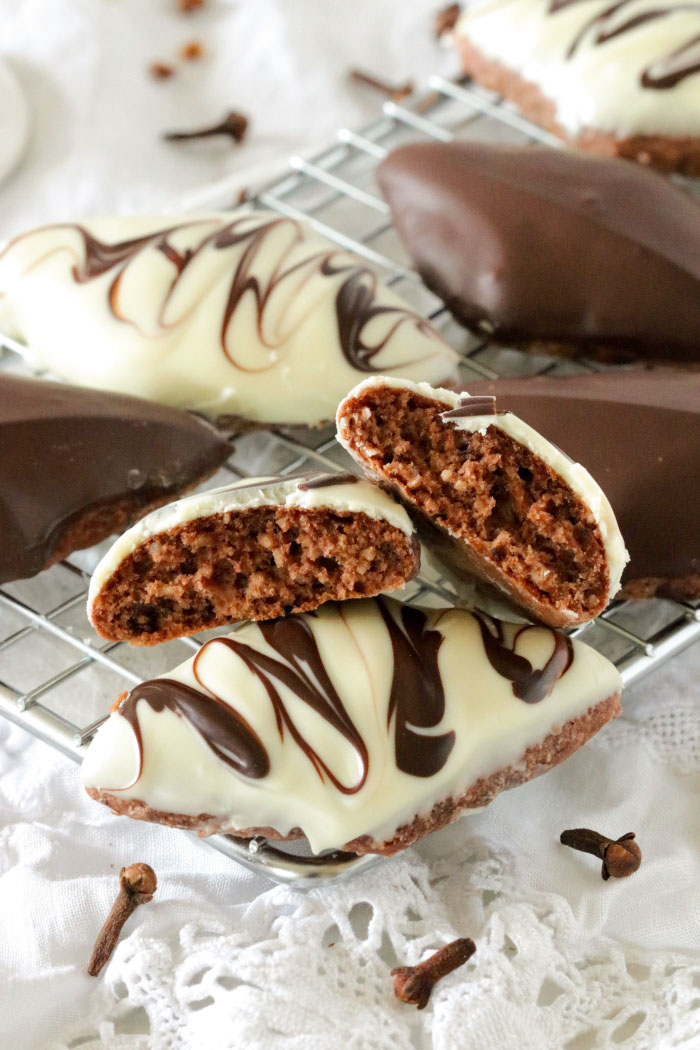 These soft, two bite cookies are chock-full of finely ground almonds and filled with a lovely aromatic essence from both ground cloves and cinnamon.
A touch of limoncello with orange and lemon zests lends a lovely citrus taste to these soft cake-like cookies.
They're also flavoured with both cocoa and semi-sweet chocolate which are then enveloped in more chocolate goodness.
About Mostaccioli Cookies
The origin of this cookie is said to date back 300 hundred years before the birth of Christ and rooted deep in Italian history. However not all food historians seem to agree on this. The consensus however, is that the mostaccioli cookies have greatly evolved throughout the years.
In the old country these cookies were made with Wine Must. It was used as a sweetening agent because of its high glucose content. Wine Must is basically pressed grapes containing all components of the fruit. This was a time when sugar or even honey were not readily available. A time when people made do with what they had on hand.
They were also made in different shapes and sizes with intricate patterns depicting historical animals. Or items such as baskets or even the palm. Some were made with jewel like decorations. These were sold at auctions in order to raise money for charities.
It wasn't until centuries later that this clove and cinnamon scented cookie gained in popularity. Most families nowadays have their own unique way of making them. From sculpted cookies to biscotti like shapes. Or the more popular diamond shaped one that you see here today.
While some contain no leavening agent yielding a harder cookie, these are soft and almost cake-like.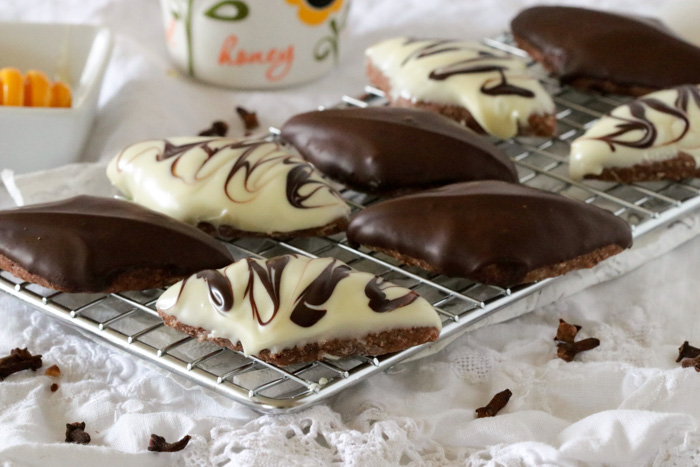 Italian Mostaccioli Cookie Recipe
You'll be working with a very soft dough and will need to flour your work surface, rolling pin and hands when shaping and cutting the cookies.
I used a 2 inch diamond shaped cookie cutter to form the diamond shaped cookies. You can also use a knife to cut them into diamond shapes.
I chose to dip half the batch of cookies in semi-sweet chocolate and the other half in white chocolate. I find this makes a lovely presentation when platted together on a large platter.
Keep in mind to allow sufficient time for the chocolate to set before platting…trust me on this!
Then simply enjoy with your favourite beverage!
Happy baking dear friends!


If you make this recipe remember to tag @marisasitaliankitchen on Instagram so I can see your creation!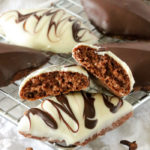 Print Recipe
Italian Mostaccioli Cookie Recipe
A traditional Italian cookie with ground almonds, sweetened with honey, scented with both orange and lemon zest, cloves, cinnamon and dipped in chocolate.
Ingredients
COOKIE DOUGH

3

cups

all purpose flour

2

cups

almonds

very finely ground

1/3

cup

baking cocoa powder

I used dutch processed

1/4

teaspoon

ground cloves

1/2

teaspoon

cinnamon

2

teaspoons

baking powder

pinch

of salt

4

large eggs

3/4

cup

granulated sugar

3/4

cup

honey

orange zest

from 1 large orange

lemon zest

from 1 medium sized lemon

1/2

teaspoon

pure vanilla extract

2

tablespoons

Limoncello

or substitute with the juice of one lemon

3

ounces

coarsely grated semi-sweet or bitter sweet chocolate

FOR THE CHOCOLATE GLAZE

12

ounces

semi-sweet or bittersweet chocolate

12

ounces

white chocolate

vegetable oil for thinning the chocolate
Instructions
Preheat the oven to 350 degrees F.

Line 4 cookie sheets with parchment paper and set aside.

In a large bowl whisk together the flour, finely ground almonds, cocoa powder, cloves, cinnamon, baking powder and salt then set aside.

Using a stand mixer or hand held mixer, beat the eggs together.

Mix in the sugar and honey, beating until very well combined.

Stir in the orange and lemon zest, the vanilla extract and limoncello.

Slowly mix in the flour mixture until combined.

Stir in the grated chocolate.

The dough will be very soft and pliable.

Working with small portions of the dough at a time (about 1 heaping cupful) transfer to a well floured surface.

With a floured rolling pin, roll out the dough to about 1/3 of an inch thick.

Use a 2 inch diamond cookie cutter to shape and cut out the cookies and then transfer to the prepared baking sheet while spacing them about 1 inch apart. (dipping the cookie cutter in flour before each use will tremendously help for easy release.)

Re-rolled the scraps to shape and cut just 1 more time.

Bake in the preheated oven for about 10 minutes. The cookies should still be slightly soft to the touch when ready.

While one batch is baking in the oven continue rolling and cutting with the remaining dough.

Make sure the cookies cool completely before dipping in chocolate.

CHOCOLATE COATING:

Melt the semi-sweet chocolate using a double boiler or in the microwave, using a microwave safe bowl on high for about 90 seconds stirring at 30 seconds interval.

Thin the chocolate with a little bit of vegetable oil to loosen the consistency somewhat for easy dipping.

Dip half a batch of the cookies into the melted semi-sweet chocolate and place on a cooling rack till the chocolate sets.

Repeat by melting the white chocolate and coating the remaining cookies.

Before the white chocolate sets, use a piping bag filled with dark melted chocolate to dot the tops then simply run a toothpick through the dots to create a pretty pattern.

Allow for the chocolate to set completely before storing.