A simple yet elegant Chocolate Orange Ricotta Tart. This Italian treat is made with pasta frolla, an Italian sweet pastry dough. It has a silky smooth filling of ricotta and mascarpone cheeses. The zest of mandarines with its juices adds a lovely citrusy scent. And of course some grated semi-sweet chocolate simply because chocolate does indeed make everything better.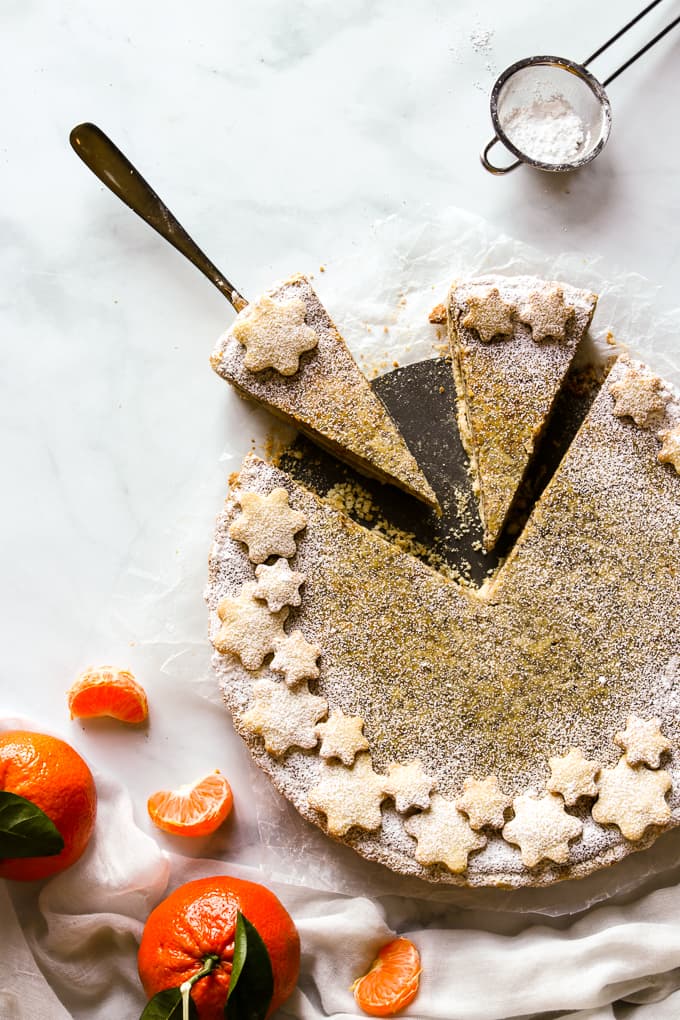 Italian Easter Tart
Growing up Italian in a predominately french city, there never was any lack of desserts after a fine celebratory meal.
Easter Sunday was no exception especially after a mandatory and traditional simple roast of agnello or rather lamb.
Desserts as well never wavered far from the customary sweets from way back home in Italy.
One in particular which graced our table each and every Easter was la cassata. A typical tart from my home town made with ricotta, sheep's milk cheese and chocolate which utilizes many eggs. It always had mamma and her sisters vying for the coveted spot of who used the most eggs.
It's not unusual to use anywhere from 20 to 30 eggs when making la cassata from my Paese in the Lazio region of Italy.
Although not my mamma's cassata this chocolate orange ricotta tart still pulls at my heartstrings. It's somewhat similar in taste to the one I grew up on but way much lighter and not as dense.

What is Pasta Frolla
Pasta frolla is a crumbly short crust pastry that is rolled out and used to line tart tins. It can be used as a base for savoury meals or sweet desserts.
It's really easy to make and also quite forgiving if any breakage occurs, which can be easily remedied by working it back together with either your fingers or the back of a spoon.

For this ricotta tart recipe I used a 10 inch tart tin with a removable base but you can also use a 9 inch tart tin.
If using a 9 inch tin you'll want to divide the pastry dough in half while using one half and freezing the other to use at a later time. Or you can make some pretty cut out cookies with the remaining dough and use to decorate the tart.
You'll also have to compensate for the slightly smaller tart tin by reducing the amount of time baked.

Orange and chocolate are one of my absolute favourite pairings.
Since I had so many sweet mandarins lying around I decided to use both the zest and the juices from this sweet fruit.
You can however substitute the mandarins with the zest of an orange.

All that's needed is a light or generous dusting of icing sugar just before serving.

This creamy and dreamy tart is especially delightful with your favourite cup of coffee or tea!
Enjoy while still warm or cold.
If you make this recipe remember to tag @marisasitaliankitchen on Instagram so I can see your creation!
This post was originally published April 14, 2017 and updated with new content and photos March 25, 2019.

Print Recipe
Chocolate Orange Ricotta Tart
Chocolate Orange Ricotta Tart is a light Italian torta made with a pastry crust, ricotta and mascarpone cheeses, grated chocolate and scented with orange zest.
Ingredients
FOR THE PASTRY CRUST

12

tablespoons

unsalted butter

softened

1/4

cup

granulated sugar

1

egg yolk

from a large egg

2

cups

all-purpose flour

RICOTTA FILLING

2

cups

ricotta cheese

1

cup

mascarpone cheese

1

cup

granulated sugar

3

large eggs

beaten

grated zest from 3 small tangerines

or 1 large orange

2

tablespoons

tangerine juice

or orange juice

2

ounces

grated semi-sweet chocolate

icing sugar for dusting
Instructions
MAKING THE PASTRY

In a large mixing bowl beat the butter and the sugar until smooth.

Add in the egg yolk and beat until thoroughly combined.

Stir the flour into the mixture.

Transfer the mixture to a work surface and work the dough with your hands until you get a smooth pastry dough.

Roll out the pastry dough on a lightly floured work surface and carefully transfer the dough to a 10 inch round tart tin with a removable bottom.

Place in the fridge to chill for 30 minutes.

Preheat the oven to 350 degrees F and start making the filling.

Place the ricotta and the mascarpone cheese in a large bowl and beat until smooth.

Add the sugar, eggs, orange juice, zest and beat until thoroughly combined.

Fold in the grated chocolate then pour the mixture over the prepared pastry dough.

Bake for 50 to 60 minutes until the filling is set.

Remove the tart from the oven and let cool in the tin.

Once cooled dust with icing sugar and serve.
Notes
Recipe is adapted from Cafe Italia cookbook by Liz Franklin with a few switch ups. I substituted the lemon juice and zest with mandarin juice and zest and added 2 ounces of grated semi-sweet chocolate.The original recipe called for using half the pastry dough, baking it in a 9 inch tart tin for 45 minutes.I used a 10 inch tart tin, used the whole amount of pastry dough and therefore increased the baking time by almost 15 minutes to compensate for a bigger tart.