Dress up your holiday table with a homemade Chocolate Cherry Panettone, an Italian sweetbread that can be enjoyed in a myriad of ways.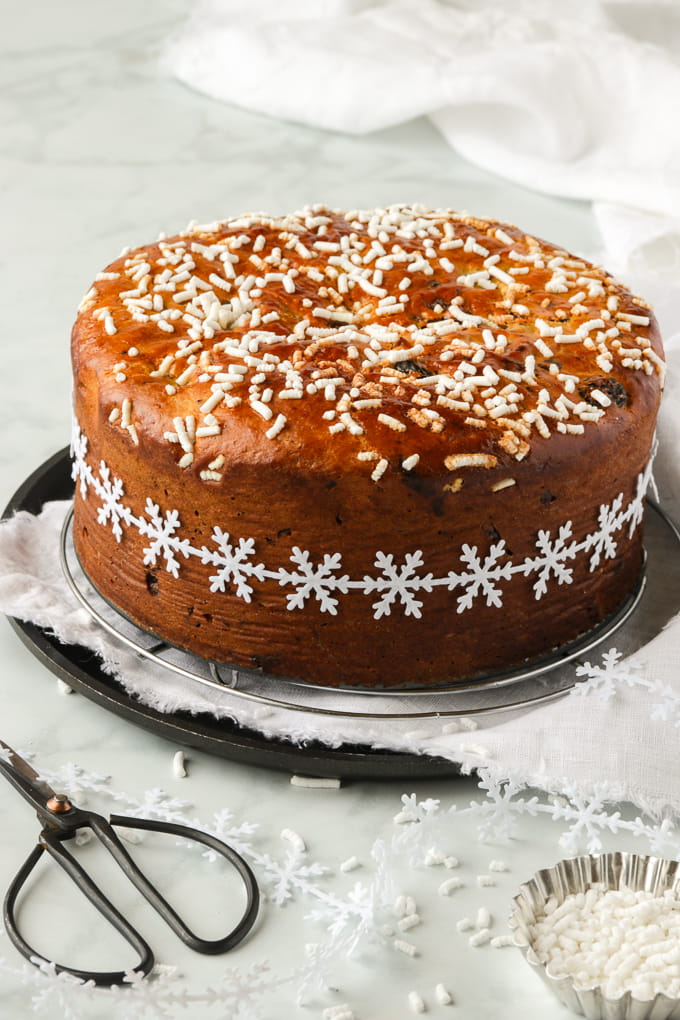 I love strolling through the panettone laden aisle at the Italian grocery stores during the holidays. It's a definite reminder that Christmas is well on its way!
Nowadays, there are so many varieties to choose from. A far cry from the more common panettone with the dry raisins or hard candied fruits. I'm definitely not a fan of those in any type of dessert let alone a panettone!
The store bough variety goes through a long process of curing and proofing the dough along several days and has a long shelf life.
But with a few simple steps you too can make a stunning sweet bread in half a day.
It's fairly easy to make and this sweet bread is studded with soft, boozy drenched cherries and bits of chopped dark chocolate pieces. My favourite combo!
It's also scented with both the zests of a lemon and orange and also the warmth of fragrant vanilla extract.
Let's make panettone, shall we!
How to make a Chocolate Cherry Panettone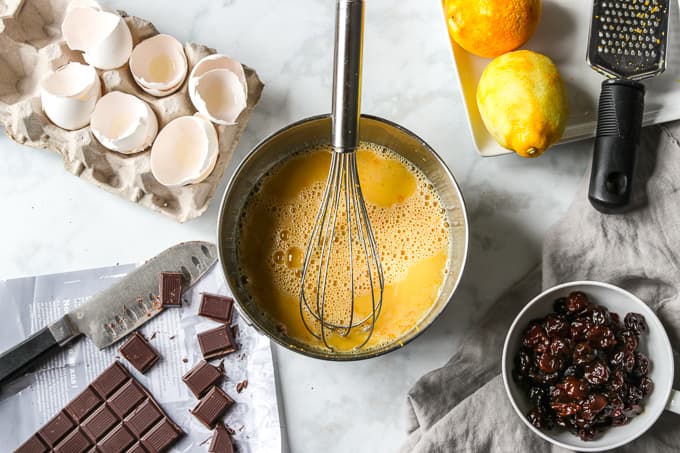 I like to start the night before by combining the dried cherries and Amaretto liquor in a small bowl. This allows the dried cherries to soak up the liquor for maximum flavour. But really, you can also do this at the start of the day you plan to make your panettone.
Then simply start by whisking together the water, eggs, egg yolks with both zests, the honey and vanilla.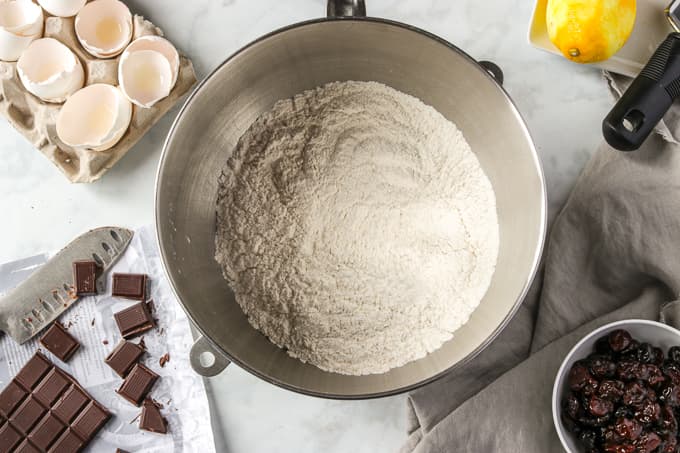 Here is where a stand mixer with the hook attachment comes in handy because the dough will be extremely soft and wet.
You'll need to first stir together the flour, sugar, the yeast and salt in the bowl of the stand mixer.
Then simply add the egg mixture to the flour mixture and knead until your dough starts to form.

At this point you'll add the softened butter and continue to knead for a total of 5 to 7 minutes. It's also best practice to stop the mixer a few times to get down to the flour that settles at the bottom of the bowl.
Simply scoop down with a rubber spatula and fold up to release the flour from the bottom of the bowl for even distribution.
Then continue kneading for the remaining time.
You should then have a very soft and sticky dough.

The First Rise
Grease a large bowl with some vegetable oil and gently invert the dough into the bowl.
Cover with cling wrap and let it rise, in a draft free area of your kitchen for about 1 1/2 hours. It will double and almost triple in size.
I've learnt a trick over the years for allowing any type of yeasted dough to rise. I set my bowl on my kitchen counter that's directly over my dishwasher. And the heat from the running dishwasher warms up my counter which helps my dough to rise beautifully.
But you may have a trick up your sleeve as well! Then do that!

The Second Rise
After the initial first rise, I then top the dough with the boozy cherries and chocolate pieces.
To fully incorporate the cherries and chocolate, use a rubber spatula and gently fold them in till evenly distributed.

Invert the sweet bread dough into the prepared cake pan or panettone mold if using.
Let it rise for another hour and 15 minutes or so uncovered.
When ready to bake, brush the top with some beaten egg whites and sprinkle with sugar granules.

Bake the panettone for 40 minutes, until deep golden brown.
Test for doneness by inserting a skewer in the centre. If it comes out clean then you're good to go. If not then simply bake it a few minutes more.

How to Hang Panettone Upside Down
Traditionally, a panettone is cooled off upside down so that it doesn't collapse and loose its airy puffiness.
This can easily be done by inserting 12 inch wooden skewers at the bottom of the panettone. Four parallel skewers are sufficient for a panettone of this size.
Choose a pot or other large kitchen bowls that's slightly larger in diameter then your panettone. Make sure it's taller as well so it doesn't touch the bottom of the pot.

How Long does Panettone stay fresh?
As with any sweet breads, homemade panettone is at its freshest the first few days it's baked.
However, it will keep for about a week stored in an air tight container at room temperature.

What to do with leftover Chocolate Cherry Panettone
Traditionally Italians love panettone for breakfast alongside a sweetened hot beverage. But any leftover panettone can be turned into all new recipe that would be perfect for a weekend breakfast, brunch or anytime dessert.
You can turn it into a stunning Panettone Trifle
A sweet bread pudding
Or even an indulgent French toast
Whichever way you plan to have it, enjoy and happy baking!

Another chocolate cherry dessert you'll love:

Print Recipe
Chocolate Cherry Panettone
An easy homemade Italian Christmas Panettone with dark chocolate and amaretto soaked cherries. Any leftovers are great for making french toast, bread pudding or even a trifle dessert.
Equipment
Stand Mixer with hook attachment

8 inch round cake pan with 3 1/2 inch in height or a panettone mold
Ingredients
1

cup

dried cherries

2

tablespoons

Amaretto liquor

1

cup

lukewarm water

3

large

eggs

3

large

egg yolks

reserve the whites

lemon zest

from 1 large lemon

orange zest

from 1 large orange

2

tablespoons

honey

2

teaspoons

pure vanilla extract

3 1/2

cups

all purpose flour

1/2

cup

sugar

1

8g

envelope quick rise instant yeast

1

teaspoon

fine sea salt

1/2

cup

butter

softened

3/4

cup

chopped chocolate pieces

I used 70% dark chocolate

1/4

cup

sugar granules

for topping the panettone
Instructions
Place the dried cherries and Amaretto liquor in a small bowl and set aside.

In a medium sized bowl, whisk together the water, eggs, egg yolks, both the lemon and orange zests, honey and the vanilla extract then set aside.

In the bowl of a stand mixer stir together the flour, sugar, yeast and salt.

Fit the hook attachment to your mixer.

Pour the egg mixture into the flour mixture and knead until you see the dough forming.

Add the softened butter to the dough and continue kneading for about 7 minutes while stopping to scrap the flour from the bottom of the bowl.

You'll note that the batter will be very soft and sticky.

Lightly grease a large bowl.

With a rubber spatula scrape down the dough into the greased bowl.

Cover the bowl with cling wrap and set in a warm draft free area to rise for 1 hour and 30 minutes.

Meanwhile prepare your cake pan if using.

Grease the bottom and sides of your cake pan.

Use parchment paper to make a collar and place along the insides of the pan and firmly press the paper against the sides of the pan. Also grease the joining ends of the parchment paper. My pan was 3 1/2 inches high and so I trimmed the top to surpass the rim by one extra inch.

If you're using a panettone paper mold there is no prepping.

After the dough has risen for 1 hour and 1/2 fold in the boozy cherries and chopped chocolate with a rubber spatula.

Gently scrape the dough into your prepared cake pan and let it rise again uncovered for an additional 1 hour and 15 minutes.

When ready to bake preheat the oven to 350 degrees F

Lightly beat some of the reserved egg whites and gently brush the top of the panettone with the beaten egg whites.

Sprinkle the top with sugar granules.

Bake in a preheated oven for 40 minutes.

When ready the panettone will have a deep golden brown colour and when poked with a wooden skewer it should come out clean.

Carefully release from the cake pan and insert 12 inch wooden skewers into the bottom of the panettone and then invert it upside down into a large stock pot allowing the skewers to rest over the rim of the stock pot.

This helps the panettone from collapsing while cooling off and also aids in retaining those pretty air pockets throughout the sweet bread.

Allow it to cool completely upside down if not serving right away. Then store in an airtight container.

We love it while still slightly warm, soft and fluffy.
How to Store Homemade Panettone
The Panettone is at its best the first few days it's baked but will keep for about 1 week covered in an airtight container at room temperature.

Any day old portions can be reheated in the microwave for about 20 seconds or so. This will revert the slices to a softer and fluffier appearance as it would be on its first day of baking.

You can also re-invent any leftovers into french toast, a bread pudding or even a holiday trifle.
Nutrition
Serving:
118
g
|
Calories:
379
kcal
|
Carbohydrates:
52
g
|
Protein:
8
g
|
Fat:
15
g
|
Saturated Fat:
8
g
|
Cholesterol:
120
mg
|
Sodium:
288
mg
|
Potassium:
123
mg
|
Fiber:
3
g
|
Sugar:
21
g
|
Vitamin A:
738
IU
|
Calcium:
37
mg
|
Iron:
3
mg