An elegant and impressive Chocolate and Pear Crostata with a silky smooth filling of finely ground walnuts and dark chocolate. As a bonus it's remarkably easy to put together.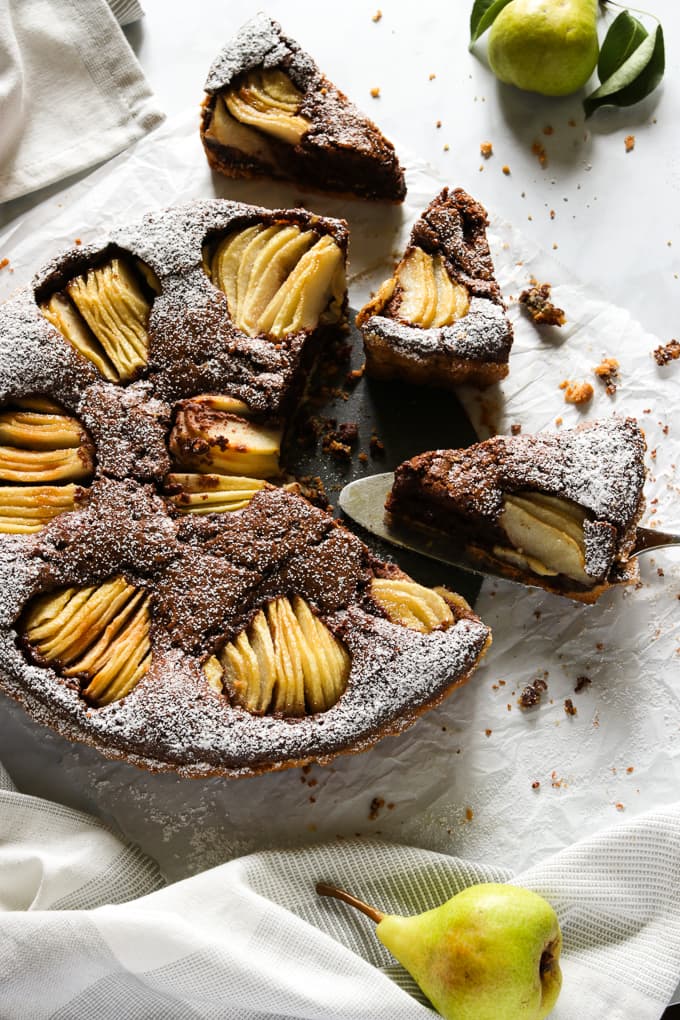 This recipe was originally published October 1, 2015 and republished August 29, 2018 with updated content and photos.
Although it has been a couple of years since my dad passed away, his pear tree continues to flourish. A constant and wonderful reminder of how he passionately tended and nurtured his garden.
It lays mostly dormant right now except for this one majestic pear tree. This lone pear tree bears more fruit than we can possibly consume. Although, I must say the squirrels are certainly giving us a run for our money!
Its branches are now weighed down heavily and bursting with delectable fruits while some are strewn all over the ground, blanketed in green and gold.
These ripened sweet fruits are just about ready to be plucked off and sink ones teeth into. But since I have so many…well why not bake with them! Right?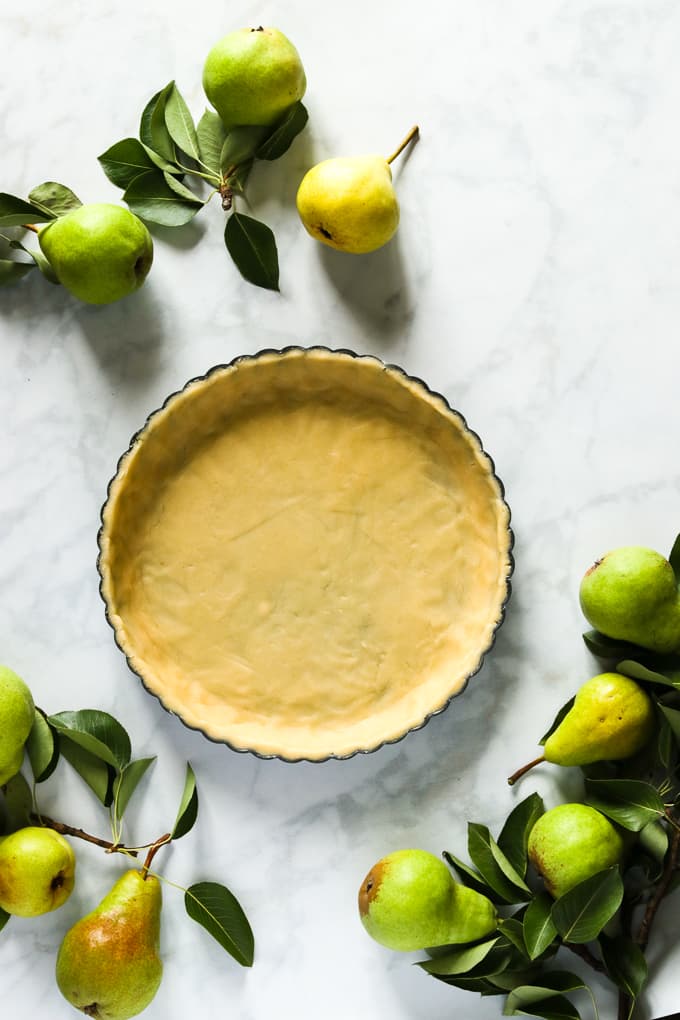 What is a Crostata?
A crostata is essentially a rustic baked tart with a short crust pastry base. Its basically free-form and in my opinion far easier to make then a 2 crust pie.
This crostata is so outrageously good, it will take a lot of restraint not to devour the whole tart. It is made with a pastry crust much like shortbread and with a silky rich chocolate filling.
Part of the appeal of this crostata are the juicy pear halves which are sliced and nestled over the chocolate filling. They provide such an elegant appearance and are sure to garner many compliments.
But really, feel free here to add your own artistic flare and fan out the slices which ever way you wish!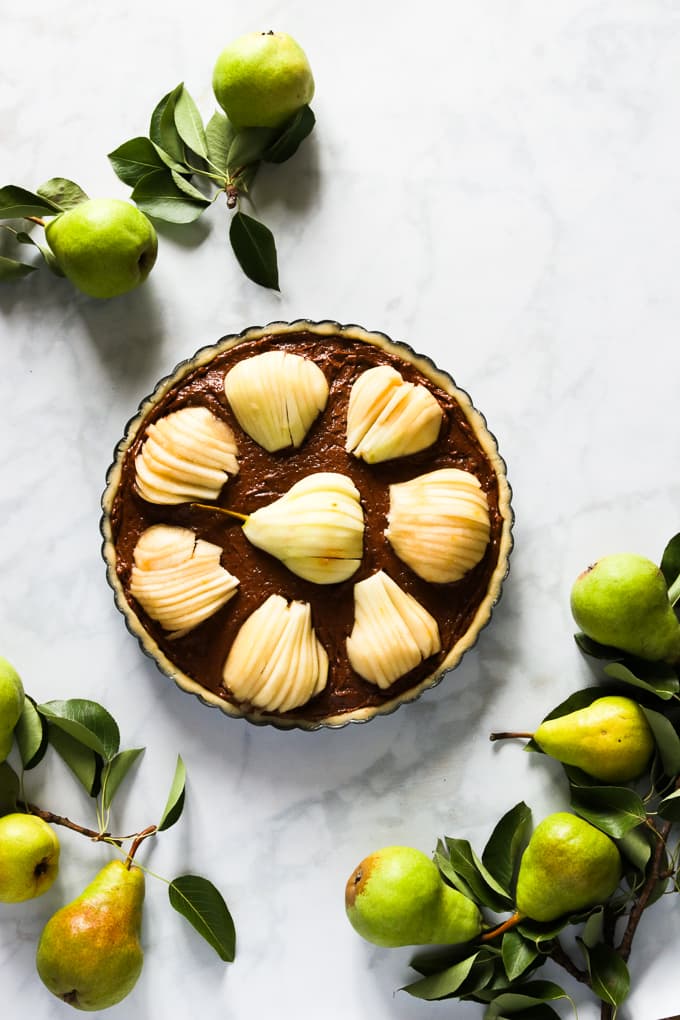 Although you may use a mixer to make the pastry dough, I much prefer using my food processor. The dough comes together with such ease rendering it soft and pliable and making it very easy to pat down both over and around the tart tin.

I tried this crostata once using almonds and another time using walnuts. I must say, my husband and I both prefer the walnuts, but they are easily interchangeable. Whichever nuts you choose, this recipe is a real keeper!

As with all fabulous desserts, do savour every single bite accompanied by a very good espresso of course!
Chocolate and Pear Crostata
Chocolate and Pear Crostata with a silky smooth filling of finely ground walnuts and dark chocolate makes a rustic, elegant dessert.
Ingredients
For the Pastry
3/4

cup or 12 tablespoons

butter

cubed

1/4

cup

granulated sugar

1

large

egg yolk

2

cups

all purpose flour
For the Chocolate Filling
14

tablespoons

butter

cubed

1

cup

granulated sugar

3

large

eggs

beaten

1 1/3

cups

walnuts, lightly toasted

finely ground

2

tablespoons

all purpose flour

3 1/2

ounces

dark chocolate or semi-sweet chocolate, melted

I used 70% dark chocolate

4

ripe

firm pears

powdered sugar

for dusting

9

inch round

tart tin with removable base
Instructions
Making the Pastry
Place the butter and sugar together in a food processor and blend until smooth.

Add in the egg yolk and blend again until it is thoroughly mixed.

Next, add in the flour and pulse intermittently until the dough is smooth and not sticky.

Divide the dough in half and freeze one half for later use. A half portion of this dough is enough to line a 9 inch baking tin.

Line the greased tart tin with the dough by patting it down in the tart tin while spreading it out with your fingers.

Chill for at least 30 minutes.
For the Filling
Beat together the butter with the sugar until light and fluffy.

Add in the eggs, ground walnuts, flour and beat until smooth.

Stir in the melted chocolate.

Spoon the mixture over the pastry and smooth it gently with a pastry knife.

Peel the pears and cut them in half length-wise.

Remove the cores and slice each half length-wise into thin slices.

While keeping each of the sliced halves together, place them over the chocolate filling. (As seen in the photo)

Bake in a preheated oven at 350 degrees F, for about 45 minutes or until the walnut mixture is firm and the pastry is golden brown.

Transfer to a wire rack to cool then dust with powdered sugar just before serving.
Notes
You will only need half of the pastry dough to make a 9 inch crostata. The remaining half can be frozen for later use. However, if your tart tin is 10 inches round do use the whole amount of pastry dough. I've done so successfully without changing the amount of filling.
Recipe is adapted from a favourite cookbook, Cafe Italia Cookbook and only switching almonds for the walnuts as a personal preference.
Nutrition
Calories:
812
kcal
|
Carbohydrates:
65
g
|
Protein:
10
g
|
Fat:
59
g
|
Saturated Fat:
29
g
|
Cholesterol:
194
mg
|
Sodium:
365
mg
|
Potassium:
245
mg
|
Fiber:
4
g
|
Sugar:
35
g
|
Vitamin A:
1298
IU
|
Vitamin C:
1
mg
|
Calcium:
57
mg
|
Iron:
4
mg