Fregolotta simply means one big crumb in Italian and that's exactly what this cookie is. A huge Italian crumb cookie with mini chocolate chips, dried cranberries and roasted almonds nestled within.
There is such a playful appeal to this giant crumb cookie and its sure to bring out your inner child!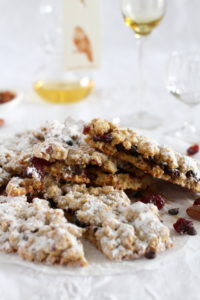 Originating from Veneto in the northern part of Italy, Fregolotta is a simple and rustic crumb cookie resembling somewhat an English crumble topping. There is not much known by who invented this type of cookie but it dates back to a local baker from the Veneto region at the beginning of the 20th century.
As the story goes, the founder of this bakery had received the recipe from his sister who in turn was given the recipe by a childhood friend working as a cook for a noble family of Terraglio. This type of giant cookie is still being made today by the Zizzola family who own the bakery.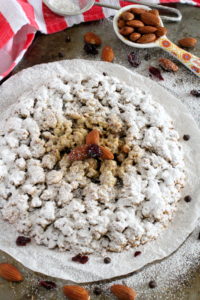 Loaded with fragrant roasted almonds and perfumed with both vanilla and almond extracts, this crumbly cookie gets a gritty crunch from the addition of cornmeal. In texture, this giant cookie is crispy around the edges yet still maintains it's chewiness once baked.
I've veered away a little from the more traditional Fregolotta by adding mini chocolate chips and the dried cranberries for a more festive feel. However, you can simply omit them for a more authentic Italian crumb cookie.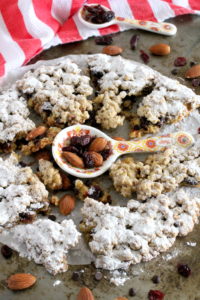 It is customary to bring this giant cookie to the table whole. Once laid out in front of the guests place a few almonds underneath its' center. Then with a wooden spoon, give it a few gentle wacks and watch it break off into pieces. And that my dearies, is how the cookie crumbles! Fun right!!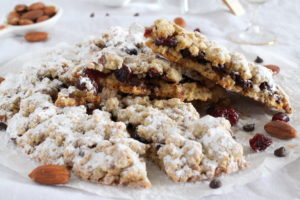 Aside from being fun to eat, this baking venture is not very laborious. Sometimes throwing in a little simplicity during a baking marathon creates a perfect balance especially during the holiday season when our to do lists are a mile long and some. Having said that, I know you will appreciate how easy this recipe is and also how quickly it comes together in mere minutes especially when using a food processor. Another way of preparing the Fregolotta is simply using your hands. Both ways will truly produce delicious bites!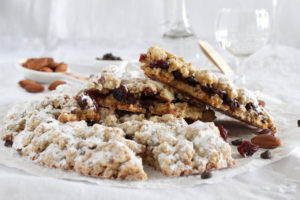 Although perfect anytime of the day accompanied with tea or milk, this Fregolotta is exceptional as an after diner dessert, served alongside a small glass of Grappa for dipping into.
Happy baking!

Print Recipe
Fregolotta, Italian Crumb Cookie
Fregolotta in Italian means one big crumb and that is exactly what this cookie is. One giant crumb cookie with chocolate chips, almonds and dried cranberries nestled within.
Ingredients
2/3

cup

almonds

roasted

1

tablespoon

fine cornmeal

2/3

cup

all purpose flour

1/2

cup

granulated sugar

1/4

teaspoon

fine salt

I used fine sea salt

1/4

teaspoon

ground cinnamon

1

tablespoon

unsalted butter

cold

2

large egg yolks

1/2

teaspoon

pure vanilla extract

1/2

teaspoon

pure almond extract

2

tablespoons

almond milk

or whole milk

1/4

cup

dried cranberries

1/4

cup

mini chocolate chips

icing sugar

for dusting
Instructions
Preheat oven to 350 degrees F.

Line a baking sheet with parchment paper and set aside.

Place the almonds, cornmeal, flour, sugar, salt and cinnamon in a food processor and pulse together just until most of the almonds are finely chopped while leaving some coarsely chopped.

Add the cold butter and pulse for a few seconds until combined.

In a small bowl whisk together the egg yolks, vanilla and almond extracts and almond milk.

Drizzle the egg yolk mixture over the almond and flour mixture.

Pulse together just until the mixture has moistened and formed crumbs. (a few seconds)

The mixture should look crumbly and moist, much like a crisp topping.

Divide the mixture in half.

Drop half the mixture by the teaspoonfuls, onto the prepared baking sheet and press the mixture lightly down to create a thin 8 inch round circle.

Sprinkle the mini chocolate chips and the cranberries over the first layer.

Repeat with the remaining mixture, drooping the crumbs by the teaspoonful over the chocolate chips and cranberries, distributing them evenly.

Bake in preheated oven on the middle rack for 25 minutes, until golden brown around the edges.

Remove from oven and let the cookie rest on the baking sheet for a few minutes so that the cookie firms up.

When easy to handle, transfer the cookie to a cooling rack and let cool completely.

Once cooled, sift the icing sugar over the fregolotta.

When ready to serve place a few whole almonds underneath the middle of the cookie and smack the fregolotta in the center with the back of a wooden spoon.

The cookie will crumble in several pieces and will then be ready to be devoured.