These citrus madeleines are a two bite cake-like cookie. They are sun kissed with a light golden brown colour, bursting with the sweet citrusy flavours of lemon, lime and orange rinds. The addition of grounds almonds lends a lovely crunch to the bite!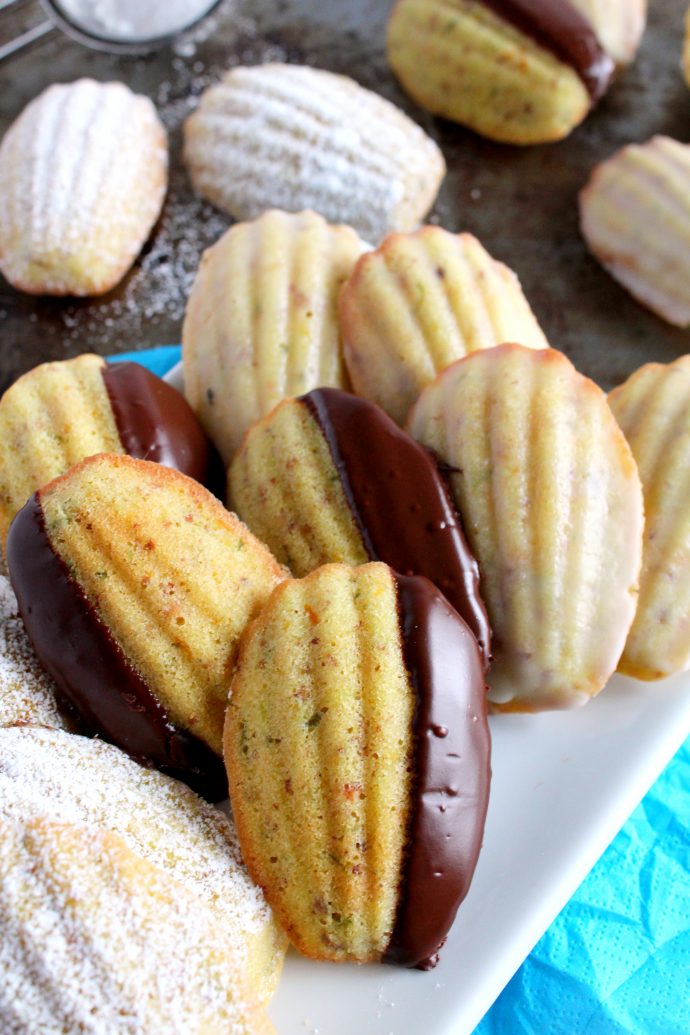 What are Madeleines
Madeleines are a classic French style snacking cake with a distinctive shell shape and a humpback.
I don't have any childhood memories of these little madeleines. I was however always intrigued by their unique appearance. Soft and spongy with a scalloped shape. Definitely a must have cookie for all lemon lovers.
The store bought variety was my very first encounter with the little madeleines. They have the texture of an extremely dense cake and simply beg to be dunked in a cold glass of milk.
However these citrus madeleines are softer and more tender then store bought. I believe that is why my mom loved them so! For both that spongy tenderness of a cake from every bite and that sweet lemon kick.
They're perfect for those days when you don't have time to bake a whole cake but yet still crave a cake-like dessert.
What Do I Need To Make Citrus Madeleines
All you need to whip up a batch of these citrus madeleines are a few staple ingredients such as flour, sugar, eggs, butter and of coarse a madeleine pan.
Two pans to be exact because this recipe yields two dozen madeleines.
Nowadays, the madeleine pans can be found in most kitchen supply stores.
Better yet, no electric mixer is required. Just two bowls and two whisks.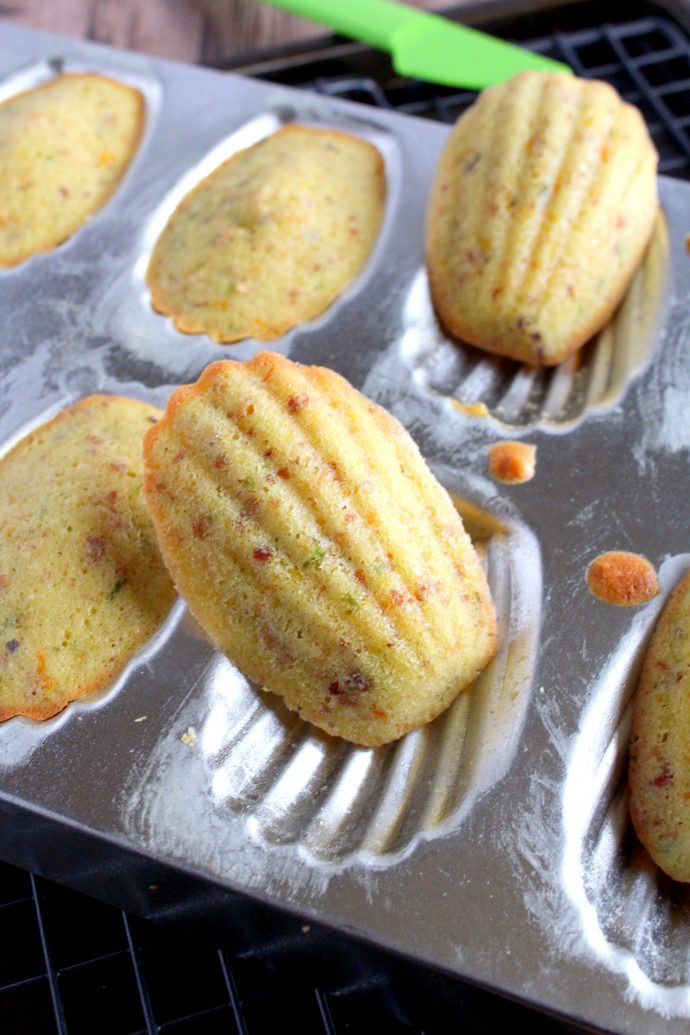 I find the best way to grease a madeleine pan is to use a pastry brush when brushing the moulds with the melted butter.
This way every crevice is coated with the melted butter, and then lightly dust it with flour while shaking off any excess.
Also equally important, is not to spread the batter when spooned into the mould, as this will help achieve their signature hump.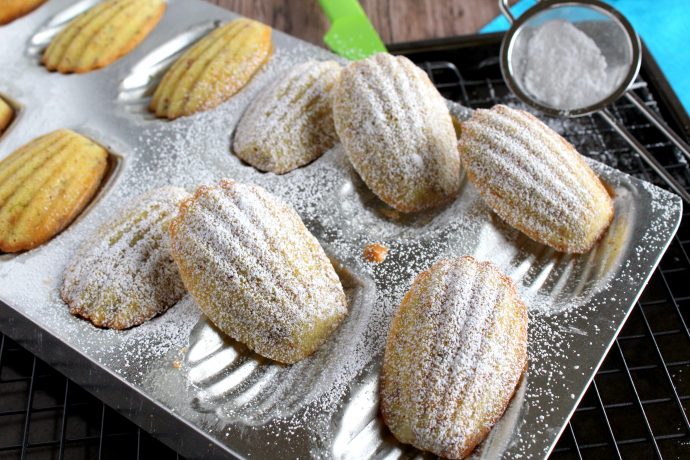 Serve them with a simple dusting of icing sugar…

Or maybe dip them half way in melted dark chocolate…

I do have to admit though that the lemon glaze won us over!

And if by chance you can't decide, simply choose all three!
For more delicious treats follow me on Facebook – Pinterest – Instagram – Twitter

Print Recipe
Citrus Madeleines
Little buttery, two bite cakes eaten as a cookie. They are light, dense and flavored with lemon, lime and orange.
Ingredients
3

eggs

1/2

cup

unsalted butter

melted

2

teaspoon

each of grated lemon

lime and orange rind

1/4

teaspoon

vanilla

3/4

cup

all-purpose flour

1/2

cup

granulated sugar

1/3

cup

ground almonds

1/2

teaspoon

of salt

GLAZE

3/4

cup

icing sugar

1

tablespoon

lemon juice
Instructions
Preheat oven to 350*F

Grease and flour the Madeleine pans. (you will need 2-12 mould pans)

Place the eggs, melted butter, grated lemon, lime, orange rinds and vanilla extract in a large bowl and whisk till combined.

Using a separate bowl, whisk together the flour, sugar, ground almonds and salt.

Add the flour mixture to the wet ingredients and whisk until combined.

Place 1 tablespoon of batter into each mould.

Bake in the center of your preheated oven for about 12 to 15 minutes or until edges are golden brown and the puffed centers spring back when gently touched.

Carefully loosen the moulds with the tip of a knife. Invert onto a cooling rack.

Glaze

Whisk the sugar and the lemon juice together in a small bowl. Brush the lemon glaze over each cooled Madeleine.
Notes
These madeleines can be made 24 hours ahead of time and stored in an airtight container or freeze for up to one week.
Recipe adapted from Canadian Living Magazine