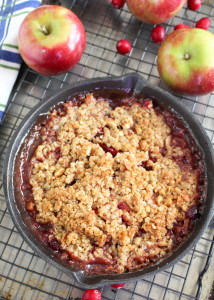 A couple of weeks ago, I took the plunge and switched to a self-hosted site as I had reached my max of GB allotted on the previous site. The choices were to either go Premium or switch to self hosting. I chose the latter as it gave me more control over my site. However in the process I may have lost a few wonderful WordPress followers. My apologies to all those who no longer see my posts in their Reader, please feel free to re-follow along if that is your wish. And a huge thanks to those who noticed and for being my second set of eyes and ears. I feel extremely blessed to be part of this wonderful and supportive blogging community!
On another note….well, I know you are actually here for the recipe 🙂 🙂 lol !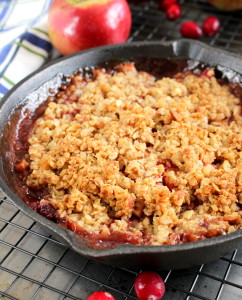 If your still looking for a quick and easy holiday dessert idea which does not involve to much fussing over then I've got you covered! This Apple Cranberry Crisp is all that and more. I love the combination of sweet apples paired with the tartness of cranberries and topped with a crunchy, nutty crumble…well, just heaven! You can make the topping in advance and store it the fridge for up to one week, always a plus when there are so many demands around the holidays.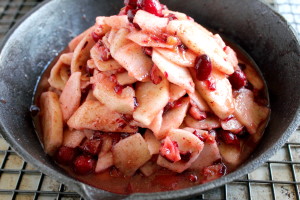 Normally, I would bake the apple cranberry crisp in individual, big ovenproof coffee cups, top each with a scoop of ice-cream and serve it elegantly this way. However a couple of months ago, I had invested in cast iron skillets and have just been dying to try out this crisp in a less formal way.This iron skillet does just that, giving the apple cranberry crisp a charming, rustic appeal.
The filling is enough for two, 6 inch round skillets. Mound it high in the center of the pans as the mixture does cook down quite a bit.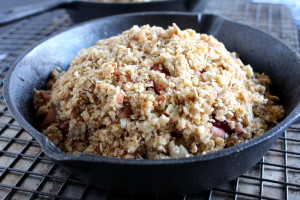 Sprinkle the topping generously over the apple-cranberry mixture, patting it down somewhat. This helps to secure it over the mixture.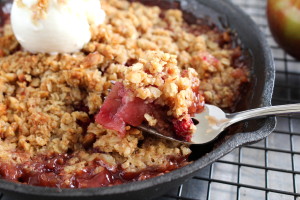 Serve it up with either whipped cream, English custard or vanilla ice-cream and enjoy!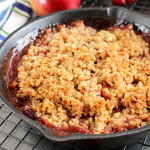 Print Recipe
Apple Cranberry Crisp
A quick and easy apple cranberry crisp with a nutty crumble, baked in two, 6 inch cast iron skillets.
Ingredients
TOPPING

1

cup

large flake oats

not instant

1/3

cup

brown sugar

1/3

cup

almond flour

1/3

cup

whole almonds

chopped

1/3

cup

unsalted butter

softened

pinch

of nutmeg

FILLING

2

cups

fresh or frozen cranberries

roughly chopped

4

cups

thinly sliced apples

I used Cortland

3/4

cup

brown sugar

1/4

cup

granulated sugar

2

tablespoons

all purpose flour

1

teaspoon

cinnamon

1/4

teaspoon

freshly ground nutmeg

2

tablespoons

freshly squeezed lemon juice
Instructions
Preheat the oven to 350F (180C)

For the topping, place the oats, sugar, almond flour, chopped almonds in a medium sized bowl. Add a pinch of nutmeg and stir well. Add the softened butter and use a fork or your hands to work in the butter to form a crumble. Set aside.

For the filling, toss together the chopped cranberries and sliced apples in a large bowl. Stir in both sugars, flour, cinnamon, nutmeg and lemon juice until combined.

Divide the mixture between the two cast iron skillets. Mound the fruit high and press it gently together to compact. Sprinkle with the topping pressing gently again so that it adheres to the fruit. (Mixture will sink when baked)

Bake in a preheated oven for about 45 to 50 minutes. Topping should be a nice golden brown.