These Zeppole, ricotta doughnuts are so incredibly light… sweet and crunchy on the outside and pillowy soft on the inside. As an added bonus, they are simply a snap to make at home.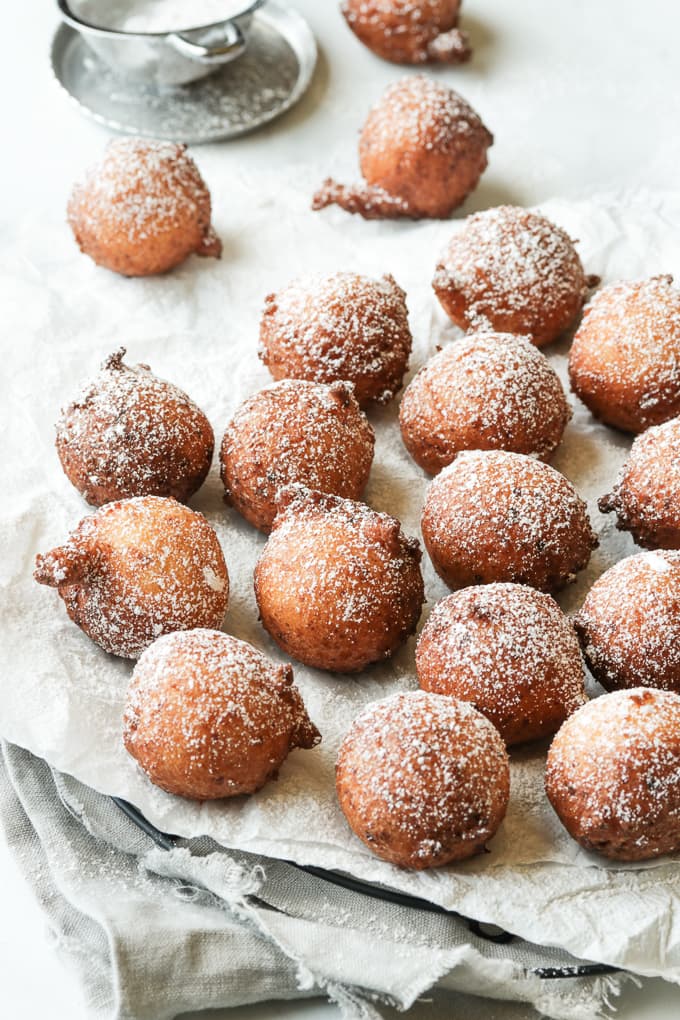 What are Zeppole
Zeppole, are essentially deep fried Italian dough balls.
They come in a variety of sizes and the more popular ones being the Zeppole di San Giuseppe which have a filling of ricotta or even custard and topped with an amarena cherry. These are traditionally eaten during la Festa di San Giuseppe (Saint Joseph's Day), which is celebrated every March 19.
They're also known by other names such as Sfinge, but in my family they were always called castagnole fritte (deep-fried sweet pastry balls).
My mom would make sweet fritters for Easter and savoury fritters filled with anchovies for New Year's Day.
The ones you see here today however have the ricotta mixed in the dough and are so simple to make. They truly make a fuss free treat.

How To Make Zeppole From Scratch
You'll need two mixing bowls.
One for sifting together the dry ingredients:
flour
baking powder
salt
sugar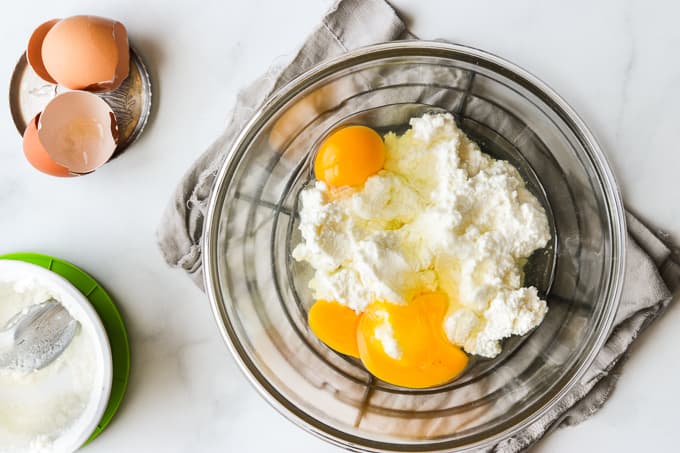 The second bowl for beating together the ricotta and the eggs until fairly smooth.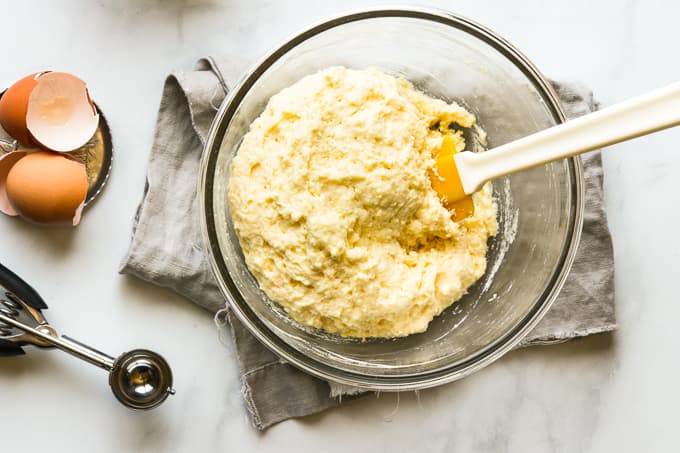 You'll then stir the flour mixture into the egg mixture until thoroughly combined. And, you're now ready to deep fry the batter into little yummy nuggets.
I prefer to use a cookie scoop of approximately 1 1/2 inch in diameter but you can just as easily use two spoons to drop the batter into the hot oil. Just be careful to avoid any splashes.
This however, goes without saying when working with very hot oil!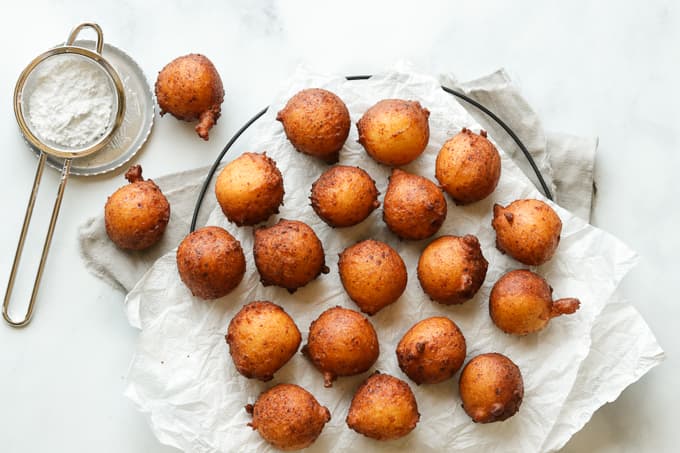 Use the two to three minutes of deep frying as a guideline. It will depend on how big or small you make them.
Mine were ready at the 3 minute mark!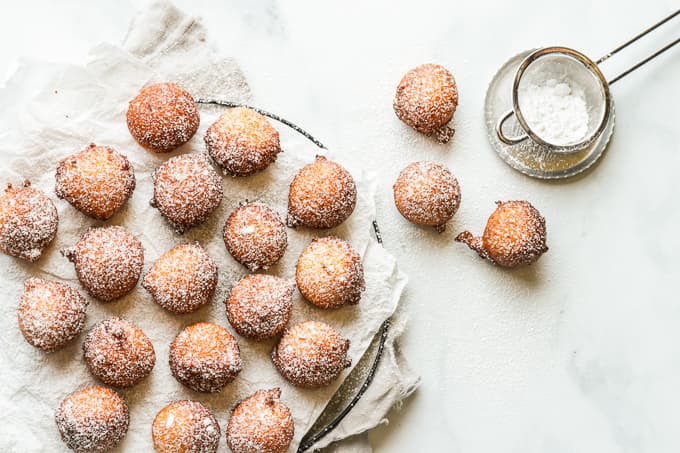 They turn out light, fluffy on the inside and with a lovely crispy exterior every time!
All they'll need is a dusting of powdered sugar for a little extra sweetness and for just a prettier overall look. Then simply pile them high on a serving platter and serve while still warm.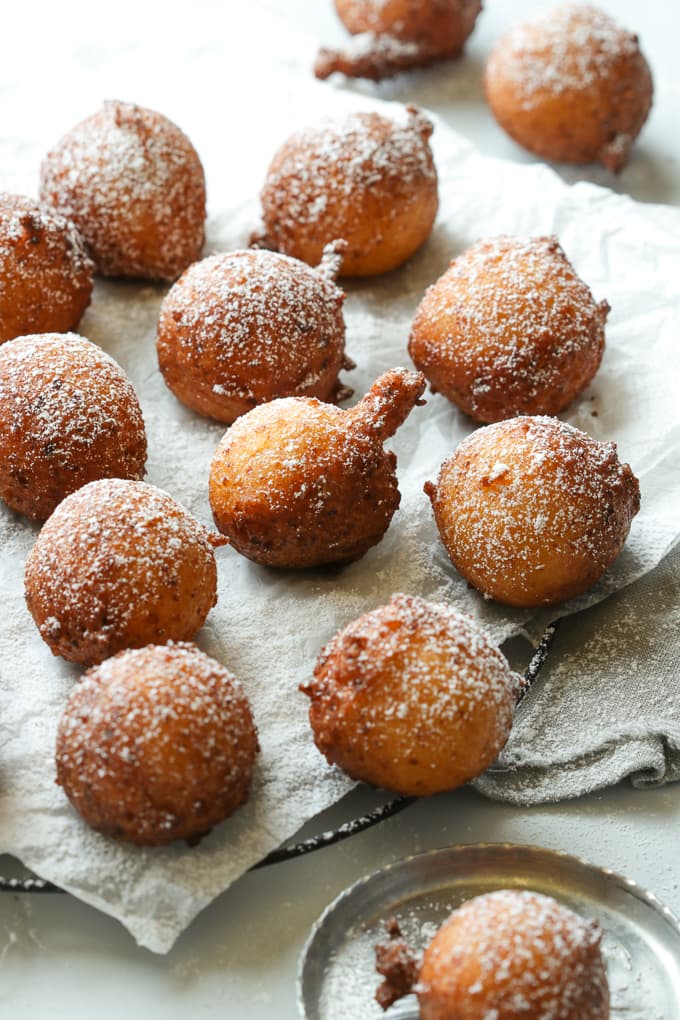 We love them so much so, that whenever I have some canned pumpkin purée I'll make these adorable Pumpkin Ricotta Zeppole (Italian Doughnuts)
But if you're not a fan of ricotta. you may want to try these other yummy fritters, Italian Orange Frittelle (Italian fried dough balls)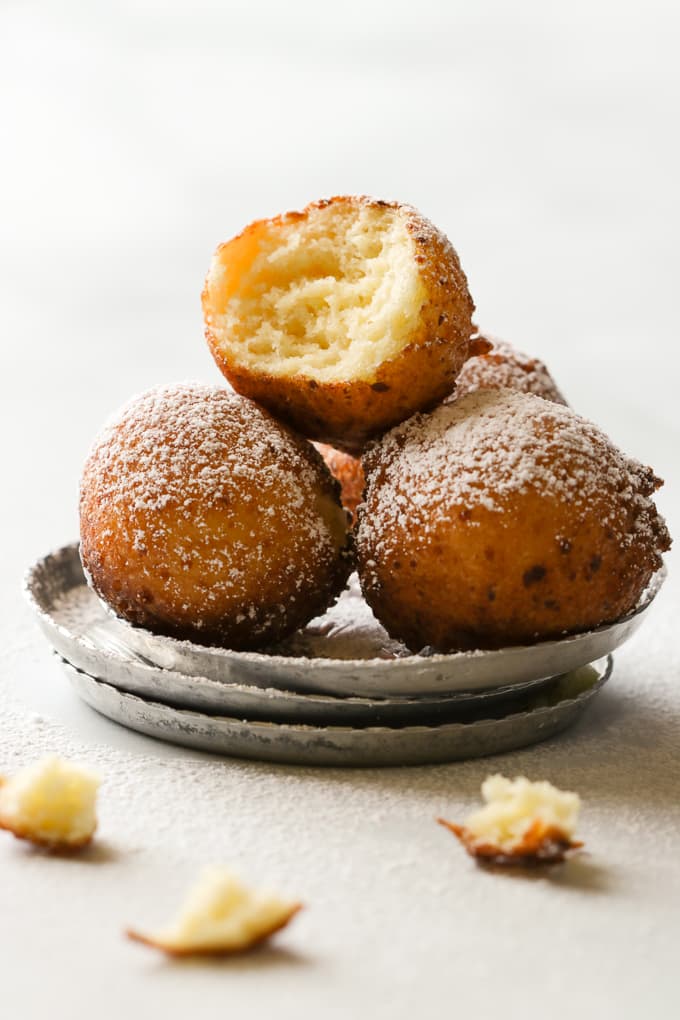 These Zeppole, Ricotta Doughnuts are best eaten right after they're deep fried and dusted with powdered sugar.
You really must try them because they are absolutely delicious!
But fair warning, these doughnuts are highly addictive and will disappear in a flash!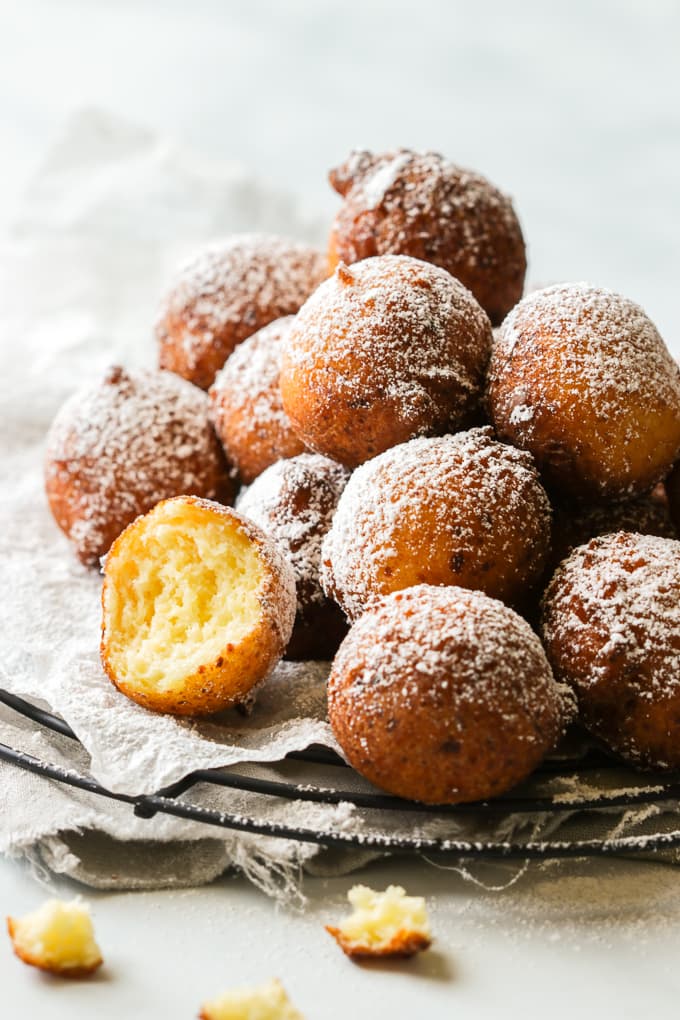 If you make this recipe remember to tag @marisasitaliankitchen on Instagram so I can see your creation!
This recipe was last published February 8, 2018 and republished February 26, 2020 with updated photos and content.
Zeppole, Ricotta Doughnuts
These Zeppole, ricotta doughnuts are so incredibly light... sweet and crunchy on the outside and pillowy soft on the inside. As an added bonus, they are simply a snap to make at home.
Ingredients
3/4

cup

plus 1 tablespoon of all purpose flour

2

teaspoons

baking powder

pinch

of salt

3

tablespoons

granulated sugar

1

cup

ricotta cheese

full fat

2

large eggs

canola oil or vegetable oil for deep frying

powdered sugar for dusting
Instructions
In a Medium sized bowl, sift together the flour, baking powder, salt and the 3 tablespoons of sugar and then set aside.

In a stand mixer or a hand held mixer, beat together the eggs and the ricotta cheese just until fairly smooth.

Stir the flour mixture into the ricotta mixture until thoroughly combined.

In a large heavy pot or a dutch oven, pour in enough oil to reach 2 inches high and heat to 375*. A candy thermometer comes in handy in order to get the right temperature and ensuring the oil does not drop under 350*, while you are frying between batches.

If the oil is not hot enough the doughnuts will be too soggy and if it is too hot then the outside will darken quickly leaving the inside under cooked.

Use a 1 1/2 inch scoop or 2 small spoons to drop bits of dough into the hot oil.

Fry the zeppole for about 2 to 3 minutes, turning often until they are puffed, fluffy and golden brown.

Larger sized doughnuts will need extra time. Use a slotted spoon to remove the zeppole from the pan and drain them on paper towels. Repeat until you have used up all the batter.

Dust with icing or powdered sugar and serve while still warm.
Notes
This recipe was adapted from, Cafe Italia cookbook by Liz Franklin