Delicious flavours of the ever popular Italian ice-cream better known as simply Spumoni! Here it's revisited in a three layered spectacular Italian Spumoni Cake that is sure to impress!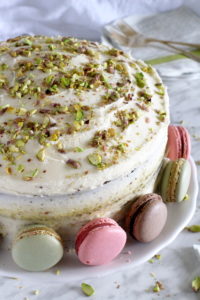 Crumbly cake layers of strawberry, chocolate and pistachio are stacked together while separated by strawberry preserves and pistachio cream. Frosted with a vanilla scented buttercream, sprinkled with some crushed pistachios and then decorated with spumoni flavoured french macarons for a truly celebratory dessert.
Every once in a while hubby will surprise me with the latest Bake From Scratch Magazine, packed full of drool worthy baked goods that can easily be replicated at home. A true baker's delight in every sense of the word.
This latest issue has some of the loveliest naked cakes or rather nearly naked cake recipes and the one that caught my eye was the Spumoni Cake. I love it for its pretty trifecta of colours which takes me back to those lazy hot summer days, happily sitting outside while enjoying some yummy spumoni ice-cream.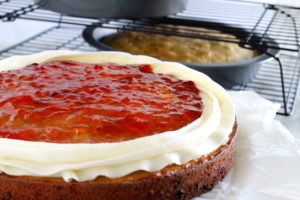 Although I'm not a baker by profession and have only ever baked a few layered cakes in my lifetime, I found this cake not difficult at all to put together and I'm sure you will too.
While you'll basically be baking three separate layers, it's really one cake batter divided among three separate bowls.
One bowl will have strawberry preserves folded into the batter, the second bowl will have cocoa mixture folded in while the third bowl gets some delicious pistachio paste.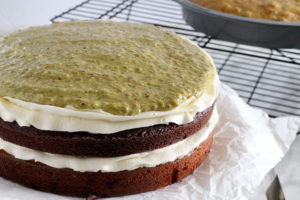 You'll want to begin assembling the cake directly on its serving platter lined with 2 pieces of parchment paper joined at the centre.
You then simply pull out the 2 sections when you're done frosting for easy clean up.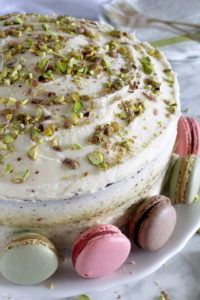 Since decorating this beautiful Italian Spumoni Cake is where the fun really begins, do know that you can truly use your imagination here so feel free to add your special touch.
Although, the original recipe called for freeze dried strawberries to garnish the cake, they were really hard to find and I had absolutely no luck in finding them. However, I did come across some adorable french macarons looking simply perfect and I new they would adorn this cake quite beautifully.
I used a little dab of buttercream on one side of the macaron so that they adhered to the cake and I must say they added such a lovely touch to the overall look! Who would not want to sink their teeth into a slice of this delicious goodness…right?
Actually, hubby and I did just that! Day after day and just until there was not a crumb left. But please don't judge, you would have done the exact same thing, I'm sure of it!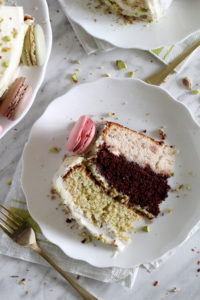 Worth mentioning here is how this cake actually tastes better the following days. Partially due to the preserves and pistachio paste nestled between the layers which keeps the cake very moist and also enhances the flavours of this visually stunning cake. As a result, this cake is an excellent make ahead dessert for those busy and extremely chaotic occasions which we all have from time to time.
Pistachio cream can also be made ahead and kept in an airtight container at room temperature for up to 1 week. You can therefore really pace yourself by making a few steps ahead of time which is always a win win in my book.
Most of all have fun.
Italian Spumoni Cake
All the flavors of the ever popular Italian ice-cream better known as simply Spumoni, is revisited in a three layered spectacular Italian Spumoni Cake that is sure to impress.
Ingredients
FOR THE CAKE LAYERS

1

cup

unsalted butter

softened

2

cups

granulated sugar

3

large eggs

2 3/4

cups

cake flour

1/2

cup

all purpose flour

divided

1

tablespoon

baking powder

1

teaspoon

kosher salt

I used fine sea salt

240

grams

or 1 cup whole milk

1

teaspoon

vanilla extract

1

cup

strawberry preserves

divided

1/4

cup

unsweetened cocoa powder

1/4

cup

boiling water

1/2

teaspoon

baking soda

pistachio paste

recipe below

vanilla buttercream

recipe below

chopped pistachios for garnishing

macarons to decorate

spumoni colors, chocolate, strawberry and pistachio OPTIONAL

PISTACHIO PASTE

2

cups

roasted pistachios

2

tablespoons

of honey

1/4

water

VANILLA BUTTERCREAM

1 1/2

cups

unsalted butter

softened

2

teaspoons

pure vanilla extract

1/2

teaspoon

of kosher salt

I used fine sea salt

9

cups

confectioner's sugar

icing sugar

6

tablespoons

whole milk
Instructions
CAKE LAYERS:

Preheat the oven to 350 degrees F

Grease and flour 3 (9 inch ) round cake pans.

In a large bowl, beat butter and sugar together at medium speed just until fluffy.

This should take about 3 to 4 minutes and if your using a stand mixer, you'll want to stop and scrape the sides of the bowl a few times.

Add the eggs one at a time and beat well after each addition.

In a separate medium sized bowl, whisk together the cake flour, 1/4 cup all purpose flour, baking powder and salt.

With your mixer on low speed, gradually add the flour mixture to the butter mixture alternating with the milk while starting with the flour mixture and ending with the flour mixture.

Beat just until combined between each addition.

Beat in the vanilla extract.

Divide the batter evenly among 3 separate bowls.

In the first bowl, fold in a 1/2 cup of well stirred strawberry preserves and the remaining 1/4 cup all-purpose flour.

Combine the cocoa, 1/4 cup of boiling water and baking soda in a small bowl.

Fold the cocoa mixture into the second bowl of cake mixture.

In the third bowl of cake mixture, fold in a 1/2 cup of pistachio paste.

Spoon the cake batters into the prepared pans and smooth the tops with an offset spatula.

Bake in preheated oven for 20 to 25 minutes.

Test to see if its done by inserting a wooden skewer in the center of the cake. If it comes out clean then the cakes are ready.

Allow the cakes to cool in the pan for 10 minutes then invert onto a wire rack to cool completely.

ASSEMBLING THE CAKE LAYERS

Place the strawberry cake layer onto your serving platter and pipe a ring of vanilla buttercream all around the inside edge of the strawberry cake layer, creating a border.

Spread the remaining 1/2 cup strawberry preserves over the strawberry cake layer making sure to stay between borders.

Carefully place the chocolate cake layer over the strawberry layer and pipe a ring of vanilla buttercream around the inside edge, creating a border.

In a small bowl stir very well together 1/2 cup of the vanilla buttercream with the remaining pistachio paste and spread this over the chocolate layered cake while staying within the border.

Carefully top the pistachio cake layer over the chocolate cake layer.

Spread the remaining vanilla buttercream over the top and sides of the 3 layered cake. (I used a buttercream icing smoother to create the naked cake look)

Garnish with chopped pistachios and chocolate, strawberry, pistachio macaron cookies if desired.

PISTACHIO PASTE

Grind pistachios as fine as you can using a food processor or better yet a spice grinder if you have one.

Stir together the grind pistachios and honey in a small bowl.

Stir in 1/4 cup of water, 1 tablespoon at a time, until the paste has a consistency of peanut butter.

Pistachio paste can be made ahead and stored in an air tight container at room temperature up to one week.

VANILLA BUTTERCREAM

Place the butter in a large bowl and beat at medium speed just until creamy.

Beat in the vanilla and the salt.

Reduce the speed to low and slowly add the confectioners sugar.

Increase the speed to medium and continue beating until smooth.

Beat in the milk one tablespoon at a time until the buttercream frosting reaches a spreadable consistency.
Notes
Recipe is adapted from Bake From Scratch Magazine.