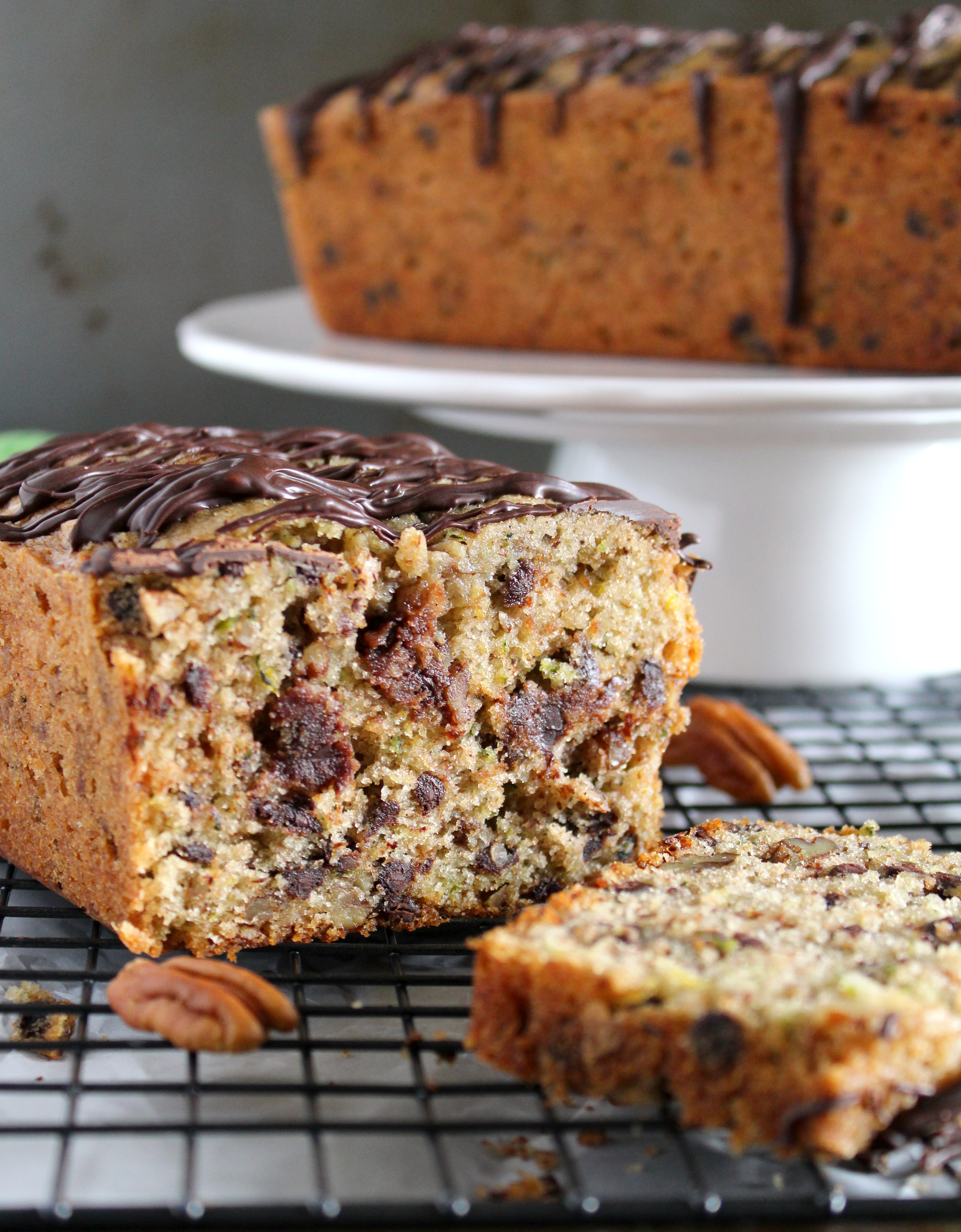 With zucchini being a staple backyard vegetable for most people, this sweet loaf would be a wonderful way to use up the summer bounty. It is one of those versatile foods that can be eaten raw, sliced and added to salads, cooked up in a savory dish or simply grate it and bake with it.
We had one of our numerous potlucks last week and this loaf received a lot of love and had many colleagues requesting the recipe. It is so quick and easy to put together with very minimum fuss. No special equipment required, just two bowls to stir in the dry and wet ingredients separately. I used my box grater to shred the zucchini which only took a minute and works wonderfully.
Tip: For the most tender and moist zucchini bread, use a light hand when stirring the batter together and avoid over-mixing.
Ingredients:
3 cups all purpose flour
1 tablespoon baking powder
1 1/2 teaspoon ground cinnamon
1 teaspoon salt
2 eggs, lightly beaten
2 1/2 cups coarsely shredded, unpeeled zucchini (2 medium)
2 cups sugar
1 cup vegetable oil or canola oil
2 tsp vanilla
1 1/2 cups mini semi-sweet chocolate chips
1 cup chopped pecans (optional)
Preheat the oven to 350*F.
Grease two 8×4 inch loaf pans.
In a large bowl stir together the flour, baking powder, cinnamon and salt. Make a well in the center of the flour mixture and set aside.
In another bowl whisk together the eggs, zucchini, sugar, oil and vanilla. Add to your flour mixture and stir just until moistened. The batter will be somewhat lumpy and with a couple of white flour flecks and that is o.k. Next, fold in 1 cup of the mini chocolate pieces and the pecans.
Pour the batter into the prepared loaf pans and bake for 55 minutes or until a toothpick inserted in the middle comes out clean.
Let cool in the loaf pans for 10 minutes then remove from the pans and let cool on a wire rack.
Melt the remaining 1/2 cup of chocolate chips in the microwave in 30 second intervals, until melted (about 1 minute ). Stir and drizzle the melted chocolate over the two loaves.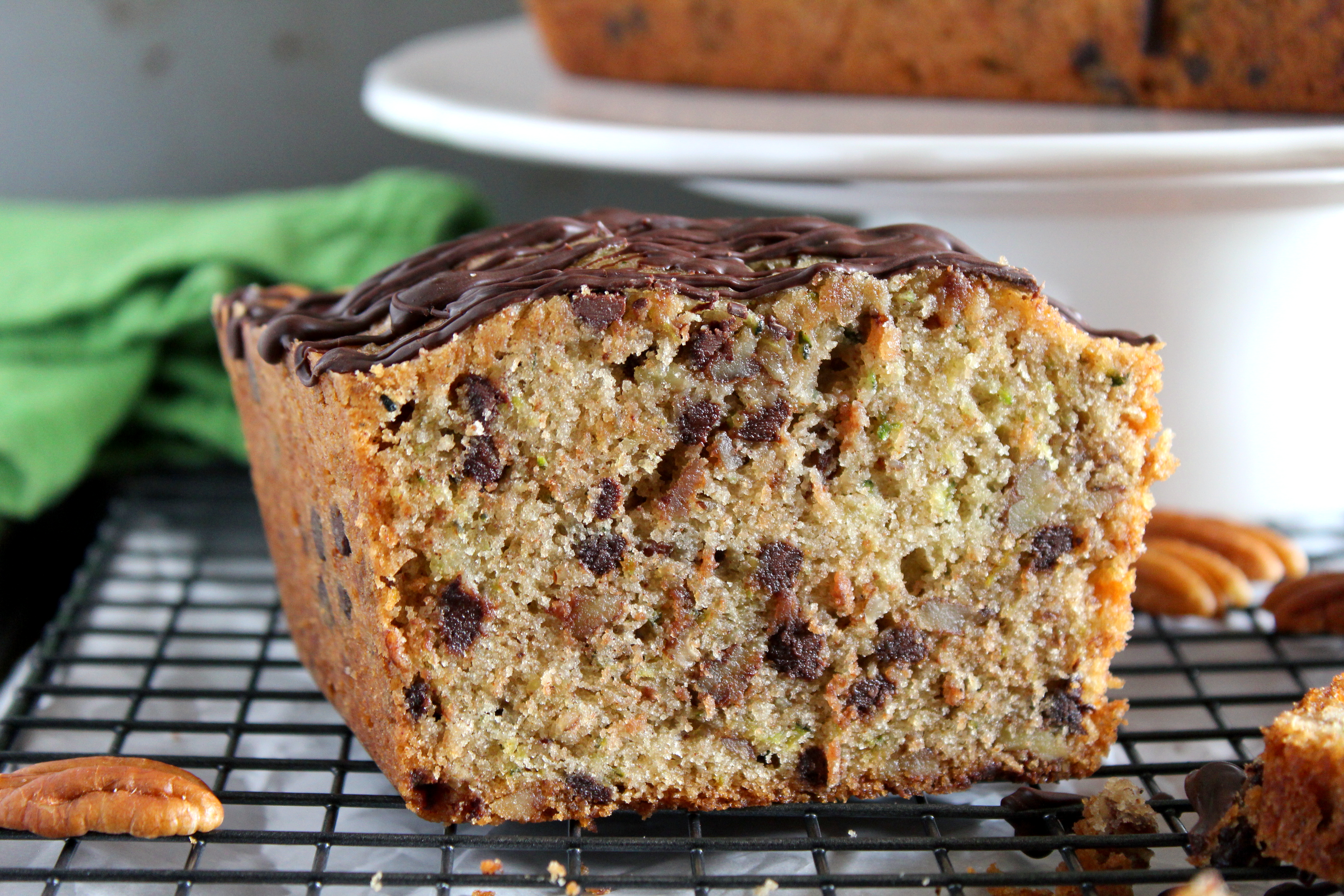 I find that using mini chocolate chips ensures an even distribution of chocolate through out the loaves. Whereas larger chucks of chocolate tends to settle at the bottom of the loaf which can also result in scorched bottoms.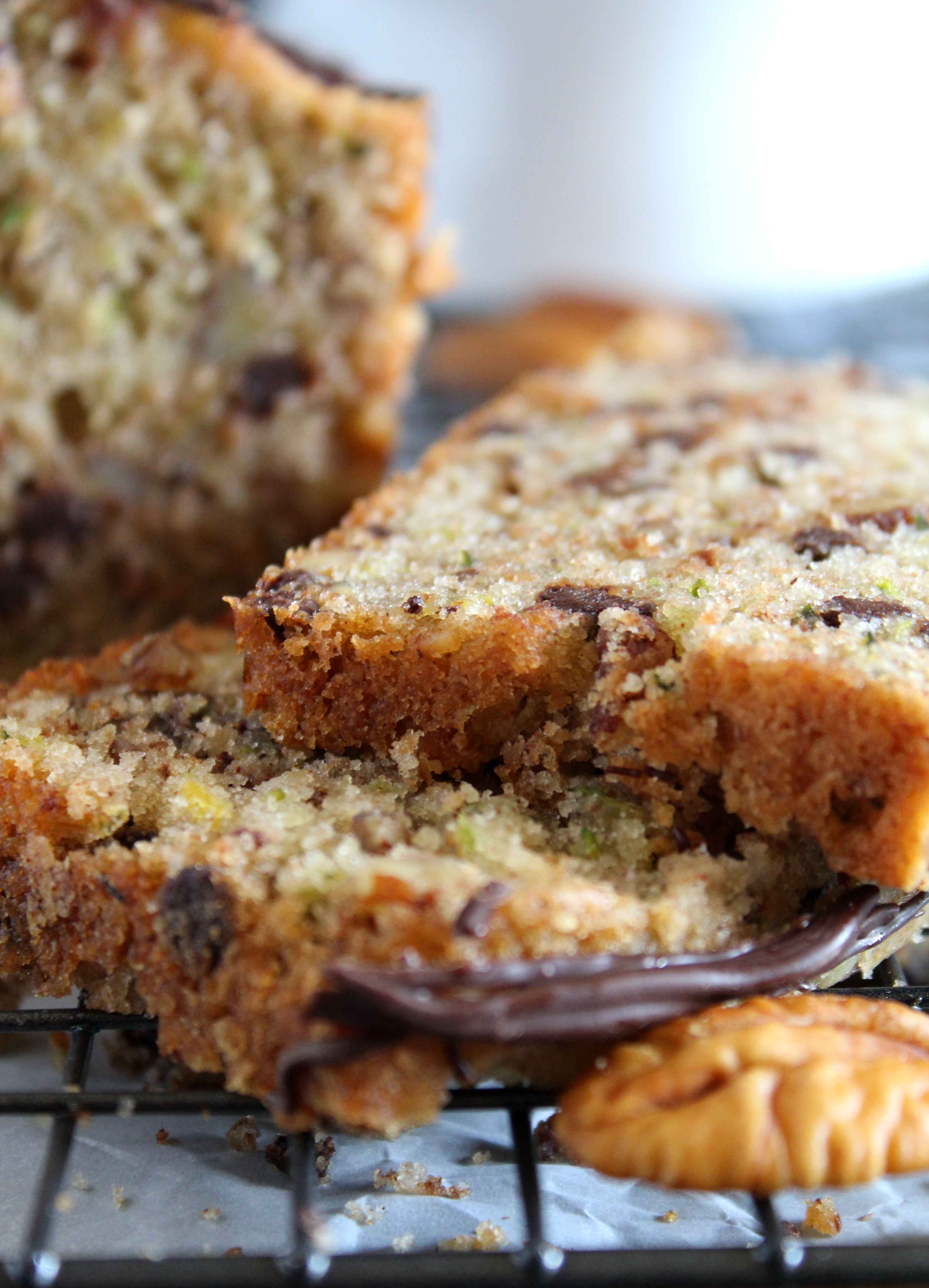 Tender and moist with small green flecks of zucchini peaking through.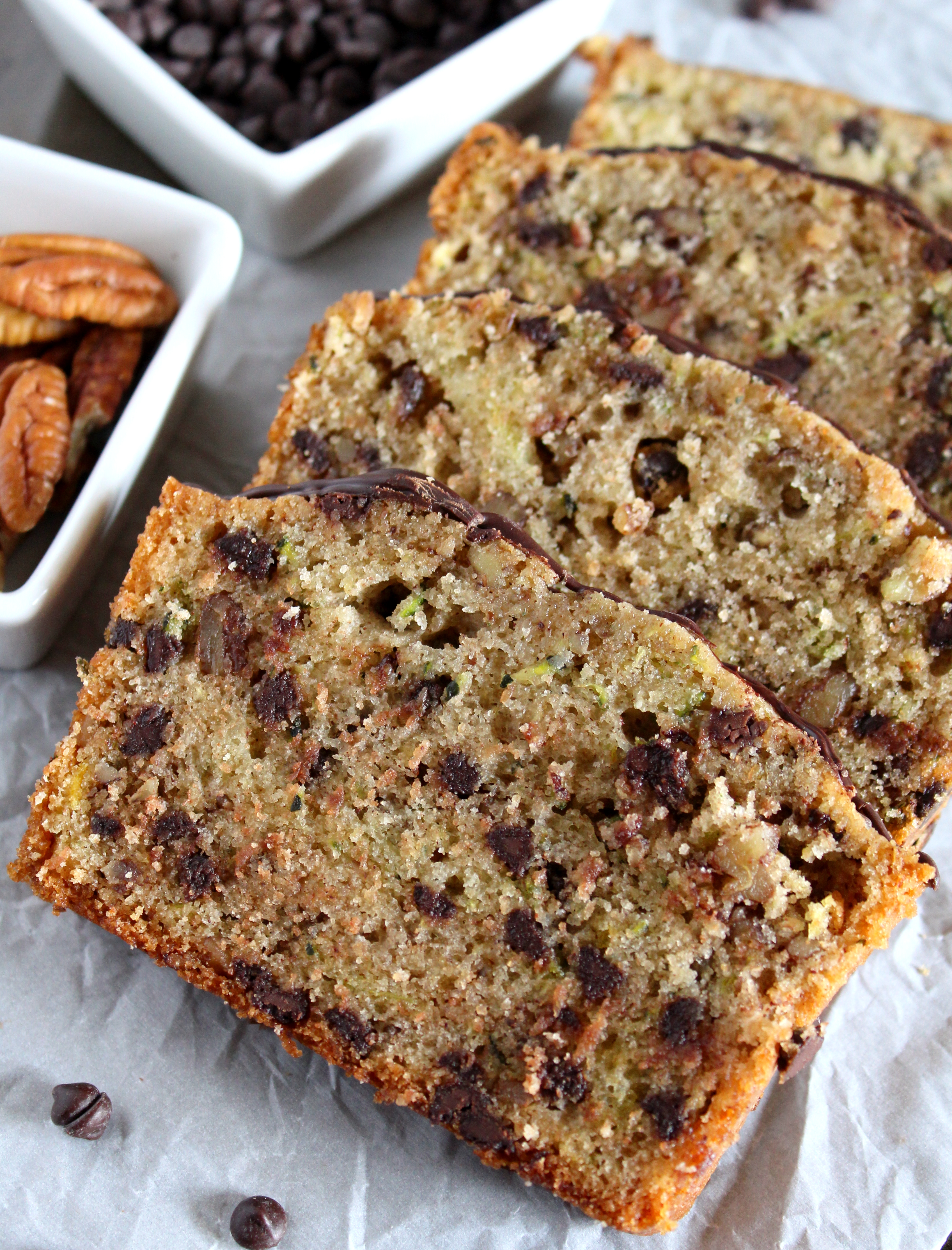 For easier slicing, let cool completely or better yet cover the loaf and store overnight. Drizzle the melted chocolate just before serving. Wonderful for make ahead desserts, breakfast or brunch ideas.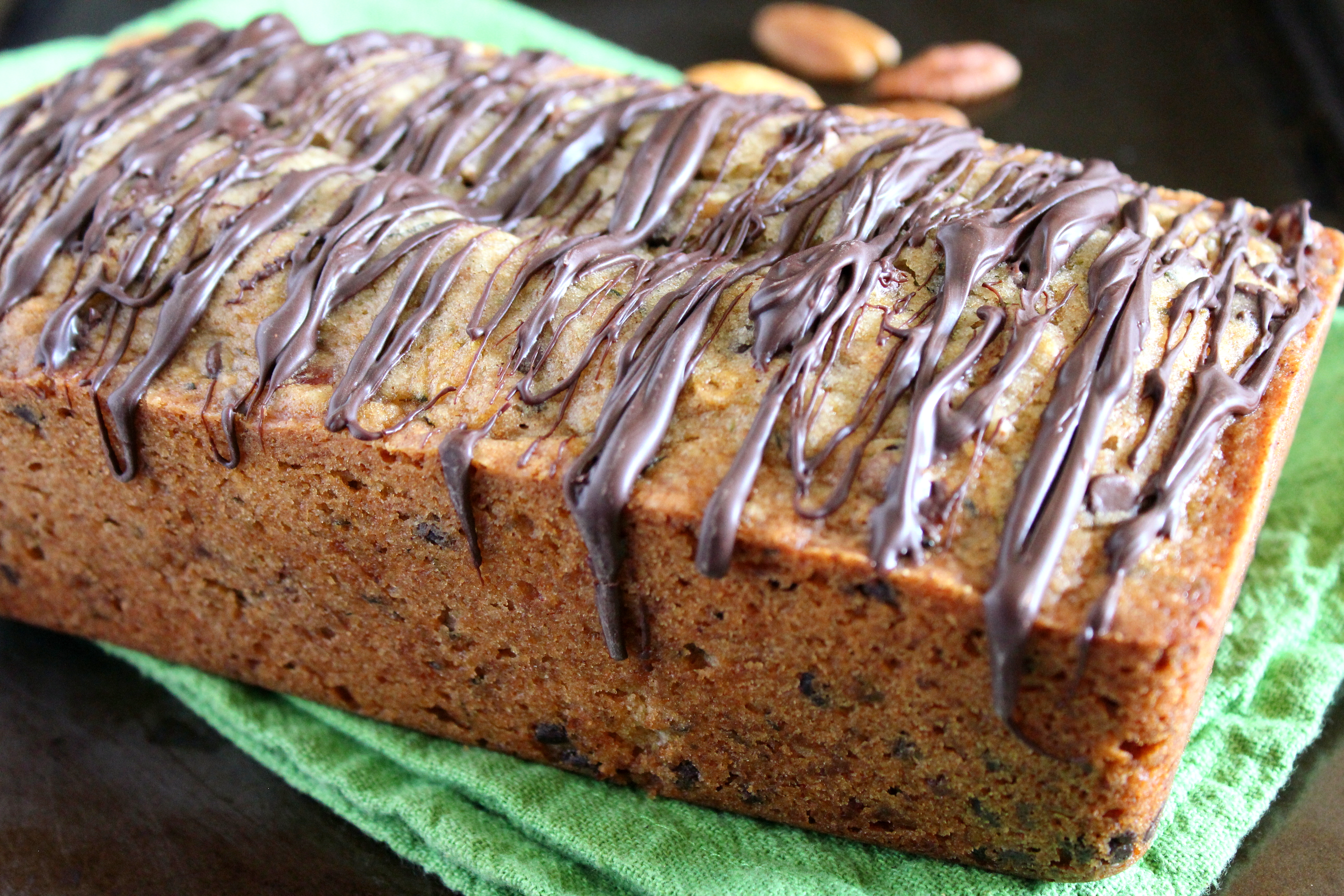 This zucchini bread is truly remarkable. I made it three times this past week which when doing the math is 6 loaves! The first time I used my stand mixer on the "stir mode" but it turned out too dense for my liking. So skip the big mixer and do use a whisk and a spoon. Have to go now, my Elliptical Machine is calling out to me. lol 🙂
Makes two impressive loaves and will yield about 14 slices each.
Adapted from BHG Magazine