Penne Pasta With Tomato Tuna Sauce is a simple yet delicious Italian tuna and pasta dish. It's one I grew up with as a child and is still, very much a favourite to this day!
It's made with just a few good quality, staple ingredients and packed full of wonderful flavours. This recipe is one you will turn to, again and again.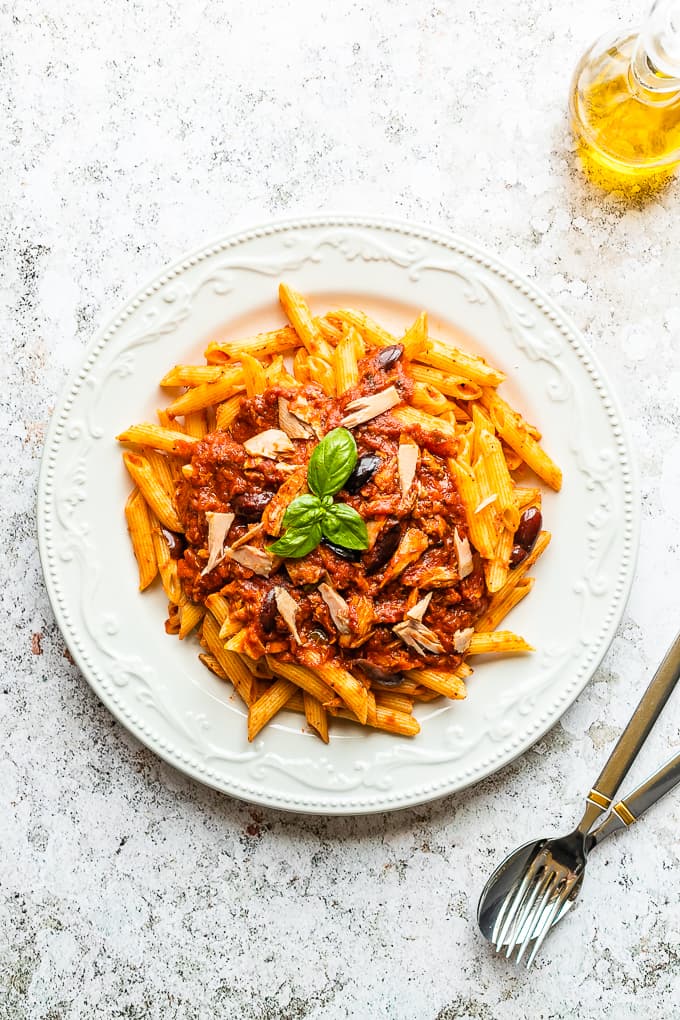 As is common in most cultures and at a time when food was scarce, families made do with the very few ingredients they had on hand.
With so little they created simple comfort foods we so crave and love. In Italy this philosophy is known as La Cucina Povera, or otherwise "the poor man's kitchen". And truly born out of necessity!
This concept is far easier to embrace during summertime when gardens are lush with fruits and vegetables. However in the Fall and wintertime we needn't look any further then our own kitchen pantries.
The Star Ingredients For This Tuna Tomato Pasta Recipe Are:
Tuna, canned or jarred fillets (oil or water packed)
Passata, strained tomatoes
Pasta, of your choice
Canned tuna or even the tuna fillets sold in glass jars, are one of those staple items I always keep in my pantry. It's ready at a moments notice for quick sandwiches as my son can attest…he just adored tuna sandwiches for his school lunches!
They're also wonderfully delicious tossed with green leafy salads and legumes for an extra protein kick.
But it also makes a rather enticing tuna sauce simply begging to be tossed over freshly cooked pasta. You will so appreciate the simplicity of tuna in a tomato sauce.

A good quality oil packed canned tuna is much more flavourful than the water packed variety and will elevate this simple sauce.
Also, don't be too concerned about the oil which you will be draining out anyhow. But if this is still an issue for you then by all means go for the water packed.
What Is Passata?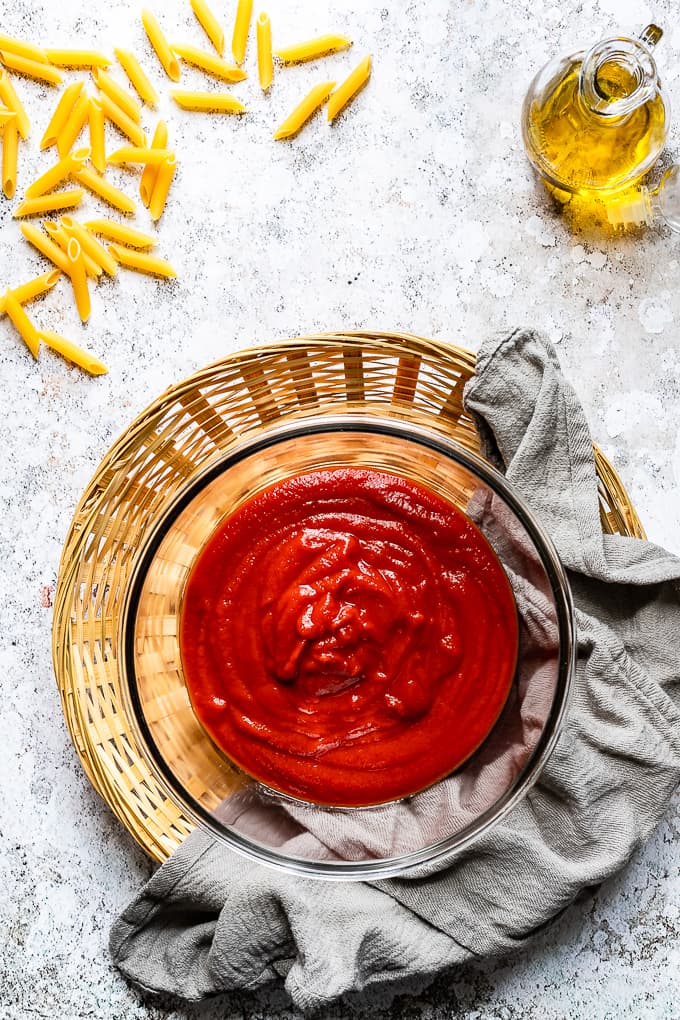 Tomato passata is a purée of uncooked strained ripe tomatoes with a thick, velvety smooth consistency.
My parents, as with most Italian households, would traditionally make their own in the late summer season when tomatoes are at their ripest!
The ripened tomatoes go through a straining process in order to remove all its seeds and skins.
It's an Italian pantry must have, as Passata is an excellent base for tomato pasta sauces or stews. And at my house, it's never far from reach when making a quick no-cook pizza sauce.
Nowadays, store bought passata is readily available on most grocery store shelves. Look for jarred or boxed passata with a short ingredient list consisting of tomatoes and salt.
So far I'm loving the Mutti and La San Marzano brands (not sponsored) but I'm looking forward to testing and trying others.
Now let's get started in making an easy and delicious tuna sauce!
How To Make Tuna and Tomato Pasta Sauce
Step 1: Heat the olive oil in a medium sized stock pot and add in the chopped onions, minced garlic and the chilli flakes.
Step 2: Sautée on low heat for about 5 minutes or until the onions take on a translucent appearance.
Stir often while taking care not to burn the garlic.
Step 3: Stir in the strained tomatoes.
Step 4: Fill the empty bottle of strained tomatoes with water, about 3 quarters full while giving the bottle a good swirl and add it to the pot along with the dried basil, crushed black pepper and salt.
Stir well.
Step 5: Bring the sauce to a boil then lower the heat and allow to simmer for about 45 minutes.
While the sauce simmers, bring a large pot of water to boil. Salt the water and cook your pasta of choice according to package directions
Step 6: While the pasta cooks, stir in the tuna, kalamata olives and fresh basil to the sauce.

Sauce and Serve Pasta
When it comes to serving pasta with a tomato sauce, I've always followed in mamma's footsteps.
I first drain the pasta and return it to the pot.
Stir in a few ladles of tomato sauce and give it a good stir to combine.
Plate the pasta and top with some more tomato sauce and a sprig of basil.
Voilà! A gorgeous and delicious plateful of pasta!
I happen to love penne rigate or the smaller pennette rigate with this tuna and tomato sauce. The crevices and hollow centres make the perfect vehicle to hold a chunkier sauce. But feel free to use any pasta of your choice!

Impress your family or friends and make Penne Pasta with Tomato Tuna Sauce tonight!
Or try another delicious pasta dish using canned sardines, Sardine Spaghetti with Chives.
If you make this recipe remember to tag @marisasitaliankitchen on Instagram so I can see your creation!
Buon Appetito!
Penne Pasta with Tomato Tuna Sauce
An easy and delicious penne pasta dish with tomato tuna sauce. It's made with canned tuna and kalamata olives for a quick fuss free dinner anytime of the week.
Ingredients
Tomato and Tuna Pasta Sauce
2

tablespoon

extra virgin olive oil

2

cloves

of garlic

(minced)

1

small onion

(chopped)

1/4

teaspoon

crushed chilli pepper

660

ml

jar Passata

(Italian strained tomatoes I used San Marzano)

1

teaspoon

dried basil

salt and pepper to taste

2

x 85 grams canned oil packed tuna

(drained or 190 gram jar of tuna filets.)

1/4

cup

Kalamata olives

(pitted and slivered)

2

sprigs of basil
Pasta
450

grams

Penne Rigate

(or other pasta of your choice)

salt

(for cooking water)
Instructions
Tomato and Tuna Pasta Sauce
Heat the oil in a medium sized sauce pot over medium low heat.

Sauté the garlic, chopped onions and the crushed chilli pepper just until the onions are soft, while stirring often for about 5 minutes.

Add in the passata (Italian strained tomatoes), dried basil, salt and pepper and stir well.

Fill the bottle of passata three quarters full with water. Give it a good swirl and add this to the sauce. Stir well.

Bring the sauce to a boil then lower the heat, cover and simmer for about 45 minutes or until the sauce thickens and the sweet concentrated flavors of the tomatoes come through.

While the sauce is slowly simmering, bring a large pot of water to boil.

Salt the water and cook the pasta according to package directions.

While the pasta cooks, add the drained tuna, slivered kalamata olives and fresh basil to the tomato sauce. Allow to simmer till the pasta is al dente.
Plating Pasta with Tuna Sauce
When ready, drain the pasta and toss with some of the tomato sauce.

Plate the pasta and top with more sauce and a sprinkle of basil.

Serve while still warm.
Nutrition
Calories:
513
kcal
|
Carbohydrates:
82
g
|
Protein:
28
g
|
Fat:
9
g
|
Saturated Fat:
1
g
|
Polyunsaturated Fat:
2
g
|
Monounsaturated Fat:
5
g
|
Trans Fat:
1
g
|
Cholesterol:
24
mg
|
Sodium:
318
mg
|
Potassium:
949
mg
|
Fiber:
6
g
|
Sugar:
10
g
|
Vitamin A:
779
IU
|
Vitamin C:
16
mg
|
Calcium:
70
mg
|
Iron:
5
mg