A thick crust Pizza with Sausage and Sweet Peppers is my all time favourite kind of pizza. It's topped with an easy to make homemade tomato sauce! Mildly spicy Italian sausages are scattered over the mozzarella layers. And, then topped with pan roasted sweet red bell peppers. It bakes up beautifully with a crispy outer layer. Delicioso!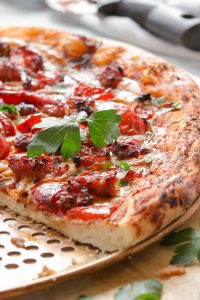 This Pizza with Sausage and Sweet Peppers post was originally published February 9, 2015. It's been updated with new photos and content and republished March 9, 2019.
Pizza has got to be one of the most popular dishes to come out of Italy. There are endless possibilities!
From thin crust to thick crust and with a large variety of cheeses to choose from as well as sauces and toppings. It's so much fun to make and in less time than you might think.
This pizza with sausage and sweet peppers is a family favourite. The combination of mildly spicy sausage and pan roasted sweet red bell peppers is a delicious combination. The dough bakes up just beautifully! It's soft and airy on the inside with a crunchy, crispy outer layer.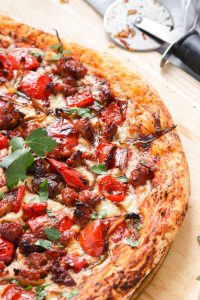 As with most traditional Italian mammas, mine would make pizza once a week for us. There was no ordering in or take out in our family! It simply was not done!
She would say "che vergogna"! What a disgrace! So now, I too make my own pizza once a week. Like… religiously!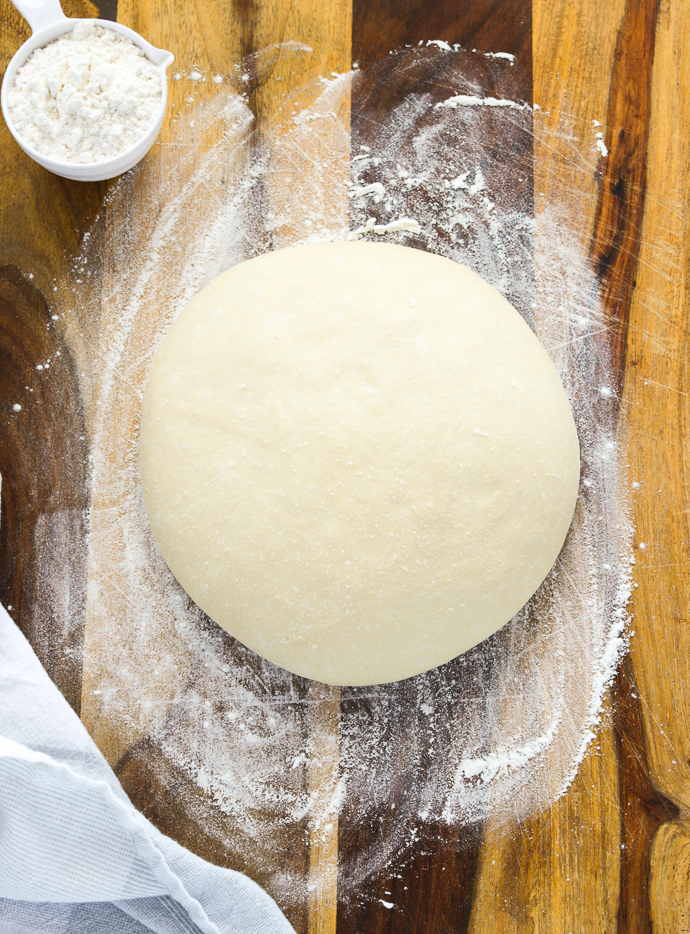 If you have never made pizza before do give it a try. There is something so comforting from creating dough from scratch!
With just a few simple ingredients listed below, you literally have fresh homemade pizza dough in under 20 minutes.
Ingredients for Homemade Pizza Dough
warm water
extra virgin olive oil
all purpose flour
salt
instant yeast
eggs
It's a wonderful egg based dough!
You'll need to let it rise in a draft free place.
On a sunny day I place my bowl of pizza dough on my dinning table where the sun comes shining through. It rises beautifully and works every time ! On a not so sunny day I let my dough rise on my kitchen counter right under one of the spotlights from underneath the kitchen cabinets. This works like a charm!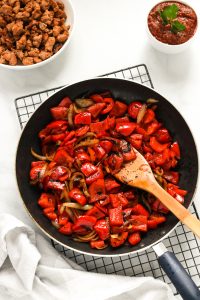 Ingredients For Pizza Toppings
Italian sausages
extra virgin olive oil
onions
red bell peppers
mozzarella
I first brown my my meat in a skillet with a little oil, just to get them a little caramelized on the edges. Them I simply transfer the browned meat to a plate so that I can use the same skillet to pan roast the veggies. Why dirty another skillet…right?
The pan roasted sweet bell peppers and onions are hands down my favourite pizza toppings.
You can, however, simply slice the bell peppers and layer them over the pizza.
In this case I would then brown the sausage with the sliced onions in the same pan.
Either way it's sure to be delicious!
Ingredients For Homemade Pizza Sauce
ground tomatoes (preferably San Marzano)
garlic cloves
fresh or dried herbs (oregano, basil and parsley)
salt and black pepper
The ingredients are pretty straight forward and which you probably already have on hand.
I love the San Marzano tomatoes as these are quite flavourful and sweeter then other varieties. They also have a low acidity level and really don't have that many seeds in them.
You can use either fresh or dried herbs. Whichever is at your most convenient is quite fine.
The sauce yields approximately 3 1/2 cups. However you will only need 1 1/4 cup to top the 2 large pizzas. You can freeze the rest for future use for up to 6 months. But I'm quite confident you won't be waiting that long to make pizza again!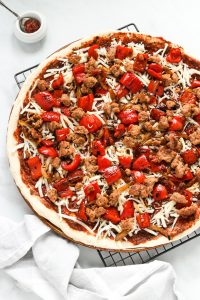 So here you have my traditional Pizza with Sausage and Sweet Peppers. It's pure comfort food at my house and we so look forward to this treat every single week!
If you make this recipe remember to tag @marisasitaliankitchen on Instagram so I can see your creation!

Pizza with Sausage and Sweet Peppers
Pizza with Sausage and Sweet Peppers and a homemade tomato sauce. This thick crust pizza is topped with Italian sausages and pan roasted red bell peppers.
Servings
2
16 inch pizzas
Ingredients
PIZZA DOUGH
2

cups

warm water

4

tbs

olive oil

4 to 5

cups

of all purpose flour

1

tsp

salt

I use fine sea salt

1

packet "quick rise" instant yeast

I use Fleischmann's 8 grams

2

large

eggs
PIZZA SAUCE
1

28 ounes

ground tomatoes

preferably San Marzano

5

cloves

of garlic

minced

2

tsp

each of dried oregano, basil and parsley

if using fresh, increase to 1 tbs each

salt and pepper to your taste
PIZZA TOPPING
2

teaspoons

extra virgin olive oil

3

links of mild Italian sausage

about 1 pound

2

medium onions sliced thinly

4

large red bell peppers

cut to 1 inch pieces

4

cups

grated or shredded mozzarella cheese

or as much cheese as you like
Instructions
PIZZA DOUGH
In a medium size bowl, stir together 3 cups of the flour, salt and the yeast.

Heat 2 cups of water with 4 tbs of olive oil in the microwave for 60 to 90 seconds. Take note that if your water is not warm enough the yeast will not activate. If it's too hot it will kill the yeast.

Stir the warm liquids in the flour mixture with a wooden spoon.

Add in the 2 eggs and stir till very well combined.

Stir in another cup of flour.

Transfer the dough onto a well floured work surface and knead for about 5 minutes working in the last cup of flour a bit at a time just until the dough is soft and smooth. You may not even need the whole last cup of flour.

Grease a large bowl with some olive oil and place your pizza dough in the greased bowl turning the dough to grease all over.

Cover with cling wrap and let it rise till it doubles in size, for about 1 1/2 to 2 hours.

While the dough is rising prepare the pizza sauce and toppings.
PIZZA SAUCE
Combine all the ingredients for the pizza sauce in a medium sized bowl and stir until well combined then set aside.

You will only need half of the prepared pizza sauce divided among the two pizzas. Freeze and store the remaining half for the next use.

PIZZA TOPPING
Heat the olive oil in a fry pan and brown the sausage while breaking up the sausage with a wooden spoon for about 10 minutes.

Transfer the sausage to a large plate and set aside.

Using the same frying pan, add in the cut sweet bell peppers and onions.

Pan roast the veggies on medium high heat for about 7 minutes with a dash of salt and pepper, adding a little olive oil only if needed.

When the dough has risen and doubled in size, transfer it onto a well floured counter and cut it in half.

Working with one half at a time, roll the dough out on a floured work surface using a floured rolling pin and roll to fit your pan.


Transfer the rolled pizza dough to your baking pan and repeat with the second half of the pizza dough.

Note that I use two 16" round perforated pans and I roll it out with a well floured rolling pin and on a floured counter.

If the dough seems to resist rolling just let it rest for a minute then continue rolling it out.

A perforated pizza pan does not need to be oiled. If you do not have a round perforated pizza pan you can use a cookie sheet which has been lightly greased.

Spread the reserved pizza sauce over the the pizza dough using the back of a spoon.

Sprinkle the 2 pizzas evenly with the grated mozzarella.

Top with the sautéed sausages and pan roasted veggies.

Bake in a preheated oven @ 425 degrees F, for about 25 minutes or until the crust is golden brown and the cheese has melted.