Cacio e Pepe Spaghetti is a typical Roman style dish and literally translates to cheese and pepper.
It is Italy's equivalence to our mac and cheese without the addition of cream. A rather humble dish with a small supporting cast and which Romans have been making for quite some time. This dish dates way back to the Roman Empire.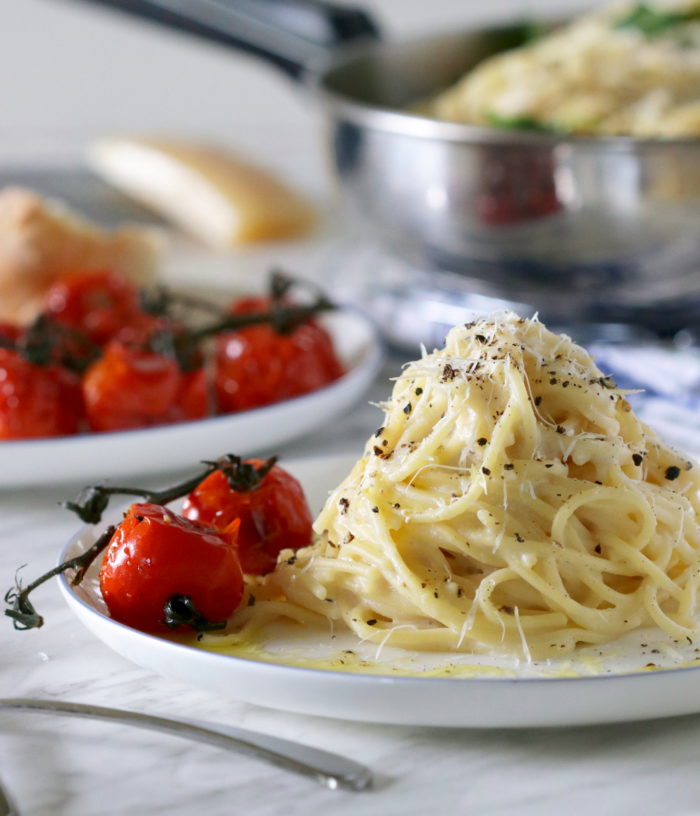 Much as the name implies, this dish consists of very few ingredients. Cheese…as in lots of cheese, pepper and of course spaghetti.
Although not overly complicated to prepare, the cheese sauce does require some practice so as it doesn't coagulate into soft clumpy strands. Mind you, even if it does it is still quite yummy!
How to make perfect Cacio e Pepe Spaghetti
In order to achieve a creamy smooth consistency and have each strand of pasta delicately coated with cheesy goodness, work with good quality room temperature cheese and not one straight from the freezer or fridge.
You'll also want to have both cheeses finely grated in a heat proof bowl.
Then, simply toss together with some freshly cracked black pepper. Have this ready and waiting for its first ladle of slightly cooled starchy pasta water.
You'll have a delicate and creamy sauce ready to be tossed with spaghetti in no time at all.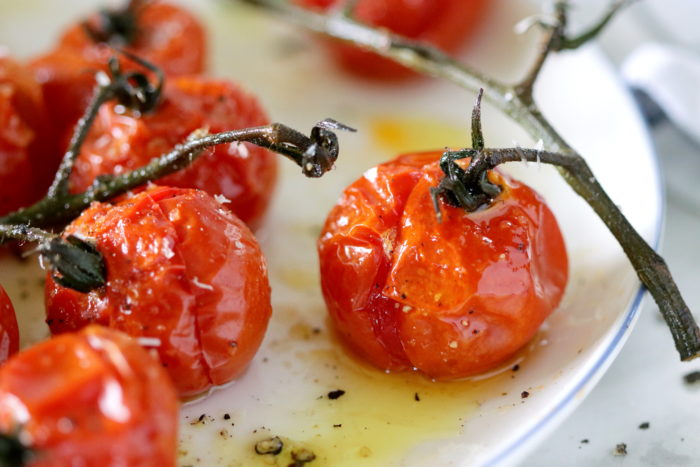 I served up this spaghetti dish with oven roasted cherry tomatoes and some crusty bread with a crispy side salad. It's absolutely delicious!
Also, it makes a quick and easy just about anytime meal that is ready in under 30 minutes!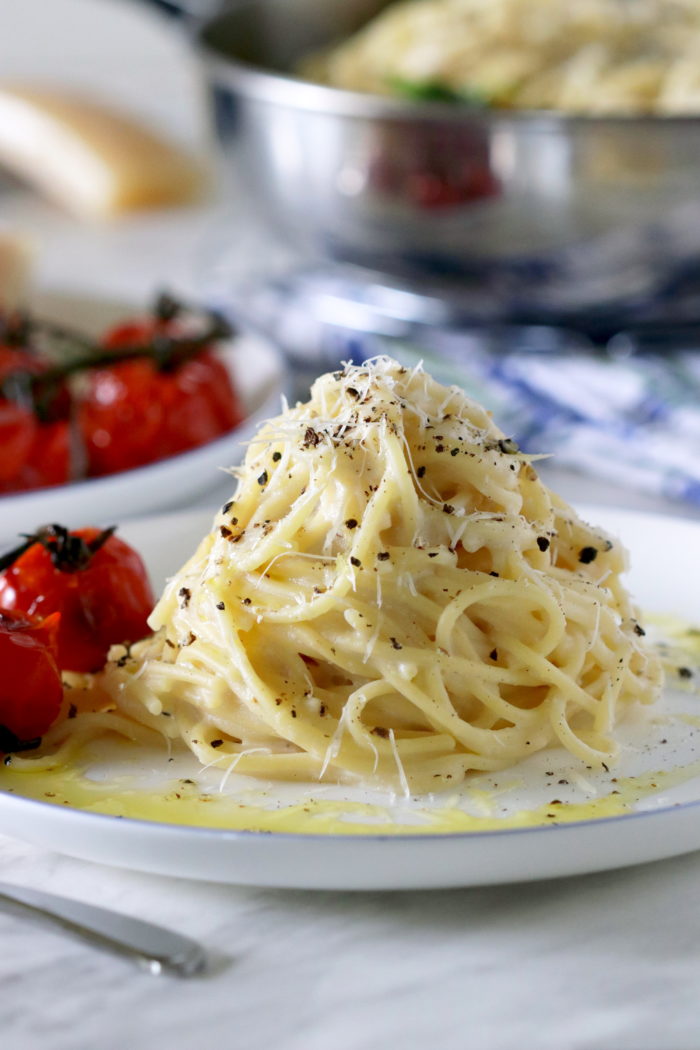 Buon Appetito!

Cacio e Pepe Spaghetti
A quick and easy yet flavorful pasta dish utilizing a few good quality ingredients. Italy's version of an ever popular mac and cheese.
Ingredients
1

cup

grated Grana Padano cheese

3/4

cup

grated Parmigiano Reggiano cheese

freshly cracked black pepper

to your taste

454

grams

Spaghetti
Instructions
Bring a large pot of water to boil.

Salt the boiling water and add in the spaghetti. (use less salt then you would normally because we are adding the pasta water to the cheeses which are salty on their own)

Cook while stirring occasionally so that the spaghetti does not stick together and remove 2 minutes before the suggested cooking time.

Reserve 2 cups of pasta water and set aside to cool slightly. (You'll probable not need all 2 cups)

Meanwhile heat up a large skillet over medium heat and toast a generous amount of freshly cracked coarse black pepper for about 30 seconds, stirring often.

Add in a ladle of pasta water and let this simmer to infuse the pasta water with the freshly ground pepper for another 30 seconds then remove the pan from the heat.

Toss in the drained spaghetti.

Place both cheeses in a medium sized bowl and whisk in a ladle of reserved and slightly cooled pasta water to form a sauce.

Quickly pour the cheese mixture over the spaghetti while stirring vigorously and add in an additional ladle of pasta water.

Stir well and if the spaghetti seem a little dry, add more pasta water, continuing to stir just until the cheeses have melted and a creamy sauce is obtained while generously coating the pasta.

Plate and serve with additional cracked black pepper, grated cheese and a drizzle of extra virgin olive oil if desired.
Check out these other quick and easy spaghetti dishes for busy weeknights.