Learn how to make your own homemade vanilla sugar to use in your favourite cookie recipes or other baked goods. All you need is some granulated sugar, a fresh vanilla bean and a few minutes of your time. So easy!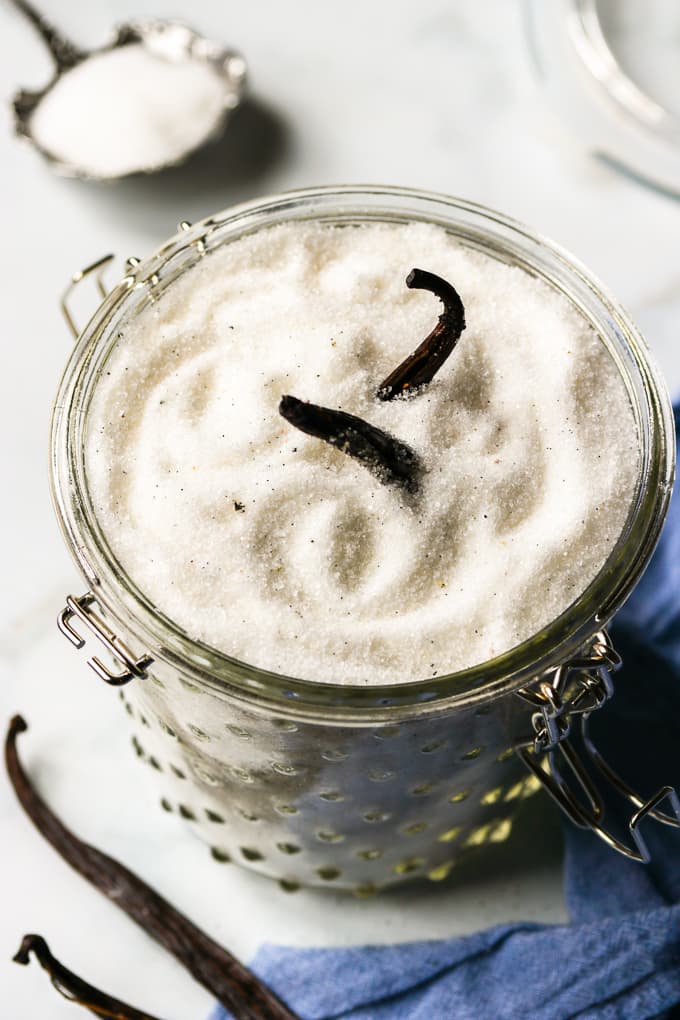 I think that it's pretty safe to say that this is by far the easiest recipe you'll find here on the blog. And one that can be prepared in mere minutes too!
Over the years it has become a staple ingredient in my kitchen. Especially around the holidays. So I always make sure to prepare some way ahead of my baking projects because it needs this valuable time for the flavours to infuse.
In doing so, you'll be rewarded with the most incredibly fragrant sugar speckled with the little black seeds of the vanilla bean.
What is Vanilla Sugar?
Vanilla sugar is simply that! Two ingredients consisting of just regular granulated sugar infused with the seeds of a vanilla bean.
It's a simple process of splitting the bean across the pod and extracting the caviar-like seeds and then incorporating the seeds with the sugar.
The hollowed out bean pod is given new life by burying it deep into the sugar mixture to enhance the sweet essence of the vanilla flavour for months to come.
Did You Know?
Did you know that vanilla beans are the second most expensive spice right after saffron? And that's because vanilla beans are extremely labor-intensive to grow.
Having said that, it's still widely used from professional chefs to home cooks all over the world as it's such a versatile spice.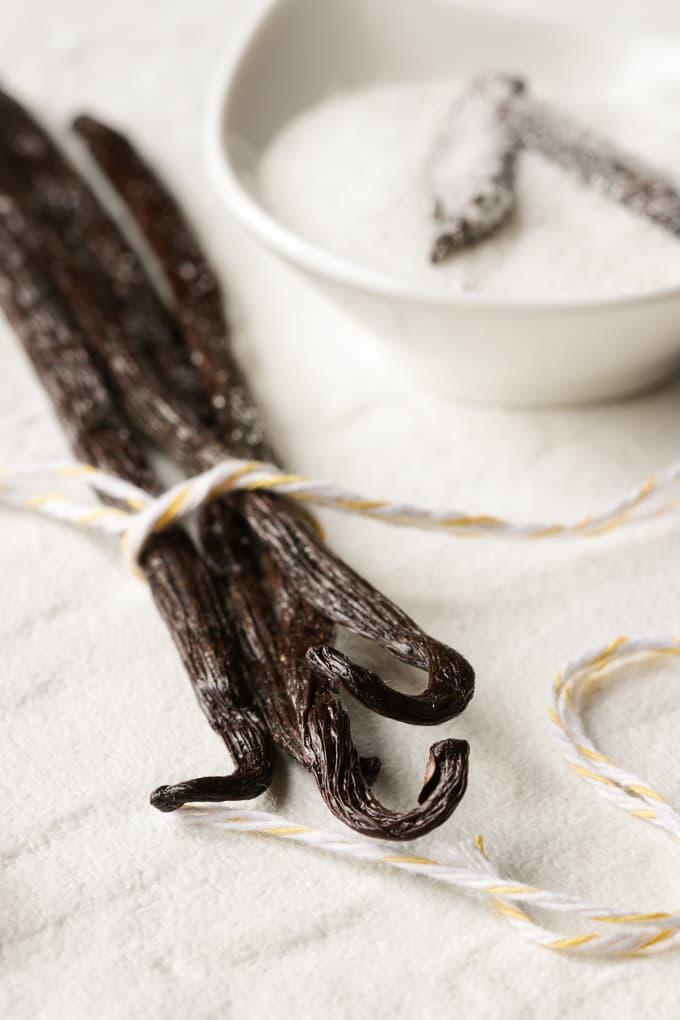 Madagascar Bourbon Vanilla Beans
Madagascar bourbon vanilla beans have nothing to do with "bourbon" the alcohol.
The Bourbon vanilla gets its name from Île Bourbon which is now known as Réunion, the region where these long and slender beans were cultivated, cured and also grow in Madagascar and other Islands along the Indian Ocean.
They are by far the most popular and sought after vanilla beans.
They're moist, pliable and with a sweet buttery scent, making them simply perfect to bake with.
Although the Madagascar bourbon variety is my favourite you can just as easily substitute it with the Tahitian or Mexican vanilla beans.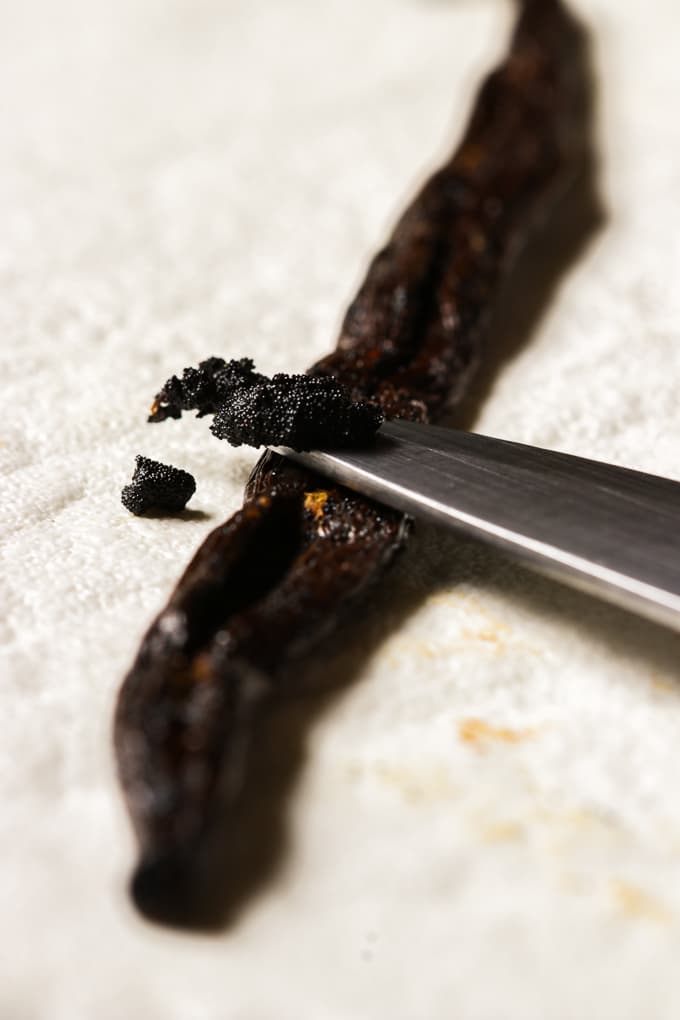 How to make Vanilla Infused Sugar
With a sharp pairing knife, slice open the vanilla bean along its length.
Spread the bean apart and use the back of a knife to scrape out the seeds.
Combine the sugar and vanilla seeds together in a bowl.
Stir together the 2 ingredients until well dispersed.
You can do this with 2 rubber spatulas. Simply rub together the sugar and vanilla seeds with the spatulas to release the larger clumps.
Alternately, you can also place the sugar and vanilla seeds in a food processor and pulse for a few seconds till thoroughly combined.
Transfer the vanilla sugar into an airtight container and bury the pod deeply into the sugar.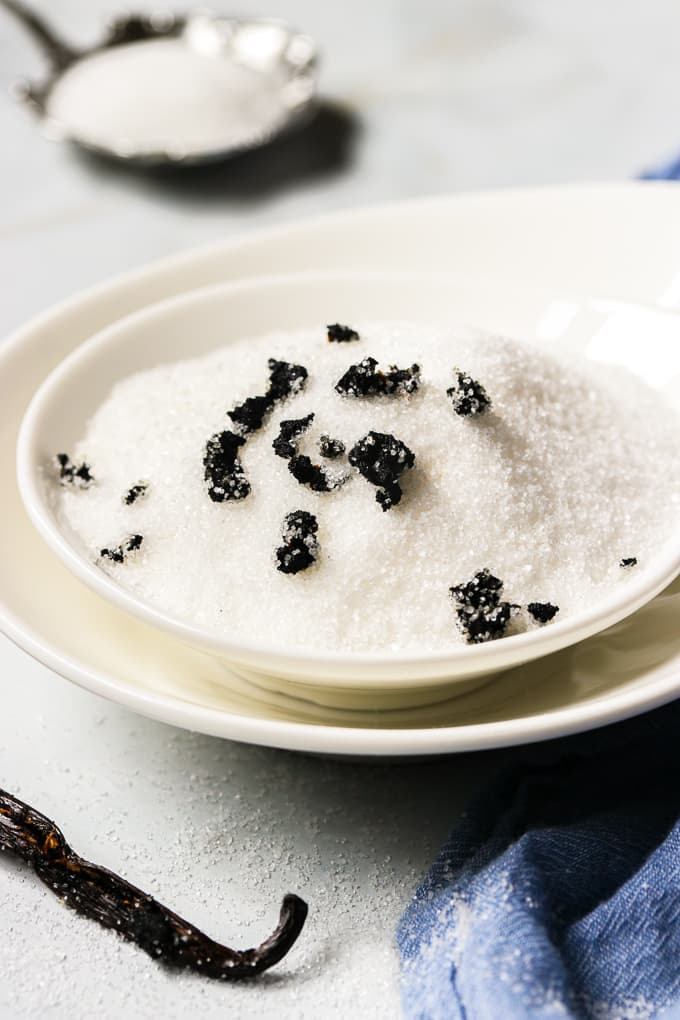 Over time the Vanilla Sugar becomes more and more fragrant. So go ahead and make it a couple of weeks in advance before you start your holiday baking.
Tip of the day: When a recipe calls for the seeds of a vanilla bean, don't discard the pod.
Rather, give it new life by adding it to your vanilla sugar canister, as this will help to maintain the flavour of your vanilla sugar and refreshes it at the same time.
And continue filling the canister with more granulated sugar as the quantity depletes.

What is Vanilla Sugar Used For?
Vanilla sugar can be utilized in various ways.
You can use it to sweeten coffee or tea and even use it in your next baking adventure. And yes even savoury recipes!
My favourite way of using vanilla sugar is rolling some raspberry filled Butterball Cookies into the vanilla infused sugar. It adds such a sparkly appeal to these buttery cookies.
I also love using it in my Wild Blueberry Lemon Biscotti. The vanilla sugar lends such a wonderful warm fragrance to the twice baked cookies and pairs wonderfully with the white chocolate chips and dried blueberries.
Need a gift idea? You can fill decorative glass jars or bottles with the homemade vanilla sugar. And you can then gift decorated jars to guests as a "sweet" way of saying thank-you. Pun intended!

This Homemade Vanilla Sugar recipe was originally published December 2, 2015 and republished November 28, 2020 with new photos and content.
Homemade Vanilla Sugar
Learn how to make your own homemade vanilla sugar to use in your favourite cookie recipes or other baked goods. All you need is some granulated sugar, a fresh vanilla bean and a few minutes of your time.
Ingredients
1

Vanilla Bean

2

cups

granulated sugar
Instructions
Slice the Vanilla Bean down the middle from end to end with a sharp knife.

Using the back of the knife, scrape out the seeds.

Combine the sugar with the vanilla seeds in a medium size bowl and stir until the vanilla seeds are well dispersed.

Alternately, you can use a food processor to speed this up even quicker.

Transfer to an airtight container and bury the pods deeply in the vanilla sugar.

It can be stored indefinitely.

Use in your favorite coffee, tea or desserts.
Nutrition
Calories:
780
kcal
|
Carbohydrates:
201
g
|
Fat:
1
g
|
Sodium:
2
mg
|
Sugar:
200
g
|
Iron:
1
mg