These candied ginger, lemon and poppy seed biscotti are an olive oil based recipe. They're sweet, tangy and studded with crunchy poppy seeds. And for a more tangy flavour I brushed them with a lemon glaze! You'll find they make a wonderful addition to your biscotti repertoire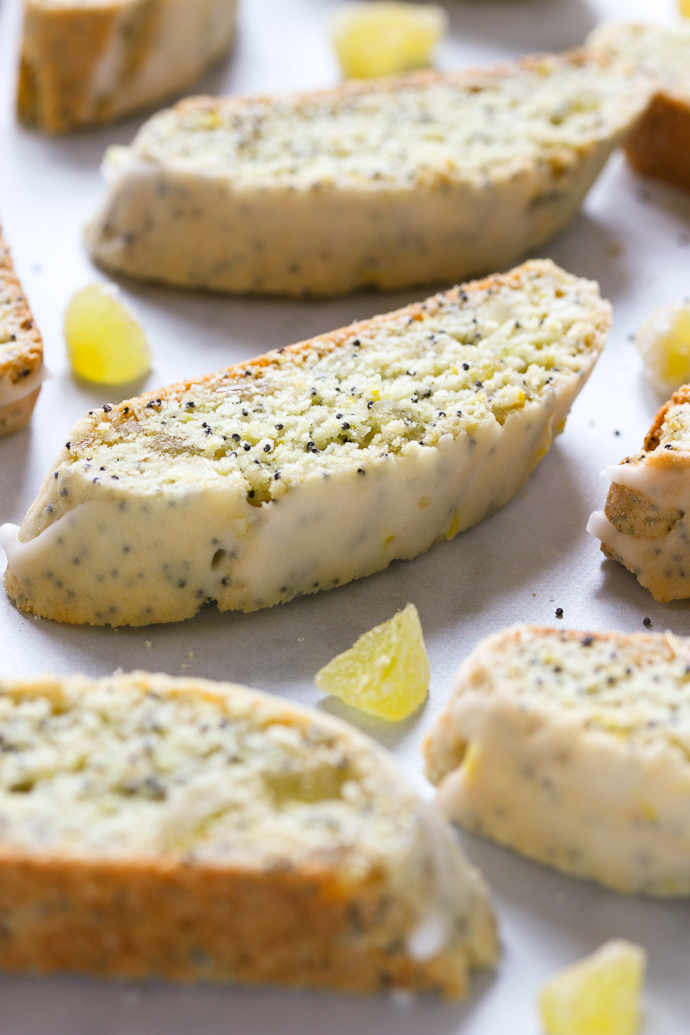 Biscotti are absolutely hands down my favourite cookies.
I am always on the look out for new flavour combinations. And I must say that although this recipe is a less traditional Italian biscotti, the lemon paired with the ginger work so well together.
The lemon lends a nice tang while the ginger adds a lovely zing to the biscotti. And who can resist that smack of added citrus appeal from the lemon glaze
These biscotti are not the rock hard variety that will necessitate a visit to the dentist with your tooth sheepishly in hand!
They have a much more soft and tender bite. If you are looking for a cookie that is not over the top sweet, then this recipe is for you.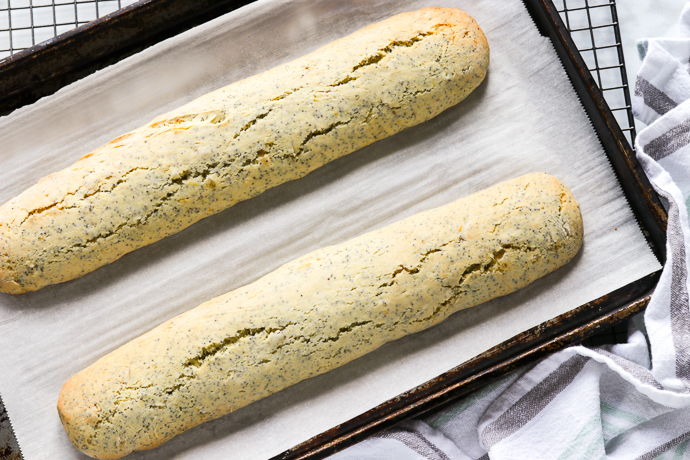 Candied Ginger
Candied ginger which is also known as crystallized ginger, depending on how it's labelled, is made in much the same way as candied orange or lemon peels.
The fresh ginger is peeled, chopped and cooked in a sugar water mixture over low heat. It's then rolled in granulated sugar and preserved this way.
You can snack on the spicy candied pieces or use in your favourite baked goods.
When purchasing candied ginger, look for the soft and tender baby ginger which has a perfect balance of spiciness and sweetness and is moist and chewy.
I purchased mine labelled "candied ginger chunks" which I chopped into little pieces for this recipe.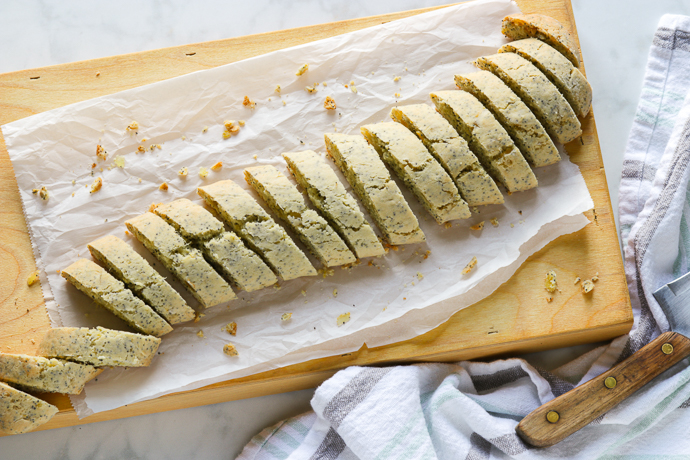 Chopping the candied ginger into tiny pieces helps when slicing the biscotti for the second bake. You'll get much cleaner cuts this way and no breakage.
Although a sharp knife does work wonders.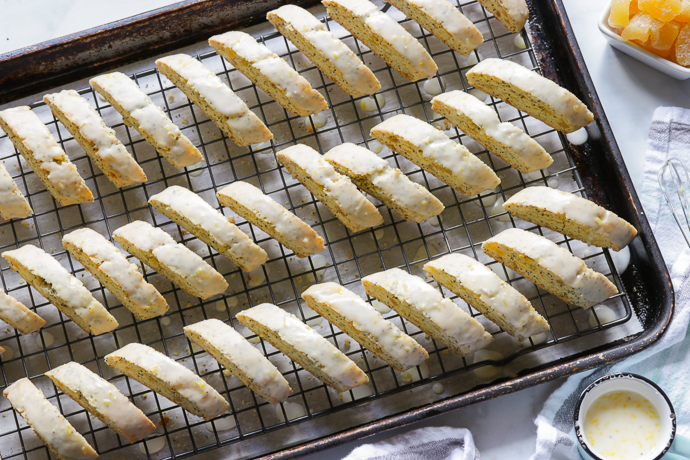 Lemon Glaze For Biscotti
This lemon glaze is really simple and tops the biscotti with an extra tangy layer.
You'll need powdered sugar with both the juice and zest from 1 lemon.
It's mixed together in a small bowl and gently brushed over the cooled biscotti.
Then simply allow it to set for about a half hour.
Easy! Peasy!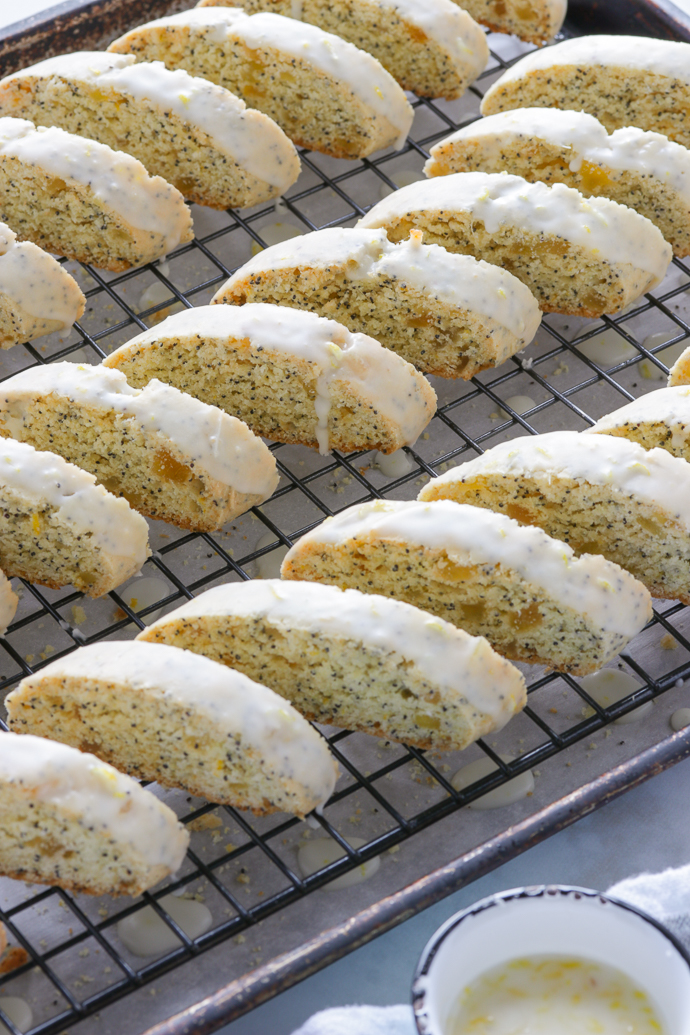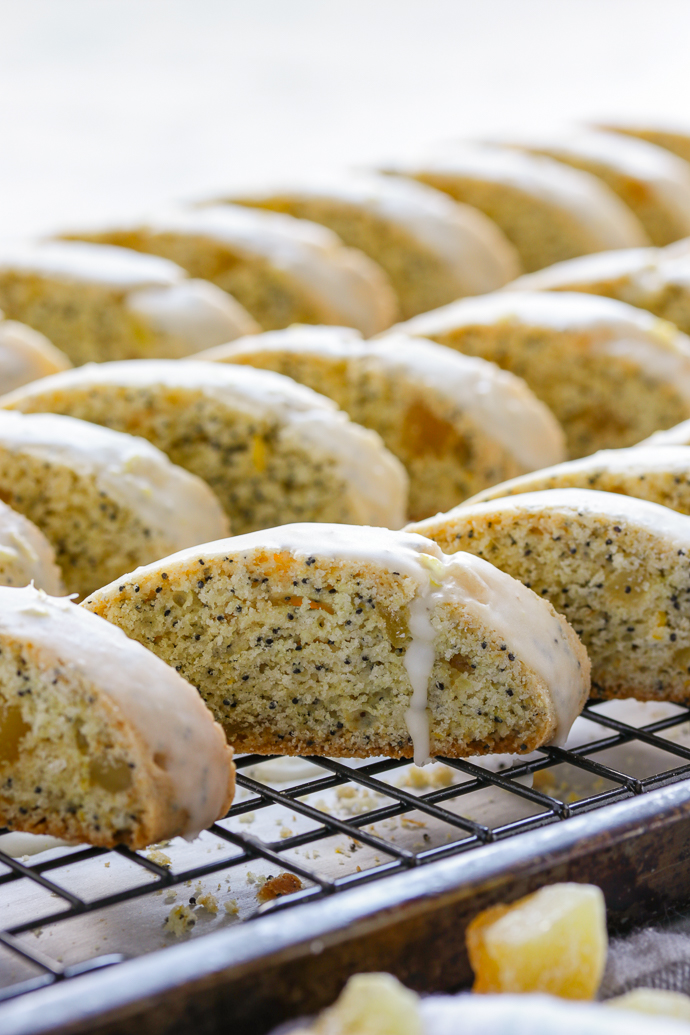 These Candied Ginger, Lemon and poppy Seed Biscotti make a perfect sweet and tangy indulgent to serve with a cup of tea or coffee.
Or better yet, serve along side a lemon sorbet for a refreshing summertime treat!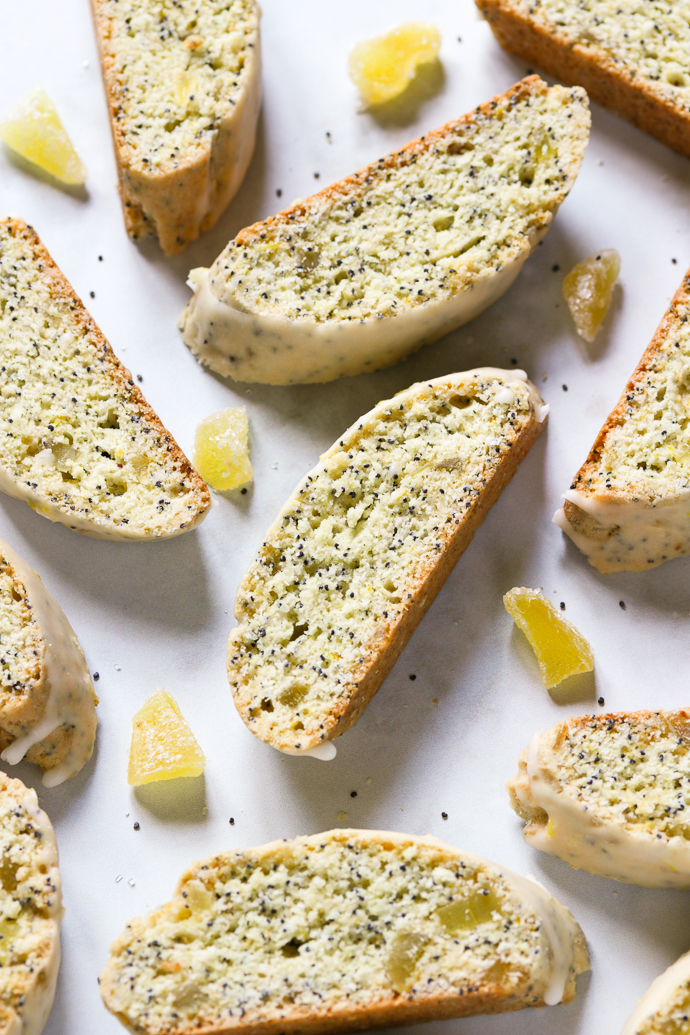 You may also enjoy these other biscotti flavours

Print Recipe
Candied Ginger, Lemon and Poppy Seed Biscotti
These candied ginger, lemon and poppy seed biscotti are an olive oil based recipe. They're sweet, tangy and studded with crunchy poppy seeds. And for a more tangy flavour I brushed them with a lemon glaze!
Equipment
1 baking sheet lined with parchment paper
Ingredients
1/2

cup

olive oil

3/4

cup

granulated sugar

2

large

eggs

grated lemon zest

from 1 lemon

2

teaspoons

vanilla extract

1/2

cup

candied or crystallized ginger

finely chopped

2

cups

all purpose flour

2

tablespoons

poppy seeds

2

teaspoons

baking powder

1/8

teaspoon

salt

I used fine sea salt
Lemon Glaze
1

cup

powdered sugar

grated lemon zest

from 1 lemon

freshly squeezed lemon juice

from 1 lemon
Instructions
Preheat the oven to 325 Degrees F.

Line a cookie sheet with parchment paper and set this aside.

In a large bowl whisk together the olive oil, sugar, eggs, lemon zest, vanilla and the finely chopped crystallized ginger.

In a separate medium sized bowl, whisk together the flour, poppy seeds, baking powder and the salt.

With a wooden spoon stir the flour mixture into the egg mixture until combined.

Transfer the dough to a lightly floured work surface and divide into 2 equal portions.

Dust your hands with flour and roll each half into a 12 inch log and transfer the logs onto the prepared baking sheet while spacing the logs 2 inches apart.

Press down on the logs to flatten just a little bit.

Place in the preheated oven and bake for 25 minutes or until light golden brown and the tops are firm to the touch.

Remove from the oven and allow to cool for 10 minutes.

Transfer the logs to a cutting board.

Using a well sharpened knife, slice the logs at a diagonal into about 1 inch slices.

Return the sliced biscotti to the cookie sheet while placing them upright so they bake evenly on both sides.

Bake for an additional 10 to 15 minutes, depending on how dry you want them.

Transfer the biscotti to a cooling rack and allow to cool completely before glazing.
Lemon Glaze
In a small bowl whisk together the powdered sugar, lemon zest and lemon juice.

Brush the lemon glaze over the cooled biscotti and let it set for about 30 minutes.

Enjoy with your favourite hot beverage.
Notes
Although at my house biscotti don't last very long, they do keep well in an air tight container for at least a week.