Mornings have just gotten better with these Blueberry Lemon Scones. They are made with tangy buttermilk, scented with grated lemon peel and drizzled with a lemony glaze.
A while back my daughter had gifted me with a Ricardo Magazine subscription.
I clearly remember how exciting it was to receive my absolute favourite magazine. It was packed full of gorgeous photography, mouth watering recipes, plus tips and tricks to help new beginners in the kitchen.
For those not familiar with Ricardo Magazine, it is Canada's one and only National Food Magazine. A treasure trove of recipes for all foodies, whether you are a seasoned cook or just beginning, you are bound to find some inspiring meal ideas.
Glancing through the magazine, what caught my eye was not the Strawberry and Lemon Cake that graced the front cover nor the Hot Fudge Sundae with Caramel Popcorn (although I may try the latter next), but rather these heavenly buttermilk Blueberry Scones.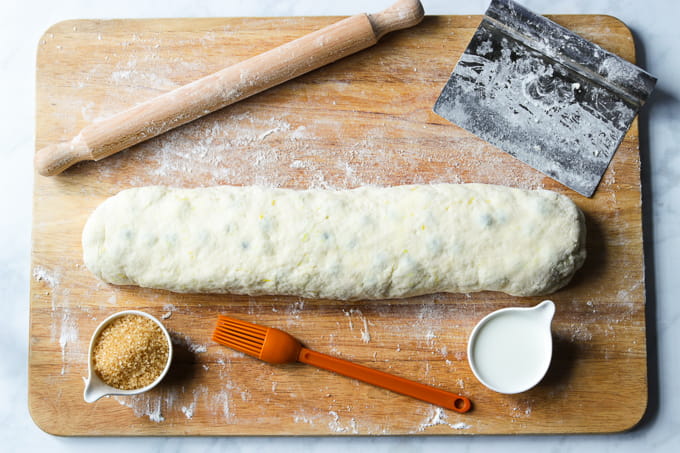 Scones come in a wide variety of shapes and unlike other recipes where the blueberries are mixed in with the scone batter, here the blueberries are rolled delicately into the dough.
They are then sliced into wedges and delicately brushed with buttermilk. All that's needed before hitting the oven is a generous sprinkle of coarse sugar.

They came out of the oven with a crisp and flaky shell. And they have a soft, dense interior bursting with the sweetness of the blueberries.

What I did differently and merely as a personnel preference, is I added lemon zest to the batter and drizzled the scones with a tangy lemon glaze. They are so insanely delicious and will have you doing the happy dance in your kitchen!
Warning though, they are extremely addictive.

Can You freeze Scones?
They are best served immediately, however, they can be frozen without the lemon glaze for about a month.
Simply thaw and reheat in a 350* oven for about 10 minutes.
To save on time in the morning, combine all the dry ingredients with the frozen grated butter in a bowl and keep this mixture in your freezer. In the morning remove the mixture from the freezer and continue on with the recipe.
I tested the recipe using cold butter and another time with grated frozen butter. I have to say I much prefer the frozen butter. It simply rendered the scones more airy on the inside but both ways were delicious!
These blueberry scones are wonderful served for breakfast or even brunch!
Other blueberry recipes you might enjoy are:
Blueberry lemon Scones
Blueberry Lemon Scones with crispy outer edges and a soft dense interior bursting with the sweetness of blueberries.
Ingredients
2 3/4

cups

unbleached all purpose flour

1/2

cup

granulated sugar

1

tbsp

baking powder

1

tsp

baking soda

1/2

tsp

salt

lemon zest

from 1 medium lemon

3/4

cup

unsalted butter

frozen

1 1/4

cups

buttermilk

2

cups

fresh blueberries

2

tbsp

coarse sugar
Lemon Glaze:
1

cup

icing sugar

freshly squeezed lemon juice

from one half medium lemon
Instructions
Preheat the oven to 425F (210C).

Line two baking sheets with parchment paper and set aside.

In a large bowl, whisk together the flour, sugar, baking powder, baking soda, salt and grated lemon peel.

Grate the frozen butter and toss it into the flour mixture.

Use a pastry cutter or two knives to work in the butter just until the mixture resembles coarse crumbs,

Make a well in the centre and pour in one cup of buttermilk.

With a rubber spatula, gently toss together the mixture just until it appears moistened.

Turn out the dough on a floured surface.

Dust a rolling pin with flour and roll out your dough into a 16 inch square.

Scatter the blueberries over the dough.

Dust your hands with flour and start rolling the dough into a long cylinder. Use a pastry cutter to help loosen the dough from the work surface if needed.

Use a pastry cutter to help loosen the dough from the work surface if needed.

Once your dough is completely rolled out, press it slightly down to a thickness of about 1 and 1/4 inches while maintaining 16 inches in length.

Next, cut the dough into 7 equal rectangles and then cut each rectangle diagonally in half to form a triangle. (Alternately you can cut into 8 rectangle pieces and then each diagonally in half) Both work well.

Divide the triangle pieces onto the prepared baking sheets. Brush each scone with the remaining buttermilk and sprinkle generously with the coarse sugar.

Bake one sheet at a time, with the rack on the highest position, for 18 minutes or until the blueberry lemon scones are a gorgeous golden brown.

While one sheet is in the oven keep the other chilling in the fridge.

Allow the scones to cool before drizzling with the lemon glaze.

Just before serving, whisk together the icing sugar and lemon juice.

Here is where you can adapt the icing according to your taste. If you prefer a thicker lemon icing simply add more sugar.

Drizzle the scones with the lemon glaze and enjoy.
Notes
This blueberry lemon scone recipe was adapted from Ricardo Magazine with a couple of switch ups simply for personal preference.
I've added lemon zest to the dough and drizzled the top of the scones with a lemon glaze.
You can slice the pieces into 14 triangles or 16. I've tried both and it works equally well.
This recipe was updated with new content and photos August 24, 2019.