Are you wondering what is a good dessert with pasta? Well how about taking fresh egg pasta and turning it into irresistible Sweet Crispy Pasta Nests!
This sweet pasta dessert is deep fried till golden and then soaked in an orange infused honey syrup. As a finishing touch, you can top the honey soaked pasta with coloured sprinkles, crushed pistachios or candy coated chocolate eggs for an easy Easter dessert.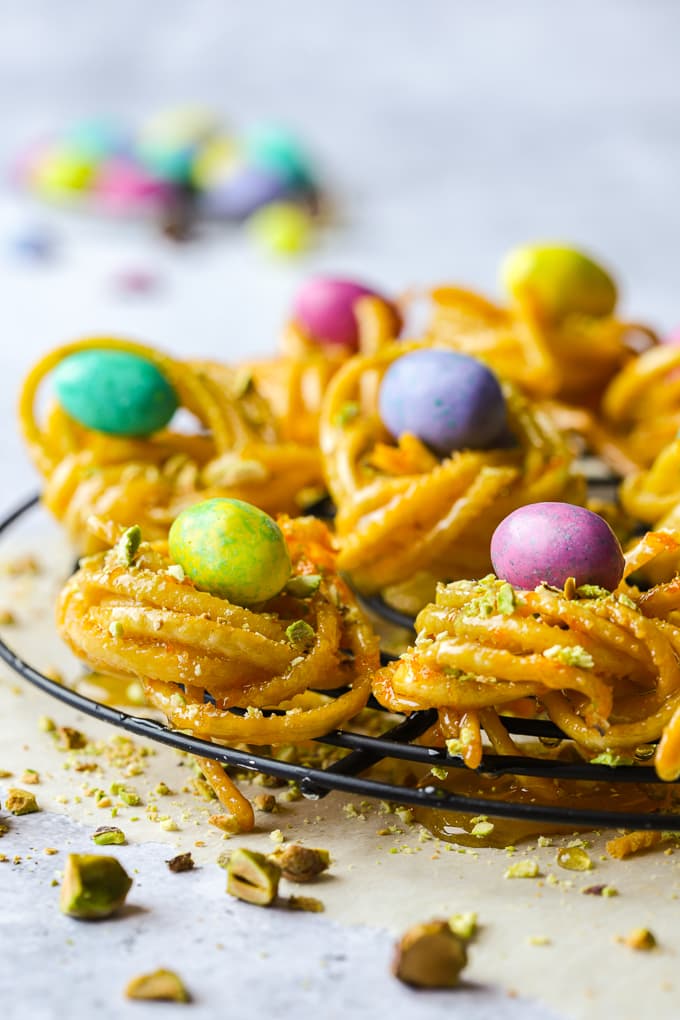 Pasta not only makes a comforting first course meal but fresh pasta can be transformed into a rather playful dessert.
Italians have been making various types of pasta desserts for centuries and this comes as no surprise considering the love we all share for the ever popular noodle.
You can actually give your children permission to play with their food by involving them in shaping the strands of pasta into adorable nests.
They're incredibly easy to put together but you may want to keep the young ones away from the hot oil.
How To Make Sweet Crispy Pasta Nests
Oh…the pastabilities!
I used three types of fresh egg pasta. Fettuccine! Linguine! And capellini!
The photo above shows the deep fried Linguine and in the photo below it shows its' fresh state.
But you can use any fresh long strand of egg pasta you wish. The thinner the pasta the crispier it will be!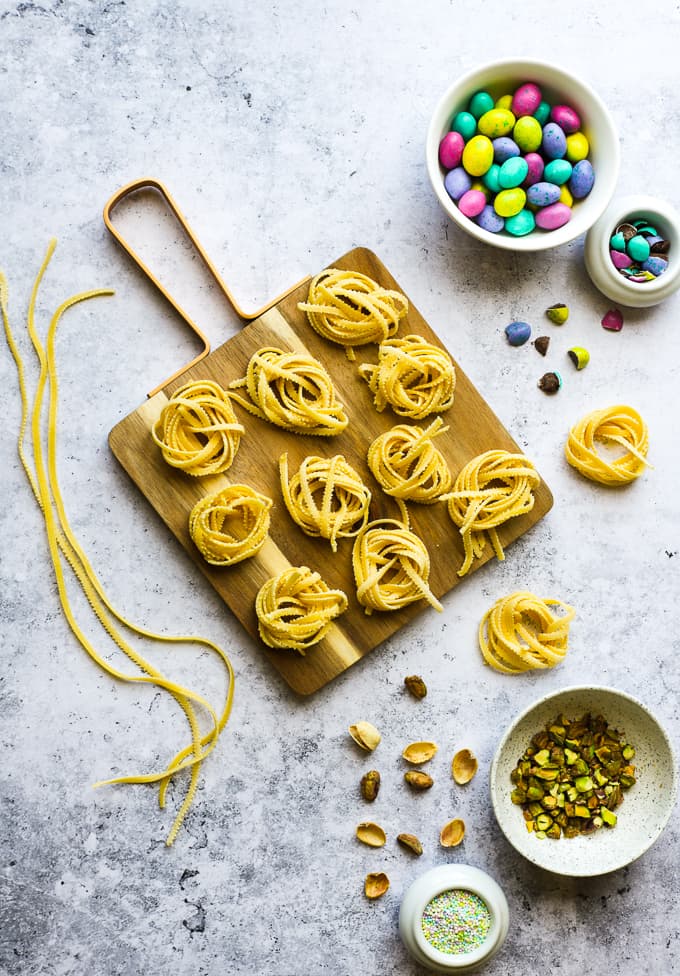 It's almost a non recipe as there's no mixing, beating or kneading involved here. Just a few simple steps!
And they're a perfect make ahead dessert!
Step One: Take 3 strands of the longest fresh pasta noodles and twirl it around both your index and middle fingers to shape the nests.
The longer noodles can actually be twirled twice around your finger. And the over hanging part can be looped under the nest and pushed back up through the middle.
This secures the nests while allowing less loosening of the twirled pasta in the hot oil.

Place the shaped pasta on a cookie sheet and allow to air dry for about 15 minutes before hitting the hot oil. Don't skip this step as this also helps the nested dough from coming apart in the hot oil.
During this resting time, prep your toppings in separate bowls and heat the vegetable oil.
How To Deep Fry Pasta Dough For Dessert

Step Two: Heat some vegetable oil in a heavy bottom stock pot at 350 degrees F.
Deep fry the pasta nests till a deep golden colour, turning over once. About 15-20 seconds in the hot oil.
Transfer the nests onto a paper lined cookie sheet to absorb any excess oil. Repeat with the remaining pasta.
Pretty simple and straight forward right?
And now for the final step!
How To Make Orange Infused Honey

Step Three: Pore one cup of honey in a small stock pot and add in one tablespoon of brandy and the zest of an orange. You can omit the brandy to make it strictly kid friendly.
Heat the honey mixture over low heat till barely a simmer. We just want it warm enough to dip our pasta into.
Turn off the heat and dip a few nests into the warmed honey while turning to coat all over.
Transfer the honey coated nests onto a wire rack with a cookie sheet underneath to catch any drippings.

Once you've finished coating the pasta with the warmed honey, you can decorate the nests with your choice of toppings.
And really anything goes here. Be as creative as you like!

What Happens If You Deep Fry Noodles?
As with deep frying anything you don't want a too low heat because it'll just absorb too much oil. The opposite is true if you're using heat that's too high. The end result is an over-browned, dry and brittle nest.
Thin noodles such as fettuccine, linguine or capellini fry well at 350 degrees F. And they're ready in under a minute so pay close attention. Don't walk away from the hot oil.
The end result are golden hued nests with crispy and crunchy sweet bites. Almost pretzel-like in texture, except sweeter. Perfect little nibbles to munch on!

These deep fried pasta treats are the base for different toppings!
I topped the fettuccine with crushed pistachios which makes a lovely contrast to the honey-soaked nests.
And I did the same with the linguine but also added some candy coated chocolate eggs for this Easter celebration.

As for the capellini, in the photo above, I topped the fried pasta shapes with Easter coloured sprinkles. These tiny pearl shaped sprinkles are a great match to the thinner noodle.
My family thoroughly enjoyed these sweet crispy pasta nests and devoured them in no time at all. They will most certainly be making a reappearance for Easter Sunday.
Other Traditional Easter Desserts You'll Love
Pastiera Napoletana Recipe is a traditional Italian citrus scented, wheat berry and ricotta pie. A must have during the Easter holiday!
Italian Rice and Ricotta Pie is an elegant lemon flavoured rice pie, encased in a flaky phyllo dough crust. It's easier to make than it looks!
Chocolate Orange Ricotta Tart A simple yet elegant tart made with a pasta frolla dough. This orange scented tart is made with both ricotta and mascarpone cheese and of course chocolate. It is pure heaven!
Happy Baking!
This recipe was originally posted April 7th 2017 and republished April 2nd 2021 with updated photos and content.
Sweet Crispy Easter Pasta Nests
Turn fresh egg pasta into irresistible Sweet Crispy Pasta Nests. They're deep fried, golden hued treats dipped in honey and then topped with candy coated chocolate Easter eggs, pistachios and sprinkles.
Ingredients
450

grams

fresh egg fettuccine, linguine or capellini

(or 150 grams of each for variety)

canola or vegetable oil

(for deep frying)
Orange Infused Honey
1

cup

honey

orange zest

(from 1 orange)

1

tablespoon

brandy
Choice Of Toppings
Mini candy coated chocolate Easter eggs

pistachios

(crushed)

coloured sprinkles
Instructions
Forming The Pasta Nests
Have 2 baking sheets nearby.

Using 2 or 3 strands of pasta at a time, twirl between your index and middle fingers shaping into a nest.

The amount of times you twirl the pasta around your fingers will depend on the length of the pasta strands. Just make sure you have a slight overhang to loop the extra length under the nest and back up through the middle.

Carefully place the pasta nest onto the baking sheet and repeat with the remaining fresh pasta.

Allow to rest and dry out slightly so they don't come apart in the hot oil.
Deep Frying The Nested Pasta
In a heavy bottom stock pot or dutch oven, heat about 2 inches of oil to 350 degrees. (use a thermometer for accuracy)

Carefully drop in the pasta nests, frying 3 at a time until they're golden in colour. It took me about 20 seconds to fry 3 at a time.

Remove with a slotted spoon and place on a tray lined with paper towels to drain any excess oil.

Continue frying the remaining pasta nests.
Orange Infused Honey
Place the honey, orange zest and brandy in a small stock pot and heat till barley a simmer while stirring occasionally.

Turn off the heat and dip the pasta nests into the honey mixture, turning to coat all over.

Transfer the honey nests onto a cooling rack. Make sure to place a cookie sheet under the rack to catch any drips.

Top with candy coated chocolate Easter eggs, crushed pistachios or sprinkles.

Keep the pasta nests covered in an airtight container until ready to serve.
Nutrition
Calories:
78
kcal
|
Carbohydrates:
17
g
|
Protein:
2
g
|
Fat:
1
g
|
Saturated Fat:
1
g
|
Trans Fat:
1
g
|
Cholesterol:
11
mg
|
Sodium:
3
mg
|
Potassium:
35
mg
|
Fiber:
1
g
|
Sugar:
8
g
|
Vitamin A:
8
IU
|
Vitamin C:
1
mg
|
Calcium:
5
mg
|
Iron:
1
mg