Easy and elegant Raspberry Tiramisu makes a spectacular dessert for any special occasion.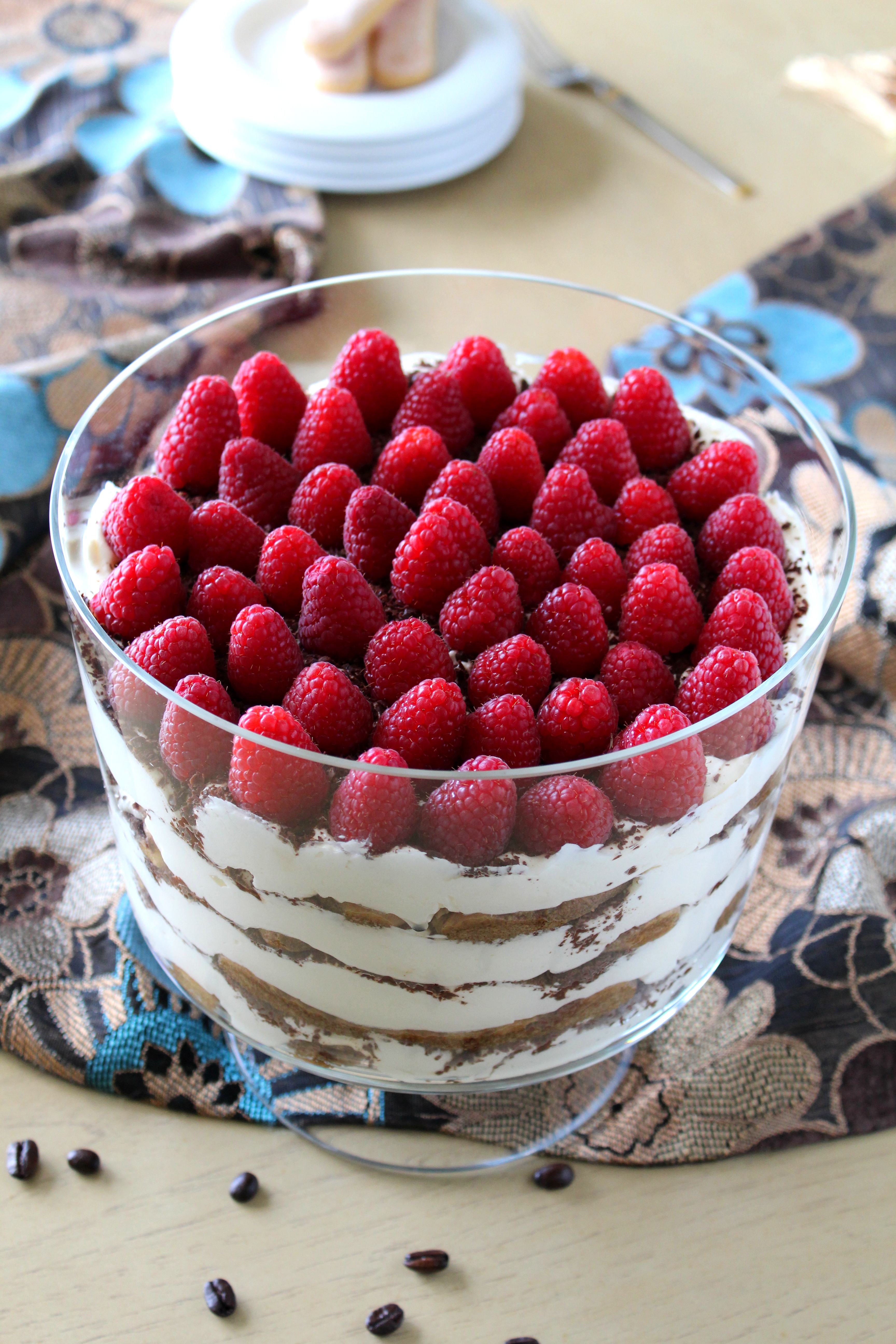 The indulgent ingredients in a Tiramisu are truly amazing flavor combinations with every bite providing a sensual, pleasurable sigh. An easy, elegant and ever so popular layered dessert.
Most people now know that "Tiramisu" literally translates to "pick-me-up", in reference to the coffee present in this dessert. Another account refers to the dessert being so sinfully luscious it makes the taster weak at the knees prompting the person eating the Tiramisu to call out "pick-me-up"! Which account do you prefer? Personally, I prefer the second!
In a more traditional Tiramisu, mascarpone cheese and raw eggs are used. Here it is replaced with cream cheese, which is far more readily available. Also, it is sweetened with condensed milk and lightened up with whipped topping to duplicate the sweet velvety texture of mascarpone cheese.
I love to serve it in a trifle bowl to showcase the wonderful layers of sponge cookies, cream cheese filling and chocolate. You can also use any 12 cup (3 liter) serving bowl.
If you wish you can omit the alcohol and replace it with 1 teaspoon of pure vanilla extract when beating the cream cheese. Wonderful substitutions for the black raspberry liquor and the brandy would be marsala wine, port, rum, or any coffee liquor of your choice. Just make it according to your taste and I promise it will soon become a family favorite.
Ingredients:
2 pkgs cream cheese, softened (250 g each)
1 can sweetened condensed milk (300 ml)
1 liter frozen whipped topping, thawed
48 ladyfingers
2 cups strong black coffee, cooled
1 tbs Chambord, black raspberry liquor (optional)
1 tbs brandy (optional)
4 oz semi-sweet chocolate, grated
In a large bowl, beat the cream cheese until fluffy.
Gradually add the sweetened condensed milk beating just until combined for about 1 minute.
With a rubber spatula, gently fold in the whipped topping and set aside.
Combine the coffee and the liquors together in a shallow small bowl.
Dip the ladyfingers one at a time on each side into the coffee mixture and line them in the bottom of the serving bowl in one single layer.
Spoon 1/4 of the cream cheese mixture over the ladyfingers and sprinkle over 1/4 of the grated chocolate. Repeat layering the ladyfingers, cream cheese and chocolate three more times.
Top with raspberries and chill for a minimum of 4 hours or better yet, overnight.
Switch it up and serve it in individual size portions. Try a Martini glass, cognac glass….your imagination is the limit!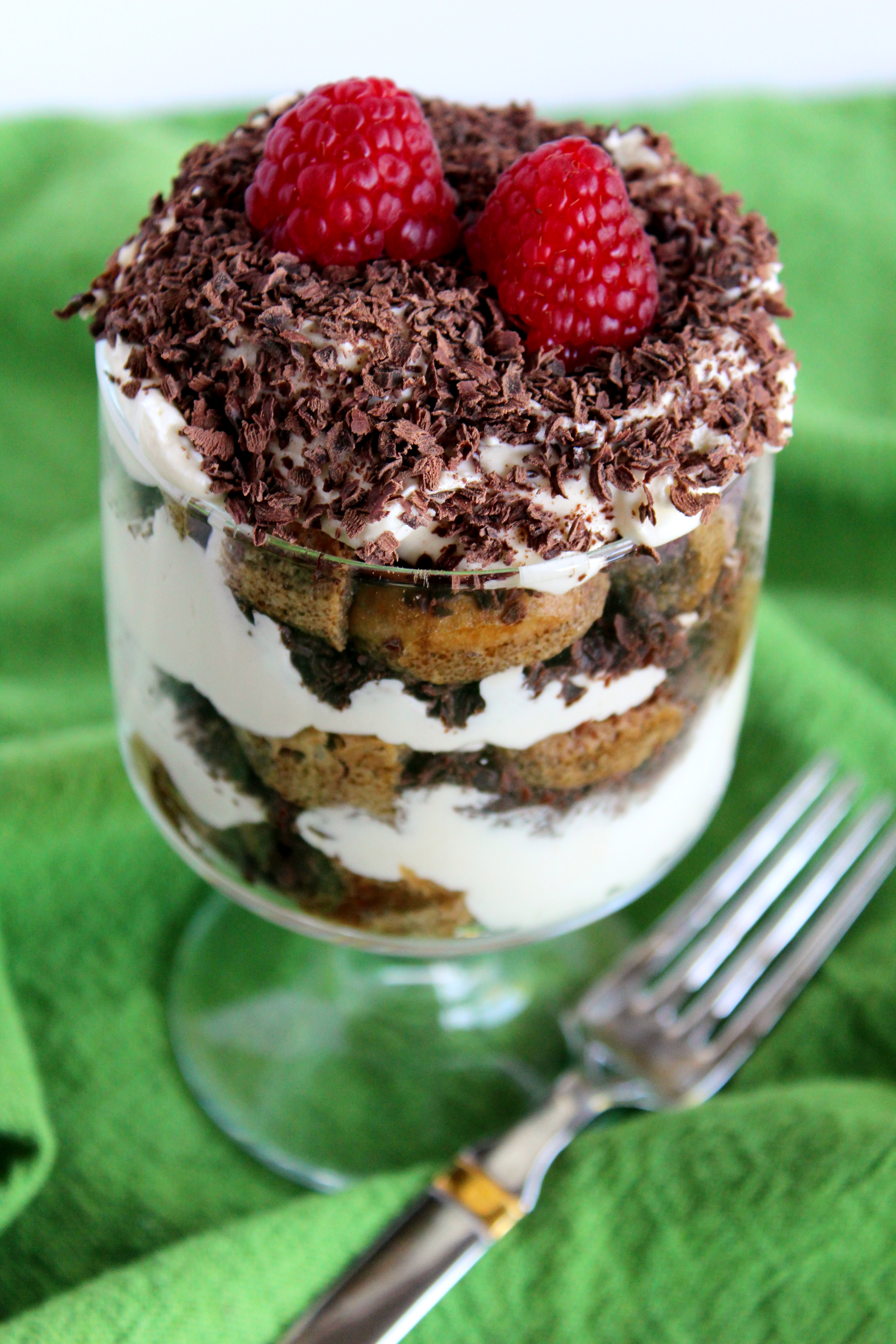 Will yield 12 individual, good sized portions:)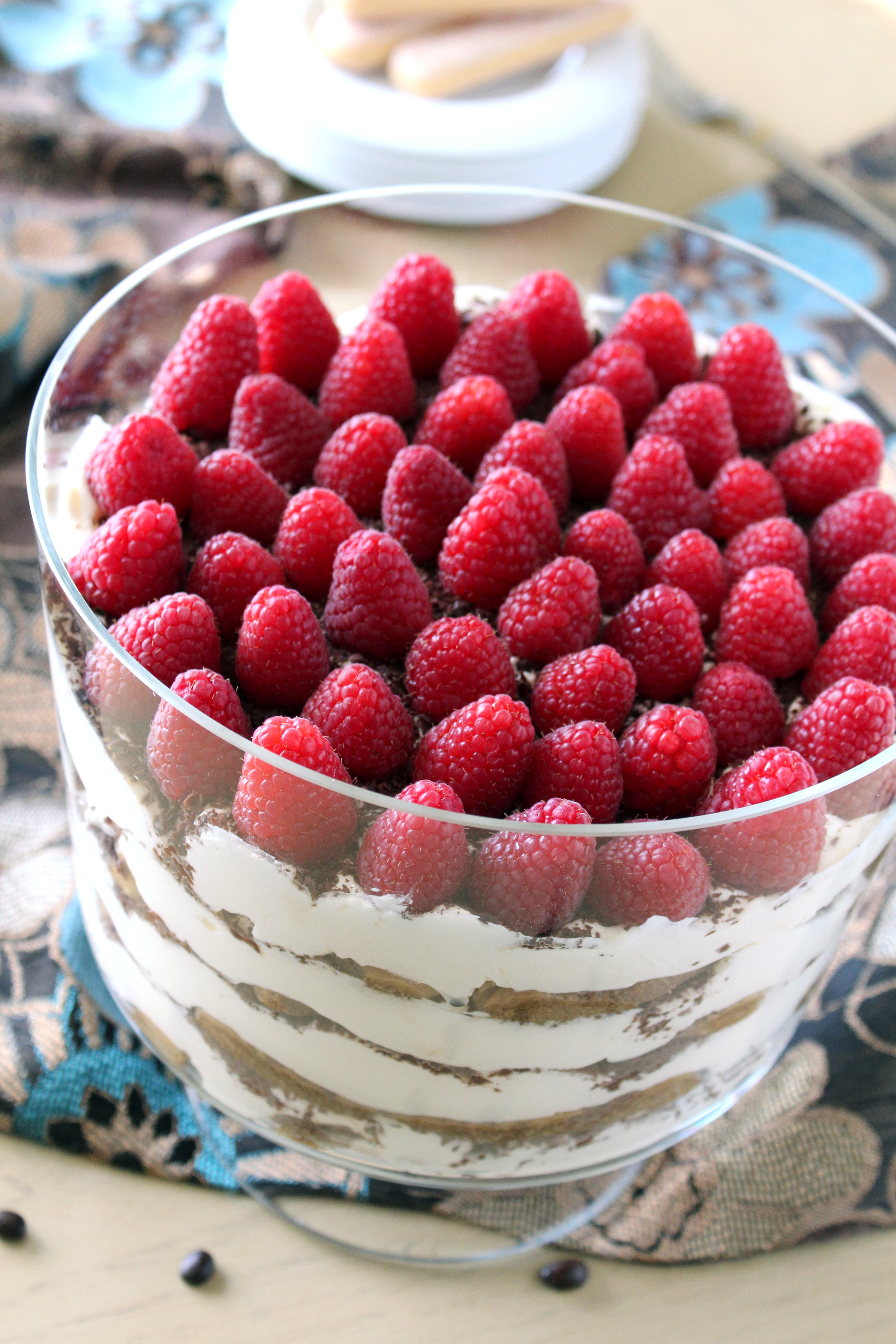 Deliciously sinful Raspberry Tiramisu!!!