The absolute best Carrot Cake with Cream Cheese Frosting…ever! Two carrot cakes are baked and assembled together with the most luscious cream cheese frosting to form a two layered cake.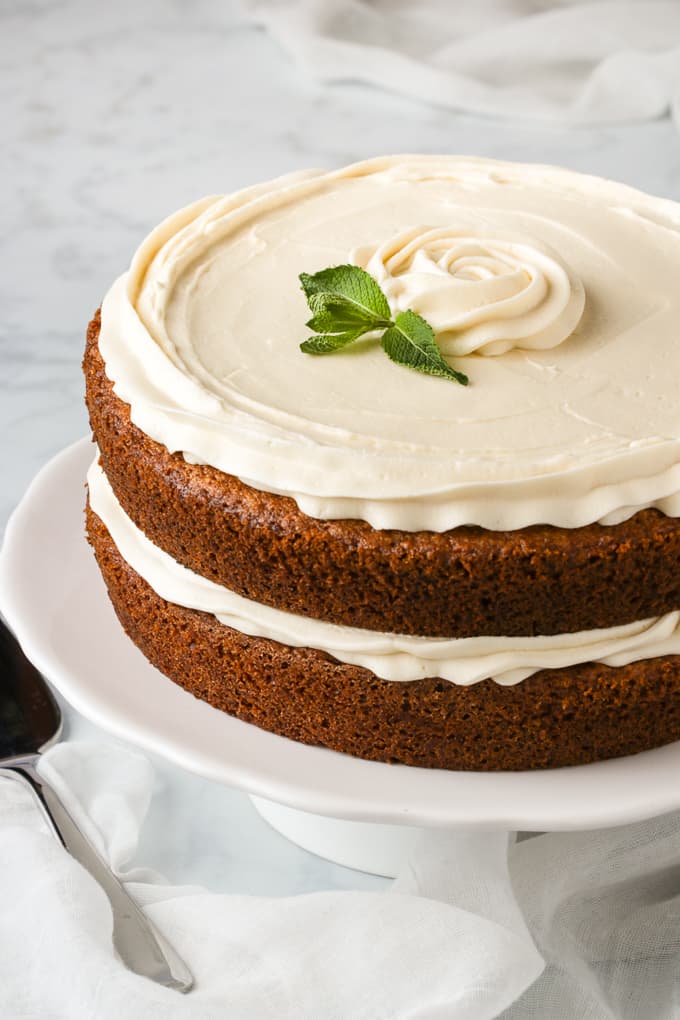 I forgot how much I loved carrot cake until I revisited this recipe. It's like seeing a long lost best friend and not being able to get enough.
Memories came flooding back on all the times I've baked this cake for Sunday family gatherings at mamma's house.
It's been a family favourite for a long while and just recently my sister requested the recipe. She raves about it all the time, claiming it's "the best she's ever tasted" !
I'm so glad to have found this recipe, type written…yikes, who even owns a typewriter anymore. It's dog eared and slightly spattered with cake batter.
It truly attests to the shear amount of times I've baked this deliciously moist cake.
Much of its moistness comes from sweet bits of crushed pineapple which makes a lovely contrast to the finely ground walnuts and carrots speckled throughout the cake.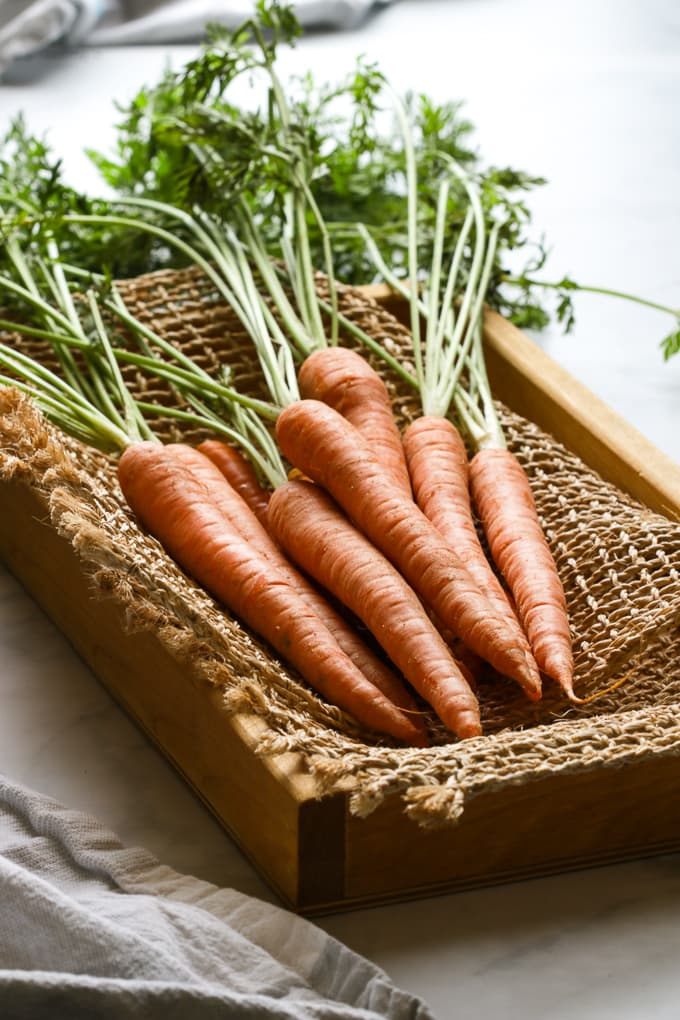 What Pans Can I Use to Bake Carrot Cake?
You can most certainly serve it in a more traditional way by baking it in a 9 x 13 inch pan, as I've always done.
However, do keep in mind you'll need to bake it for 50 to 60 minutes. Or simply until a toothpick inserted in the middles comes out clean.
One batch of the cream cheese frosting will be enough for a 9 x 13 inch cake.

This time around, I decided to elevate it into a much more elegant 2 layered cake. Inspired by what is now being referred to as "naked cake" and I used 2, 9 inch round cake pans.
It's a lovely way of making a cake with open layers.
This has the icing peeking through the outer edges, giving it a more exposed look. I find it gives the cake a pretty and enchanting appeal!
How to Decorate a Two Layered Carrot Cake
To achieve the frilly icing border, you'll want to start piping at the inner edge of your cake, working your self inward.
Use an off set spatula to smooth the inside frosting while leaving the edges untouched.

I repeated the same with the top layer and piped a rosette in the middle of the cake.
I wanted to achieve the look of a naked cake but with a frilly border!

How to Make Cream Cheese Frosting
You can either use an electric mixer when beating your cream cheese frosting or a food processor with a 4 cup capacity.
Both methods work quite well but I do prefer my food processor as this gives me a wonderful smooth consistency in mere minutes.
I doubled the frosting amount for this 2 layered cake and used a 1M piping tip from Wilton to decorate the carrot cake.
You'll have a little more than enough for the double layers so be as generous as you like!

This recipe was given to me by Raoul whom I've never met.
He was gracious enough to pass on this recipe through a mutual friend.
Raoul worked in our hospital cafeteria and had my colleagues and I running down every second Wednesday to get our carrot cake fix!
It's that wonderful and you'll want to make it over and over again!

And if your as much of a carrot cake lover as I am you'll want to check out these Gluten Free Mini Carrot Loaves! It's a slight variation on this 2 layered carrot cake. But minus the cream cheese.
Happy baking dear friends!
This recipe was originally published May 25, 2015 and republished May 4, 2019 with updated content and photos.

Print Recipe
Carrot Cake with Cream Cheese Frosting
A delicious 2 layered Carrot Cake with a luscious Cream Cheese Frosting that is simply perfect for birthdays, holidays or any other special occasion.
Ingredients
1 1/2

cups

sunflower oil or canola oil

2

cups

granulated sugar

4

large

eggs

2

cups

all purpose flour

2

teaspoons

baking powder

1

teaspoon

baking soda

1/2

teaspoon

salt

1

cup

walnuts

finely chopped

14

ounce

canned crushed pineapple

well drained

2

cups

grated carrots

about 3 medium sized
CREAM CHEESE FROSTING (double this amount for a 2 layer cake)
3

ounces

cream cheese

2

teaspoon

pure vanilla extract

1/4

pound

butter

1/2

pound

powdered sugar (icing sugar)
Instructions
Grease and flour 2, 9 inch round cake pans.

Preheat oven to 325 degrees F.

In a large bowl whisk the oil, sugar and eggs together until combined and set aside.

In a separate bowl, whisk the flour, baking powder, baking soda and salt.

Add the dry ingredients to the wet ingredients and stir until combined.

Fold in the crushed pineapple, chopped walnuts and the grated carrots.. Do not over mix.

Divide evenly into the prepared pans.

Bake in the preheated oven for about 40 minutes or until a wooden skewer inserted in the centre comes out clean.

Transfer the pans on a wire rack and let cool completely in the pans.

Carefully release the cakes from the pans when cooled and ready to frost.
CREAM CHEESE FROSTING (double the amount for a 2 layer cake)
In a large bowl combine the frosting ingredients together.

Starting on low speed and working your way to high, mix until the cream cheese frosting is smooth and creamy.
ASSEMBLING LAYERED CARROT CAKE
Carefully place one cake on a large serving platter.

To make the frilly icing border, use a piping bag inserted with a 1M piping tip.

Fill the piping bag with the frosting and start piping at the inner edge of your cake, working yourself inward.

With an off set spatula or the back of a large spoon, smooth the inside frosting and leave the edges untouched.

Top with the second layer of cake and repeat with more frosting.

Pipe a rosette on the top middle of cake and garnish with mint leaves.

Slice and enjoy with your favourite cup of coffee or tea.
Nutrition
Calories:
587
kcal
|
Carbohydrates:
93
g
|
Protein:
8
g
|
Fat:
22
g
|
Saturated Fat:
9
g
|
Cholesterol:
108
mg
|
Sodium:
383
mg
|
Potassium:
330
mg
|
Fiber:
3
g
|
Sugar:
70
g
|
Vitamin A:
4802
IU
|
Vitamin C:
5
mg
|
Calcium:
87
mg
|
Iron:
2
mg