In this dish, Potato Gnocchi with Tomato Basil Sauce, the humble potato is transformed into a melt-in-your mouth delicacy. Just about any sauce will compliment potato gnocchi.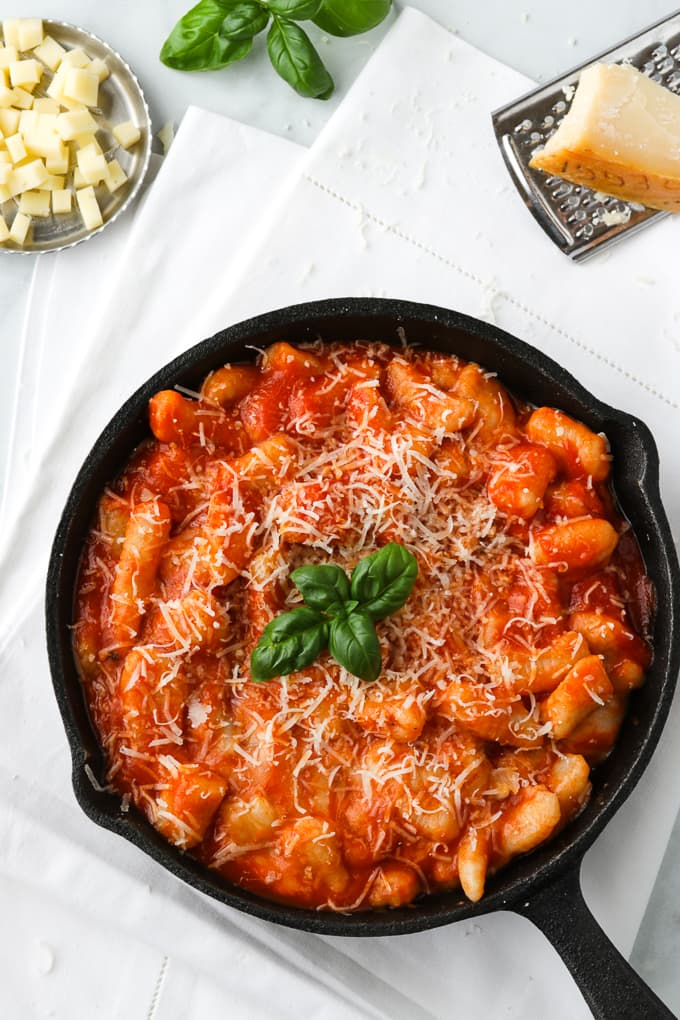 What are Gnocchi?
Gnocchi are simply the Italian version of potato dumplings and can be prepared in limitless ways.
Today, there is such an extensive variety of gnocchi! Some are made with ricotta or squash while others are flavoured with beets.
There are also gnocchi where different flours are utilized, such as chestnut, buckwheat and also wholewheat flour.
Another version is made with semolina flour, milk, cheese and known as Gnocchi alla Romana.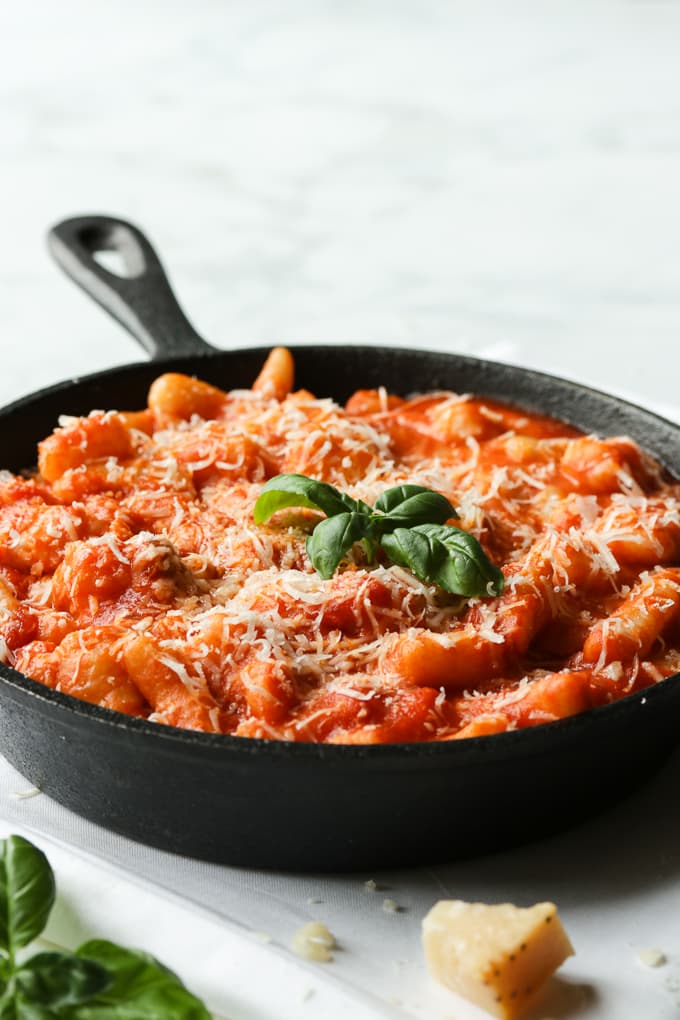 These Potato Gnocchi with Tomato Basil Sauce, however, is the type of dish I grew up with.
They were my number one request each time mamma would ask me what I wanted to eat for my birthday celebration. She never failed to remind me of the countless times I would help her twirl the gnocchi with my chubby little fingers!
How To Make Potato Gnocchi From Scratch
Start with a starchy potato such as the russet potato and you can either boil them or bake them in the oven.
Just make sure not to pierce or cut through the potato when boiling them, otherwise they will absorb too much water.
You can easily mash the potatoes with a fork but a potato ricer really does an excellent job of mashing the potatoes and it's a good investment for one who often makes gnocchi.
Mix the mashed potatoes with the beaten egg, salt and work in some flour with your hands.
Knead the dough for a few minutes while working in a little more flour if sticking too much on your hands and work surface. It should be soft and pliable.

How To Shape Gnocchi
Working with one piece of dough at a time, roll the gnocchi dough into a 1/2 rope then cut into 1 inch pieces.
To shape the gnocchi, you can use a handy wooden gnocchi board but if you don't have one, no worries!

I was taught to twirl the gnocchi using my index finger and middle finger by pressing both down into the gnocchi and rolling quickly towards me.
Alternately you can use the back of a fork to make the pretty indentations. The little ridges that form are a perfect entrapment for all that delicious sauce.

Tips for Making Potato Gnocchi From Scratch
Always start with less amount of flour than the recipe calls for. The moisture of your potatoes and the amount of eggs used will determine how much flour is needed.
Do not knead more than a few minutes as this would result in too much flour adsorption which yields heavier gnocchi.
It goes without saying to always use a big sauce pot when cooking any form of pasta. Drop a few at a time into the boiling water to avoid the gnocchi from sticking together.
Ideally you will want to make and cook the gnocchi within a few hours. Simply transfer the gnocchi in a single layer on a lightly dusted cookie sheet and cover with a clean dish towel till ready to use.
Gnocchi can also be frozen. Transfer them on a cookie sheet in a single layer and place the tray in the freezer. Once frozen, transfer them into a freezer bag.

These exquisite potato gnocchi are very filling and therefore often served in moderate portions as a first course meal.
You'll want to savour every bite! Enjoy the melt-in-your mouth sensation and never rush a good thing.
Above all, have fun and enjoy the process. After all practice makes perfect!


This recipe was originally published Sept. 14 2016 and updated May 7, 2020 with new photos and content.
Potato Gnocchi With Tomato Basil Sauce
In this dish, Potato Gnocchi with Tomato Basil Sauce, the humble potato is transformed into a melt-in-your mouth delicacy sure to dazzle family and friends.
Ingredients
Gnocchi Dough
4

large russet potatoes

(about 2 pounds)

1

teaspoon

salt

1

tablespoon

beaten egg

2

cups

all purpose flour

(approximately)
Tomato Basil Sauce
1

tablespoon

olive oil

2

cloves

of garlic

(minced)

pinch

of crushed chili pepper

24

ounce

jar Passata

(Italian strained tomatoes I used San Marzano)

2

sprigs of basil

salt and pepper to taste

1/2

cup

diced mozzarella

1/2

cup

grated Parmesan cheese
Instructions
How To make Gnocchi
Preheat the oven to 375 degrees F.

Wash the potatoes under cold running water and pat dry.

Use a large knife and make a deep incision length-wise into each potato.

Place the potatoes on a cookie sheet and bake until they are tender, for about 1 hour.

Let potatoes cool a little but do peel them while they are still a bit warm.

Put them through a potato ricer. Alternately you can use a potato masher or a fork.

Place the mashed potatoes in a large bowl.

Add in the salt, 1 tablespoon of beaten egg and 1 and 1/2 cups of flour.

Using your hands, mix well just until the flour and potatoes stick together forming a rough looking dough.

Transfer the dough to a wooden board or work surface.

Knead the dough lightly, gradually adding a little bit of the remaining flour if the dough is sticking too heavily on your work surface. (I did not need all of the remaining 1/2 cup more of flour)

Knead for 2 to 3 minutes.

The dough should be smooth, pliable and just a little bit sticky.

Cut off a section of dough at a time.

Roll the piece of dough with a back and forth motion until you get the thickness of your index finger.

Cut the roll into 1 inch pieces.

Repeat with the remaining dough.

To shape the gnocchi, I used my little wooden gnocchi board with ridges.

Alternately, you can use the back of a fork .

Hold the fork at 45 degree angle, with the tines down on the work surface with its' inside curve towards you.

Take a gnocchi role and press it with your index finger against the tip end of the fork while quickly sliding it up along the length of the fork tins.

Or simply use your index and middle fingers by pressing both fingers down into the gnocchi and rolling quickly towards you. The gnocchi will flip over and have a pretty indentation.

Repeat with the remaining pieces of dough.

Transfer the gnocchi on a lightly floured cookie sheet and cover with a clean dish towel.

Set aside while you prepare the sauce.
Tomato Basil Sauce
Heat the oil in a medium sauce pot over medium low heat and sauté the garlic with the crushed chilli pepper just until fragrant, taking care not to burn the garlic. (should take less then a minute).

Add in the passata (Italian strained tomatoes), basil, salt and pepper and stir well.

Fill the bottle of passata three quarters full with water. Give it a good swirl and add this to the sauce.

Bring the sauce to a boil then lower the heat, cover and simmer for about 45 minutes or until the sauce thickens and the sweet concentrated flavors of the tomatoes come through.

While the sauce simmers, fill a large sauce pot with water and bring to a rapid boil.

Add salt to the boiling water and then the gnocchi.

Once the gnocchi come to surface they are pretty much ready. Leave them floating for about 10 seconds. (If they stay in the water too long, they will become mushy).

Remove the gnocchi with a slotted spoon and place them on a serving platter.

Pour a little of the sauce over the gnocchi, stir to combine then mix in the diced mozzarella.

The heat of the tomato sauce will slowly melt the mozzarella.

Divide the gnocchi onto four plates. Top with more sauce and Parmesan cheese.

Serve while still hot.