A classic and easy Tiramisu Recipe that is simple, elegant and packed full of yummy goodness.
Just follow the step-by-step instructions to bring Italy's famous and beloved dessert to your own kitchen table. And do plan ahead as the flavours deliciously infuse and taste better and better, day after day!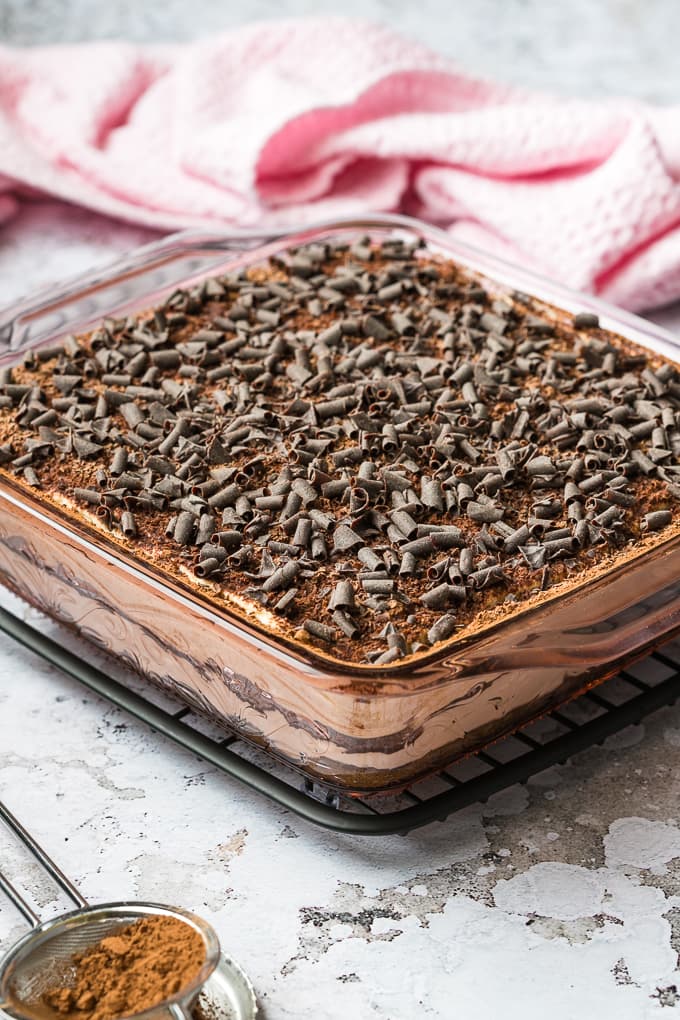 What Is Tiramisu
Tiramisu, which easily translates to "pick me up" is a popular Italian coffee-infused dessert. And aptly named too because of its caffeine kick.
It's made with espresso-soaked ladyfingers and layered with sweetened whipped cream and mascarpone filling.
These luscious cream filled layers are then dusted with cocoa powder and topped with grated bittersweet chocolate.
It was originally prepared in round shaped cake pans. Only later has this ever-popular Italian dessert been made in rectangular or square, shallow cake molds because these accommodate the elongated shape of the Savoiardi cookies much better.
Today, it has evolved into some pretty unique ways of presenting this luscious no-bake dessert as one is not confined to cake molds alone.
Sparkling fluted champagne or parfait glasses make elegant individual servings as do shorter glasses or small glass bowls. And these see-through glass serving wares showcase the layers of the spongy coffee-soaked ladyfingers with creamy cheese filling.
Tiramisu Ingredients
Coffee – Strong freshly brewed coffee is best. And cooled.
Savoriardi Cookies – Otherwise known as ladyfingers. They're elongated, dry and crunchy cookies perfect for dunking in coffee.
35% Cream – For whipping up and creating luscious layers.
Mascarpone – An Italian soft creamy cheese and a must have when making Tiramisu.
Sugar – To sweeten the whipped cream and for pasteurizing the eggs.
Egg yolks – The base of an Italian custard.
Coffee Liqueur – Or, substitute with brandy and even Rum.
Vanilla Extract – Adds a lovely warm scent to the egg custard.
Cocoa Powder – An essential ingredient which adds a deep chocolate flavour.
Bittersweet Chocolate – A delicious addition and kicks up the flavours of this coffee-infused dessert.
Chocolate Curls – For garnishing. And also adds a yummy crunch, in contrast to the creamy layers.
How To Make Tiramisu
First, brew some fresh coffee and stir in your favourite coffee liqueur. Set this aside to cool while preparing the creamy mascarpone mixture.
Whisk the egg yolks and sugar together in the upper part of a double boiler or a heat proof bowl.
Add in the vanilla extract and whisk till well incorporated.
Fill the bottom part of the double boiler with about 2 inches of water and bring to a slow simmer. (not shown in photo)
Place the upper part of the double boiler, (your bowl with the whisked egg yolk mixture) over the simmering water while making sure it doesn't touch the water. Continuously whisk for 5 minutes. The egg mixture will be thick and creamy and fall off in ribbons when lifting the whisk.
Remove the top of the double boiler from the heat and continue whisking off the heat till cooled slightly. For about a minute.
Stir the mascarpone cheese into the egg mixture and set aside while you whip the cream.
In a large mixing bowl, whip the cream and sugar together. Start on low speed and gradually increase to medium high and beat till stiff peaks form.
Gently fold the whipped cream into the mascarpone mixture with a rubber spatula till combined.
Putting The Tiramisu Layers Together
Quickly dip the ladyfingers on each side into the cooled coffee mixture. Take care not to over saturate the cookies.
Line the ladyfingers side by side in a serving dish. My shallow dish is a 8.25 x 8.25 in size but a 9 inch square serving bowl will also do.
Cut the ladyfinger cookies as needed before dipping them in coffee. Otherwise you'll have one soggy mess.
Cover the ladyfingers with half of the mascarpone filling. Use an offset spatula or the back of a spoon to smooth out the filling.
Generously dust the top of the mascarpone with cocoa powder. (I used a dutch processed cocoa powder)
Sprinkle bittersweet chocolate evenly over the cocoa powder.

Repeat with the remaining ingredients in the same order.
Top the Tiramisu with dark chocolate curls. (optional)
Cover with cling wrap and refrigerate for a minimum of 4 hours to 24 hours before serving.

What Liquor Is In A Tiramisu Recipe?
My favourite coffee liquors for this layered dessert are Tia Maria or Kuhluá, but any coffee flavoured liquor will greatly enhance that caffeine kick.
Other liquors are frequently substituted as well depending on ones personal taste. Such as Marsala, brandy, rum, Disaranno or even Grand Marnier.
All will intensify the flavours of a classic Tiramisu recipe.

Can You Freeze Tiramisu?
This Tiramisu recipe is a perfect make ahead dessert and keeps well in the fridge for two or three days before serving. But it also freezes well if you're not planning on serving it right away.
Simply wrap it well and remove from the freezer the night before serving.
Other No-Bake Desserts You'll Enjoy
Ricotta Mousse With Strawberries Romanoff: Another easy-to-make dessert with a ricotta, mascarpone mousse topped with boozy strawberries.
Cherry Granola Greek Yogurt Parfait: Delightfully simple to make and a perfect breakfast alternative with homemade granola.
Tiramisu Recipe
A classic Tiramisu Recipe that's so simple to make. This popular Italian coffee flavoured dessert is made with ladyfingers, a creamy mascarpone filling and topped with chocolate curls.
Ingredients
For The Coffee Mixture
1

cup

espresso coffee

freshly brewed

5

tablespoons

coffee liquor

I used Tia Maria
For the Custard
4

egg yolks

from large eggs

1/2

cup

granulated sugar

1

teaspoon

vanilla

extract
For The Mascarpone Cream Filling
475

grams

Mascarpone cheese

1 ¼

cups

35% cream

1/2

cup

granulated sugar
Assembling The Tiramisu
24

ladyfinger cookies

2

tablespoons

cocoa powder

2

ounces

grated bittersweet chocolate

1/2

cup

dark chocolate curls for topping

optional
Instructions
Coffee Mixture
Pour freshly brewed coffee and liquor in a medium size shallow bowl. (The bowl should be big enough to dip the ladyfingers into)
Custard Mixture
Pour 2 inches of water in the bottom part of a double boiler and bring the water to a low simmer.

In the top of a double boiler and off the heat, whisk together the egg yolks, sugar and vanilla extract.

Once the water has come to a slow simmer, place the top of the double boiler (which holds your egg mixture) over the simmering water.

Whisk continuously for 5 minutes. At this point the custard will thicken and fall off in ribbons when lifted with the whisk.

Remove from the heat and continue whisking for about 1 minutes till the mixture cools slightly.

Stir the mascarpone into the slightly cooled egg mixture.

Set aside while you whip up the cream.

Place the cream and sugar in a large bowl.

Beat the cream and sugar together till stiff peaks form, starting on low speed and gradually increasing the speed to medium high.

Gently fold the whipped cream into the mascarpone mixture until well combined and set aside.
Assembling The Tiramisu
One at time, dip a lady finger into the cooled coffee mixture (1 second on each side) and place into your shallow dish, lining them up side by side.

You may need to cut some ladyfingers to fit your dish as I did.

Spread half of the mascarpone mixture over the ladyfingers while covering up to the edge of the bowl.

Sift a generous tablespoon of cocoa powder over the mascarpone mixture.

Sprinkle half the grated chocolate over the cocoa powder.

Repeat with a 2nd layer of ladyfingers, mascarpone mixture, cocoa and grated chocolate.

Top the Tiramisu with chocolate curls.

Cover with cling wrap and chill for a minimum of 4 hours and up to 24 hours before serving.

The longer it sets in the fridge the firmer the Tiramisu will be when serving and the more infused the flavours become.

Slice into individual portions and serve.
Notes
Double Boiler Substitution
A double boiler is also known as a "bain marie" which is the french term for a double boiler. But if you don't have one, no worries.
You can simply use a heat proof mixing bowl over a pot of simmering water. That's what I do.
The heat proof bowl can be a glass or steel bowl.
Just make sure that the pot resting over the simmering water does not touch the water. There should be enough space between the two.
What we're looking for in this technique is a gentle indirect heat so that the egg mixture does not curdle or scorch.
Nutrition
Calories:
706
kcal
|
Carbohydrates:
53
g
|
Protein:
10
g
|
Fat:
48
g
|
Saturated Fat:
29
g
|
Trans Fat:
1
g
|
Cholesterol:
251
mg
|
Sodium:
92
mg
|
Potassium:
208
mg
|
Fiber:
2
g
|
Sugar:
29
g
|
Vitamin A:
1513
IU
|
Vitamin C:
1
mg
|
Calcium:
134
mg
|
Iron:
3
mg