Soft Italian Anise Taralli have a wonderful aromatic scent from the speckled anise seeds. With crispy outer layers and soft spongy middles, these taralli make a perfect snack for just about anytime of the day.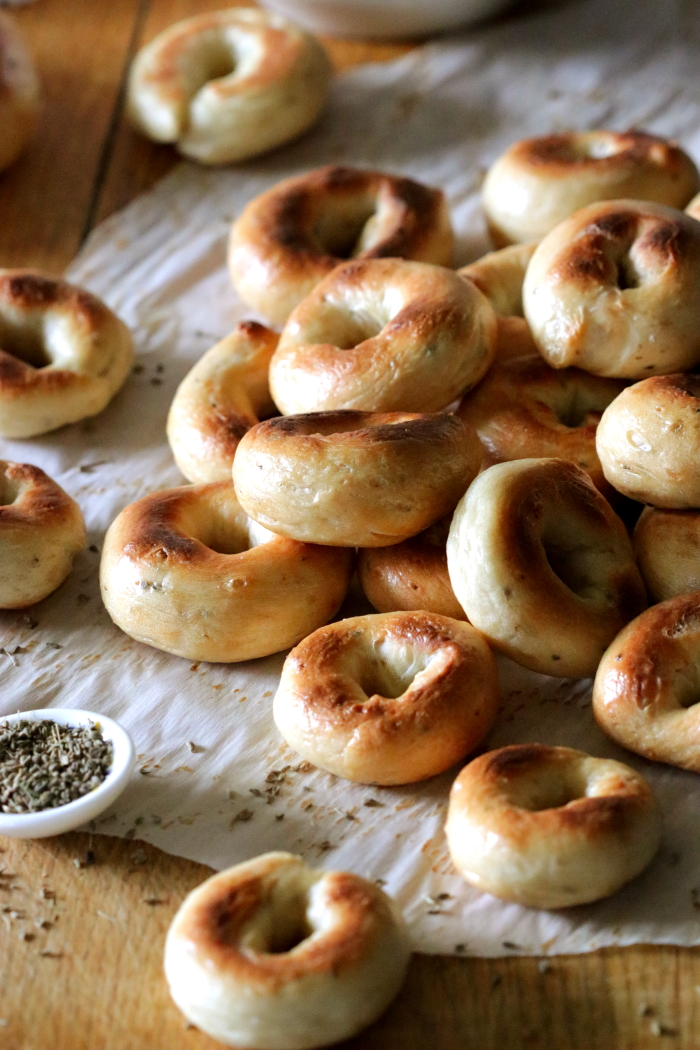 Taralli are the quintessential snack of Italy and extremely popular throughout the country.
Every region in Italy has their own variation of the tarallo (singular). From sweet to savory, there's bound to be one kind or another for every palate out there!
Some are the crisp and dry variety while others are the soft and chewier kind. There are also some recipes that call for yeast while others use baking powder as a leavening agent. Some are eggless and feature wine or even Grappa, not to mention the variety of spices that may be used. The more popular being fennel or even anise seeds.
One thing Italians will agree on is that they are excellent served alongside an antipasto platter with olives and cheeses or simply dunked in wine as an after dinner treat!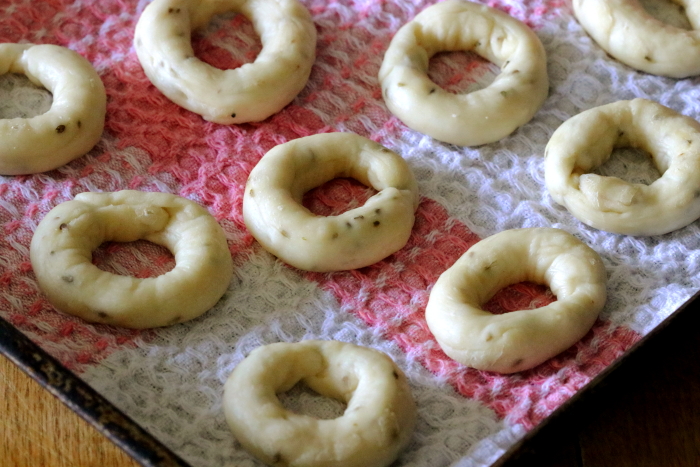 My friend and colleague Maria, has graciously shared her taralli recipe with me. She and her mom have been making them for years!
Don't be alarmed by the large amount of flour because this is a large batch recipe. That is if you make tiny taralli as I did! I believe I counted 90+ and that was after I ate half a dozen or so while counting the batch! No judgments here because I know you would do the same after one taste!
Maria makes very large taralli and therefore the recipe yields approximately 3 dozen for her. Whereas I prefer the smaller sized ones. They make cute little morsels that resemble mini bagel bites!

However, there are no set rules here. You can make them any size your prefer.
A wonderful alternative would be to make both larger and smaller sizes, this way you get to please everyone!

I happen to love the wonderfully sweet aromatic scent of anise seeds with its liquorice flavor!
If your not a fan of anise seeds you can definitely substitute fennel seeds or add some spicy heat with coarsely cracked black pepper.

As with any freshly baked bread these Soft Italian Anise Taralli are at their best the day they're baked. Mostly because when they're fresh out of the oven, they have this yummy crunchy and crispy outer layer with such soft bagel-like centers, making them simply addictive!
However, you can replicate the same taste and texture by popping them in the oven the next day for about 5 to 10 minutes. If you have any left that is!

They also freeze wonderfully well, which is convenient when your're craving some at a moments notice.
From freezer to oven they go for some fresh tasting taralli that are ready in mere minutes!

Roll them as thick or thin as you like…!

Shape them big or small…and watch them disappear in no time at all!

Many thanks to my friend Maria for sharing her Soft Italian Anise Taralli recipe with us!
If you make this recipe remember to tag @marisasitaliankitchen on Instagram so I can see your creation!

Print Recipe
Soft Italian Anise Taralli
A big batch of Soft Italian Anise Taralli with a crunchy outer layer and a soft bagel like interior that are totally addictable.
Servings:
96
small taralli
Ingredients
13

cups

all purpose flour

3/4

cup

granulated sugar

2

tablespoons

anise seeds

1

tablespoon

active dry yeast

2

large eggs

1/4

cup

oil

I used canola oil

4

cups

water
Instructions
In a bowl of a stand mixer, fitted with the hook attachment, add in the flour, sugar, anise seeds yeast and eggs.

Heat the oil and water together just until warm. (I used the microwave for 2 minutes however take care that it's not too hot).

With the motor running on low speed, add in the liquids then gradually increase the speed to medium.

Knead until 3/4 of the flour has been incorporated then transfer the dough to a work surface and continue kneading by hand until you've worked in the remaining flour.

This should take about 5 to 10 minutes of kneading time by hand until you've achieved a nice malleable dough with the remaining flour.

Place the dough in a well greased large bowl and then cover with plastic wrap.

Let the dough rest for 1 1/2 hours. It will increase in size and look light and puffy.

When your ready to roll the taralli, divide the dough in half and and return one half to your greased bowl and keep covered so it does not dry out.

You'll also want to keep the dough your working with covered for the same reason.

There is really no set rule on how long or how thick to role the taralli, its a matter of preference.

For small taralli roll out a golf ball sized piece of dough to an 18 inch rope and cut into 3 pieces

Shape each piece into a ring and press the ends together to seal.

For evenly round taralli, once you press the ends together insert your index and middle finger into the loop where the 2 ends meet and make a back and forth rolling motion for a well rounded shape.

For big taralli cut a piece of dough the size of a golf ball and roll out to a half inch wide in diameter and about 12 to 14 inches long.

Press the ends together in a loop while sealing the ends as you would the smaller taralli.

Transfer the taralli on baking trays lined with a clean kitchen dish towel.

When you've finished working with one half of the dough, bring a large pot of water to boil while you preheat the oven to 350 degrees F.

Have 2 baking trays ready by your stove top and line one of them with a clean kitchen towel.

Drop a few taralli into the boiling water and as soon as they resurface (this should take a few seconds) transfer them first to the unlined tray then to the tray lined with the clean kitchen towel to absorb any residual water.

Transfer the boiled taralli onto a cookie sheet lined with parchment paper, spacing them about an inch apart.

Bake in a preheated oven for about 24 minutes, turning to flip them over half way through the baking time. I baked them 12 minutes on each side)

When ready the taralli will puff up somewhat and have a lovely golden brown appearance with crusty darker brown tops and bottoms.

Repeat the whole process with the remaining dough.

Small sized taralli yields approximately 8 dozen while bigger shaped taralli will yield about 3 dozen.

Of course this will depend on the size you wish to make and again there are no set rules here.

Simply have fun and enjoy!
Nutrition
Calories:
75
kcal
|
Carbohydrates:
15
g
|
Protein:
2
g
|
Fat:
1
g
|
Saturated Fat:
1
g
|
Cholesterol:
3
mg
|
Sodium:
2
mg
|
Potassium:
22
mg
|
Fiber:
1
g
|
Sugar:
2
g
|
Vitamin A:
5
IU
|
Vitamin C:
1
mg
|
Calcium:
4
mg
|
Iron:
1
mg