These delightful Raspberry Crumb Muffins are a cross between a very good crumb cake and a delicious muffin!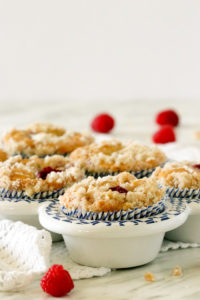 This muffin recipe has all the characteristics of a very good cake, but with a lovely crumb topping instead of the frosting. Its moist, crumbly and quite able to stand up on it's own but throw in some fresh raspberries and my goodness…you get a burst of sweetness in every bite.
They make perfect individual sized cakes to pack for those rush and go mornings, but I love savoring these treats with a steaming cup of afternoon tea!
I also love that they're typically fuss free to bake so you can really whip up some of these sweets on a whim!
You can mix and match different kinds of fruits, whether they're seasonally fresh or frozen.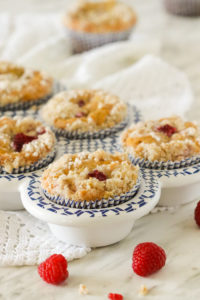 I have baked plenty of muffins while my kids were in grade school. It was our absolute favorite Friday evening treat. We'd curl up on the couch with milk and muffins watching our favorite shows on T.V. such as "Fresh Prince of Bel-Air", "Boy Meets World" and "Family Matters". It was our special time while waiting for daddy to come home from work. Oh, how I miss those days!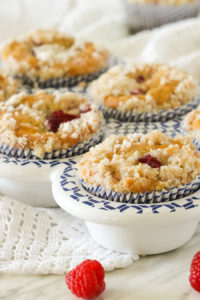 I've tweaked this recipe ever so slightly, which is adapted from The Clinton St. Baking Company Cookbook. I've substituted the blueberries from the original recipe, for raspberries. I also added some grated lemon zest to both the crumb top mixture and the muffin batter simply for personnel preference.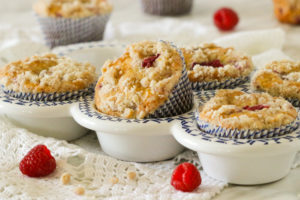 I find that the lemon zest adds a some extra flavor to the muffins and gives them a little more zing!
Its totally optional but so worth it!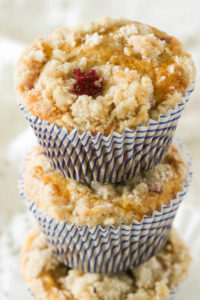 If you make this recipe remember to tag @marisasitaliankitchen on Instagram so I can see your creation!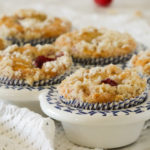 Print Recipe
Raspberry Crumb Muffins
These delightful Raspberry Crumb Muffins are a cross between a very good crumb cake and a delicious muffin!
Ingredients
FOR THE CRUMB MIXTURE

1/2

cup

all-purpose flour

1/2

cup

granulated sugar

a half teaspoon grated lemon zest

1/4

tsp

cinnamon

4

tablespoons

unsalted butter

cubed

FOR THE MUFFIN MIXTURE

4

tablespoons

unsalted butter

softened

1/2

cup

granulated sugar

1/2

tsp

vanilla extract

1

large egg

a teaspoon grated lemon zest

1

cup

all-purpose flour

1/2

tsp

baking powder

1/4

tsp

baking soda

1/2

cup

sour cream

1

cup

fresh or frozen raspberries

10

tablespoons

Crumb Mix
Instructions
In a small bowl, mix together all the CRUMB MIXTURE ingredients by hand or with a food processor, until the mixture resembles coarse crumbs.

Refrigerate the crumb mixture until your ready to use it.

This crumb mixture makes 1 1/2 cups, enough for two batches of muffins.

You can also make it ahead of time. It keeps very well for up to two weeks in the fridge or a month in the freezer

Preheat the oven to 350* F.

Line a muffin pan with 10 paper muffin cups.

Using an electric mixer, cream together the butter, sugar and vanilla.

Add the egg and the lemon zest to the mixture and blend until combined.

Sift the flour, baking powder and baking soda into a bowl.

Mix in 1/4 cup of the sour cream to the butter mixture, then half of the flour mixture and repeat with the rest of the sour cream and flour mixture. Do not over mix!

Gently fold in the raspberries with a rubber spatula until evenly distributed.

Scoop the batter into the muffin cups and top each muffin with 1 tablespoon of the Crumb Mix and a raspberry.

Bake for 25 to 30 minutes, on a middle rack, until a toothpick inserted in the middle of a muffin comes out clean.

Cool and enjoy!
Notes
These Raspberry Crumb Muffins were adapted from Clinton St. Baking Company Cookbook, a restaurant based in New York. I've substituted the blueberries from the original recipe, for raspberries. I also added some grated lemon zest to both the crumb top mixture and the muffin batter