A jam lover's joy, this Strawberry Rhubarb Jam is just as fun to make as it is to eat! Flavored with both the zest and juice of an orange and some freshly grated ginger for a little extra zing.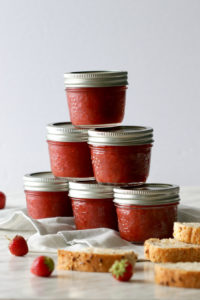 When a pile of homegrown rhubarb literally landed at my feet…or rather my kitchen counter, I didn't quite know what to do with it! I had loads of it! I've never baked or cooked with rhubarb before. It simply was not a vegetable I grew up with!
So, I washed it and patted it dry…cut it into chunks and into the freezer it went.
It sat on the top freezer drawer simply glaring at me each and every time I opened the freezer door. A constant reminder to use it before freezer burn set in.
Since I had so much of the chopped stalks I decided it was time for some jamming!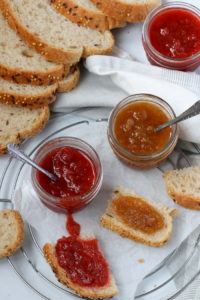 My first batch was all about the rhubarb and although it surpassed my expectations it was lacking that vibrant red color I had hoped for.
I suppose this is to be expected when one's rhubarb stalks are mostly light green in color with splashes of light pink and crimson red tips.
But I must say that the taste was not impacted at all and the jam had this lovely golden hue much like apricot jam in color. It was total deliciousness and I would not hesitate to use the lighter green stalks again when jamming.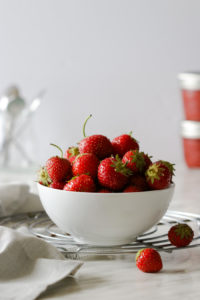 Just the same, I still wanted that crimson red jam!
Thankfully we are still in strawberry season here in Quebec, although it is tapering down as I type this. And that's where these mid-season strawberries make their star appearance.
In the second act of my jamming experience! I used a full one liter basket of Quebec's own glossy red strawberries. They're wonderfully sweet with exceptional flavor! And well worth the wait, especially if planning on canning for the winter season.

This recipe however does not require any canning experience and its a no pectin jam. But you'll definitely need to use sterilized jars and lids.
It will keep refrigerated up to one month, if it lasts that long! Otherwise you can extend its shelf life by freezing the jam in small portion containers up to 6 months. But for maximum flavor I never freeze beyond three months.
Enjoy this easy to make Strawberry Rhubarb Jam on toast, dolloped over vanilla ice-cream or simply in any other of your favorite recipes!
Happy canning!
If you make this recipe remember to tag @marisasitaliankitchen on Instagram so I can see your creation!
Strawberry Rhubarb Jam
Strawberry Rhubarb Jam flavoured with both the zest and juice of an orange and some freshly grated ginger for a little extra zing.
Servings
14
125 ml mason jars
Ingredients
10

cups

rhubarb (I used frozen)

chopped

1

liter

strawberries

quartered

2

cups

granulated sugar

orange zest

from 1 medium sized orange

orange juice

from 1 medium sized orange

1

teaspoon

ginger

freshly grated

1/3

cup

water

14

125ml

mason jars with lids

sterilized
Instructions
Place all the ingredients in a large sized pot and bring the mixture to a boil.

Once it starts to boil, lower the heat down to medium-low and allow to simmer for 45 minutes to 1 hour while stirring occasionally.

You'll know its ready when it reaches the consistency of applesauce and will thicken a little more as it cools.

Ladle the jam into the sterile jars and seal them with the sterile lids and rings.

Keep refrigerated if consuming within a month or freeze the jam in freezer containers or freezer bags for longer shelf life.

If your freezing the jam do note that flavor and quality declines when frozen too long. I would definitely consume frozen jam within 3 months for maximum flavor.