This creamy and decadent Gelato Al Pistacchio is a traditional Italian flavour. It's studded with pistachios, chocolate chips and is fairly easy to make.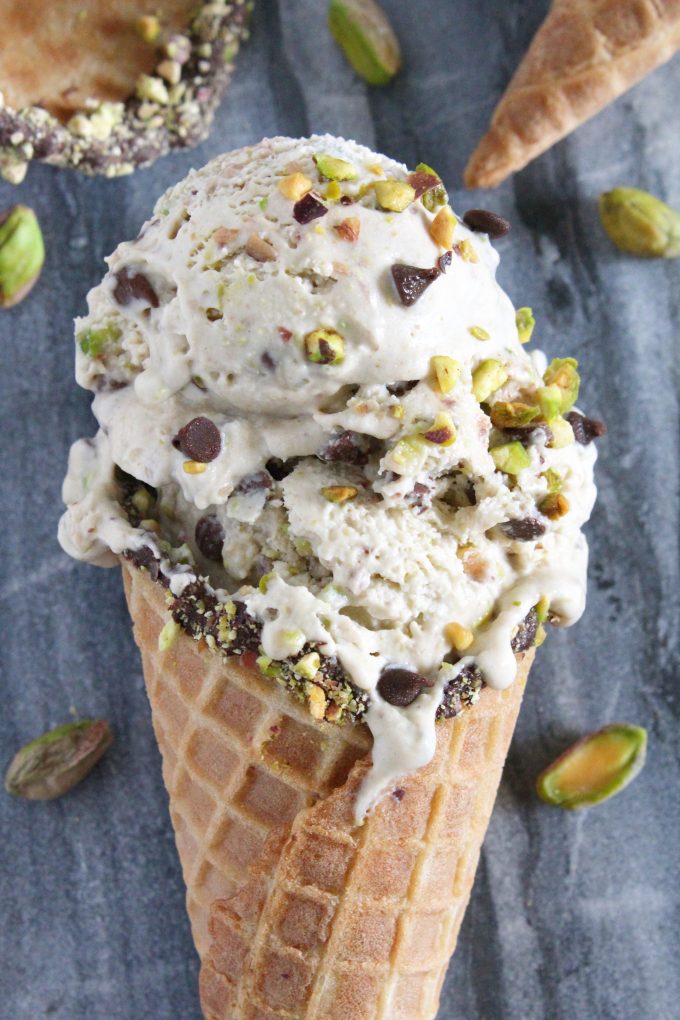 This pistachio frozen treat is undeniably my favourite gelato. And when I think of pistachio, immediately a vibrant green color comes to mind.
However, I soon came to realize that unless one uses artificial colors or dyes, a homemade all natural gelato al pistacchio will take on the colour of the crushed nuts.
A good gelato is made with top quality ingredients! It's soft in texture. Ever so creamy and incredibly delicious. And, did I mention extremely easy to make!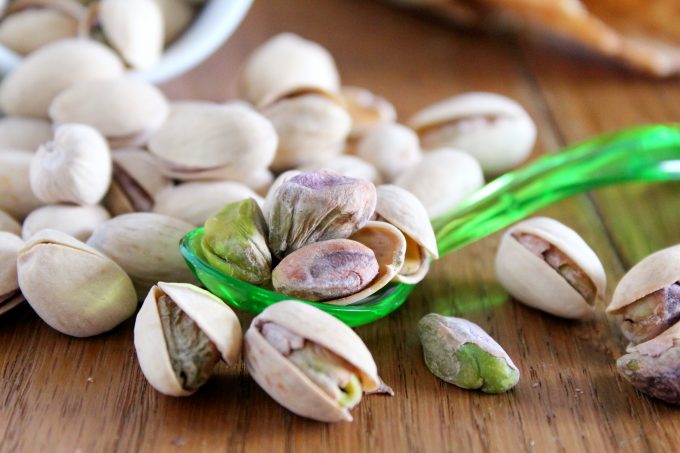 In fact, the most arduous part was in shelling the pistachios.
It did set me back some time. But only because I couldn't resist munching on a few. Well maybe more than a few!
But all is well because pistachios are one of the healthier nuts to snack on. They also contain less calories than other nuts. Less calories equals less guilt, right!
How to make chocolate and pistachio coated cones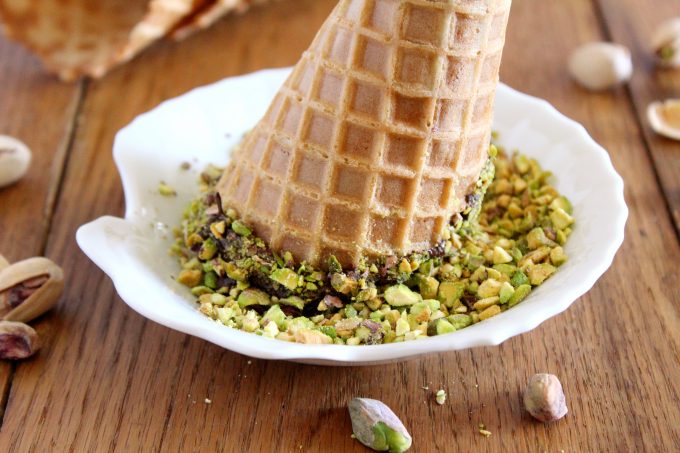 You will find this gelato al pistacchio quite delicious all on it's own, scooped straight from a serving bowl.
But you can also serve it in chocolate dipped wafer cones.
To make your own, all you do is dip the cones first in the melted chocolate and then in the chopped pistachios.
Allow the chocolate to set before scooping in the gelato.

You can delegate this part to little kids, they will love it! However, fair warning it could get just a teeny bit messy!
The quantity of melted chocolate and crushed pistachio for dipping will depend on how many cones you want to dip. I used a half cup of each for 6 cones.

The recipe for this luscious pistachio ice cream was adapted from a new favorite cookbook of mine, "Flavors of Sicily" by Ursula Ferrigno.

This beautiful cookbook is packed full of authentic Italian recipes and beautiful photography!
While reading the introduction of this cookbook, the author, Ursula Ferrigno goes on to mention how the Sicilians have a notorious sweet tooth. And also just happen to be, simply the BEST dessert makers in Italy.
I have never been to Sicily, but I know that I'd simply love it there….next vacation perhaps!
Other pistachio recipes you'll love:
Almond Pistachio Loaf Cake is a nut based cake. It consists mostly of finely ground almonds and pistachios. It's lavishly drizzled with a lemon syrup. And, is one incredibly moist cake.
Amarena Wild Cherry Biscotti are studded with salted pistachios and Amarena cherries. Perfect with coffee or tea!
Italian Spumoni Cake is a three layer cake. It has all the wonderful flavours of the Italian flavoured ice cream, Spumoni! Pistachio. Chocolate. Strawberry. Need I say More?!
Gelato al Pistacchio
Gelato al pistacchio is simply pistachio ice cream. Soft in texture, creamy and so incredibly delicious. Made with all natural ingredients and no dyes.
Ingredients
1

cup

unsalted

shelled pistachios

1 3/4

cups

whole milk

2

cups

heavy cream

1

teaspoon

pure vanilla extract

1/4

teaspoon

fine sea salt

1/2

cup

granulated sugar

4

extra large eggs

3/4

cup

mini chocolate chips
Instructions
Preheat oven to 350 degrees F.

Spread the pistachios in a single layer, onto a cookie sheet and roast in the oven for about 8 minutes. Let cool.

Once cooled, place the pistachios in a food processor and grind until fine but still with some larger pieces for extra texture.

Add the vanilla and the salt to the chopped pistachios and stir well. Set aside.

In a large sauce pot, heat together the milk and the heavy cream until very hot but not boiling.

Meanwhile, using a stand mixer or hand held mixer with the whisk attachment, whisk the sugar and eggs together until they are thick and creamy for about 8 to 10 minutes.

Add the egg mixture a little at a time, to the milk and cream mixture, stirring gently over low heat. (Make sure to stir continuously as the mixture could quickly scramble)

Add in the pistachio mixture and keep stirring the custard well for about 8 minutes. (stirring well on low heat will ensure the mixture does not scramble)

Cool the mixture then chill overnight in the fridge.

When ready, freeze and churn in an ice-cream machine according to the manufacturer's instructions. Add in the chocolate chips during the last 5 minutes of churning time.

Enjoy scooped over a waffle bowl or cone.
Notes
Recipe is adapted from the cookbook, Flavors of Sicily by Ursula Ferrigno.
The only thing different from the original recipe is the addition of chocolate chips in the last 5 minutes of churning time. It is such a delicious combination!
Nutrition
Calories:
607
kcal
|
Carbohydrates:
29
g
|
Protein:
7
g
|
Fat:
53
g
|
Saturated Fat:
32
g
|
Cholesterol:
232
mg
|
Sodium:
164
mg
|
Potassium:
152
mg
|
Fiber:
1
g
|
Sugar:
26
g
|
Vitamin A:
1827
IU
|
Vitamin C:
1
mg
|
Calcium:
138
mg
|
Iron:
1
mg