Chocolate Raspberry Cream Cheese Cookies…these delicious morsels are a chocolate lover's dream!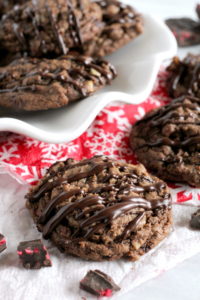 Are you ready to be engulfed with the lovely aromas of holiday baking? I love, love this time of the year and if you do as well then join me because in these coming weeks it's all about the cookies in my kitchen. So put on some stretchy pants, preheat your ovens and lets start baking!
I am getting you started with these outrageous Chocolate Raspberry Cream Cheese Cookies.
They are by far the most soft and chewy cookies that I have ever baked and that's saying a lot!
What makes these cookies particularly chewy and moist is the brown sugar and the cream cheese which not only enhances the moistness but also gives the cookies another depth of flavor.
Packed with both melted and dark raspberry chocolate pieces and topped with a drizzle of melted dark chocolate. These cookies will have everyone drooling.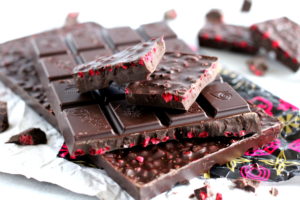 A note about the chocolate
If you can't come across raspberry chocolate in your area then you can absolutely use regular dark chocolate chips. Just make sure it's 70% dark chocolate or higher. Dark chocolate contains smaller amounts of sugar and a higher percentage of cocoa. The higher percentage in cocoa, the higher also in dietary fiber. Which simply means you can have more cookies…that's my theory and I'm sticking to it…lol!
As much as I love this raspberry chocolate, there are also other different flavored chocolates to experiment with. One other that I have tried and found quite delicious was pomegranate dark chocolate. Also intriguing is chipotle dark chocolate!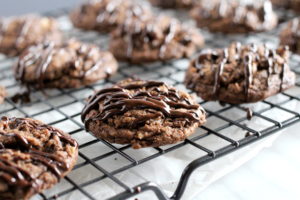 On another note, this cookie dough is a soft batch dough. To keep the cookies from spreading to much, I chilled the dough for 1 hour. I then used a cookie scoop of 1 1/4 inch size to transfer the dough onto my baking sheet, alternately you can also use a heaping tablespoon. There is no need to roll the cookies with your hands unless you want smooth round tops. I love the rippled appearance of these cookies.
Also, I baked the cookies at 350 degrees F. Using high heat would dry out these moist cookies.
Most noteworthy here, I under bake my cookies. Yes I do! I've learnt to do this when it comes to drop cookies.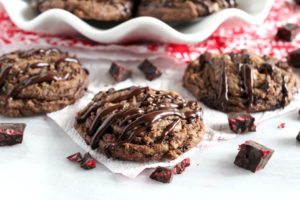 When your cookies look firm around the edges but still moist in the center, pull them out of the oven. They will have a pretty hump when removed from the oven but leave them to cool on the baking sheet for about 5 to 7 minutes so that they don't fall apart. As they are cooling they will continue to cook for a minute and slowly deflate somewhat.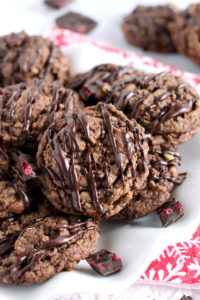 Once they are ready to safely transfer to a cooling rack, let them cool completely before drizzling them with the melted chocolate.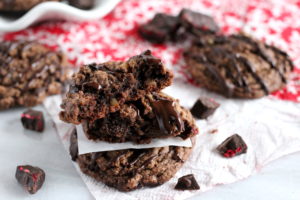 As a result of not over baking these glorious Chocolate Raspberry Cream Cheese Cookies you will be rewarded with the most soft, chewy and ever so fudgy tasting cookie!
And furthermore, have fun in your kitchen and don't forget your stretchy pants…no seriously!
Ciao! Until the next cookie!!
Chocolate Raspberry Cream Cheese Cookies
Chocolate Raspberry Cream Cheese Cookies. These cookies are soft, chewy and have a brownie like interior. A chocolate lover's dream.
Ingredients
1/2

cup

125 grams cream cheese, softened (in brick form)

1/2

cup

butter

softened

1

large egg

1

cup

packed light brown sugar

1/2

cup

granulated sugar

1

cup

chopped raspberry chocolate pieces

melted (approximately 150 grams)

1

teaspoon

vanilla extract

2 1/4

cups

all purpose flour

1

teaspoon

baking soda

1/8

teaspoon

salt

1/2

cup

chopped walnuts

1

cup

chopped

small pieces chocolate raspberry to stir in the dough (approx. 150 grams)

3/4

cup

melted dark chocolate pieces for drizzling.
Instructions
Preheat oven to 350 degrees F.

Line 4 cookie sheets with parchment paper and set aside.

In a large bowl or stand mixer, beat together the cream cheese, butter, egg and both sugars until light and fluffy.

Stir the 1 cup of melted chocolate raspberry and vanilla extract into the batter mixture.

In a separate bowl combine together the flour, baking soda and salt.

Stir the flour mixture into the batter until combined.

Add in the chopped walnuts and the 1 cup of chopped chocolate raspberry pieces and stir to combine.

Scoop out 1 heaping tablespoon measure onto a parchment lined cookie sheet. ( I used a 1&1/4 inch cookie scoop)

Place the cookies about 2 inches apart on the cookie sheet. (12 cookies per sheet and keep remaining dough chilled)

Bake one cookie sheet at a time for about 8 to 10 minutes. Cookies will be firm around the edges and with very soft centers.

Let cool on the cookie sheets for a few minutes before transferring to a cooling rack.

Once cooled, drizzle the cookies with melted dark chocolate.
Notes
If you don't have 4 cookie sheets, no problem. You can alternate with 2 cookie sheets but remember to let the baking sheets cool complete before proceeding with the next batch.