A wonderfully soft and pillowy, Chickpea and Red Onion Focaccia topped with sweet golden raisins. This focaccia makes a delicious anytime snack or a complimentary side dish to a steaming bowl of soup.
Straight out of the oven comfort foods such focaccia are always met with much anticipation at my house.
The allure of freshly made bread or rather focaccia, which is essentially a flatbread has a broad appeal to both adults and young ones.
I especially love how and with very few ingredients you truly get so much. All it takes is some flour, yeast and water. A few add ins for flavour such as salt, sugar and olive oil and you have something so easily achieved in your own kitchen.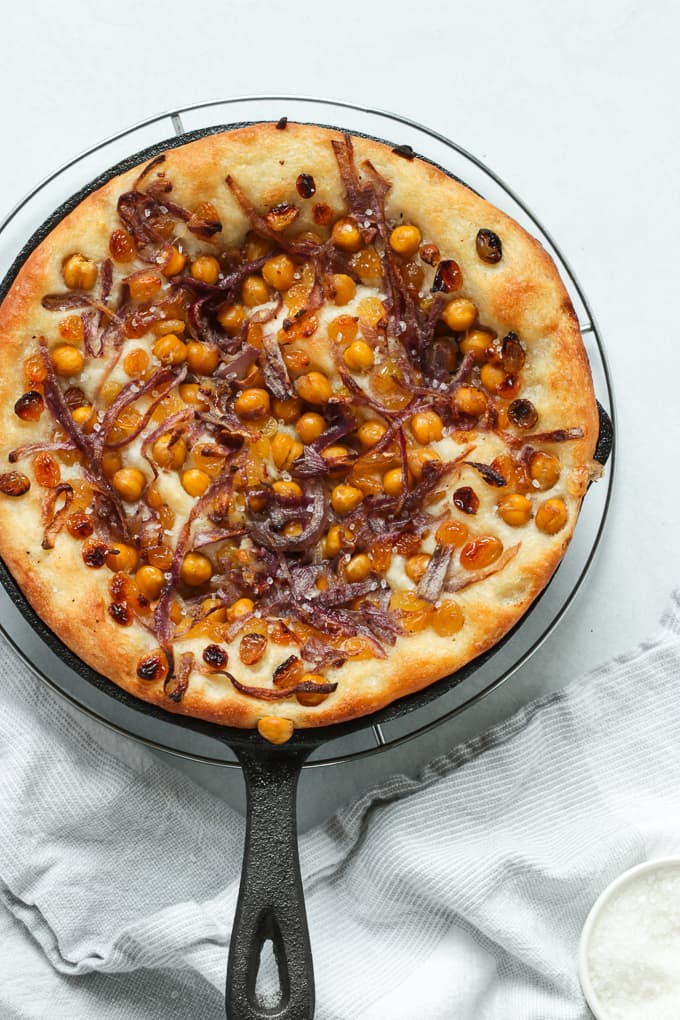 One other addition that bears mentioning here is mashed potatoes!
I can't stress enough how the humble potato takes bread dough to a whole other level!
Surprisingly, it renders the dough so light, airy and fluffy. You immediately feel this as your kneading the dough. It's like holding a pillowy soft cloud in your hands!
Well almost! And not that I know what a cloud feels like…but you get where I'm going with this!

You can top focaccia with just about anything!
A favourite sweet version of mine is Schiacciata Con L'uva, a sweet tuscan flatbread with grapes. Its a lip smacking delicacy that I simply never get enough of when the best coronation grapes are in season!
However, this time of the year is a perfect time to make do with a few good old pantry ingredients.

TOPPING FOR CHICKPEA RED ONION FOCACCIA
Adding raisins to savoury dishes was very common while growing up. Sweet plump raisins always made an appearance in calzone with greens such as my Swiss Chard Mozzarella Calzone.
To use raisins in this focaccia recipe, you'll first want to plump them up by soaking them in hot water for about ten minutes. Then make sure to drain them, pat them dry and scatter over the focaccia before adding other toppings. This will ensure they don't burn while nestled beneath the other toppings.
I adore caramelized onions and have often used them as a pizza topping. Take care to not cook them overmuch. You simply want them softened and translucent as they will continue to caramelize in the oven.


HOW TO PREP A PAN FOR FOCACCIA
I thought it would be a neat way to try focaccia in my cast iron pans.
I used 3, 8 inch round pans for this recipe but really any size pan will do. If all you have are rectangular rimmed baking sheets, those will work as well.
You can use one as large as 15 x 10, in which case it will yield one rectangular focaccia.
Which ever size you use, do grease your pans with oil and then sprinkle them with coarse cornmeal.
This will ensure crispy bottoms and edges and facilitates easy removal!
Enjoy as an appetizer or serve alongside your favourite salad or hot bowl of soup!
If you make this recipe remember to tag @marisasitaliankitchen on Instagram so I can see your creation!
Chickpea Red Onion Focaccia
A wonderfully soft and pillowy, chickpea and red onion focaccia topped with sweet golden raisins. This focaccia makes a delicious anytime snack.
Ingredients
FOCACCIA DOUGH
2

teaspoons

granulated sugar

1

cup

warm water

1

8 gram pkg

active dry yeast

2

tablespoons

extra virgin olive oil

2

cups

mashed potatoes

cooled

1

teaspoon

fine sea salt

3 1/2

cups

all purpose flour

approximately

2

tablespoons

coarse cornmeal
TOPPING
1

medium

red onion

thinly sliced

3/4

cup

canned chickpeas

drained, rinsed and patted dry

1/2

cup

golden raisins

sprinkle

of coarse sea salt

for topping
Instructions
FOCACCIA DOUGH
Place the sugar and warm water together in a large bowl and stir to dissolve.


Sprinkle in the yeast and let this stand until frothy, for about 10 minutes.

Once it's frothy, stir in the 2 tablespoons of extra-virgin olive oil.

In a small bowl, mix the mashed potatoes with the salt.

Stir the potato mixture into the yeast mixture until very well combined. (a whisk will actually work better here)

Gradually stir in the flour, approximately 2 1/2 to 3 cups until the dough pulls away from the sides of the bowl.

Transfer the dough to a well floured work surface.

With floured hands knead in as much of the remaining flour as needed, until the dough is smooth and has a slightly sticky feel. About 8 minutes.

Place the dough in a large greased bowl, turning to grease all over.

Cover your dough with cling wrap and let it rise in a draft free space until it has doubled in size, for about 1 hour.

Grease 3, 8 inch cast iron skillets with oil and sprinkle with the coarse cornmeal.

Divide the focaccia dough into 3 equal portions and place into the prepared cast iron skillets.

Pat down the dough, stretching and pulling with your hands to reach the sides of the skillets

Cover the pans with greased cling wrap and and set aside to allow the dough to puff up to the rim of the pans for about 45 minutes to 60 minutes.

Meanwhile heat a tablespoon of olive oil in a medium sized frying pan.

Add the sliced red onions to the frying pan with a sprinkle of salt and pepper.

Cook over low heat while stirring occasionally, until the onions are soft and translucent, for about 5 minutes.

Remove from the heat and set aside to cool.

Meanwhile, place the raisins in a small bowl and cover with a little bit of hot water.

Allow to soak for about 10 minutes until the raisins plum up.

Drain the raisins and pat dry. Set aside.

Preheat the oven to 375 degrees F.

Remove the cling wrap from the risen dough.

Scatter first the raisins over the dough then top with the chickpeas, the sautéed onions and using your fingers gently press down into the dough while making indentations.

Drizzle the tops with a little olive oil. (about 1 teaspoon over each focaccia)

Bake in the preheated oven for about 25 to 30 minutes, until the edges are crusty and the focaccia is golden brown.

Sprinkle a pinch or 2 of coarse sea salt over each focaccia while still warm.

Allow to cool a little before slicing and serving.
Nutrition
Calories:
458
kcal
|
Carbohydrates:
90
g
|
Protein:
11
g
|
Fat:
6
g
|
Saturated Fat:
1
g
|
Sodium:
471
mg
|
Potassium:
455
mg
|
Fiber:
5
g
|
Sugar:
10
g
|
Vitamin C:
18
mg
|
Calcium:
34
mg
|
Iron:
4
mg