Schiacciata con l'uva is a sweet flatbread with grapes. More commonly known as focaccia, this flatbread is a seasonal dish made yearly during the grape harvest in Tuscany.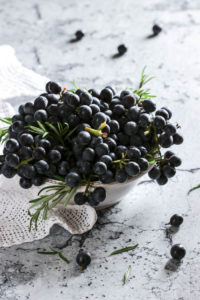 This recipe was originally published in October of 2016 and republished September 14, 2018 with updated content and photos.
There is much to embrace with the arrival of Fall. As the days get cooler and the air turns crisp, I get this sudden urge to roll up my sleeves and delve into the magical world of bread making. Or any sort of baking for that matter and wanting only to come up for air well after the Christmas holidays. Is it just me or do any of you feel the same way?
A little about coronation grapes
This time of the year grocery stores and local farmer's markets are laden with thin skinned, seedless coronation grapes. A rather regal name for these Ontario blue grapes is it not!
They are vibrant blue in colour much like their relative the concord grape and quite interchangeable when making schiacciata con l'uva. Also, they have a deliciously sweet taste that simply bursts in the mouth, making them a perfect choice for baking or even preserving.
The sweetness of the coronation grape pairs beautifully with the savoury rosemary. Once baked you'll find they mimic the taste of grape jam on toast. Definitely a lip smacking and finger licking delicacy!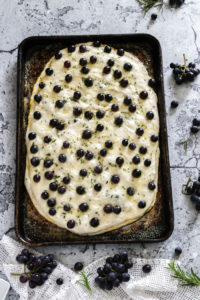 This Tuscan flatbread consists of two layers of dough which are sandwiched together with a filling of seedless blue grapes, a sprinkle of sugar, chopped rosemary and a drizzle of good quality extra virgin olive oil and topped with more of the same filling.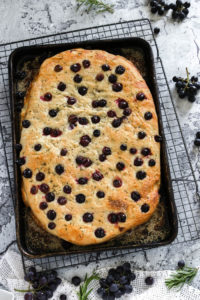 It's then baked to a golden brown perfection with yummy crispy edges that we all love.
You can slice and enjoy as is while still warm with the grapes oozing their irresistible sweet juices. Or simply dust the tops with a sprinkle of icing sugar for some extra sweetness.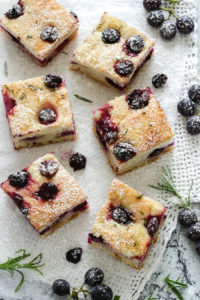 Gather friends or family around your kitchen and bake some today! I'm sure it will become a new favourite seasonal recipe!
If you make this recipe remember to tag @marisasitaliankitchen on Instagram so I can see your creation!
Schiacciata Con L'uva
Schiacciata con l'uva is a sweet flatbread with grapes, a seasonal dish that is traditionally made during the grape harvest in Tuscany.
Ingredients
Focaccia dough

2

cups

water

4

tbs

olive oil

4 to 5

cups

of all purpose flour

2

tbs

sugar

1

tsp

kosher salt

1

packet "quick rise" instant yeast

Fleischmann's 8 grams

Topping

2

cups

grapes

picked off the stem

2

teaspoons

chopped fresh rosemary

2

tablespoons

granulated sugar

extra virgin olive oil for drizzling
Instructions
Heat 2 cups of water with 4 tablespoons of olive oil in the microwave for 60 to 90 seconds or till lukewarm.

Stir the warm liquids in the flour mixture with a wooden spoon, mixing well.

Stir in another cup of flour till combined.

Invert the dough onto a well floured counter and knead for a few minutes, working in the last cup of flour a bit at a time just until the dough is soft and smooth. (I only used up to 1/2 cup of the remaining flour).

Grease a large bowl with some olive oil. Place your pizza dough in the greased bowl turning the dough to grease all over. Cover with saran wrap.

Let it rise till it doubles in size for about 1 1/2 to 2 hours, in a draft free place. (on a sunny day I place my bowl in direct sunlight and this helps tremendously with the rising).

When your dough has doubled in size, transfer it onto a floured work space.

Grease a 17x11 rimmed baking sheet (or any large baking sheet you have) with some olive oil and then lightly sprinkle evenly with cornmeal. This will prevent the dough from sticking to the pan and impart a lovely crunch.

Cut the dough in half and working with one piece at a time roll it out to the size of your pan. (its ok if it does not entirely reach the edges).

Place the first layer of rolled out dough on your prepared pan.

Layer 1 cup of the grapes, evenly spread, onto the dough while pressing them slightly into the dough.

Sprinkle 1 tablespoon of sugar and 1 teaspoon of chopped rosemary, evenly onto the first layer of dough. Drizzle with some extra virgin olive oil.

Roll out the second piece of dough and layer it onto prepared first layer. Press down slightly and pinch the edges together.

Spread the remaining grapes over the top layer of dough, again pressing down into the dough.

Sprinkle with an additional 1 tablespoon of sugar and 1 teaspoon of chopped rosemary.

Drizzle more extra virgin olive oil evenly over the top layer.

Bake the flatbread in a preheated oven, at 350 degrees F, for about 35 to 40 minutes or until the dough is a nice golden brown and the grapes are oozing with delicious goodness.