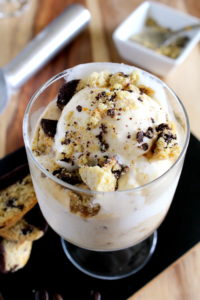 Affogato, in Italian literally translates to "drowned." It is a classic Italian dessert!
One where hot meets cold and creates a luscious, dreamy concoction that is just perfect for those searingly hot and sticky days, such as the ones Montreal has been experiencing this past week.
The freshly brewed deep and rich aromas of my parents stove top coffee, always had me up and out of bed early when I was younger. Once seated at the table my mamma would serve me a bowl of my favorite cereals with milk and a little splash of her morning coffee. It certainly had me feeling all grown up. I suppose this is how my love of coffee began and still continues to this day.
A traditional affogato is served with one scoop of ice-cream and a shot of espresso. My version here is somewhat more indulgent. I initially wanted to make this a two ingredient recipe, however, I could not resist adding some of my freshly baked chocolate anise biscotti. To compliment the anise flavor of the biscotti, I added a shot of Sambuca. This makes for one very delicious and heavenly affogato!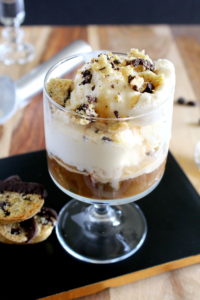 To achieve the very best results, do use a good quality coffee and not the instant variety. It just will not do in this recipe! Also it bears mentioning to chill your serving glasses before scooping in the ice-cream and pouring in the coffee. Better yet, prepare ahead of time by placing 1 scoop of ice-cream in a freezer proof serving glass, sprinkle with crushed biscotti and top with another scoop of ice cream and place in your freezer. When ready to serve remove from freezer, pour warm coffee and the Sambuca over the ice-cream and sprinkle with more crushed biscotti.
This is one easy and super creamy Affogato! Try it, you will in love it…
What is your favorite coffee drink? I would love to hear from you!!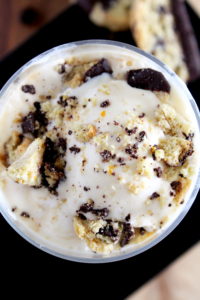 I have had quite a few recipes lined up for this month but it has been super busy these past few weeks as I have been catering platters of cookies for various occasions. As much as I enjoy baking for family and friends, I do miss my baby blog!

Coming soon is my Chocolate Anise Biscotti recipe so do come back!!
Affogato
Affogato, a classic Italian coffee and ice-cream dessert, with a shot of Sambuca and sprinkled with crushed chocolate anise biscotti.
Ingredients
4

generous scoops of vanilla ice-cream

4

ounces

hot espresso coffee

2

ounces

Sambuca

1/2

cup

crushed biscotti (approximately)

2

chilled dessert glasses or cups
Instructions
Place 1 generous scoop of vanilla ice-cream in each well chilled dessert glass or cup.

Sprinkle each scoop with some crushed biscotti.

Top with a 2nd scoop of ice-cream.

Pour 2 ounces of hot espresso into each glass.

Pour 1 ounce of Sambuca into each glass and sprinkle with remaining crushed biscotti