These Mussels Linguine with Tomato Fennel Sauce are truly remarkable! If you are a seafood lover then you will certainly adore this recipe!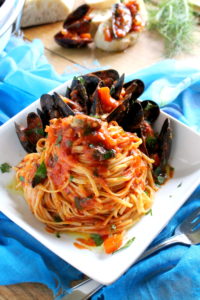 For one, it's really rather simple to put together and can easily be made on any week night. Yet, so impressive and elegant enough to serve on weekends for that special person in your life. They do say that mussels are an aphrodisiac after all!
My hubby is not a finicky eater except when it comes to mussels and linguine with this spicy tomato fennel sauce. Then he can get quite specific as he prefers the sauce thick and chunky allowing the mussels to cradle all that delicious goodness in its' shell.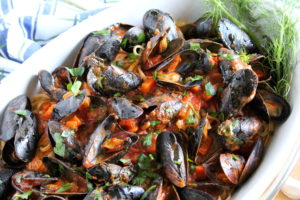 Tomatoes and fennel pair wonderfully together in this dish. Also, the crushed pepper flakes lends a lovely contrast to the sweet fennel and might I add, a splash of white wine makes the whole dish livelier.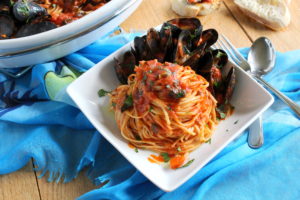 Being more affordable then other shellfish, mussels are very rich in protein and contain a lot of mineral nutrients. They also have far less fat and a 1/4 of the calories of beef making them a healthier choice.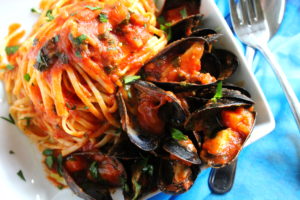 Mussels prepared this way are really quite tasty on their own, especially when served with fresh crusty bread to mop up all the juices. I love to compliment them by serving them up with Linguine. They are so delicious and I know you will love them too!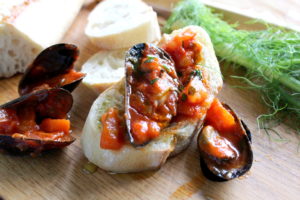 Buon Appetito Amici!
*Tips on Buying and Cleaning Mussels:
When buying mussels, look for bright undamaged and closed shells. Stay clear of mussels that have dry shells as that is an indication of a dying mussel.
Mussels are fairly easy to clean. Simply place mussels in a bowl and fill with cold water.
Let them soak for 20 minutes. Soaking them helps the mussels to release the nitty gritty sand stuck inside the shell.
Clean the outer shell by scrubbing with a firm brush.
Pull out the beards by holding the mussel in one hand while using the other (with a small cloth) to pull the beard down towards the hinge part of the shell. Alternately, you may also use scissors to cut off the beards.
When cleaning mussels discard any that have broken or cracked shells or any mussels that do not close when tapped on a hard surface.
Also as a general rule, if any mussels do not open once cooked, I discard those as well.

Print Recipe
Mussels Linguine with Tomato Fennel Sauce
Mussels Linguine with Tomato Fennel Sauce.The mussels are smothered in a spicy, chunky tomato fennel sauce. Easy and delicious for any day of the week.
Ingredients
2

pounds

mussels

scrubbed clean *(see tips)

2

tablespoons

olive oil

1

cup

diced fennel

1/2 half medium sized fennel bulb

1/2

cup

diced red onion

1/2

cup

diced carrots

1 medium sized carrot

3

garlic cloves

minced

1/2

teaspoon

crushed chili pepper

1/2

cup

white wine

24

ounce

jar Passata

strained, crushed tomatoes

1

teaspoon

fine sea salt

1/4

teaspoon

black pepper

2

large sprigs of fresh basil

or a handful of chopped basil

454

grams

Linguine
Instructions
Tomato Fennel Sauce

In a sauce pot, heat the olive oil over medium low heat.

Add in the fennel, onions, carrots, minced garlic and crushed chili pepper.

Sauté for about 6 minutes or just until the fennel and onions are translucent and soft.

Stir often taking care not to burn the garlic.

Add the white wine and passata (strained, crushed tomato) with 2 cups of cold water to the vegetable mixture. Stir well.

Add in the salt, pepper and basil. stirring well.

Bring to a boil then lower the heat and let the sauce simmer till thickened for about 40 to 45 minutes.

Meanwhile, bring a large pot of water to boil.

When the water has reached a roaring boil, salt the water and toss in the linguine, stirring well.

Cook according to package instructions.

While the pasta is cooking, add the cleaned mussels to the tomato fennel sauce. Cover and let simmer for about 7 minutes. By this time your pasta should be ready. (Time it so that the linguine and sauce are ready at the same time.)

When the pasta is cooked, drain well and transfer to a serving bowl.

Top the linguine with the mussel, tomato fennel sauce.

Garnish with chopped fresh parsley.

Serve while still warm.