A deliciously moist lemon loaf cake with a lovely hint of thyme. This easy to make lemon cake is made with olive oil which imparts an exquisite depth of flavour to baked goods. And along with the yogurt, it renders the cake with a wonderfully light and moist crumb.
Dress it up with a luscious lemon glaze for an extra tangy bite and watch every slice disappear in a flash!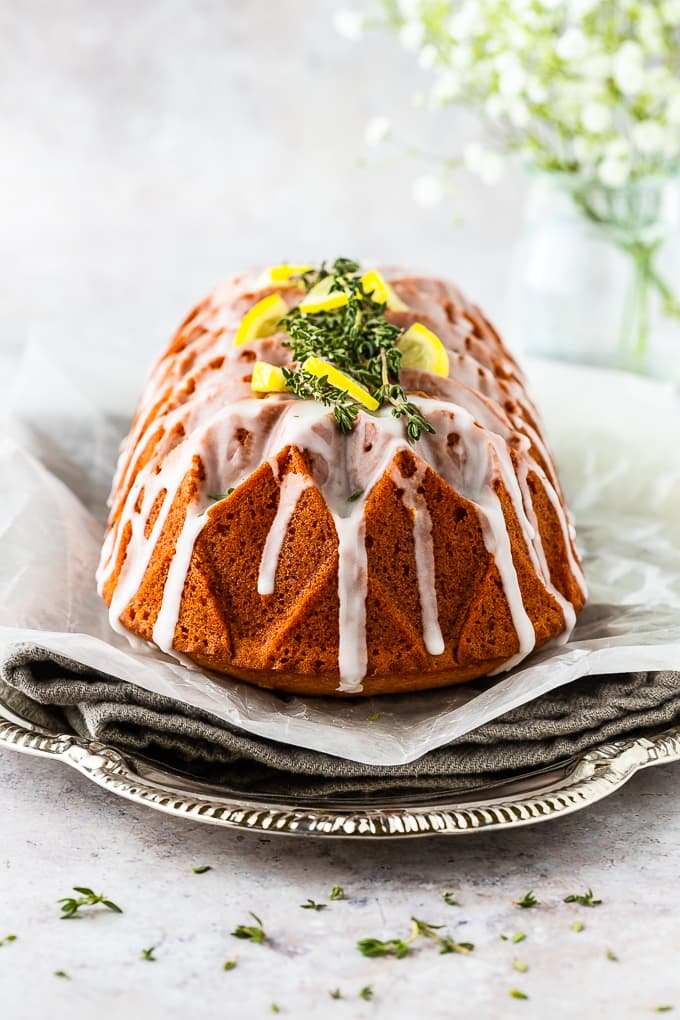 Lemon glazed desserts are by far my favourite kind of sweet treats. So much so that you'll find quite a few more of these lemonlicious goodies, in one form or another, here on the blog.
From soft cake-like Lemon Ricotta Cookies topped with a lemon glaze to the ever popular Italian knot cookies we call Tarallucci al Limone.
Other zesty Italian cookies that take a deep dive into lemon glacées are Ciambelle Cookies and yes, even biscotti!
Glazes have a way of elevating simple sweets to flavoursome, toothsome desserts!
And all you need for a lemon glaze are two ingredients!
Icing sugar, otherwise known as powdered sugar and freshly squeezed lemon juice. So simple!
And here today, this lemon concoction dazzles when adorned over a simple loaf cake!
Main Ingredients for a Lemon Thyme Cake
Sugar: I used granulated sugar and processed the sugar and thyme together in a food processor. This infuses the sugar with the thyme scent.
Thyme: A little goes a long way and enhances this loaf cake with its peppery-sweet taste.
Flour: The flour along with the baking powder and salt is sifted directly over the wet ingredients to break up any lumps while making mixing that much easier.
Eggs: Use large eggs at room temperature and make sure to whisk them for 2 minutes alongside the thyme-sugar and olive oil to aerate the eggs.
Olive Oil: Gives a wonderful flavour to baked goods and reduces saturated fat.
Yogurt: It's creamy texture helps to keep baked goods fresh and light.
Lemon zest and juice: Adds a bright and sweet taste to baked goods. It's a bite of sunshine in every morsel.
Baking powder: Helps baked goods to rise and will lighten its texture.
Salt: Enhances the flavors of all ingredients used.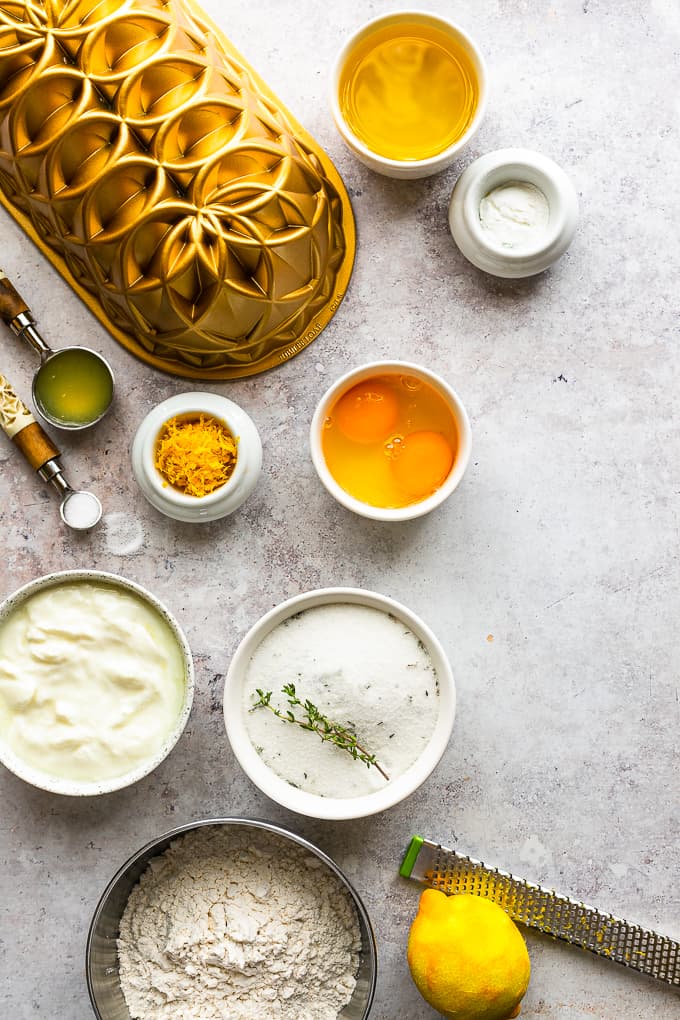 How To Make A Lemon Thyme Cake with Yogurt and Olive Oil
Step 1: In a bowl of a stand mixer, with the whisk attachment, whisk together the sugar-thyme mixture, eggs, olive oil and lemon zest. For about 2 minutes.
Step 2: Whisk in the lemon juice and the yogurt till well combined.
Alternately, you can use a hand held mixer.
Step 3: Sift in the flour, baking powder and salt and mix till combined.
Step 4: Pour the cake batter into your prepared loaf pan.
Gently tap the loaf pan on the counter to release any air bubbles.
Step 5: Bake the lemon cake in a preheated oven for approximately 50 to 55 minutes.
Test for doneness by inserting a wooden skewer in the middle of the cake. If it comes out clean then it's ready.
Step 6: Allow the lemon and thyme cake to cool in the pan for 10 minutes then invert onto a cooling rack.
And now we're ready to glaze this simple lemon and olive oil cake.

Glaze Tips:
If you want to have that brilliantly white snow capped look adorning your lemon loaf cake, you'll need to allow it to cool completely after it's released from the pan.
Glazing a still warm cake will give the glaze a translucent runny appearance. Which is ok if that's the appearance you're looking for.
Finally, let the glaze set and dry out before slicing into the sweet loaf. This should take a couple of hours.
Waiting a couple of hours not only allows the cake to soak up some of the glaze but it'll also be easier to slice into. A wet glaze is a messy glaze!

The final step, and this is optional. I poke about a dozen or so holes over the cake with long wooden skewers. And then I drizzle the lemon glaze over the cake.
This allows some of the glaze to seep into the loaf and absorb some of the glacé. You'll end up with an extra moist crumb in every bite.
But do allow it to set for a couple of hours as this firms up the glacé and makes slicing so much easier!
This lemon loaf stays fresh for quite a few days which is great if planning ahead.
Keep it stored at room temperature in a seal proof container. Or slice, wrap and freeze in individual portions for a quick grab-and-go treat.
Happy Baking!