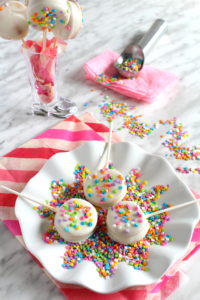 This past week turned out to be pretty challenging for me. It has been quite hectic in my kitchen trying to finish dozens of chocolate cake pops and these yummy sandwich cookie pops…all for a good cause!
A few colleagues and I organize an annual bake sale to raise money for National Denim Day, a Canadian wide event which raises money for Breast Cancer Awareness. This year was exceptionally exciting because we had many co-workers who generously donated their time and talent to make this year's fundraising a success.
Aside from making the much requested cake pops, I did want to switch things up a little and make something different…something fanciful and playful. It had to be a special treat and exciting enough to entice one to donate, however big or small the donation might be. These sandwich cookie pops were certainly it!
They are somewhat whimsical and sophisticated in appearance, appealing to both the young and older crowds.
This simple cookie dough is scented with vanilla and black raspberry liqueur. Once baked, the cookies are sandwiched together with a delicious buttercream, dipped in white chocolate candy melts and sprinkled with funfetti.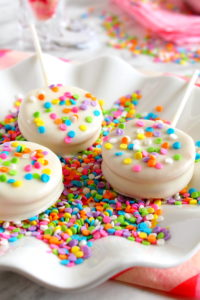 Now, a little about these sandwich cookie pops…yes, they are a little more work then a drop cookie, but only because there are a few more steps to follow.
Read the recipe through first and when your are ready to make them, pace yourself. Prepare the dough the day before, let it chill in the fridge then proceed with the recipe the following day. Bake them in the morning, fill them in the afternoon and dip them in the evening. Simple enough!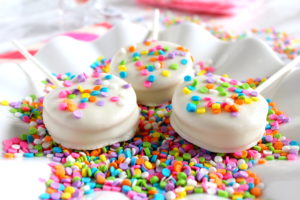 When working with candy melts I highly recommend you thin the chocolate with some vegetable oil as this will do 2 things for you. First, it will make the sandwich cookie pops easier to dip and secondly, it will render the chocolate melts less sweet.

The best part with these sandwich cookie pops, if one is an avid baker, they can be adapted to suit many different occasions or themed parties such as baby and bridal showers, as well as birthdays or holidays such as Mother's Day!
And on that note…Buona Festa della Mamma to all amazing moms!

Print Recipe
Sandwich Cookie Pops
These sandwich cookie pops are vanilla sugar cookies with a raspberry buttercream filling dunked in white chocolate candy melts and sprinkled with funfetti.
Ingredients
COOKIE DOUGH

1 1/4

cups

all-purpose flour

1

teaspoon

cream of tartar

1/2

teaspoon

baking soda

1/2

teaspoon

salt

1/2

cup

butter

softened

3/4

granulated sugar

1

tablespoon

black raspberry liqueur or milk

1

teaspoon

pure vanilla extract

50

lollipop sticks

1 1/2

pounds

candy melts

flavor of your choice (I used Wilton candy melts)

Funfetti or any sprinkles of your choice

optional

RASPBERRY BUTTERCREAM

1/2

cup

softened butter

2 1/2

cups

icing sugar

2

tablespoon

seedless raspberry jam

1

tablespoon

black raspberry liqueur or milk
Instructions
Stir together the flour, cream of tartar, baking soda and salt in a medium sized bowl. Set this aside.

In a larger bowl beat the softened butter on medium to high speed for 30 seconds.

Add the granulated sugar and beat until it turns creamy and smooth. Occasionally scrape down the sides of the bowl.

Beat in the liqueur or milk if using, and the vanilla extract.

Next, beat in the flour mixture until everything is combined.

Once combined, cover and chill the dough for 30 minutes.

Remove the dough from the fridge and divide into two equal portions. You may want to use a scale for this.

Roll out each half into a 12 inch rope.

Wrap up each roll in saran wrap and chill for about 4 to 24 hours.

When ready to bake, preheat the oven to 375 degrees F.

Line two cookie baking sheets with parchment paper. If you have four all the better.

Slice the rolls into 1/8 inch pieces.

Place 50 lollipop sticks about 1 and 1/2 inch apart on your prepared cookie sheets.

Place a dough slice, centered on one end, of each lollipop stick.

Bake for about 6 to 7 minutes or until the edges are a light golden brown.

Bake the rest of the cookie slices without the lollipop sticks.

When ready, let the cookies cool on the baking sheets for one minute, then transfer them to a wire rack to cool completely.

Meanwhile, prepare the buttercream.

RASPBERRY BUTTERCREAM

In a medium sized bowl, beat 1/2 cup of softened butter with an electric mixer on medium-high speed for 30 seconds.

Beat in 1 cup of the icing sugar, raspberry jam and the liquor (or milk).

Gradually beat in the remaining 1 1/2 cups of icing sugar.

Spread about a teaspoon of the raspberry buttercream on the bottom part of each cookie with the stick.

Top with the remaining cookies bottom side down, pressing down gently to sandwich together. Set aside while melting the chocolate.

Melt the chocolate in a microwave safe bowl on 50% power for 1 minute. Stir well and continue to microwave at 30 second intervals until smooth and completely melted.

At this point the candy melts will need to be thinned in order to make them more fluid and not overly sweet.

Stir in some vegetable oil, 1 teaspoon at a time making sure it is well incorporated. ( a good rule is 2 teaspoons per 12 oz of candy melts.) It should give a ribbon like pouring consistency.

Pour the melted chocolate in a wide rimmed coffee mug. Stir again.

Hold each cookie pop by the stick and carefully dip into the melted chocolate to coat all over and let excess chocolate drip off back into the mug. You can also tap the cookie stick against the rim of your mug to help it along, turning the stick over and over as you tap. This helps to achieve an even coating.

Place on a waxed or parchment lined baking sheet and sprinkle with funfetti.

Repeat with remaining cookie pops.

Keep them flat on baking sheet till chocolate is set.
Notes
Recipe adapted from Better Homes and Garden Magazine