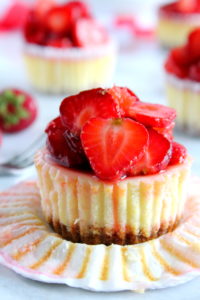 These mini strawberry and grapefruit cheesecakes, showcases one of Quebec's more delectable fruits. They are wonderfully sweet and pair perfectly with the juicy pink grapefruit segments. Both fruits are macerated together and then nestled atop the mini cheesecakes to provide a truly refreshing and stunning appearance.
You will love the ease with which this recipe comes together. It is fairly simple to prepare and the cheesecakes can be baked ahead of time! As an added bonus, they are sure to impress!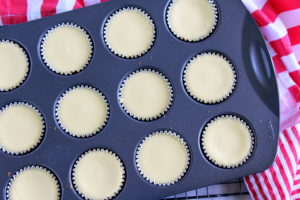 Once baked the mini cheesecakes need to be properly chilled for at least 4 hours, so do plan ahead.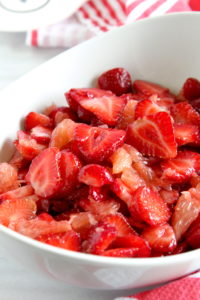 If using the more delicate sweet strawberries I would not recommend preparing the fruit ahead of time as it renders the strawberries with a lackluster appearance. For ultimate freshness, I prepared my fruit mixture just before serving.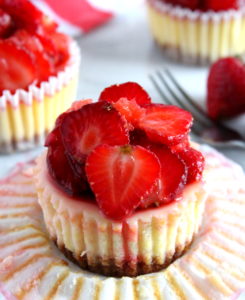 With the red and white colors of the Canadian flag, these mini strawberry grapefruit cheesecakes make a delicious celebratory dessert for Canada Day or just about anytime one is craving a sweet little morsel!
Have a safe and fun filled Canada day everyone!

Print Recipe
Mini Strawberry Grapefruit Cheesecakes
These mini strawberry grapefruit cheesecakes are delectable, creamy little morsels crowned with a mixture of sweet and bittersweet fruits
Ingredients
CRUST

3/4

cup

graham cracker crumbs

1

tablespoon

sugar

2

tablespoons

melted butter

CHEESECAKES

2

packages cream cheese

softened (250 grams each)

2/3

cup

granulated sugar

1/3

cup

sour cream

2

large eggs

1/2

teaspoon

vanilla extract

TOPPING

2

cups

sliced strawberries

2

grapefruits peeled and skin removed

cut into small pieces

2

tablespoons

sugar
Instructions
For the Crust

Preheat the oven to 350* F (180 *C)

Place paper liners in 12 cup muffin tin.

For the crust, combine the graham crackers, 1 tablespoon of sugar and 2 tablespoons of melted butter in a small bowl.

Divide equally into the 12 cup muffin tin, pressing the mixture down into each muffin cup.

Bake for 10 to 12 minutes (on middle oven rack) until light golden brown. Remove from oven and let cool.

Meanwhile, lower the oven temperature to 325*F (170*C).

For the Cheesecakes

In a food processor blend together the cream cheese and sugar until smooth.

Add the sour cream, eggs and vanilla extract and process until the mixture is creamy.

You will need to scrape down the sides a few times to get the mixture blended well.

Divide the mixture equally over the prepared crust.

Bake for about 25 minutes or just until the cheesecakes are firm to the touch. Do not over bake the mini cheesecakes.

Let the cheesecakes cool and then refrigerate them for 4 hours or until they are well chilled.

Top with strawberry, grapefruit mixture just before serving.

Strawberry Grapefruit Mixture

In a medium size bowl, combine the sliced strawberries, grapefruit and sugar.

Set the mixture aside for 5 minutes to macerate and then drain.
Notes
Adapted from Ricardo Magazine