Fusilli Pasta with Asparagus and Broccoli makes a quick and delicious meal for any day of the week and all under 30 minutes.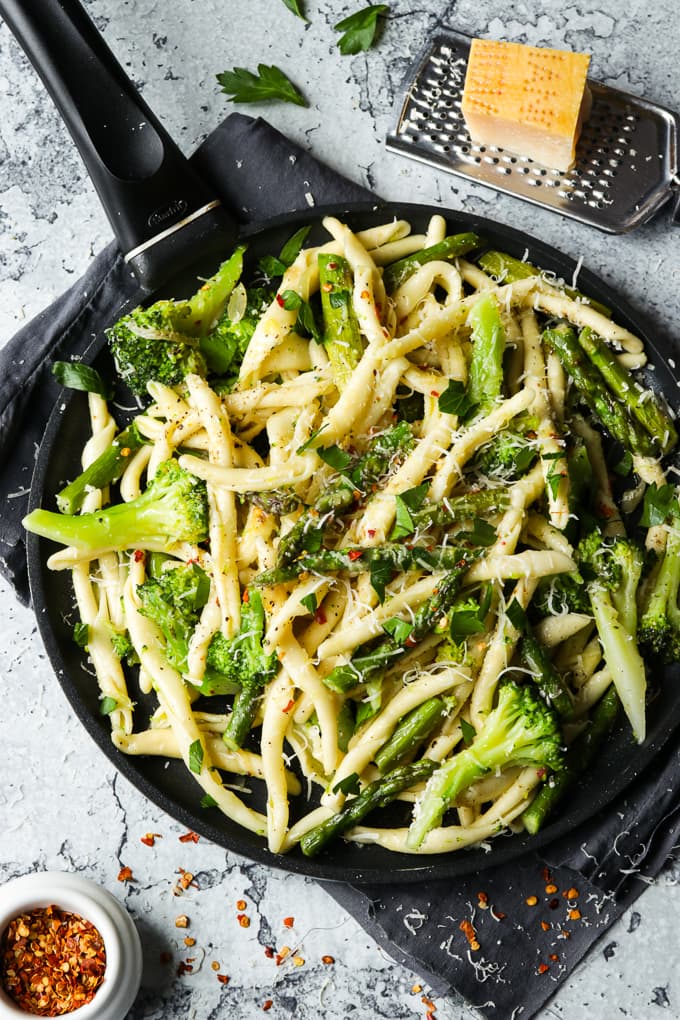 At times we long for quick and simple recipes.
The kind that can be prepared at a moments notice and still be so tasty and flavourful. And yet, as simply as they are they bring us such a level of comfort in the times they're mostly needed.
For me, pasta dishes invoke this level of pure comfort food every time!
There's such a myriad of ways in preparing such a dish and we have no further to look then our own pantry and using which ever vegetable we may have on hand.
One such pasta which I regularly have in my pantry are Fusilli Lunghi made from duram wheat semolina flour.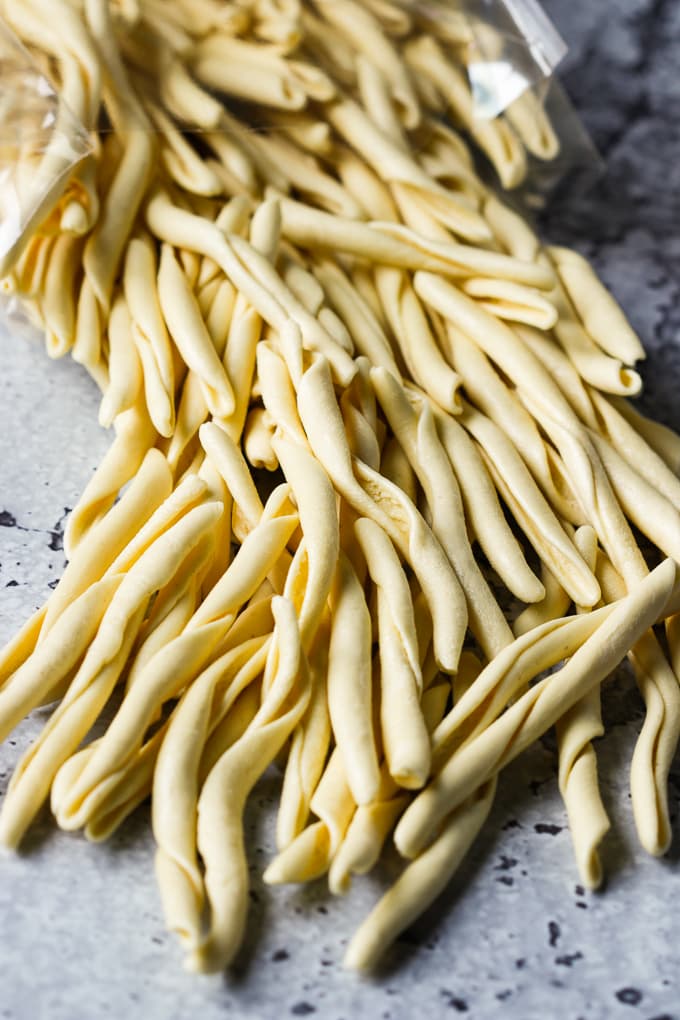 What are Fusilli Lunghi Pasta
Fusilli Lunghi are long lengths of coiled pasta.
This type of pasta shape is formed by pressing and rolling thin rods, in a back and forth motion, over strips of dough.
It has the appearance of long and elongated cavatelli.
It's an absolute favourite of mine when not making my own from scratch. I love pairing it with broccoli and any other vegetable I may have on hand.

What can I make with asparagus and broccoli?
One of my favourite ways to enjoy asparagus is in making a panful of Parmesan Crusted Potatoes with Asparagus.
However, asparagus pairs quite beautifully with broccoli too. And especially so when combined with a favourite pasta shape.
I love their vibrant green colour in contrast to the paler colour of the pasta noodles.
It makes for one healthy dish that's nutrient packed, easy to make and so quick to put together.

30 Minute Fusilli Pasta with Asparagus and Broccoli
In the time it takes for a pot of water to come up to a roaring boil, is all the time you'll need to prep your vegetables.
With long pasta shapes such as these fusilli lunghi, I prefer to use sliced onions rather than chopped ones.
I also prefer to cut the asparagus into 2 or 3 inch long pieces to mimic the size of the pasta noodle.
Once they're chopped and cut to your preferred size, simply rinse them under cold running water.
When the pot of water has come to a roaring boil, salt the water and add in the pasta. Stir well and cook according to the package instructions.

The fusilli lunghi I used needed 14 minutes of cooking time.
It's more than enough time to sauté the onions with the asparagus which take about 6 to 8 minutes of cooking time.
This will depend on the size of your asparagus.
Thicker stalks of asparagus will need an extra minute or 2 till tender to the bite.
And as for the broccoli, I add it to the pot of boiling pasta at the last 3 to 5 minutes of cooking time. The timing will depend on the size of your broccoli and how tender you prefer them.

You'll then drain the pasta with the broccoli and toss it with the asparagus mixture.
Stir in some freshly grated Parmesan cheese and chopped parsley. And at this point I also love to drizzle some extra virgin olive oil while mixing the pasta and veggies well.

How to serve Fusilli Pasta with Asparagus and Broccoli
You can bring the whole finished platter at the table and allow everyone to serve themselves.
Or you can plate individual bowls of pasta and let everyone top theirs with whichever extra toppings they prefer.
I love mine with an extra drizzle of EVOO and cracked black pepper. Hubby however, prefers a generous sprinkle of chilli flakes and lots of cheese.
But with whichever way you serve this bountiful dish, have fun in your kitchen and enjoy with your loved ones!


Print Recipe
Fusilli Pasta with Asparagus and Broccoli
A wonderful vegan recipe to have in your repertoire. This Fusilli Lunghi pasta dish is loaded with asparagus, broccoli and makes a healthy, quick and delicious meal in under 30 minutes.
Ingredients
1/4

cup

extra virgin olive oil

plus extra for drizzling

5

cups

broccoli florets

2

small

thinly sliced onions

2

garlic cloves

minced

4

cups

chopped asparagus

about 2 inch pieces

1/2

teaspoon

chili flakes

1/4

cup

chopped fresh parsley

Plus a tablespoon for the finished dish.

salt and pepper

to your taste

500

grams

Fusilli Lunghi Pasta

1/3

cup

Parmesan cheese
Instructions
Bring a large pot of water to boil.

Meanwhile, cut the broccoli into florets and set aside.

Heat the oil in a large skillet and add in the sliced onions, asparagus, garlic with the chilli flakes, 1/4 cup fresh parsley, salt and pepper.

Sauté the veggies for about 6 to 8 minutes or just until the onions are translucent and the asparagus is tender to the bite.

When the water has come to a roaring boil, salt the water and add in the pasta while stirring occasionally.

Cook the pasta according to package instructions.

The type of pasta I used needed 14 minutes of cooking time.

At the last 5 minutes of the pasta's cooking time, add in the broccoli and stir while allowing both to cook together for the remaining time.

Drain the pasta and broccoli.

Transfer the drained pasta and broccoli to the skillet with the asparagus mixture and stir together well.

Toss with a drizzle of extra virgin olive oil the parmesan cheese and remaining fresh parsley.

Plate and serve with more cracked pepper, chilli flakes and cheese if you like.