These soft and chewy m & m cookies truely live up to their name and they make a wonderful two bite snack.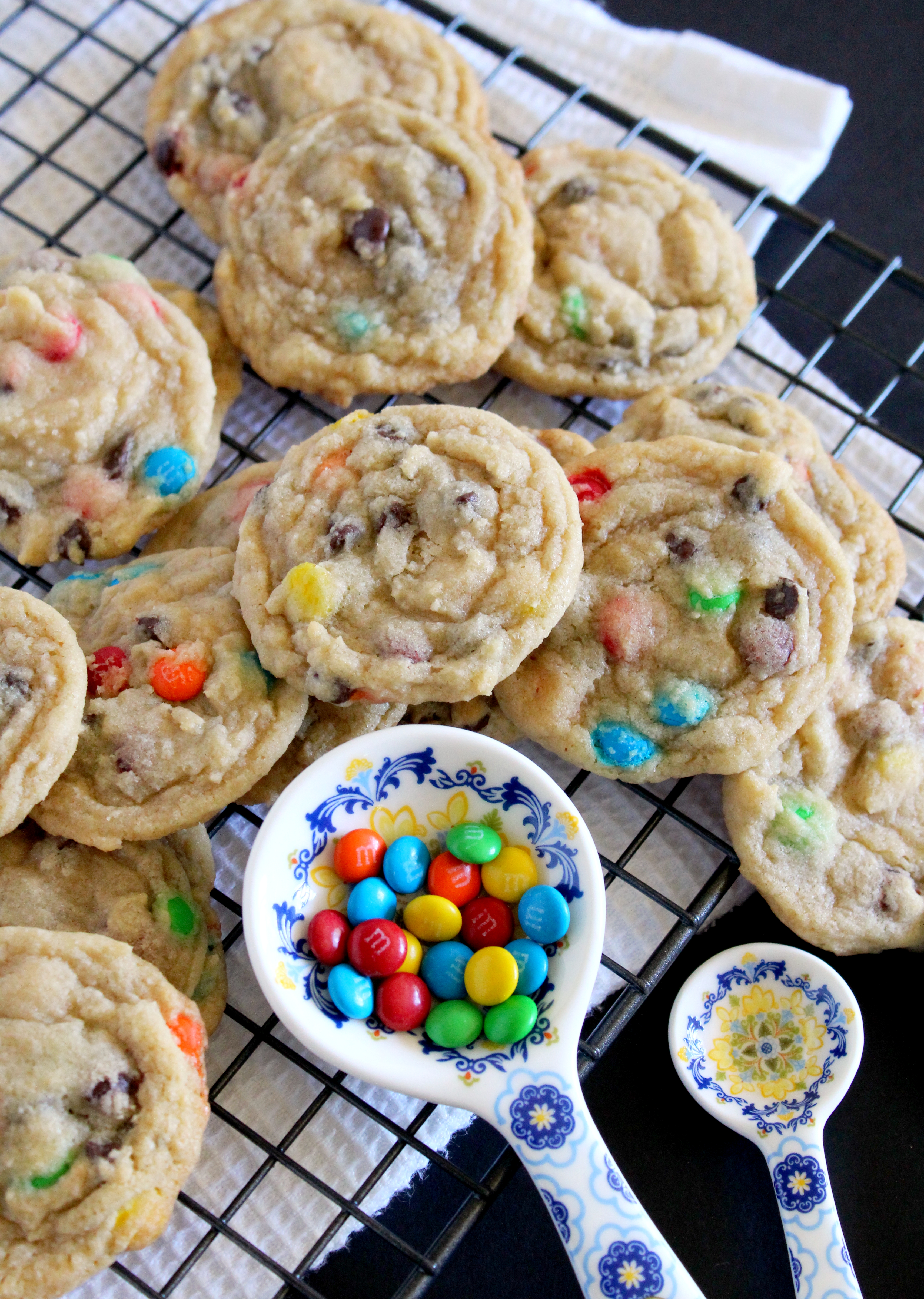 There is something so warm and inviting when serving a plate full of freshly baked cookies straight out of the oven. It evokes memories of a time when my children were little, and the aromas permeating the house from baking these cookies would have them running into the kitchen shouting " mommy, are they ready yet?" Oh, how I miss those days!
If your taste for chocolate chip cookies tend to lean more towards a soft and chewy variety then you will simply love this recipe. They are sweet and buttery with a lovely crunch from the m&ms. Do give these remarkable soft and chewy m & m cookies a try. They are truly simple to make and amazingly delicious. I promise, your children will squeal with delight and proclaim you the best mommy yet 🙂
TIP: To ensure that the cookies do not thin out and spread too much during baking, use cold butter and eggs straight out of the fridge.
Ingredients:
1 1/3 cups cold unsalted butter
1 1/2 cups packed light brown sugar
1 cup granulated sugar
2 large cold eggs
1 tablespoon pure vanilla extract
3 3/4 cups all purpose flour
1 1/4 teaspoon salt
1 teaspoon baking soda
1 1/2 cups mini m&ms or semi-sweet chocolate chips
To bake two sheets at a time, position your oven racks on the top and middle portion of your oven.
Line 2 cookie sheets with parchment paper or silpat mat. If you have 1 or 2 more cookie sheets all the better as this recipe makes a huge batch of cookies.
Preheat the oven to 375*F.
With a stand mixer or hand held mixer, beat the butter, light brown sugar and granulated sugar together. Start on low speed (so that you don't have a huge splatter everywhere) and slowly work your way up to high speed and mix until light and fluffy for about 3 minutes. Scrape down the bowl and beater. Add in the eggs and vanilla extract, beating on low just until blended. Then beat on high speed for 1 more minute. Scrape down the bowl and beater.
In a separate bowl, whisk in the flour, salt and baking soda. Add the flour mixture to the butter mixture, stirring with a wooden spoon just until blended. The dough will be stiff. Stir in the m&ms or chocolate chips.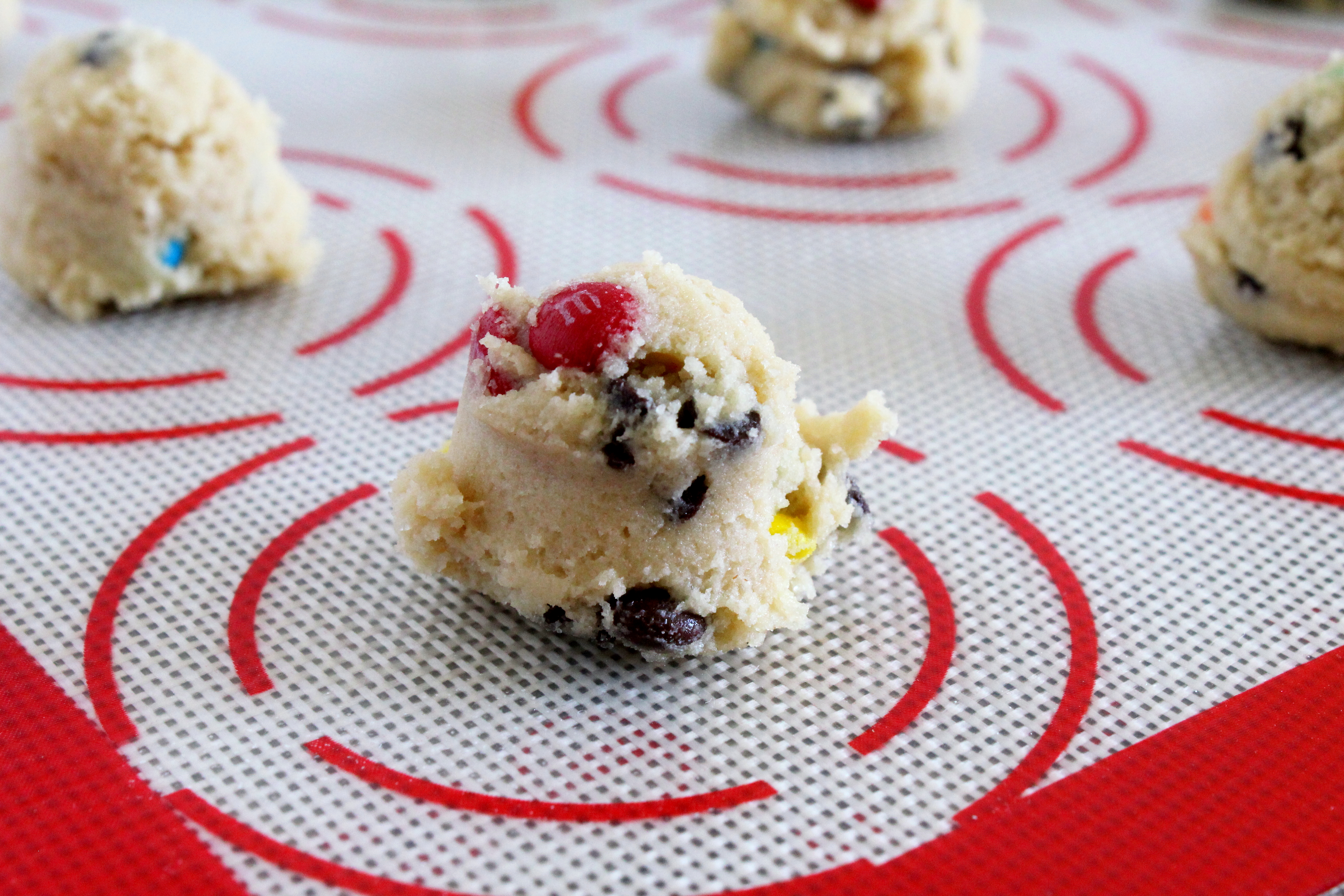 I used a 1 1/4 inch cookie scoop to form small rounds of dough and placed them about 2 inches apart on the prepared cookie sheets. Refrigerate the remaining dough in between batches.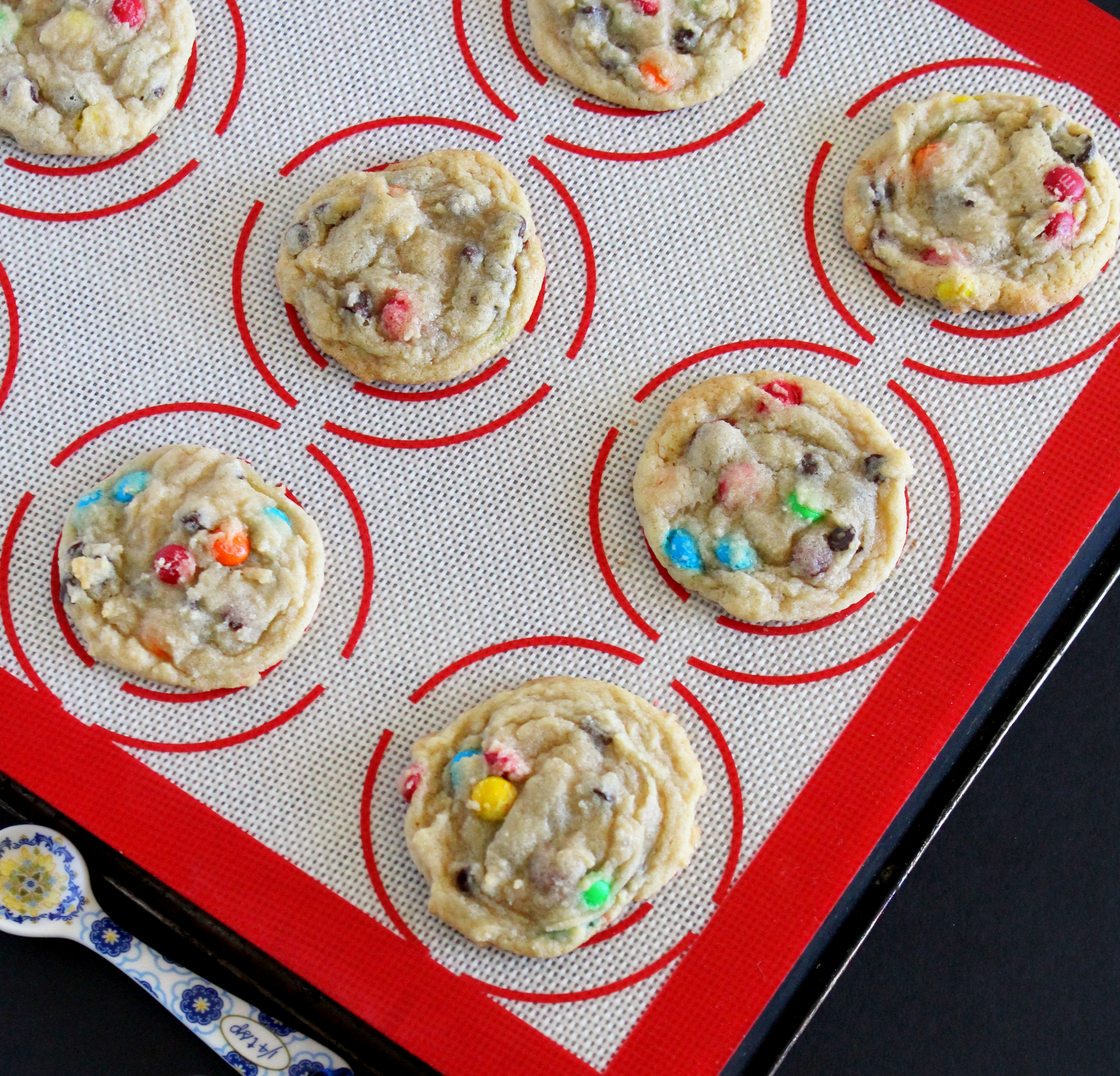 Bake until golden brown for about 8 to 10 minutes and rotate the cookies sheets halfway through for even results. Remove the cookie sheets from the oven and let them sit for 3 to 5 minutes. (The cookies are very soft and if you try lifting them off the sheet too quickly they will break apart.) Then transfer the cookies using a spatula onto a cooling rack.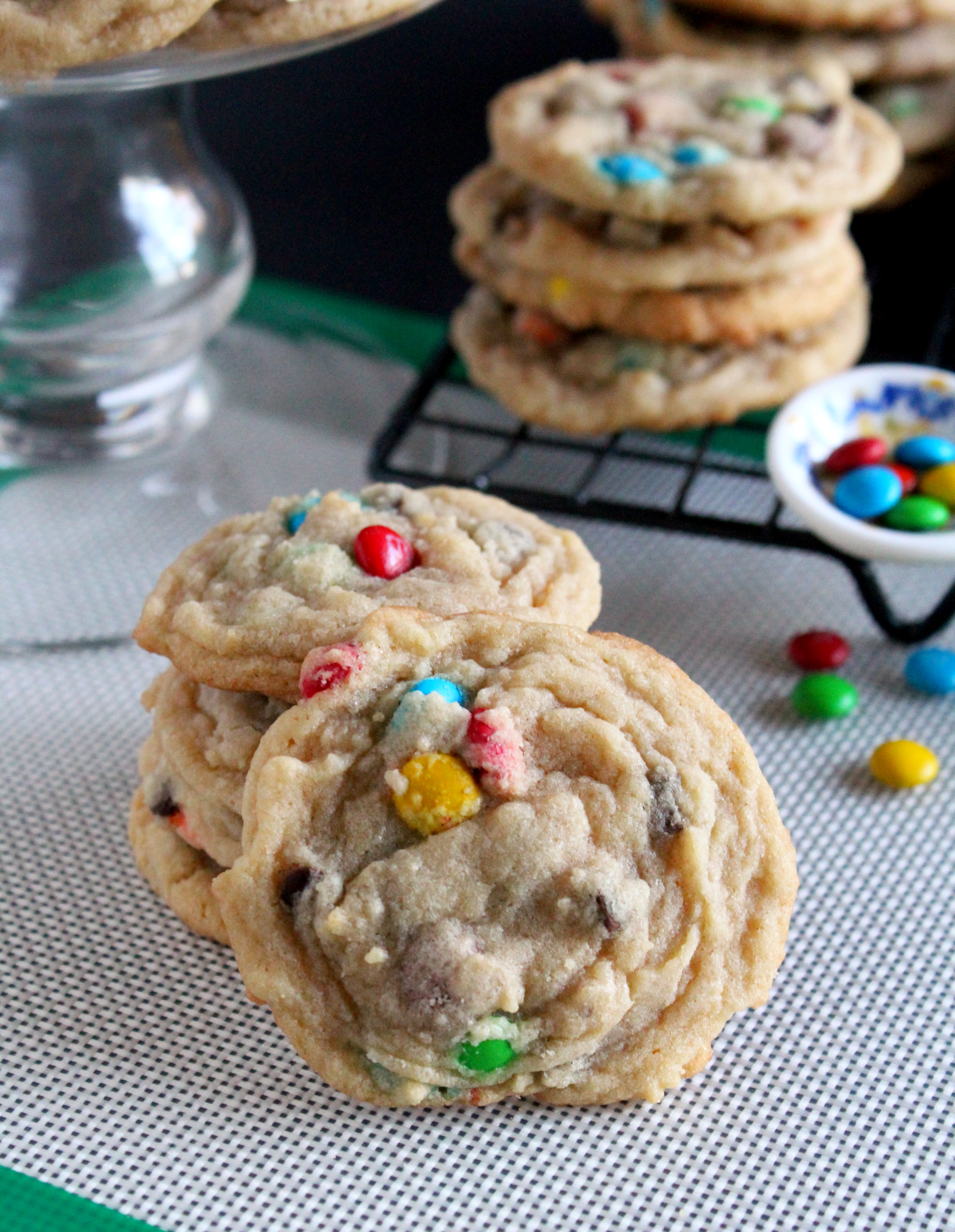 In between batches, make sure your cookie sheets are completely cooled, otherwise your cookies will spread too much if you use a still warm pan.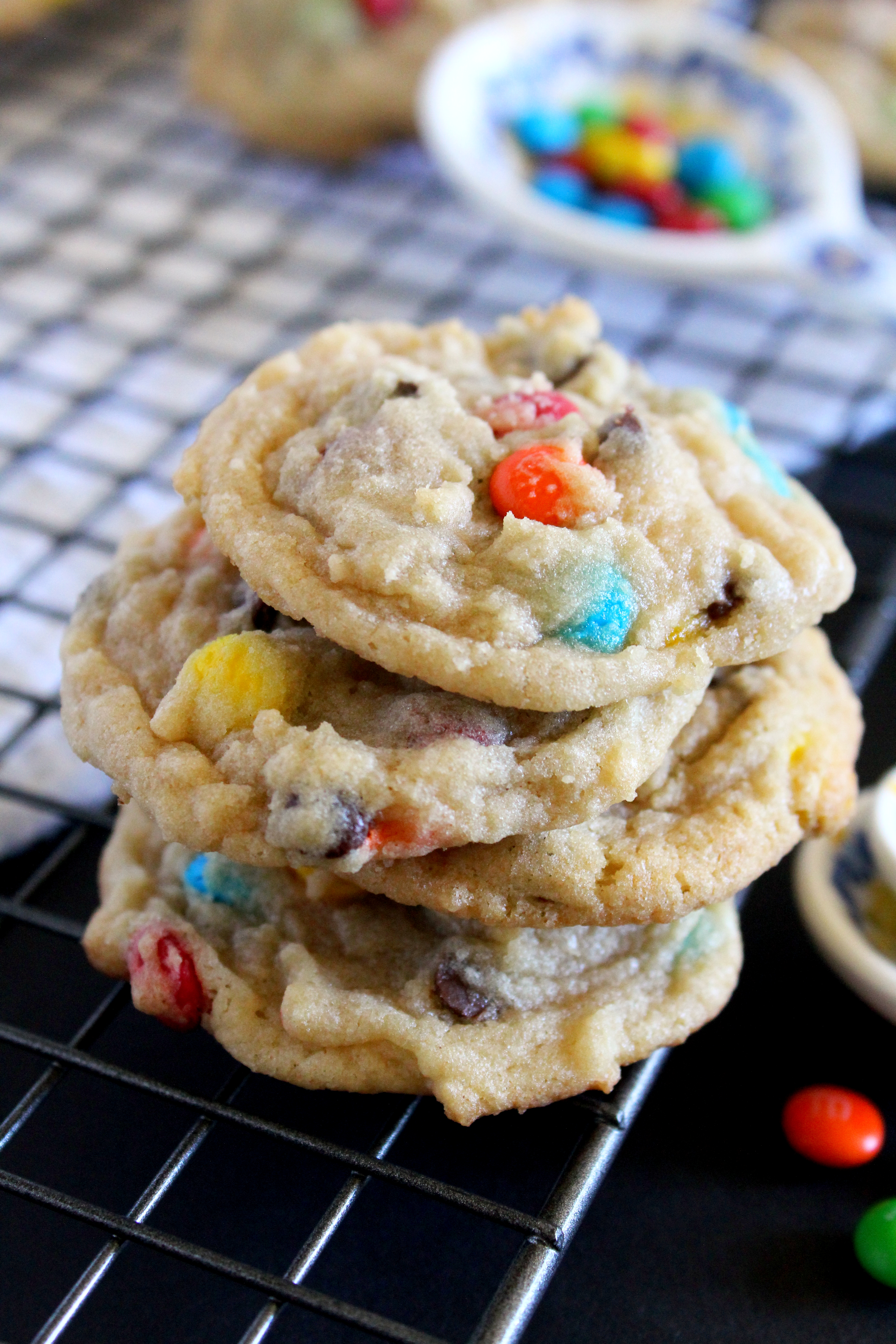 Bake these soft and chewy m & m cookies for kids or adults and watch them disappear.
They will keep in an airtight container for about 5 days at its freshest but also freeze extremely well in a tupperware lined with wax paper in between layers.
Yields about 9 dozen 2 1/2 inch cookies.
Recipe is adapted from Fine Cooking Magazine.
Copyright © 2015 Marisa's Italian Kitchen